"As mariners are guided into port by the shining of a star, so Christians are guided to heaven by Mary." Saint Thomas Aquinas
Today's

Meditation

"Mary is honored in the Church with special reverence. Indeed, from most ancient times the Blessed Virgin Mary has been venerated under the title of 'God-bearer.' In all perils and needs, the faithful have fled prayerfully to her protection. … it bears in itself and expresses the profound link which exists between the Mother of Christ and the Church. As Virgin and Mother, Mary remains for the Church a "permanent model."… Mary, present in the mystery of Christ, remains constantly present also in the mystery of the Church. … Like Mary, who first believed by accepting the word of God revealed to her at the Annunciation and by remaining faithful to that word in all her trials even unto the Cross, so too the Church becomes a mother when, accepting with fidelity the word of God, "by her preaching and by baptism she brings forth to a new and immortal life children who are conceived of the Holy Spirit and born of God."
—Pope St. John Paul II, p. 135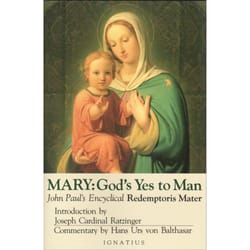 Daily

Verse
"But seek first the kingdom [of God] and his righteousness, and all these things will be given you besides. Do not worry about tomorrow; tomorrow will take care of itself. Sufficient for a day is its own evil." Matthew 6:33-34
St. Joseph Mary Tomasi
Saint of the Day
St. Joseph Mary Tomasi (1649-1713) was born in Sicily to noble and virtuous parents. He received a good Christian education and was drawn to the things of God from an early age. He renounced his inheritance and titles, transferring them to his brother, and entered religious life in the Order of the Clerics Regular Theatine founded by St. Cajetan. When their children were grown, his parents also entered religious life. St. Joseph Tomasi became so well known for his sanctity and learning that his advice and friendship was widely sought. He was a master of several languages, including Hebrew, and converted his teacher, a Jewish Rabbi, to Christianity. He is known for his writings on theology and love of the Roman liturgy, earning him the name "Liturgical Doctor." Some of the liturgical reforms he sought were adopted in 20th century. He was famous for teaching catechism to the children of his titular church, and its congregants Gregorian chant. He was appointed a Cardinal, and not long after suffered from pneumonia and died. St. Joseph Mary Tomasi is the patron saint of liturgy. His feast day is January 1st.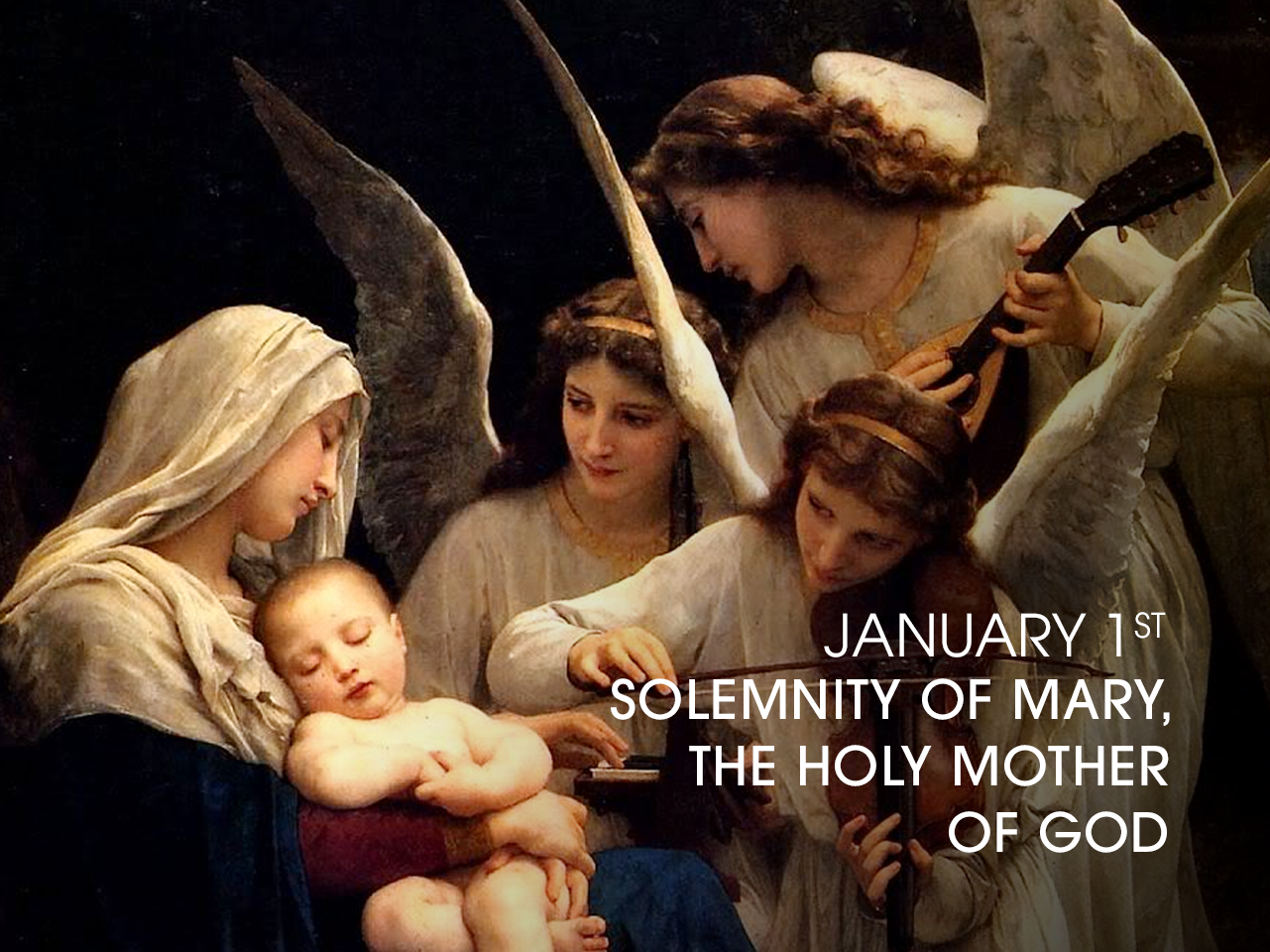 Holy Mother of God
Feast Day
The Solemnity of Mary, the Mother of God is celebrated on January 1st, the final day of the Christmas octave and a Holy Day of Obligation. The origin of this feast goes back to the 7th century in the Latin Church and honors Mary as the mother of Jesus Christ, God incarnate, the Second Person of the Holy Trinity. The 8th day was also when Joseph and Mary brought Christ to be circumcised in the temple, and when he was given the name 'Jesus' which means 'God Saves'. This feast fits well with the beginning of the New Year so that we may consecrate our year to the intercession of the Blessed Virgin Mary, the Mother of all Christians.
See More About Today's Feast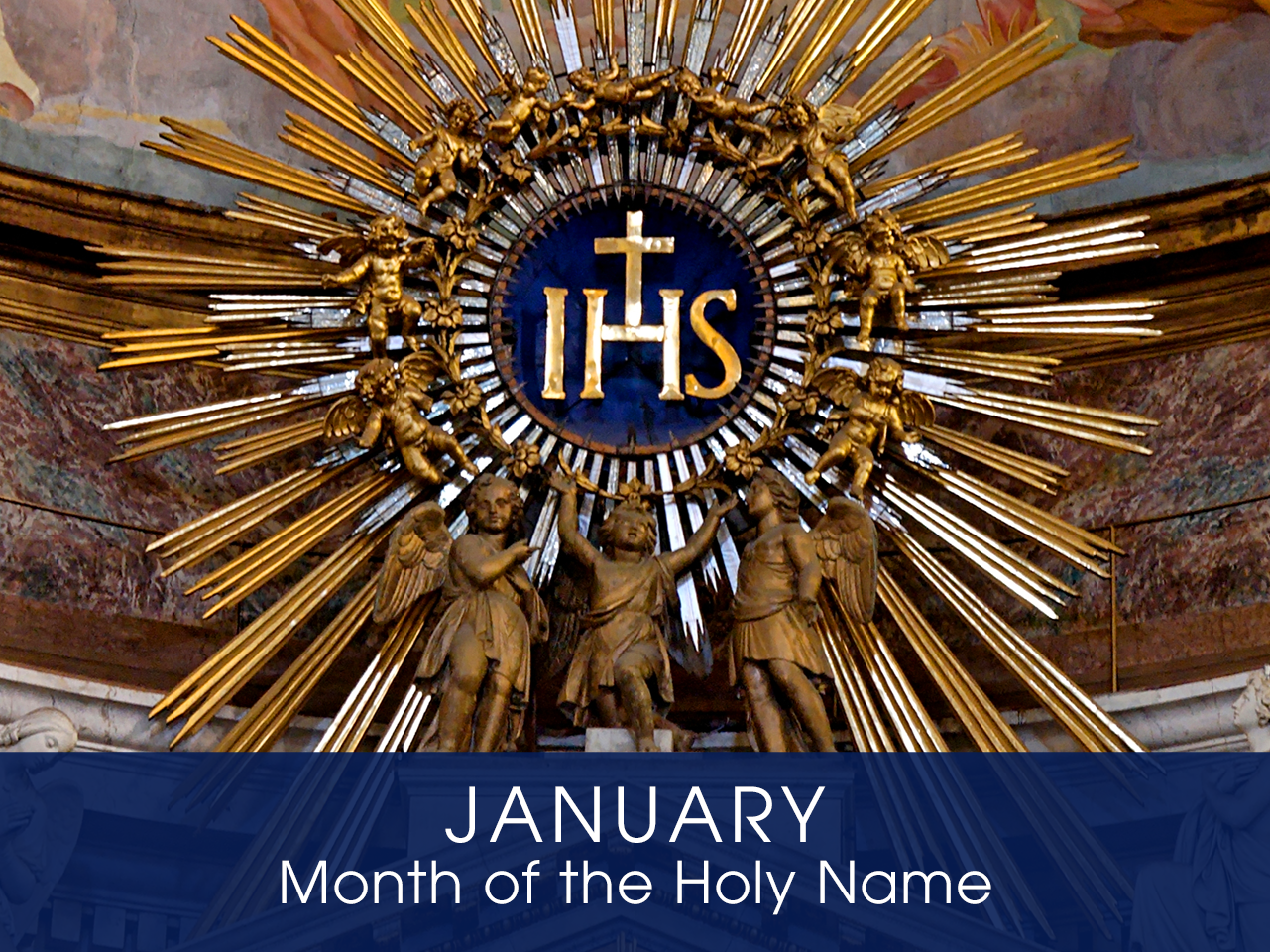 Month of the

Holy Name of Jesus
Devotion of the Month
The month of January is traditionally dedicated to the Holy Name of Jesus. After the Blessed Virgin Mary conceived by the Holy Spirit, the angel Gabriel appeared to St. Joseph and told him that the Child's name should be called Jesus, meaning "God Saves." According to Jewish law, on the 8th day after his birth a male child was to be circumcised, receive his name, and become a full member of God's covenant people. According to the old Roman liturgical calendar, the Feast of the Circumcision of Jesus was celebrated on January 1st, eight days after Christmas, the same day that He was given His sacred name. Currently we celebrate the Solemnity of the Mother of God on January 1st and honor the Holy Name of Jesus on January 3rd. For Catholics, Jesus' sacred name is the object of a special devotion symbolized by the monogram "IHS," (sometimes called a Christogram), which is the first three letters of the Greek spelling of His name.
Find a Devotional or Sacramental
Daily Prayers
Prayer for the Dead
In your hands, O Lord, we humbly entrust our brothers and sisters.
In this life you embraced them with your tender love;
deliver them now from every evil and bid them eternal rest.
The old order has passed away: welcome them into paradise,
where there will be no sorrow, no weeping or pain,
but fullness of peace and joy with your Son and the Holy
Spirit forever and ever. Amen.
Prayer of Spiritual Communion
My Jesus, I believe that You are present in the most Blessed Sacrament. I love You above all things and I desire to receive You into my soul. Since I cannot now receive You sacramentally, come at least spiritually into my heart. I embrace You as if You were already there, and unite myself wholly to You. Never permit me to be separated from You. Amen.
Prayer for the Holy Father
Almighty and everlasting God, have mercy upon Thy servant, Pope Francis, our Supreme Pontiff, and direct him, according to Thy loving kindness, in the way of eternal salvation; that, of Thy gift, he may ever desire that which is pleasing unto Thee and may accomplish it with all his might. Through Christ Our Lord. Amen. Our Father. Hail Mary.