"Put up willingly with the faults of others if you wish others to put up with yours." St. John Bosco
Today's

Meditation

"There is nothing to be dreaded in human ills except sin—not poverty, or disease, or insult, or ill treatment, or dishonor, or death, which people call the worst of evils. To those who love spiritual wisdom, these things are only the names of disasters, names that have no substance. No, the true disaster is to offend God, to do anything that displeases him."
—St. John Chrysostom, p. 334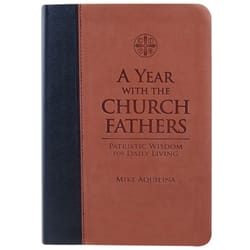 Daily

Verse
"But they who wait for the Lord shall renew their strength, they shall mount up with wings like eagles, they shall run and not be weary, they shall walk and not faint." Isaiah 40:31
St. Basil the Great
Saint of the Day
St. Basil (330 – 379 A.D.) was born to wealthy and pious parents in Cappadocia, Asia Minor (modern-day Turkey). His family was renowned for their great sanctity; his grandfather was martyred under the persecution of Roman Emperor Diocletian, and his grandmother, mother, and several siblings are all numbered among the saints. St. Basil became a monk and founded several monasteries, famously writing a monastic rule of life which has proved to be the most lasting of those in the East. He studied under the finest teachers and was a respected man of great learning, as well as a zealous defender of orthodoxy against many heresies that threatened the Catholic faith, especially Arianism. He was appointed the bishop of Caesarea and in this role became one of the most influential saints in Church history. His life of deep prayer, austerities, and humility, combined with his uncommon preaching and teaching gifts, guided him in leading one of the most politically and ecclesiastically important Sees of the day, for which he earned the name "the Great." He is a Doctor of the Church, and one of the group of three saints called the Cappadocian Fathers, together with his brother, St. Gregory of Nyssa, and his lifelong friend, St. Gregory of Nazianzus. St. Basil's feast day is celebrated on January 2nd, a shared feast day with his close friend St. Gregory Nazianzus.
Find a Devotional for this Saint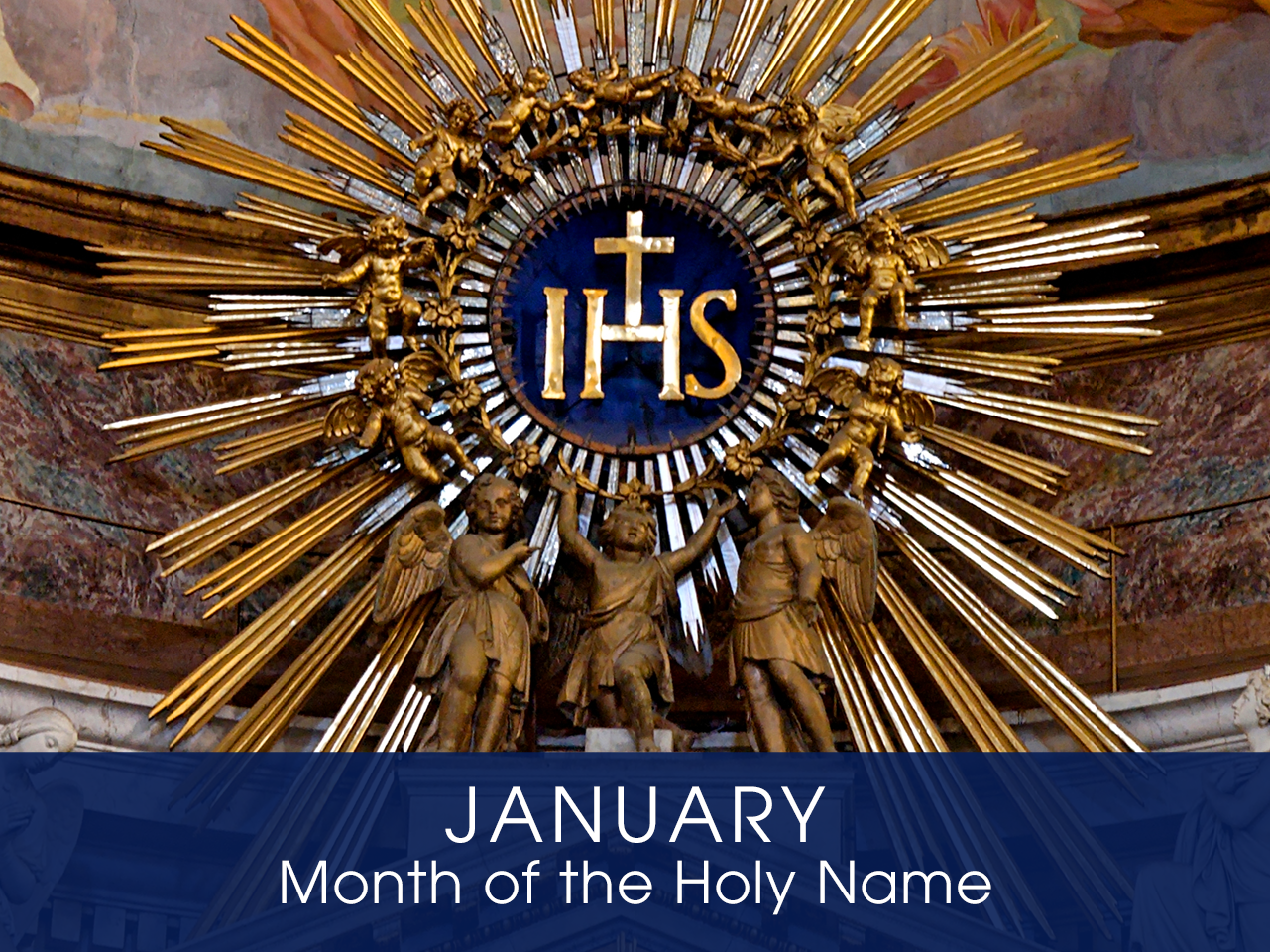 Month of the

Holy Name of Jesus
Devotion of the Month
The month of January is traditionally dedicated to the Holy Name of Jesus. After the Blessed Virgin Mary conceived by the Holy Spirit, the angel Gabriel appeared to St. Joseph and told him that the Child's name should be called Jesus, meaning "God Saves." According to Jewish law, on the 8th day after his birth a male child was to be circumcised, receive his name, and become a full member of God's covenant people. According to the old Roman liturgical calendar, the Feast of the Circumcision of Jesus was celebrated on January 1st, eight days after Christmas, the same day that He was given His sacred name. Currently we celebrate the Solemnity of the Mother of God on January 1st and honor the Holy Name of Jesus on January 3rd. For Catholics, Jesus' sacred name is the object of a special devotion symbolized by the monogram "IHS," (sometimes called a Christogram), which is the first three letters of the Greek spelling of His name.
Find a Devotional or Sacramental
Daily Prayers
Prayer for the Dead
In your hands, O Lord, we humbly entrust our brothers and sisters.
In this life you embraced them with your tender love;
deliver them now from every evil and bid them eternal rest.
The old order has passed away: welcome them into paradise,
where there will be no sorrow, no weeping or pain,
but fullness of peace and joy with your Son and the Holy
Spirit forever and ever. Amen.
Prayer of Spiritual Communion
My Jesus, I believe that You are present in the most Blessed Sacrament. I love You above all things and I desire to receive You into my soul. Since I cannot now receive You sacramentally, come at least spiritually into my heart. I embrace You as if You were already there, and unite myself wholly to You. Never permit me to be separated from You. Amen.
Prayer for the Holy Father
Almighty and everlasting God, have mercy upon Thy servant, Pope Francis, our Supreme Pontiff, and direct him, according to Thy loving kindness, in the way of eternal salvation; that, of Thy gift, he may ever desire that which is pleasing unto Thee and may accomplish it with all his might. Through Christ Our Lord. Amen. Our Father. Hail Mary.