"The name of Jesus, pronounced with reverence and affection, has a kind of power to soften the heart." St. Philip Neri
Today's

Meditation

"I wonder if we understand the negative aspect of faith? I shake sometimes. I'm afraid. You mustn't worry that, because you don't know what the future is, you don't have faith. Faith means that in the midst of darkness and turmoil, you know that God is there and is taking care of you…Faith and presence go together, but it doesn't do anything for my adrenaline glands! My body may react to the fear of the moment, and I could still have faith…to use His Name means to be like Jesus. That means when the Father sees you as a Christian, He sees His Son. Now you can ask in His Name, because He looks at you and He sees His Son in all His compassion, gentleness, love, and peace. He sees all that in you. Now you can ask in His Name. Don't be a name-dropper, because faith and fear sometimes do go together."
—Mother Angelica, p. 83-84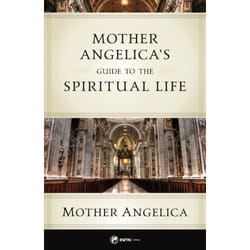 Daily

Verse
"Let the word of Christ dwell in you richly, as in all wisdom you teach and admonish one another, singing psalms, hymns, and spiritual songs with gratitude in your hearts to God. And whatever you do, in word or in deed, do everything in the name of the Lord Jesus, giving thanks to God the Father through him." 1 Corinthians 3:16-17
St. Genevieve of Paris
Saint of the Day
St. Genevieve (c.422-512 A.D.) was born to a respectable family in a small village outside Paris, France. When she was seven years old a famous bishop, St. Germain, spotted her in a crowd and prophesied to her parents about her future sanctity. At his invitation, St. Genevieve expressed her desire to live in a state of perpetual virginity and made her vows under him, after which St. Germain gave her a brass medal engraved with a cross as a reminder of her consecration to Christ. In her teens she received the religious veil under the Bishop of Paris and lived a devout life of prayer, charity, and austerity. She was especially known for her gifts of prophecy and reading consciences. When her parents died she lived with her grandmother in Paris, often visiting other cities where she would perform miracles. This led to her persecution, with a plot against her life, but when St. Germain came to her defense she was afterwards greatly revered by the people. St. Genevieve became venerated as the patron saint of Paris after she helped avert an attack against the city by Attila the Hun, and for saving the city from famine during a siege, when a boatload of grain overcame a military blockade due to her intercession. St. Genevieve is also the patron saint against fever, plague, and disasters. Her feast day is January 3rd.
Find a Devotional for this Saint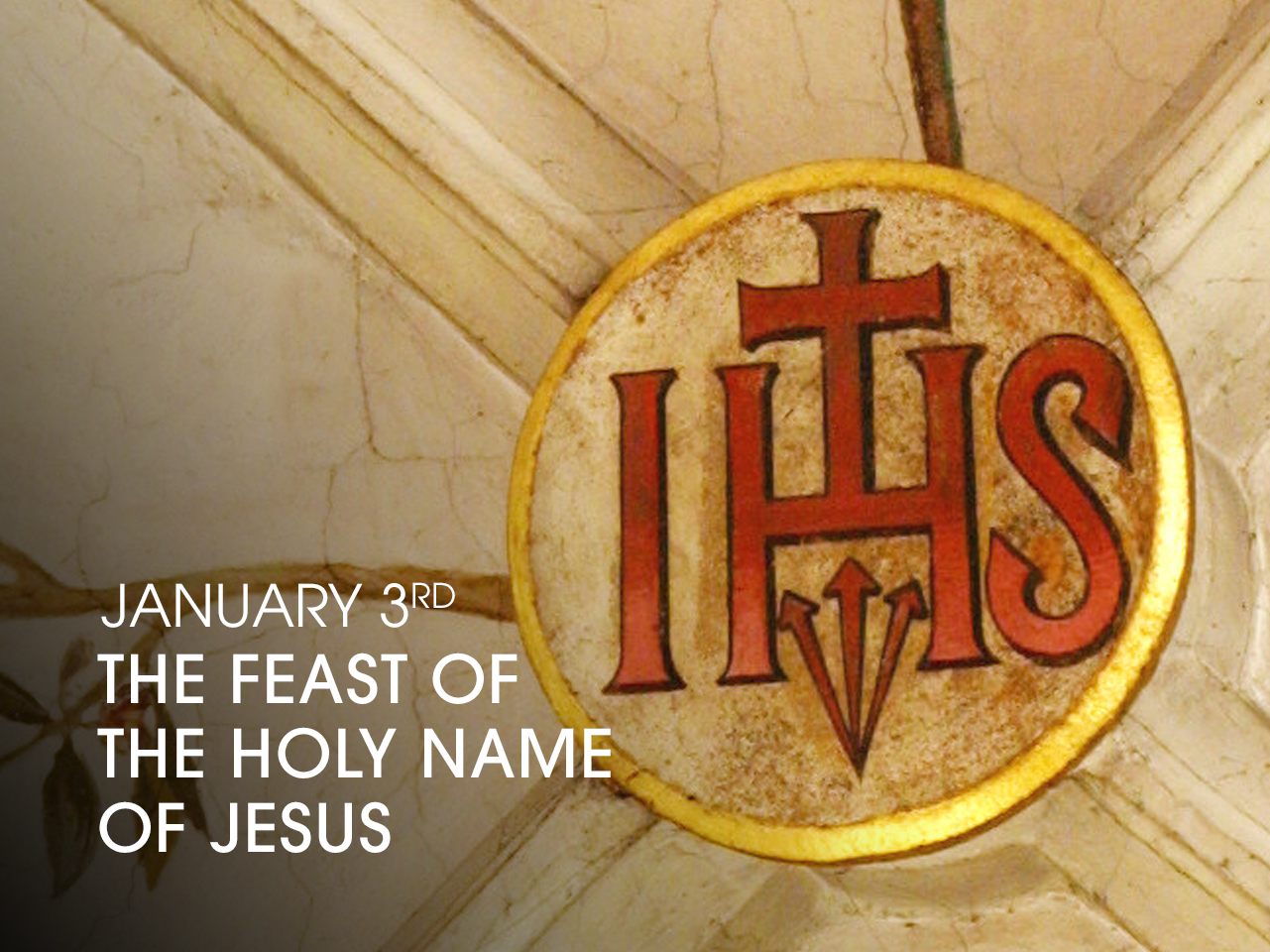 Holy Name of Jesus
Feast Day
The Feast of the Holy Name of Jesus is historically associated with the Feast of the Circumcision of Jesus. According to Jewish law, on the 8th day after his birth, a male child was circumcised and received his name, thus becoming a full member of God's covenant people. The name 'Jesus' means 'God Saves' and is the name that St. Joseph was instructed by an angel to name the Divine Child, the sacred name before which "every knee should bend, in heaven and on earth and under the earth, and every tongue should confess that Jesus Christ is Lord, to the glory of God the Father" (Phil. 2:10-11). Devotion to the Most Holy Name of Jesus was popularized by St. Bernardine of Siena in the 15th century, often symbolized by the monogram IHS (denoting the first three letters of the Greek spelling of Jesus' name). Today the feast of the Holy Name of Jesus is celebrated on January 3rd.
See More About Today's Feast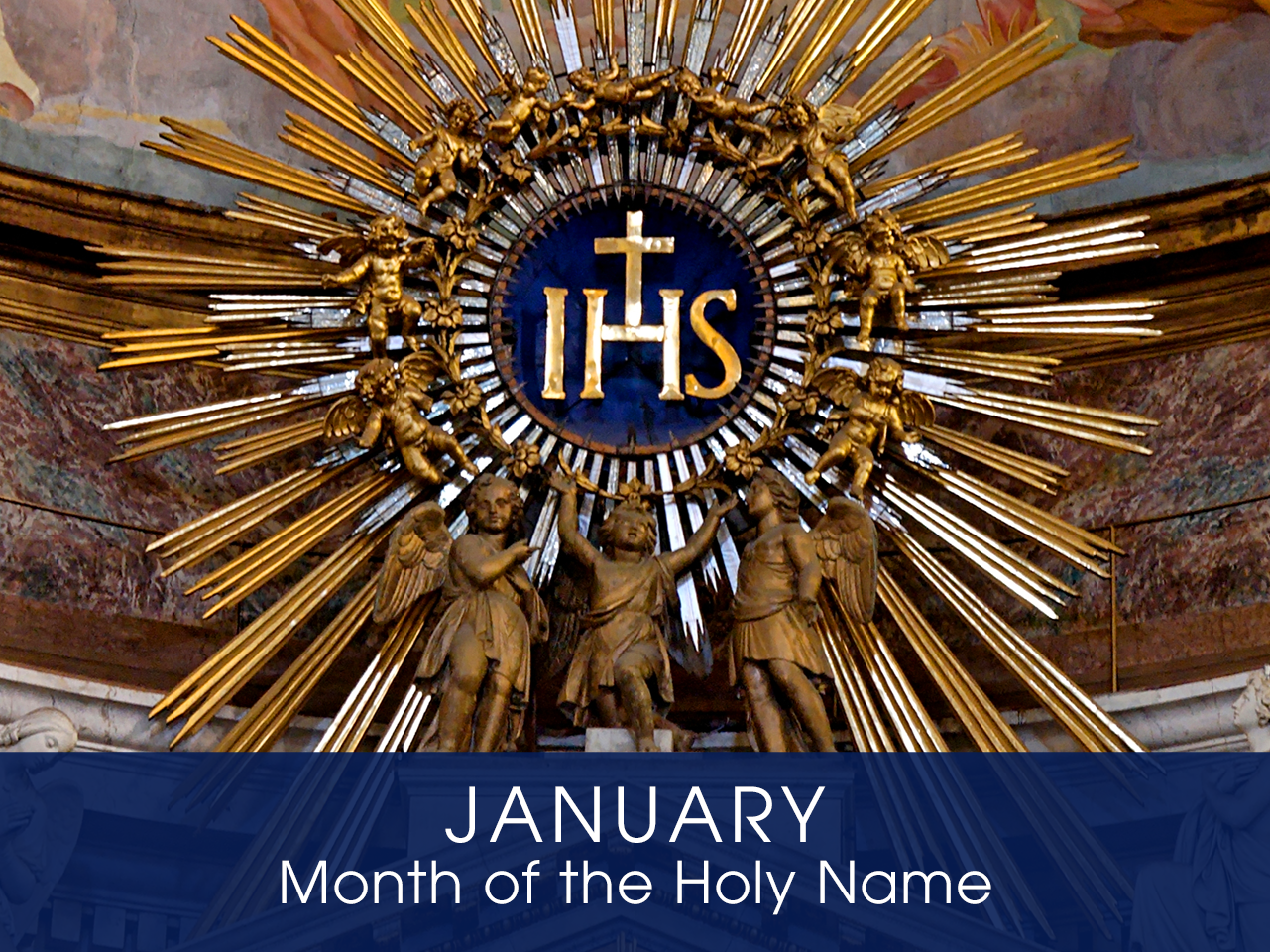 Month of

the Holy Name of Jesus
Devotion of the Month
The month of January is traditionally dedicated to the Holy Name of Jesus. After the Blessed Virgin Mary conceived by the Holy Spirit, the angel Gabriel appeared to St. Joseph and told him that the Child's name should be called Jesus, meaning "God Saves." According to Jewish law, on the 8th day after his birth a male child was to be circumcised, receive his name, and become a full member of God's covenant people. According to the old Roman liturgical calendar, the Feast of the Circumcision of Jesus was celebrated on January 1st, eight days after Christmas, the same day that He was given His sacred name. Currently we celebrate the Solemnity of the Mother of God on January 1st and honor the Holy Name of Jesus on January 3rd. For Catholics, Jesus' sacred name is the object of a special devotion symbolized by the monogram "IHS," (sometimes called a Christogram), which is the first three letters of the Greek spelling of His name.
Find a Devotional or Sacramental
Daily Prayers
Prayer for the Dead
In your hands, O Lord, we humbly entrust our brothers and sisters.
In this life you embraced them with your tender love;
deliver them now from every evil and bid them eternal rest.
The old order has passed away: welcome them into paradise,
where there will be no sorrow, no weeping or pain,
but fullness of peace and joy with your Son and the Holy
Spirit forever and ever. Amen.
Prayer of Spiritual Communion
My Jesus, I believe that You are present in the most Blessed Sacrament. I love You above all things and I desire to receive You into my soul. Since I cannot now receive You sacramentally, come at least spiritually into my heart. I embrace You as if You were already there, and unite myself wholly to You. Never permit me to be separated from You. Amen.
Prayer for the Holy Father
Almighty and everlasting God, have mercy upon Thy servant, Pope Francis, our Supreme Pontiff, and direct him, according to Thy loving kindness, in the way of eternal salvation; that, of Thy gift, he may ever desire that which is pleasing unto Thee and may accomplish it with all his might. Through Christ Our Lord. Amen. Our Father. Hail Mary.