"What was the first rule of our dear Savior's life? You know it was to do His Father's will. Well, then, the first end I propose in our daily work is to do the will of God; secondly to do it in the manner He wills; and thirdly, to do it because it is His will." St. Elizabeth Ann Seton
Today's

Meditation

"Let them fly with utter confidence to this most sweet Mother of mercy and grace in all dangers, difficulties, needs, doubts, and fears. Under her guidance, under her patronage, under her kindness and protection, nothing is to be feared; nothing is hopeless. Because, while bearing toward us a truly motherly affection and having in her care the work of our salvation, she is solicitous about the whole human race. And since she has been appointed by God to be the Queen of heaven and earth, and is exalted above all the choirs of angels and saints, and even stands at the right hand of her only-begotten Son, Jesus Christ our Lord, she presents our petitions in a most efficacious manner. When she asks, she obtains. Her pleas can never be unheard."
—Blessed Pope Pius IX, p.84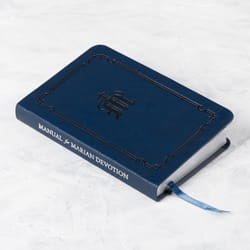 Daily

Verse
"But if any of you lacks wisdom, he should ask God who gives to all generously and ungrudgingly, and he will be given it. But he should ask in faith, not doubting, for the one who doubts is like a wave of the sea that is driven and tossed about by the wind. For that person must not suppose that he will receive anything from the Lord, since he is a man of two minds, unstable in all his ways." James 1:5-8
St. Elizabeth Ann Seton
Saint of the Day
St. Elizabeth Ann Seton (1774–1821) was born in New York City to a wealthy, virtuous, and influential family. She married a businessman, and together they lived on Wall Street. They attended an Episcopalian church where Elizabeth was very active in charitable works to the poor. When her father-in-law died, she became like a mother to her husband's six younger siblings, in addition to her own five children. During a trip to Italy she was introduced to Catholicism, and she converted to the Catholic Church following the death of her husband. After losing her family fortune, Elizabeth spent her life working to improve education and provide for the poor, as well as the needs of her family. She established the first Catholic school in the nation, and also founded the Sisters of Charity, the first American religious community. St. Elizabeth Ann Seton was the first native-born citizen of the United States to be declared a saint. She is also the patron of widows and those who have lost parents or children. Her feast day is January 4th.
Find a Devotional for this Saint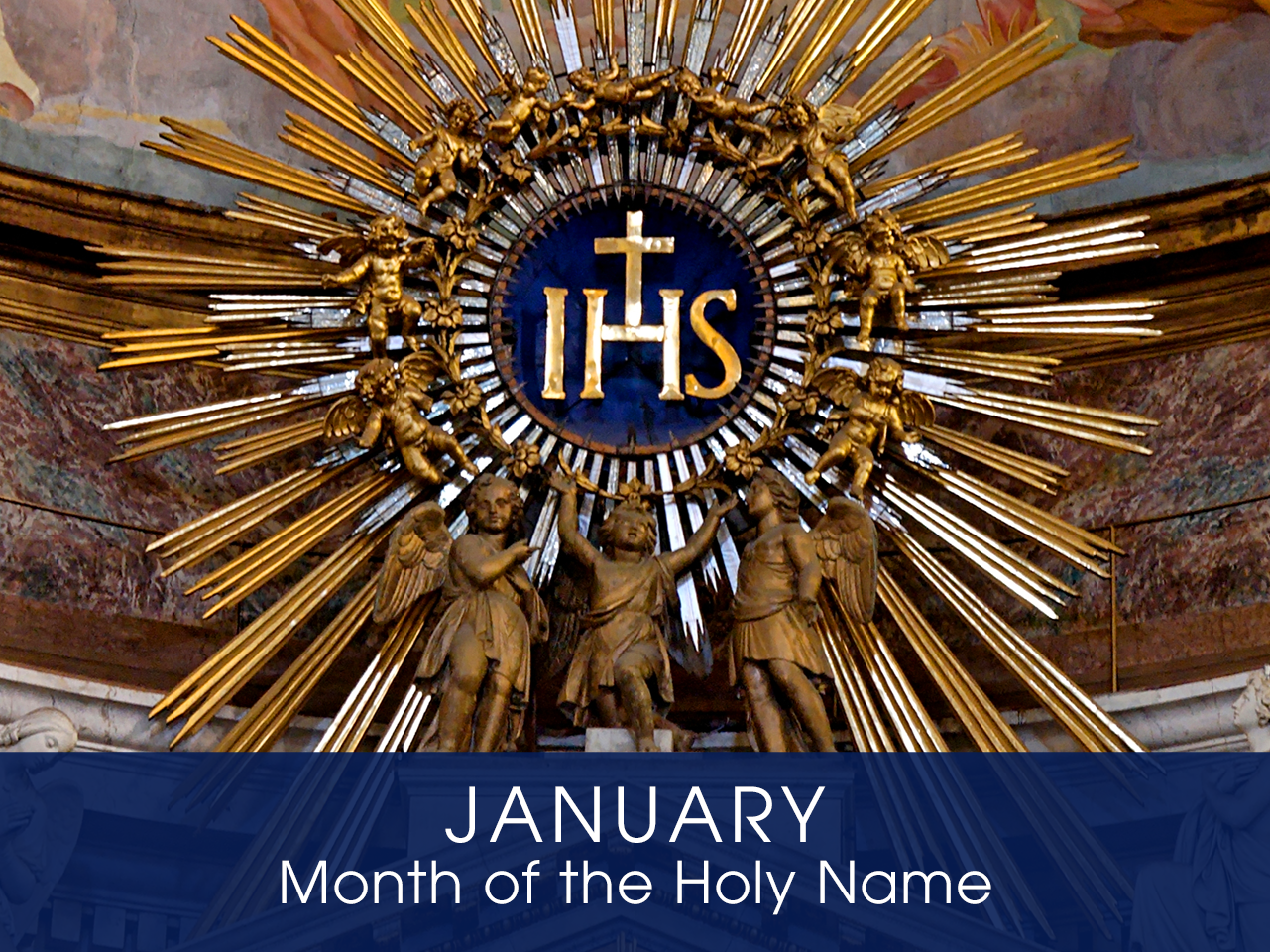 Month of the

Holy Name of Jesus
Devotion of the Month
The month of January is traditionally dedicated to the Holy Name of Jesus. After the Blessed Virgin Mary conceived by the Holy Spirit, the angel Gabriel appeared to St. Joseph and told him that the Child's name should be called Jesus, meaning "God Saves." According to Jewish law, on the 8th day after his birth a male child was to be circumcised, receive his name, and become a full member of God's covenant people. According to the old Roman liturgical calendar, the Feast of the Circumcision of Jesus was celebrated on January 1st, eight days after Christmas, the same day that He was given His sacred name. Currently we celebrate the Solemnity of the Mother of God on January 1st and honor the Holy Name of Jesus on January 3rd. For Catholics, Jesus' sacred name is the object of a special devotion symbolized by the monogram "IHS," (sometimes called a Christogram), which is the first three letters of the Greek spelling of His name.
Find a Devotional or Sacramental
Daily Prayers
Prayer for the Dead
In your hands, O Lord, we humbly entrust our brothers and sisters.
In this life you embraced them with your tender love;
deliver them now from every evil and bid them eternal rest.
The old order has passed away: welcome them into paradise,
where there will be no sorrow, no weeping or pain,
but fullness of peace and joy with your Son and the Holy
Spirit forever and ever. Amen.
Prayer of Spiritual Communion
My Jesus, I believe that You are present in the most Blessed Sacrament. I love You above all things and I desire to receive You into my soul. Since I cannot now receive You sacramentally, come at least spiritually into my heart. I embrace You as if You were already there, and unite myself wholly to You. Never permit me to be separated from You. Amen.
Prayer for the Holy Father
Almighty and everlasting God, have mercy upon Thy servant, Pope Francis, our Supreme Pontiff, and direct him, according to Thy loving kindness, in the way of eternal salvation; that, of Thy gift, he may ever desire that which is pleasing unto Thee and may accomplish it with all his might. Through Christ Our Lord. Amen. Our Father. Hail Mary.