"I know now that true charity consists in bearing all of our neighbors defects not being surprised at their weakness, but edified at their smallest virtues." St. Therese of Lisieux - The Little Flower
Today's

Meditation

"The life of prayer calls for continuous battles. It is the most important and the longest effort in a life dedicated to God. This effort has been given a beautiful name: it is called the guard of the heart. The human heart is a city; it was meant to be a stronghold. Sin surrendered it. Henceforth it is an open city, the walls of which have to be built up again. The enemy never ceases to do all he can to prevent this. He does this with his accustomed cleverness and strength, with stratagem and fury … he succeeds all along the line to distract us and entice us away from the divine presence. We must always be starting again. These continual recoveries, this endless beginning again, tires and disheartens us far more than the actual fighting. We would much prefer a real battle, fierce and decisive. But God, as a rule, thinks otherwise. He would rather we were in a constant state of war."
—Dom Augustin Guillerand, p. 57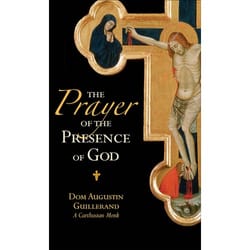 Daily

Verse
"But as for me, I will look to the Lord, I will wait for the God of my salvation; my God will hear me." Micah 7:7
St. Raymond of Penafort
Saint of the Day
St. Raymond of Penafort (1175–1275) was born in Spain to the noble family of Aragon. As a child he received an excellent education and displayed a great love for the Blessed Mother. After studying and teaching philosophy and law he entered the Order of Preachers. He preached the Crusades and encouraged the faithful to defend their civilization from foreign threats. To aid his preaching, Raymond requested that his fellow Dominican, St. Thomas Aquinas, write his epic Summa Contra Gentiles for the conversion of non-Catholics, especially Muslims. It is said that at least 10,000 Muslims were converted to the Catholic faith as a result of Raymond's evangelistic labors. Together with King James of Aragon and St. Peter Nolasco he founded the Order of Our Lady of Ransom (Mercedarians), a group that worked to free Christians enslaved by the Moors. Known for his great mind and great sanctity, St. Raymond was the Pope's personal confessor and close adviser. As a trained lawyer, he was also chosen to compile the Church's legal documents into one source of canon law which was then used for centuries. He also wrote a manual of moral theology for confessors. St. Raymond is famous for the miracle of sailing from the island of Majorca to Barcelona using his cape for a raft, in protest of the King of Aragon's refusal to dismiss his mistress. St. Raymond of Penafort is the patron of lawyers and canon lawyers. His feast day is January 7.
Find a Devotional for this Saint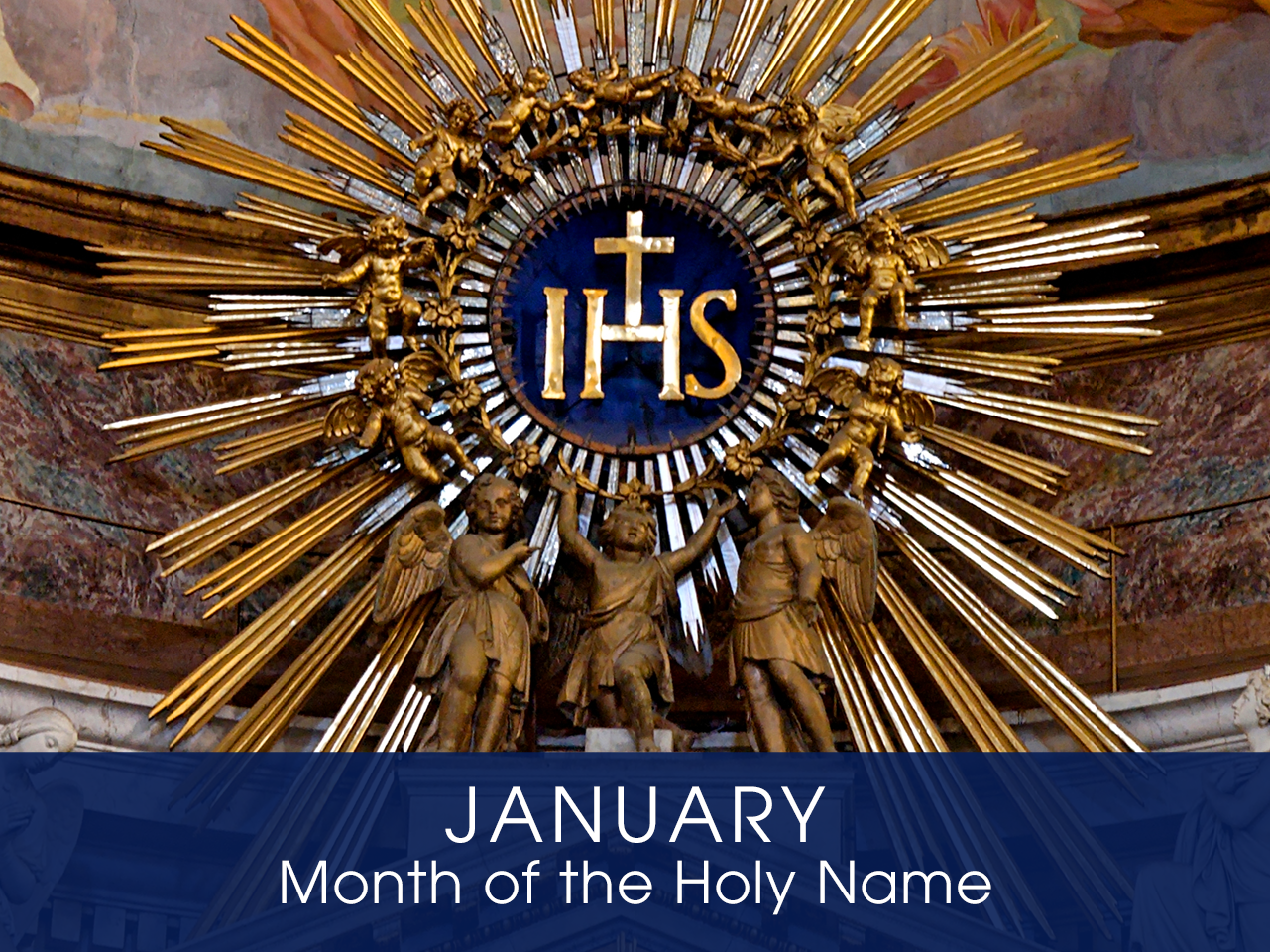 Month of the

Holy Name of Jesus
Devotion of the Month
The month of January is traditionally dedicated to the Holy Name of Jesus. After the Blessed Virgin Mary conceived by the Holy Spirit, the angel Gabriel appeared to St. Joseph and told him that the Child's name should be called Jesus, meaning "God Saves." According to Jewish law, on the 8th day after his birth a male child was to be circumcised, receive his name, and become a full member of God's covenant people. According to the old Roman liturgical calendar, the Feast of the Circumcision of Jesus was celebrated on January 1st, eight days after Christmas, the same day that He was given His sacred name. Currently we celebrate the Solemnity of the Mother of God on January 1st and honor the Holy Name of Jesus on January 3rd. For Catholics, Jesus' sacred name is the object of a special devotion symbolized by the monogram "IHS," (sometimes called a Christogram), which is the first three letters of the Greek spelling of His name.
Find a Devotional or Sacramental
Daily Prayers
Prayer for the Dead
In your hands, O Lord, we humbly entrust our brothers and sisters.
In this life you embraced them with your tender love;
deliver them now from every evil and bid them eternal rest.
The old order has passed away: welcome them into paradise,
where there will be no sorrow, no weeping or pain,
but fullness of peace and joy with your Son and the Holy
Spirit forever and ever. Amen.
Prayer of Spiritual Communion
My Jesus, I believe that You are present in the most Blessed Sacrament. I love You above all things and I desire to receive You into my soul. Since I cannot now receive You sacramentally, come at least spiritually into my heart. I embrace You as if You were already there, and unite myself wholly to You. Never permit me to be separated from You. Amen.
Prayer for the Holy Father
Almighty and everlasting God, have mercy upon Thy servant, Pope Francis, our Supreme Pontiff, and direct him, according to Thy loving kindness, in the way of eternal salvation; that, of Thy gift, he may ever desire that which is pleasing unto Thee and may accomplish it with all his might. Through Christ Our Lord. Amen. Our Father. Hail Mary.