"Christ made my soul beautiful with the jewels of grace and virtue. I belong to Him whom the angels serve." St. Agnes
Today's

Meditation

"With creation, God does not abandon his creatures to themselves. He not only gives them being and existence, but also, and at every moment, upholds and sustains them in being, enables them to act and brings them to their final end. Recognizing this utter dependence with respect to the Creator is a source of wisdom and freedom, of joy and confidence: 'For you love all things that exist, and detest none of the things that you have made; for you would not have made anything if you had hated it. How would anything have endured, if you had not willed it? Or how would anything not called forth by you have been preserved? You spare all things for they are yours, O Lord, you who love the living' (Wisdom 11:24-26)." — The Catechism of the Catholic Church, 301
Daily

Verse
"In the same way, the Spirit too comes to the aid of our weakness; for we do not know how to pray as we ought, but the Spirit itself intercedes with inexpressible groanings. And the one who searches hearts knows what is the intention of the Spirit, because it intercedes for the holy ones according to God's will." Romans 8:26-27
St. Adrian of Canterbury
Saint of the Day
St. Adrian of Canterbury (d. 710 A.D.), also known as St. Hadrian, was a native of North Africa who was sent to England to accompany his friend, Theodore of Tarsus, who was appointed to the prestigious archbishopric of Canterbury. St. Adrian was originally offered and turned down the ecclesiastical position, and instead was made abbot of St. Augustine's Abbey at Canterbury (originally called the Monastery of St. Peter). The monastic school grew and thrived under his leadership, and became an important center of learning where many future scholars, bishops, and abbots were educated in Latin, Greek, scripture, theology, Roman law, arithmetic, and other subjects. St. Adrian himself was well known for being a great teacher of religion, math, science, and literature. He also served as the Holy Father's assistant and adviser. During the lives of Adrian and Theodore, education and learning flourished in England. After his death, his tomb became famous for miracles. His feast day is January 9th.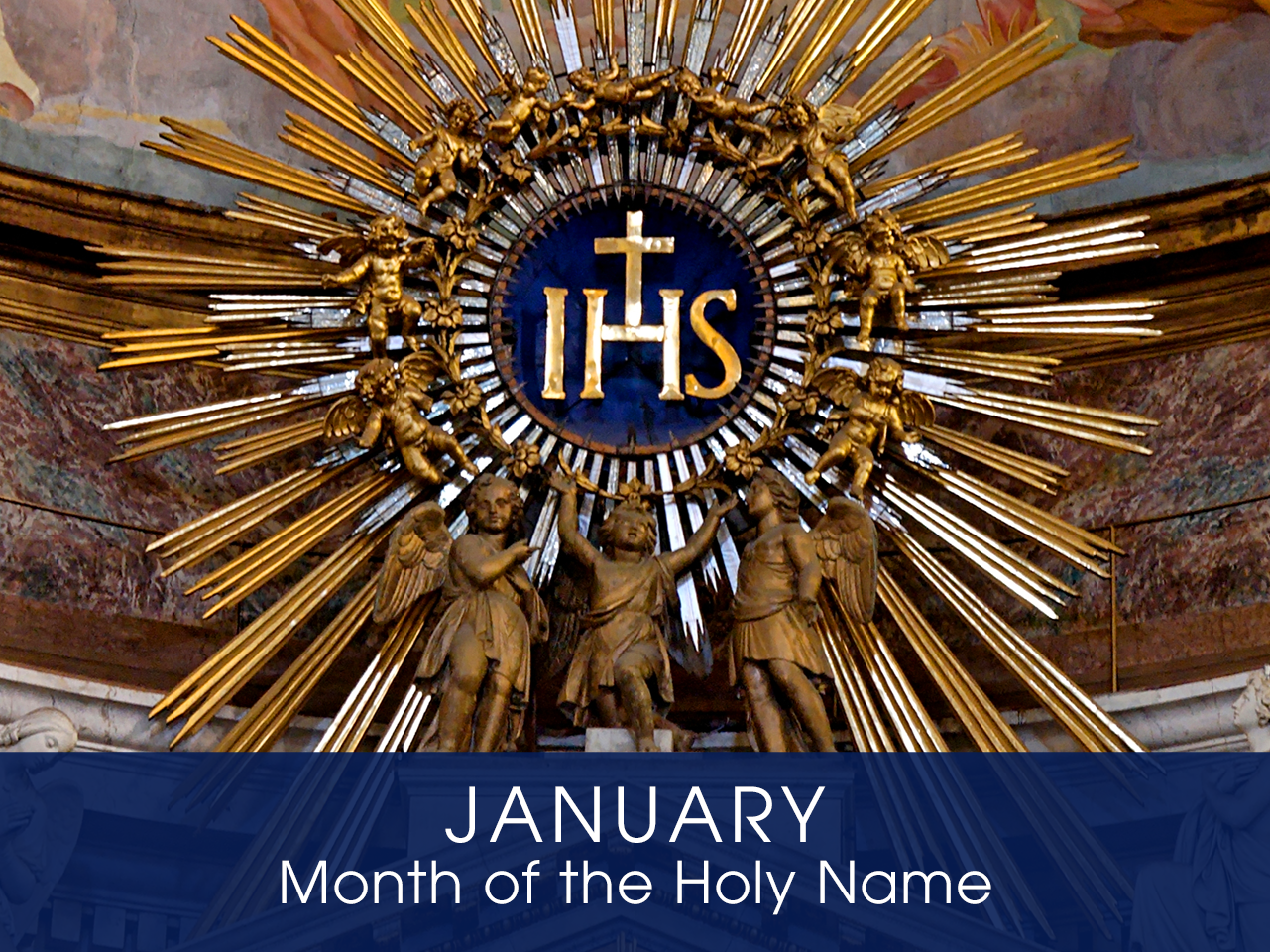 Month of the

Holy Name of Jesus
Devotion of the Month
The month of January is traditionally dedicated to the Holy Name of Jesus. After the Blessed Virgin Mary conceived by the Holy Spirit, the angel Gabriel appeared to St. Joseph and told him that the Child's name should be called Jesus, meaning "God Saves." According to Jewish law, on the 8th day after his birth a male child was to be circumcised, receive his name, and become a full member of God's covenant people. According to the old Roman liturgical calendar, the Feast of the Circumcision of Jesus was celebrated on January 1st, eight days after Christmas, the same day that He was given His sacred name. Currently we celebrate the Solemnity of the Mother of God on January 1st and honor the Holy Name of Jesus on January 3rd. For Catholics, Jesus' sacred name is the object of a special devotion symbolized by the monogram "IHS," (sometimes called a Christogram), which is the first three letters of the Greek spelling of His name.
Find a Devotional or Sacramental
Daily Prayers
Prayer for the Dead
In your hands, O Lord, we humbly entrust our brothers and sisters.
In this life you embraced them with your tender love;
deliver them now from every evil and bid them eternal rest.
The old order has passed away: welcome them into paradise,
where there will be no sorrow, no weeping or pain,
but fullness of peace and joy with your Son and the Holy
Spirit forever and ever. Amen.
Prayer of Spiritual Communion
My Jesus, I believe that You are present in the most Blessed Sacrament. I love You above all things and I desire to receive You into my soul. Since I cannot now receive You sacramentally, come at least spiritually into my heart. I embrace You as if You were already there, and unite myself wholly to You. Never permit me to be separated from You. Amen.
Prayer for the Holy Father
Almighty and everlasting God, have mercy upon Thy servant, Pope Francis, our Supreme Pontiff, and direct him, according to Thy loving kindness, in the way of eternal salvation; that, of Thy gift, he may ever desire that which is pleasing unto Thee and may accomplish it with all his might. Through Christ Our Lord. Amen. Our Father. Hail Mary.