"As the pilot of a vessel is tried in the storm; as the wrestler is tried in the ring, the soldier in the battle, and the hero in adversity: so is the Christian tried in temptation." St. Basil the Great
Today's

Meditation

"The most powerful thing we can do on this earth with our time is to spend it in Eucharistic adoration. Nothing can do more to change the world, to bring about peace, to convert hearts, to make reparation for the many evils committed. Spending time in prayer may seem, on the outside, to be a passive thing; however, it is anything but! Our world is in desperate need of hope, of renewal, of a 'turning back' to the things of God. By visiting Our Lord in the Blessed Sacrament, we take up the best weapon for the battles of our age and contribute to the healing of our culture. Cultivating a Eucharistic life of adoration also bears tremendous fruit in our own hearts and lives. We cannot spend time in the rays of His Eucharistic Presence without receiving His grace, His love, His mercy, His peace. As we gaze upon Him Face to face, we are transformed little by little into a closer reflection of His divine image."
—Poor Clares of Perpetual Adoration, p. 37-38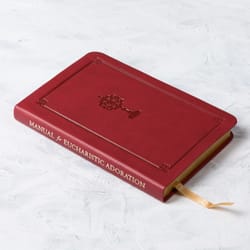 Daily

Verse
"But the Lord is faithful; he will strengthen you and guard you from the evil one. We are confident of you in the Lord that what we instruct you, you [both] are doing and will continue to do. May the Lord direct your hearts to the love of God and to the endurance of Christ." 2 Thessalonians 3:3-5
St. William of Bourges
Saint of the Day
St. William of Bourges (1155–1209), also known as St. William the Confessor, was born to a noble family in France. He was educated under his uncle who was an archdeacon, and from a young age turned away from the world and gave himself over to religion and learning. He became a priest and later entered religious life in a Cistercian monastery, an order famous for strict discipline. St. William was known to be a cheerful man and a hard worker, and pure of heart. He was chosen to be Archbishop of Bourges in the year 1200, much to his dismay. He left the solitude of the monastery out of obedience and entered into the public life of a bishop, throwing himself wholeheartedly into serving both the spiritual and physical needs of the poor. As bishop he continued his great austerities. He had a great devotion to the Blessed Sacrament and would spend much time in prayer at the foot of the altar. He was known for performing miracles both during his life and after his death. He died kneeling at prayer, and by request was buried wearing his hair shirt and lying in ashes. His feast day is January 10.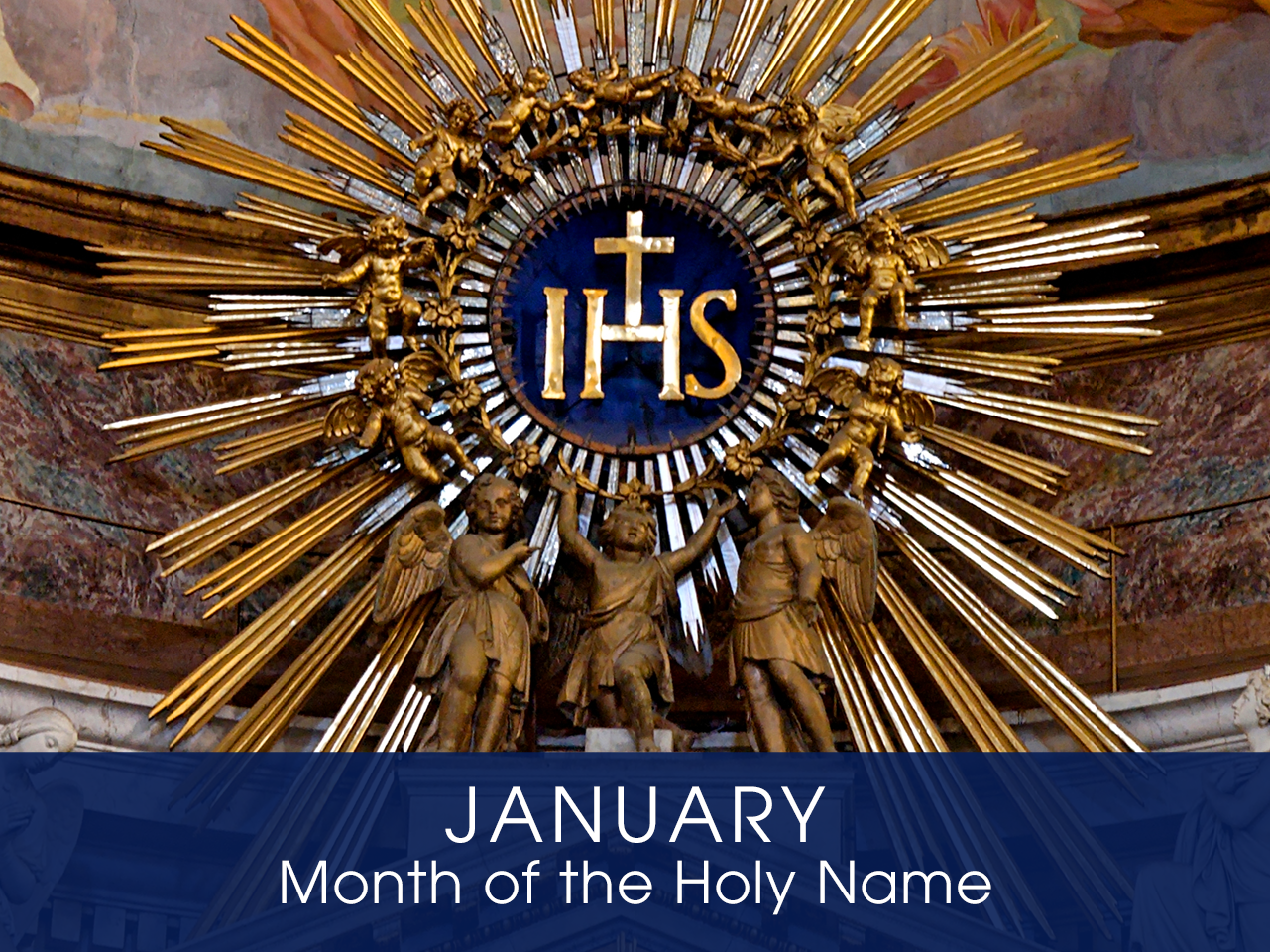 Month of the

Holy Name of Jesus
Devotion of the Month
The month of January is traditionally dedicated to the Holy Name of Jesus. After the Blessed Virgin Mary conceived by the Holy Spirit, the angel Gabriel appeared to St. Joseph and told him that the Child's name should be called Jesus, meaning "God Saves." According to Jewish law, on the 8th day after his birth a male child was to be circumcised, receive his name, and become a full member of God's covenant people. According to the old Roman liturgical calendar, the Feast of the Circumcision of Jesus was celebrated on January 1st, eight days after Christmas, the same day that He was given His sacred name. Currently we celebrate the Solemnity of the Mother of God on January 1st and honor the Holy Name of Jesus on January 3rd. For Catholics, Jesus' sacred name is the object of a special devotion symbolized by the monogram "IHS," (sometimes called a Christogram), which is the first three letters of the Greek spelling of His name.
Find a Devotional or Sacramental
Daily Prayers
Prayer for the Dead
In your hands, O Lord, we humbly entrust our brothers and sisters.
In this life you embraced them with your tender love;
deliver them now from every evil and bid them eternal rest.
The old order has passed away: welcome them into paradise,
where there will be no sorrow, no weeping or pain,
but fullness of peace and joy with your Son and the Holy
Spirit forever and ever. Amen.
Prayer of Spiritual Communion
My Jesus, I believe that You are present in the most Blessed Sacrament. I love You above all things and I desire to receive You into my soul. Since I cannot now receive You sacramentally, come at least spiritually into my heart. I embrace You as if You were already there, and unite myself wholly to You. Never permit me to be separated from You. Amen.
Prayer for the Holy Father
Almighty and everlasting God, have mercy upon Thy servant, Pope Francis, our Supreme Pontiff, and direct him, according to Thy loving kindness, in the way of eternal salvation; that, of Thy gift, he may ever desire that which is pleasing unto Thee and may accomplish it with all his might. Through Christ Our Lord. Amen. Our Father. Hail Mary.