"If you learn everything except Christ, you learn nothing. If you learn nothing except Christ, you learn everything." St. Bonaventure
Today's

Meditation

"Man will not consent to drive away the money-changers from the temple of his soul until he realizes that it is a Holy of Holies—not a house of traffic, but in very truth the house of God. We thus reach two striking conclusions: There cannot be entire dependence upon the Holy Spirit's guidance, which is the true meaning of living in Christ, without complete self-renunciation. There cannot be complete self-renunciation without the constant underlying spirit of faith, without the habit of interior silence, a silence where God is dwelling. Many do not see the connection between thoughts about the King and the service of the King; between the interior silence … and the continual detachment … If we look closer, it will be seen that there is a strong, close, unbreakable link between the two. Find a recollected person, and he will be detached; seek one who is detached, and he will be recollected. To have found one is to have discovered the other … Anyone who tries, on a given day, to practice either recollection or detachment cannot ignore the fact that he is doing a double stroke of work."
—Raoul Plus, S.J., p. 39-40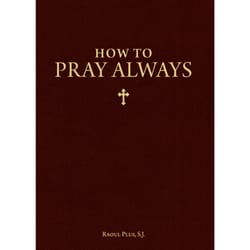 Daily

Verse
"Trust in the Lord with all your heart, and do not rely on your own insight. In all your ways acknowledge him,and he will make straight your paths." Proverbs 3:5-6
St. Marguerite Bourgeoys
Saint of the Day
St. Marguerite Bourgeoys (1620-1700) was born in France to a large middle-class Christian family. After having a deep religious experience at the age of 20, Marguerite dedicated her life to God through the Virgin Mary. She then joined an aposolate which served God by educating underprivileged children. When she was 32 the governor of Fort Ville-Marie (now Montreal, Canada), visited Marguerite's town and invited her to be a missionary in the New World as a lay teacher, instructing the children of the colonists and the Native Americans. Marguerite agreed and made the long ocean journey. Realizing the importance of the family in establishing New France, Marguerite mentored young ladies and prepared them for marriage and family life as pioneer women. She signed as a witness on the marriage certificates of many early settlers. As a result of these activities she was affectionately called the "Mother of the Colony." She also worked to build the first church and the first school. She also founded the Congregation of Notre Dame of Montreal, which is an active religious order to this day. For her great apostolic and missionary activity she is considered the co-foundress of Montreal. She is also the first woman saint of the Catholic Church in Canada. Her feast day is January 12.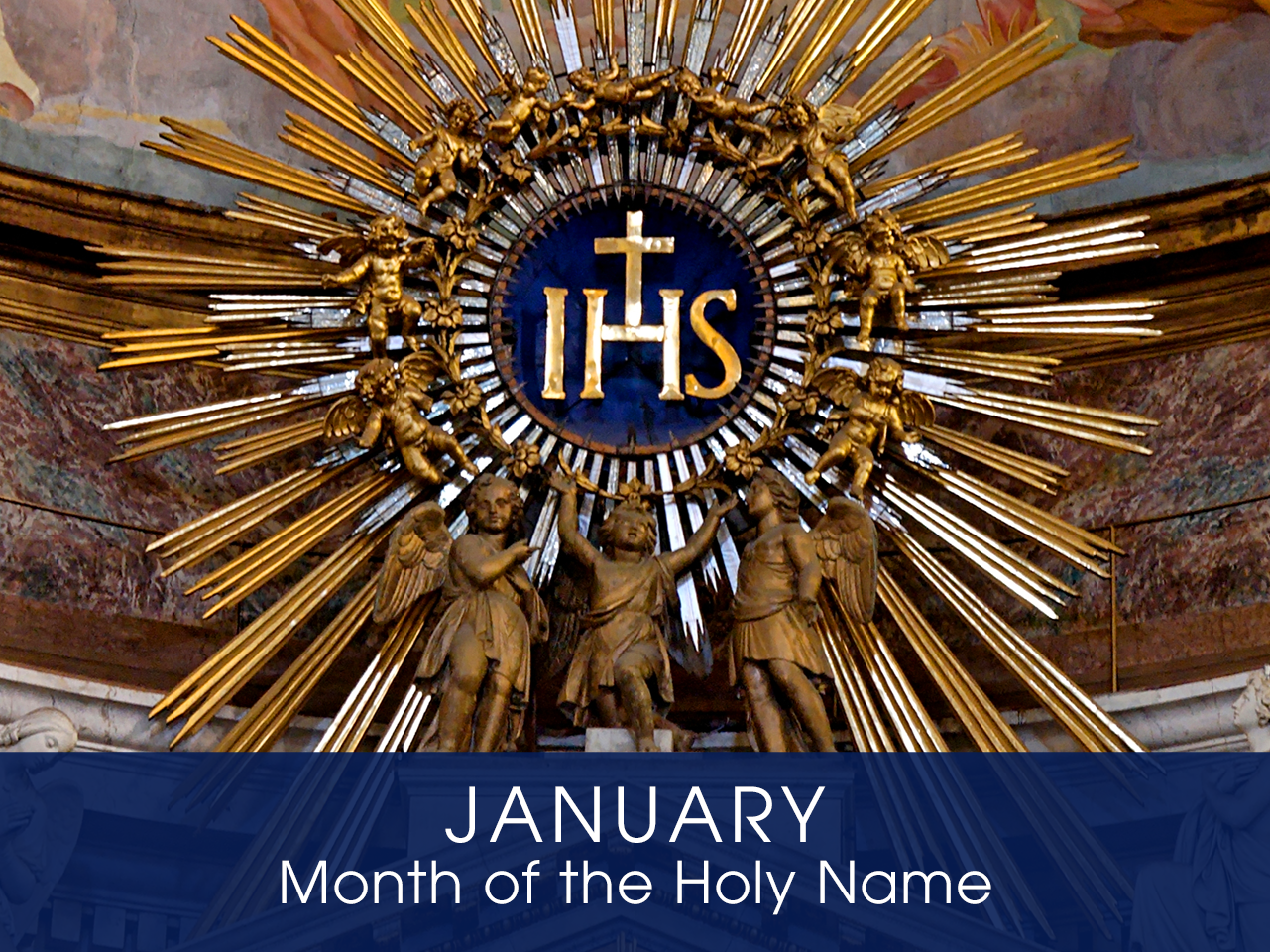 Month of the

Holy Name of Jesus
Devotion of the Month
The month of January is traditionally dedicated to the Holy Name of Jesus. After the Blessed Virgin Mary conceived by the Holy Spirit, the angel Gabriel appeared to St. Joseph and told him that the Child's name should be called Jesus, meaning "God Saves." According to Jewish law, on the 8th day after his birth a male child was to be circumcised, receive his name, and become a full member of God's covenant people. According to the old Roman liturgical calendar, the Feast of the Circumcision of Jesus was celebrated on January 1st, eight days after Christmas, the same day that He was given His sacred name. Currently we celebrate the Solemnity of the Mother of God on January 1st and honor the Holy Name of Jesus on January 3rd. For Catholics, Jesus' sacred name is the object of a special devotion symbolized by the monogram "IHS," (sometimes called a Christogram), which is the first three letters of the Greek spelling of His name.
Find a Devotional or Sacramental
Daily Prayers
Prayer for the Dead
In your hands, O Lord, we humbly entrust our brothers and sisters.
In this life you embraced them with your tender love;
deliver them now from every evil and bid them eternal rest.
The old order has passed away: welcome them into paradise,
where there will be no sorrow, no weeping or pain,
but fullness of peace and joy with your Son and the Holy
Spirit forever and ever. Amen.
Prayer of Spiritual Communion
My Jesus, I believe that You are present in the most Blessed Sacrament. I love You above all things and I desire to receive You into my soul. Since I cannot now receive You sacramentally, come at least spiritually into my heart. I embrace You as if You were already there, and unite myself wholly to You. Never permit me to be separated from You. Amen.
Prayer for the Holy Father
Almighty and everlasting God, have mercy upon Thy servant, Pope Francis, our Supreme Pontiff, and direct him, according to Thy loving kindness, in the way of eternal salvation; that, of Thy gift, he may ever desire that which is pleasing unto Thee and may accomplish it with all his might. Through Christ Our Lord. Amen. Our Father. Hail Mary.