"He took what is mine in order that He might impart to me what is His. He took it not to overturn it but to fill it." St. Ambrose
Today's

Meditation

"[Jesus] sees in children traits and attitudes that are essential in anyone if he is to gain heaven, and, even in this life, if he is to enter the kingdom of faith. A child is devoid of even the slightest feeling of self-sufficiency. It is in constant need of its parents, and knows it. A child is fundamentally a being in need, and this is what a Christian should be before his Father God, a being in total need. A child lives fully in the present and nothing more. The adult's less admirable predisposition is to look restlessly to the future, ignoring the here and now, the present moment, which ought to be lived to the full."
—Fr. Francis Fernández Carvajal, p. 170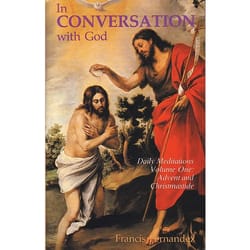 Daily

Verse
"Let the words of my mouth and the meditation of my heart be acceptable in thy sight, O Lord, my rock and my redeemer." Psalm 19:14
St. Hilary of Poitiers
Saint of the Day
St. Hilary of Poitiers (300–368 A.D.) was born in France to noble pagan parents. He was well instructed in philosophy and converted to Christianity after studying the Old and New Testaments. He was baptized into the Church along with his wife and daughter. He was widely respected by the people of Poitiers, so much so that they elected him their bishop. Hilary worked hard to defend the Catholic Church against the entrenched heresy of Arianism which resulted in his four-year exile to Phrygia, and his popular title, "Hammer of the Arians." Although he was a gentle and courteous man, he was labeled a 'disturber of the peace' for defending Jesus' sacred humanity and divinity against the Arian heretics, the only orthodox bishop in his region doing so. He was renowned for his great learning and sanctity, and for defending the Church valiantly in word and by pen. While in exile he wrote numerous and important theological works resulting in his title as a Doctor of the Church. St. Hilary's feast day is January 13.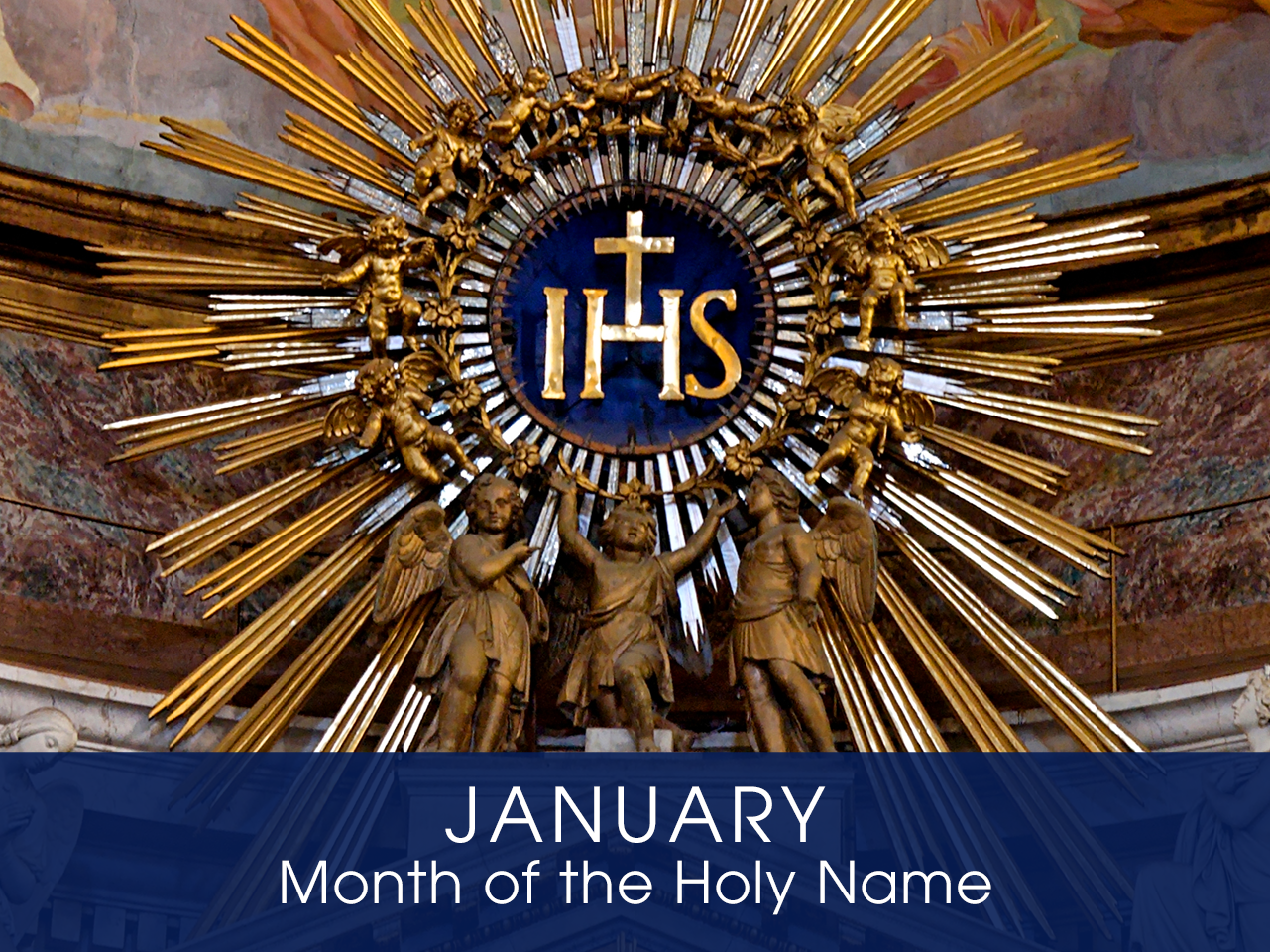 Month of the

Holy Name of Jesus
Devotion of the Month
The month of January is traditionally dedicated to the Holy Name of Jesus. After the Blessed Virgin Mary conceived by the Holy Spirit, the angel Gabriel appeared to St. Joseph and told him that the Child's name should be called Jesus, meaning "God Saves." According to Jewish law, on the 8th day after his birth a male child was to be circumcised, receive his name, and become a full member of God's covenant people. According to the old Roman liturgical calendar, the Feast of the Circumcision of Jesus was celebrated on January 1st, eight days after Christmas, the same day that He was given His sacred name. Currently we celebrate the Solemnity of the Mother of God on January 1st and honor the Holy Name of Jesus on January 3rd. For Catholics, Jesus' sacred name is the object of a special devotion symbolized by the monogram "IHS," (sometimes called a Christogram), which is the first three letters of the Greek spelling of His name.
Find a Devotional or Sacramental
Daily Prayers
Prayer for the Dead
In your hands, O Lord, we humbly entrust our brothers and sisters.
In this life you embraced them with your tender love;
deliver them now from every evil and bid them eternal rest.
The old order has passed away: welcome them into paradise,
where there will be no sorrow, no weeping or pain,
but fullness of peace and joy with your Son and the Holy
Spirit forever and ever. Amen.
Prayer of Spiritual Communion
My Jesus, I believe that You are present in the most Blessed Sacrament. I love You above all things and I desire to receive You into my soul. Since I cannot now receive You sacramentally, come at least spiritually into my heart. I embrace You as if You were already there, and unite myself wholly to You. Never permit me to be separated from You. Amen.
Prayer for the Holy Father
Almighty and everlasting God, have mercy upon Thy servant, Pope Francis, our Supreme Pontiff, and direct him, according to Thy loving kindness, in the way of eternal salvation; that, of Thy gift, he may ever desire that which is pleasing unto Thee and may accomplish it with all his might. Through Christ Our Lord. Amen. Our Father. Hail Mary.