"If the heart wanders or is distracted, bring it back to the point quite gently and replace it tenderly in its Master's presence. And even if you did nothing during the whole of your hour but bring your heart back and place it again in Our Lord's presence, though it went away every time you brought it back, your hour would be very well employed." St. Francis de Sales
Today's

Meditation

"Why? Why do you need more? Sometimes this is the result of not trusting in God to meet our needs. But just as food can't bring enduring peace to our bodies, money can't bring a similar kind of peace to our souls."
—Matt Fradd, p.44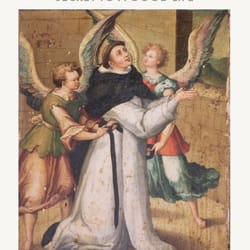 Daily

Verse
"Though the fig tree do not blossom, nor fruit be on the vines, the produce of the olive fail and the fields yield no food, the flock be cut off from the fold and there be no herd in the stalls, yet I will rejoice in the Lord, I will joy in the God of my salvation." Habakkuk 3:17-18
St. Felix of Nola
Saint of the Day
St. Felix of Nola (d. 250 A.D.) was born in Italy near Naples, the son of a Syrian soldier. After his father's death, Felix gave his goods to the poor and entered the priesthood. He was ordained by his bishop, St. Maximus of Nola, and served as his assistant. When persecution against Christians increased under Roman Emperor Decius, St. Maximus hid in the desert while St. Felix was captured, tortured, and thrown into prison. While in prison an angel appeared to Felix and freed him from his chains, bidding him to go to the aid of his bishop, St. Maximus, who was at the point of starving to death. After assisting the bishop, Felix fled from his captors by hiding in a hole. Miraculously, a spider quickly spun a web over the hole and prevented St. Felix from being caught by his pursuers. Felix continued hiding in a dry well for six months until the persecution abated. Afterwards he declined an offer to become the bishop of Nola following the death of St. Maximus. Felix's property was confiscated in the persecutions, so he lived his remaining years farming a few acres of rented land for his own sustenance as well as alms for the poor. His feast day is January 14.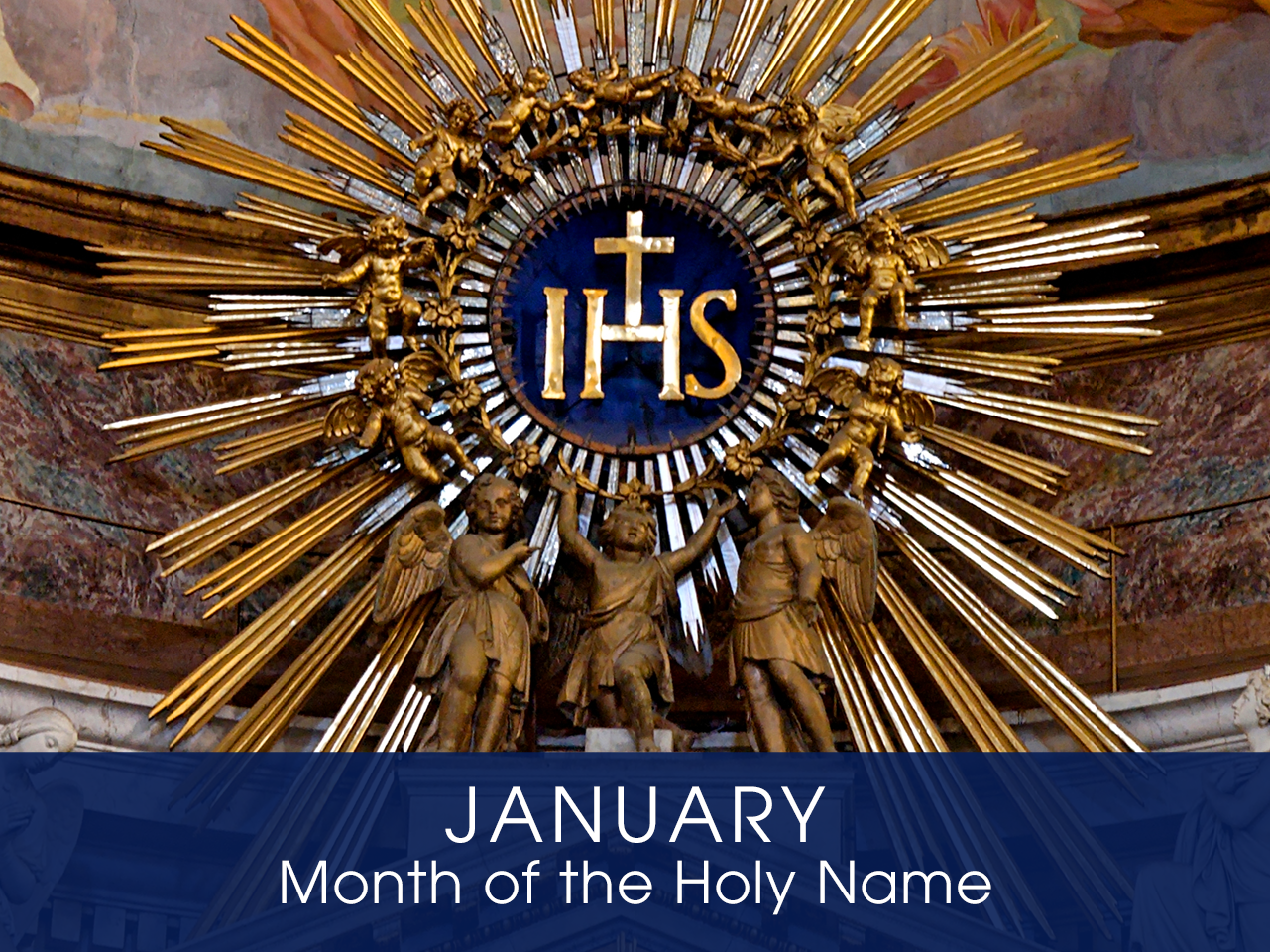 Month of the

Holy Name of Jesus
Devotion of the Month
The month of January is traditionally dedicated to the Holy Name of Jesus. After the Blessed Virgin Mary conceived by the Holy Spirit, the angel Gabriel appeared to St. Joseph and told him that the Child's name should be called Jesus, meaning "God Saves." According to Jewish law, on the 8th day after his birth a male child was to be circumcised, receive his name, and become a full member of God's covenant people. According to the old Roman liturgical calendar, the Feast of the Circumcision of Jesus was celebrated on January 1st, eight days after Christmas, the same day that He was given His sacred name. Currently we celebrate the Solemnity of the Mother of God on January 1st and honor the Holy Name of Jesus on January 3rd. For Catholics, Jesus' sacred name is the object of a special devotion symbolized by the monogram "IHS," (sometimes called a Christogram), which is the first three letters of the Greek spelling of His name.
Find a Devotional or Sacramental
Daily Prayers
Prayer for the Dead
In your hands, O Lord, we humbly entrust our brothers and sisters.
In this life you embraced them with your tender love;
deliver them now from every evil and bid them eternal rest.
The old order has passed away: welcome them into paradise,
where there will be no sorrow, no weeping or pain,
but fullness of peace and joy with your Son and the Holy
Spirit forever and ever. Amen.
Prayer of Spiritual Communion
My Jesus, I believe that You are present in the most Blessed Sacrament. I love You above all things and I desire to receive You into my soul. Since I cannot now receive You sacramentally, come at least spiritually into my heart. I embrace You as if You were already there, and unite myself wholly to You. Never permit me to be separated from You. Amen.
Prayer for the Holy Father
Almighty and everlasting God, have mercy upon Thy servant, Pope Francis, our Supreme Pontiff, and direct him, according to Thy loving kindness, in the way of eternal salvation; that, of Thy gift, he may ever desire that which is pleasing unto Thee and may accomplish it with all his might. Through Christ Our Lord. Amen. Our Father. Hail Mary.