"Announcing the Gospel is the first and greatest act of charity." St. Arnold Janssen
Today's

Meditation

"Jesus himself, after all, had given everything for the sake of the reign of God. He gave up the security and comfort of a family and a spouse. He did without a house or property or any other form of security. Still more serious: He avoided putting himself at the center of everything and thus exercising religious power… Jesus lives not for Himself, His own person, but surrendering utterly and slowly to God's cause, or more precisely to the reign of God that is now coming…Jesus possessed unheard-of freedom. He is not a model of one who is tormented, grim, dissatisfied, or who has fallen short of His goal. He is no fanatic, utterly convinced that He must force others to adopt His own position. Nor is He the type of the hero, tragic or otherwise. He remains to the end a free person…a man full of generosity and humanity."
—Gerhard Lohfink, p.53-54
Daily

Verse
"For rulers are not a cause of fear to good conduct, but to evil. Do you wish to have no fear of authority? Then do what is good and you will receive approval from it, for it is a servant of God for your good. But if you do evil, be afraid, for it does not bear the sword without purpose; it is the servant of God to inflict wrath on the evildoer. Therefore, it is necessary to be subject not only because of the wrath but also because of conscience." Romans 12:3-5
St. Arnold Janssen
Saint of the Day
St. Arnold Janssen (1837–1909) was born in Germany to a large Catholic family. He was a man of simple faith who studied theology, entered the priesthood, and served as a school teacher. He had a profound devotion to the Sacred Heart of Jesus, which awakened in him an increasing desire for missionary work. This led him to found The Little Messenger of the Sacred Heart, a monthly magazine sharing news of the Church's missionary activities and encouraging German Catholics to do more to help the missions. This was during a time of anti-Catholic persecution in Germany, and many priests were expelled from the country. Arnold suggested that these expelled priests serve in the missions, and for this purpose he founded the Society of the Divine Word, known as the Divine Word Missionaries, a religious congregation of missionary priests and lay brothers. He also founded two Orders of religious sisters associated with this missionary activity. Today more than 6,000 Divine Word Missionaries are active in 63 countries. St. Arnold was canonized in 2003 by Pope St. John Paul II. His feast day is celebrated on January 15.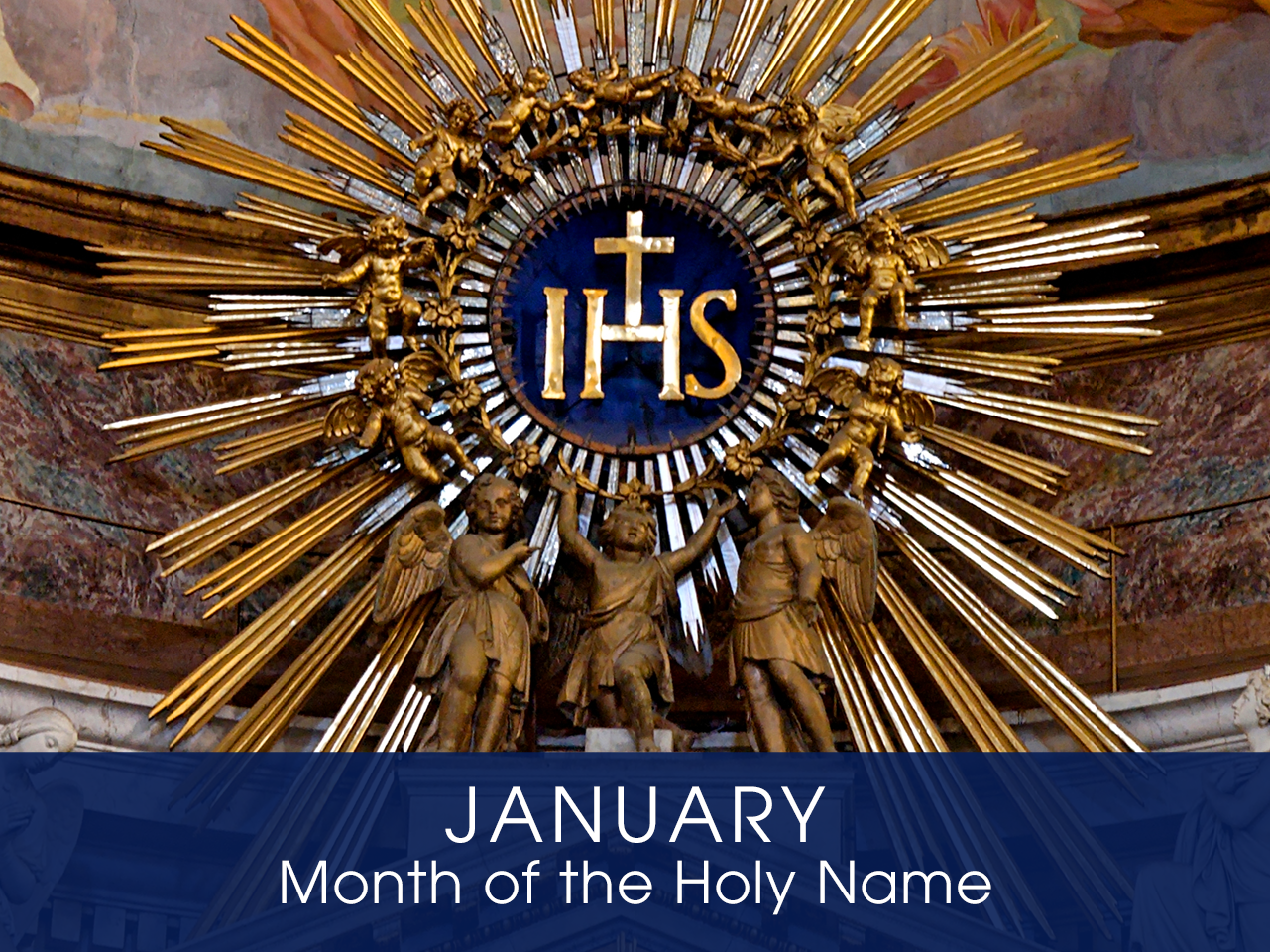 Month of

the Holy Name of Jesus
Devotion of the Month
The month of January is traditionally dedicated to the Holy Name of Jesus. After the Blessed Virgin Mary conceived by the Holy Spirit, the angel Gabriel appeared to St. Joseph and told him that the Child's name should be called Jesus, meaning "God Saves." According to Jewish law, on the 8th day after his birth a male child was to be circumcised, receive his name, and become a full member of God's covenant people. According to the old Roman liturgical calendar, the Feast of the Circumcision of Jesus was celebrated on January 1st, eight days after Christmas, the same day that He was given His sacred name. Currently we celebrate the Solemnity of the Mother of God on January 1st and honor the Holy Name of Jesus on January 3rd. For Catholics, Jesus' sacred name is the object of a special devotion symbolized by the monogram "IHS," (sometimes called a Christogram), which is the first three letters of the Greek spelling of His name.
Find a Devotional or Sacramental
Daily Prayers
Prayer for the Dead
In your hands, O Lord, we humbly entrust our brothers and sisters.
In this life you embraced them with your tender love;
deliver them now from every evil and bid them eternal rest.
The old order has passed away: welcome them into paradise,
where there will be no sorrow, no weeping or pain,
but fullness of peace and joy with your Son and the Holy
Spirit forever and ever. Amen.
Prayer of Spiritual Communion
My Jesus, I believe that You are present in the most Blessed Sacrament. I love You above all things and I desire to receive You into my soul. Since I cannot now receive You sacramentally, come at least spiritually into my heart. I embrace You as if You were already there, and unite myself wholly to You. Never permit me to be separated from You. Amen.
Prayer for the Holy Father
Almighty and everlasting God, have mercy upon Thy servant, Pope Francis, our Supreme Pontiff, and direct him, according to Thy loving kindness, in the way of eternal salvation; that, of Thy gift, he may ever desire that which is pleasing unto Thee and may accomplish it with all his might. Through Christ Our Lord. Amen. Our Father. Hail Mary.