"The soul hungers for God, and nothing but God can satiate it. Therefore He came to dwell on earth and assumed a Body in order that this Body might become the Food of our souls." St. John Vianney
Today's

Meditation

"The right understanding of things is a necessary step in the way of perfection. The hunger and thirst after justice—after improvemtns—needs direction; the beginning of wisdom—the yearning and will to be holy—must be orderly; the growth in the knowledge and love of God—the giving of the mind and heart to God—have marks that show the way. To follow these, there must be a thought of spiritual need, a meditation on what has been acquired, a looking backward on the reasons and causes of failure or success, a searching anew for the means to avoid the mistakes of the past, while new courage, fresh resolve, and reborn yearning urge the soul to ascend the mountaintops where perfection waits."
—Matt Fradd, p.31
Daily

Verse
"Yet I consider life of no importance to me, if only I may finish my course and the ministry that I received from the Lord Jesus, to bear witness to the gospel of God's grace." Acts 20:24
St. Margaret of Hungary
Saint of the Day
St. Margaret of Hungary (1242–1271) was the daughter of King Bela IV of Hungary, and niece of the famed St. Elizabeth of Hungary. Her royal parents made a vow to God that if Hungary was saved from the Mongol invasion they would dedicate Margaret to religion. God heard their prayer and the country was saved. The king and queen then entrusted four-year-old Margaret to be raised and educated in a Dominican convent. At the age of ten Margaret was transferred to the Convent of the Blessed Virgin founded by her parents, built on an island her parents named after her. Margaret spent the rest of her life there, dedicating herself to prayer and severe penances. She opposed her father's attempts to arrange her political marriage with the King of Bohemia, even though her suitor obtained a dispensation from the pope to release her from her religious vows so that she could enter into matrimony. Margaret made her solemn vows as a Dominican nun at the age of eighteen. Although a beautiful princess, she took the most menial tasks in the convent and dedicated her life to serving the poor and sick. She was considered a saint during her life and after her death. Many miracles, especially the curing of illnesses, were attributed to her intercession. She died at the age of 28. Her feast day is January 18.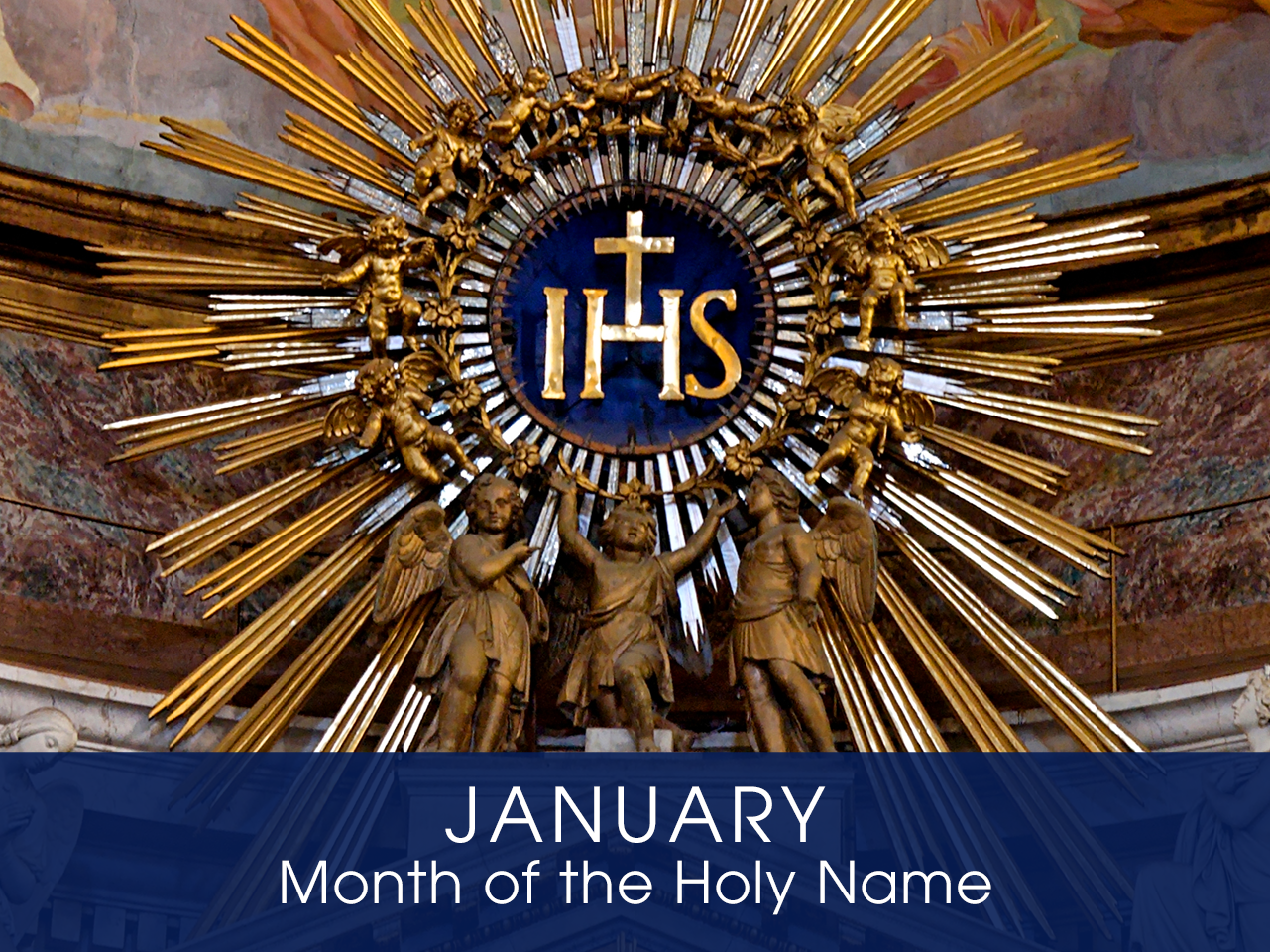 Month of the

Holy Name of Jesus
Devotion of the Month
The month of January is traditionally dedicated to the Holy Name of Jesus. After the Blessed Virgin Mary conceived by the Holy Spirit, the angel Gabriel appeared to St. Joseph and told him that the Child's name should be called Jesus, meaning "God Saves." According to Jewish law, on the 8th day after his birth a male child was to be circumcised, receive his name, and become a full member of God's covenant people. According to the old Roman liturgical calendar, the Feast of the Circumcision of Jesus was celebrated on January 1st, eight days after Christmas, the same day that He was given His sacred name. Currently we celebrate the Solemnity of the Mother of God on January 1st and honor the Holy Name of Jesus on January 3rd. For Catholics, Jesus' sacred name is the object of a special devotion symbolized by the monogram "IHS," (sometimes called a Christogram), which is the first three letters of the Greek spelling of His name.
Find a Devotional or Sacramental
Daily Prayers
Prayer for the Dead
In your hands, O Lord, we humbly entrust our brothers and sisters.
In this life you embraced them with your tender love;
deliver them now from every evil and bid them eternal rest.
The old order has passed away: welcome them into paradise,
where there will be no sorrow, no weeping or pain,
but fullness of peace and joy with your Son and the Holy
Spirit forever and ever. Amen.
Prayer of Spiritual Communion
My Jesus, I believe that You are present in the most Blessed Sacrament. I love You above all things and I desire to receive You into my soul. Since I cannot now receive You sacramentally, come at least spiritually into my heart. I embrace You as if You were already there, and unite myself wholly to You. Never permit me to be separated from You. Amen.
Prayer for the Holy Father
Almighty and everlasting God, have mercy upon Thy servant, Pope Francis, our Supreme Pontiff, and direct him, according to Thy loving kindness, in the way of eternal salvation; that, of Thy gift, he may ever desire that which is pleasing unto Thee and may accomplish it with all his might. Through Christ Our Lord. Amen. Our Father. Hail Mary.