"One should not say that it is impossible to reach a virtuous life; but one should say that it is not easy. Nor do those who have reached it find it easy to maintain." St. Antony Of The Desert
Today's

Meditation

"That which our Lord and Savior Jesus Christ did and suffered for all men, He did and suffered for each one in particular; and He would not have thought it too much to do if it had been a question of saving only a single soul. The salvation of a soul is, then, the price of the blood of God, the price of the death of God, the price of the greatest sacrifice that God, clothed in our human nature, could possibly make! This is incomprehensible! … It proves that the dignity of a soul is beyond understanding—for God to abase Himself, for God to annihilate Himself, for God to sacrifice Himself, only to save that soul and make it happy forever! … As for us, who believe humbly and firmly all that God has revealed to us, let us learn, by the contemplation of God upon a Cross, what is the value of our souls. Let us not lose our soul; let us not prostitute it to creatures; and to make sure of our eternal salvation, which cost so much to the Son of God, let us beg of Jesus Christ Himself to take charge of it, to lead us in the right way and guide us always. Such an inestimable treasure runs too great a risk in our own hands. Let us trust it to God and our Savior. Let us make Him the Master of our liberty, which we may so easily abuse, and the abuse of which may bring about such terrible consequences. Once abandoned to the safe and infallible guidance of His grace, we have no more to fear. He loves us too much, He takes too much interest in our salvation, ever to lose the price of His blood and His sufferings."
—Fr. Jean Nicholas Grou, p. 7-9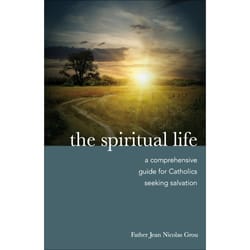 Daily

Verse
"Every word of God proves true; he is a shield to those who take refuge in him." Proverbs 30:5
St. Sebastian
Saint of the Day
St. Sebastian (d. c. 288 A.D.) was born in Gaul, present-day France, to wealthy Italian parents. According to tradition he went to Rome to serve and encourage the Christians who were being persecuted under the Roman Emperor Diocletian. To do so effectively and without suspicion, he enrolled in the Roman army as an officer. In this position he did much to encourage the faith of the Christians in the face of brutal martyrdom, and in the process made many new converts through his gift of healing. Once he was discovered to be a Christian, he was seized by Roman officers, tied to a tree, and shot through with arrows. He survived this, and was healed by St. Irene of Rome. Being fully recovered, he returned to preach to Diocletian himself. Diocletian then had him beaten to death with clubs. St. Sebastian is the patron of many causes, most notably of archers, athletes, police officers, soldiers, and against plague victims and enemies of religion. St. Sebastian's feast day is January 20th.
Find a Devotional for this Saint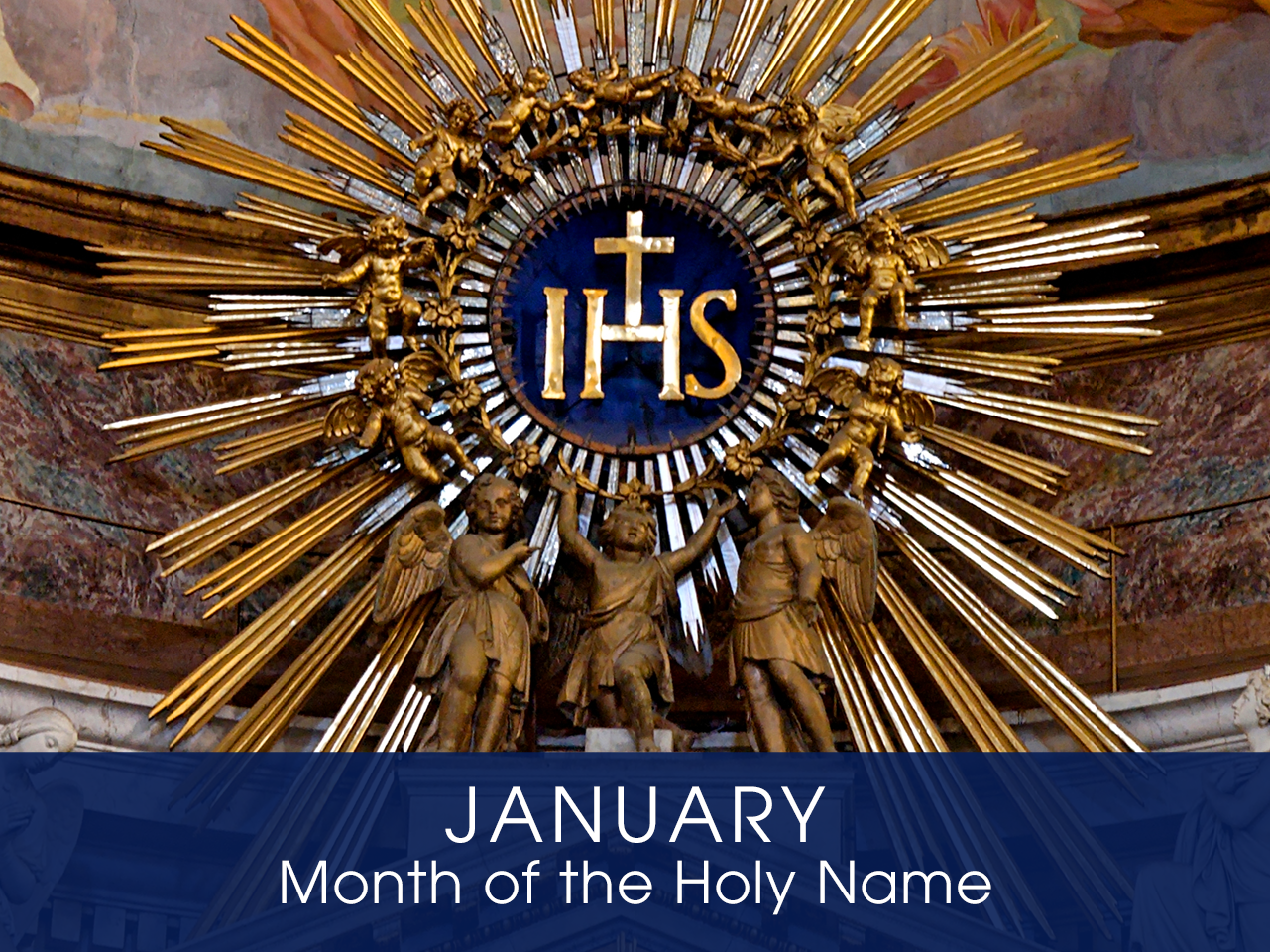 Month of the

Holy Name of Jesus
Devotion of the Month
The month of January is traditionally dedicated to the Holy Name of Jesus. After the Blessed Virgin Mary conceived by the Holy Spirit, the angel Gabriel appeared to St. Joseph and told him that the Child's name should be called Jesus, meaning "God Saves." According to Jewish law, on the 8th day after his birth a male child was to be circumcised, receive his name, and become a full member of God's covenant people. According to the old Roman liturgical calendar, the Feast of the Circumcision of Jesus was celebrated on January 1st, eight days after Christmas, the same day that He was given His sacred name. Currently we celebrate the Solemnity of the Mother of God on January 1st and honor the Holy Name of Jesus on January 3rd. For Catholics, Jesus' sacred name is the object of a special devotion symbolized by the monogram "IHS," (sometimes called a Christogram), which is the first three letters of the Greek spelling of His name.
Find a Devotional or Sacramental
Daily Prayers
Prayer for the Dead
In your hands, O Lord, we humbly entrust our brothers and sisters.
In this life you embraced them with your tender love;
deliver them now from every evil and bid them eternal rest.
The old order has passed away: welcome them into paradise,
where there will be no sorrow, no weeping or pain,
but fullness of peace and joy with your Son and the Holy
Spirit forever and ever. Amen.
Prayer of Spiritual Communion
My Jesus, I believe that You are present in the most Blessed Sacrament. I love You above all things and I desire to receive You into my soul. Since I cannot now receive You sacramentally, come at least spiritually into my heart. I embrace You as if You were already there, and unite myself wholly to You. Never permit me to be separated from You. Amen.
Prayer for the Holy Father
Almighty and everlasting God, have mercy upon Thy servant, Pope Francis, our Supreme Pontiff, and direct him, according to Thy loving kindness, in the way of eternal salvation; that, of Thy gift, he may ever desire that which is pleasing unto Thee and may accomplish it with all his might. Through Christ Our Lord. Amen. Our Father. Hail Mary.