"In her voyage across the ocean of this world, the Church is like a great ship being pounded by the waves of life's different stresses. Our duty is not to abandon ship but to keep her on her course." St. Boniface
Today's

Meditation

"What is time, with regard to myself? It is my present and actual existence. Past time, or my past existence, is no longer anything, as far as I am concerned; I can neither recall it, nor change anything in it. The time to come, or my future existence, has not yet arrived, and perhaps never will arrive. I does not depend on me; I cannot count on it … No one is ignorant of these two simple truths, but very few draw from them the conclusions they ought to draw … This present moment, or this actual existence—from whom do I hold it? It is He who has preserved my existence from one instant to another, and who is preserving it at this present moment. Will He preserve it for me in the moment that shall immediately follow this one? I do not know; and nothing in the world can give me the assurance of it. Why has time been given to me? So that by it I may merit a happy eternity. I shall live forever: faith teaches me this; my reason even assures me of another life. The desire of immortality is implanted in the depths of my heart, and this desire, which God Himself has planted there, can never be frustrated of its object. I am, then, born for eternity, but this eternity will be happy or wretched … My fate for all eternity depends, then, on the use I make of time, and since neither the past nor the future is in my own power, it is quite true to say that my eternity depends always on the present moment. Now, at this present moment, what is my state? Would I like to die just as I am now?"
—Fr. Jean Nicholas Grou, p. 82-83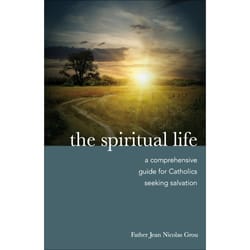 Daily

Verse
"Rejoice in the Lord always. I shall say it again: rejoice! Your kindness should be known to all. The Lord is near." 1 Thessalonians 5:16-18
Saint Martina of Rome
Saint of the Day
St. Martina of Rome (d. 228 A.D.) was born to a noble Roman family and orphaned at a young age. She was zealous in the practice of her faith, remained a virgin, and, in preparation for the Christian persecutions sweeping the city, gave much of her inheritance to the poor. She was martyred under Roman Emperor Alexander Severus. According to the accounts of her martyrdom, she was discovered praying in a church and was arrested by Roman soldiers. She was ordered to pay homage to the pagan gods, which she refused. She was then cruelly tortured over several days. She was raked with iron hooks and scourged, and when a bright light enveloped her, some of her torturers were converted to the Faith amid her fervent prayers. She was then taken to the temple of Diana to be forced to offer sacrifice, but at her presence the temple's demon left with a scream. They next tried to throw her to a lion (it showed no interest in her) and to burn her alive, but she would not catch fire. Finally, she was beheaded. St. Martina's feast day is January 30.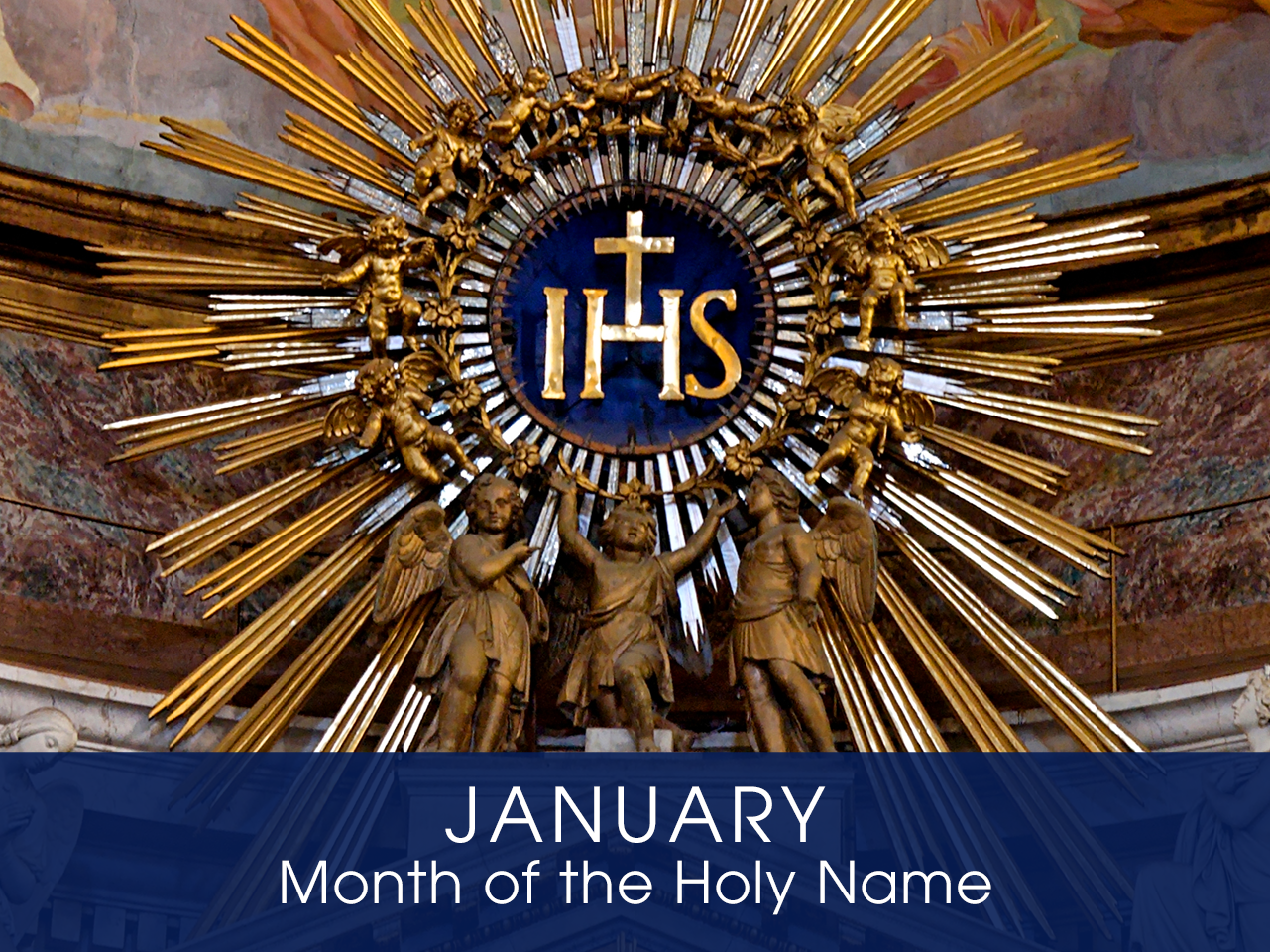 Month of the

Holy Name of Jesus
Devotion of the Month
The month of January is traditionally dedicated to the Holy Name of Jesus. After the Blessed Virgin Mary conceived by the Holy Spirit, the angel Gabriel appeared to St. Joseph and told him that the Child's name should be called Jesus, meaning "God Saves." According to Jewish law, on the 8th day after his birth a male child was to be circumcised, receive his name, and become a full member of God's covenant people. According to the old Roman liturgical calendar, the Feast of the Circumcision of Jesus was celebrated on January 1st, eight days after Christmas, the same day that He was given His sacred name. Currently we celebrate the Solemnity of the Mother of God on January 1st and honor the Holy Name of Jesus on January 3rd. For Catholics, Jesus' sacred name is the object of a special devotion symbolized by the monogram "IHS," (sometimes called a Christogram), which is the first three letters of the Greek spelling of His name.
Find a Devotional or Sacramental
Daily Prayers
Prayer for the Dead
In your hands, O Lord, we humbly entrust our brothers and sisters.
In this life you embraced them with your tender love;
deliver them now from every evil and bid them eternal rest.
The old order has passed away: welcome them into paradise,
where there will be no sorrow, no weeping or pain,
but fullness of peace and joy with your Son and the Holy
Spirit forever and ever. Amen.
Prayer of Spiritual Communion
My Jesus, I believe that You are present in the most Blessed Sacrament. I love You above all things and I desire to receive You into my soul. Since I cannot now receive You sacramentally, come at least spiritually into my heart. I embrace You as if You were already there, and unite myself wholly to You. Never permit me to be separated from You. Amen.
Prayer for the Holy Father
Almighty and everlasting God, have mercy upon Thy servant, Pope Francis, our Supreme Pontiff, and direct him, according to Thy loving kindness, in the way of eternal salvation; that, of Thy gift, he may ever desire that which is pleasing unto Thee and may accomplish it with all his might. Through Christ Our Lord. Amen. Our Father. Hail Mary.