"If a tiny spark of God's love already burns within you, do not expose it to the wind, for it may get blown out… Stay quiet with God. Do not spend your time in useless chatter… Do not give yourself to others so completely that you have nothing left for yourself." St. Charles Borromeo
Today's

Meditation

"A spiritual Communion acts on the soul as blowing does on a cinder-covered fire which was about to go out. Whenever you feel your love of God growing cold, quickly make a spiritual Communion.' 'Quickly!' There's a sense of urgency here. The saints are trying to tell us that we should not limit our union with Christ in the Eucharist to sacramental Communion once a week, or even once a day. We need Christ's living presence in our lives moment-by-moment to nourish us and protect us from sin, so we need to renew our union with Him regularly, especially any time we feel ourselves drifting away. Christ is not merely present in the Eucharist during Mass! The Eucharist is an ongoing fulfillment of Christ's Gospel promise to remain with us: 'Behold, I am with you always, until the end of the age' (Mt. 28:20)."
—Vinny Flynn, p. 98-9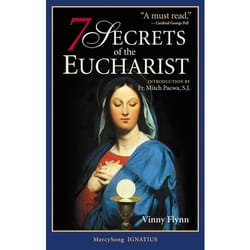 Daily

Verse
"I love thee, O Lord, my strength. The Lord is my rock, and my fortress, and my deliverer, my God, my rock, in whom I take refuge, my shield, and the horn of my salvation, my stronghold. I call upon the Lord, who is worthy to be praised, and I am saved from my enemies." Psalm 18:1-3
St. Josephine Bakhita
Saint of the Day
St. Josephine Bakhita (d. 1947) was born into a wealthy Sudanese family near Darfur. She was kidnapped when she was nine years old and forced into slavery. Her kidnappers named her Bakhita ("fortunate" in Arabic). She was sold and resold, beaten and tortured by her "owners" until 1883 when she was purchased by an Italian consul who treated her well. He brought her to Italy to work as a nanny. In 1889, the Italian courts ruled that Bakhita was enslaved illegally and declared her a free woman. She became enamored with the Catholic faith and chose to stay in Italy. Bakhita was baptized in 1890 and received her First Holy Communion from the future Pope St. Pius X. She took the Christian name of Josephine, and in 1896 entered the Institute of Canossian Daughters of Charity. She was affectionately called "Our Black Mother" by the Italians, as her amiable spirit and warm heart won the admiration of many people during her fifty years of religious life. She was known for her charity towards children and the poor, her indomitable spirit during the hardship of slavery, and her joy in religious life. St. Josephine Bakhita is the patron of Sudan, and her feast day, February 8th, has been designated the International Day of Prayer to Stop Human Trafficking.
Find a Devotional for this Saint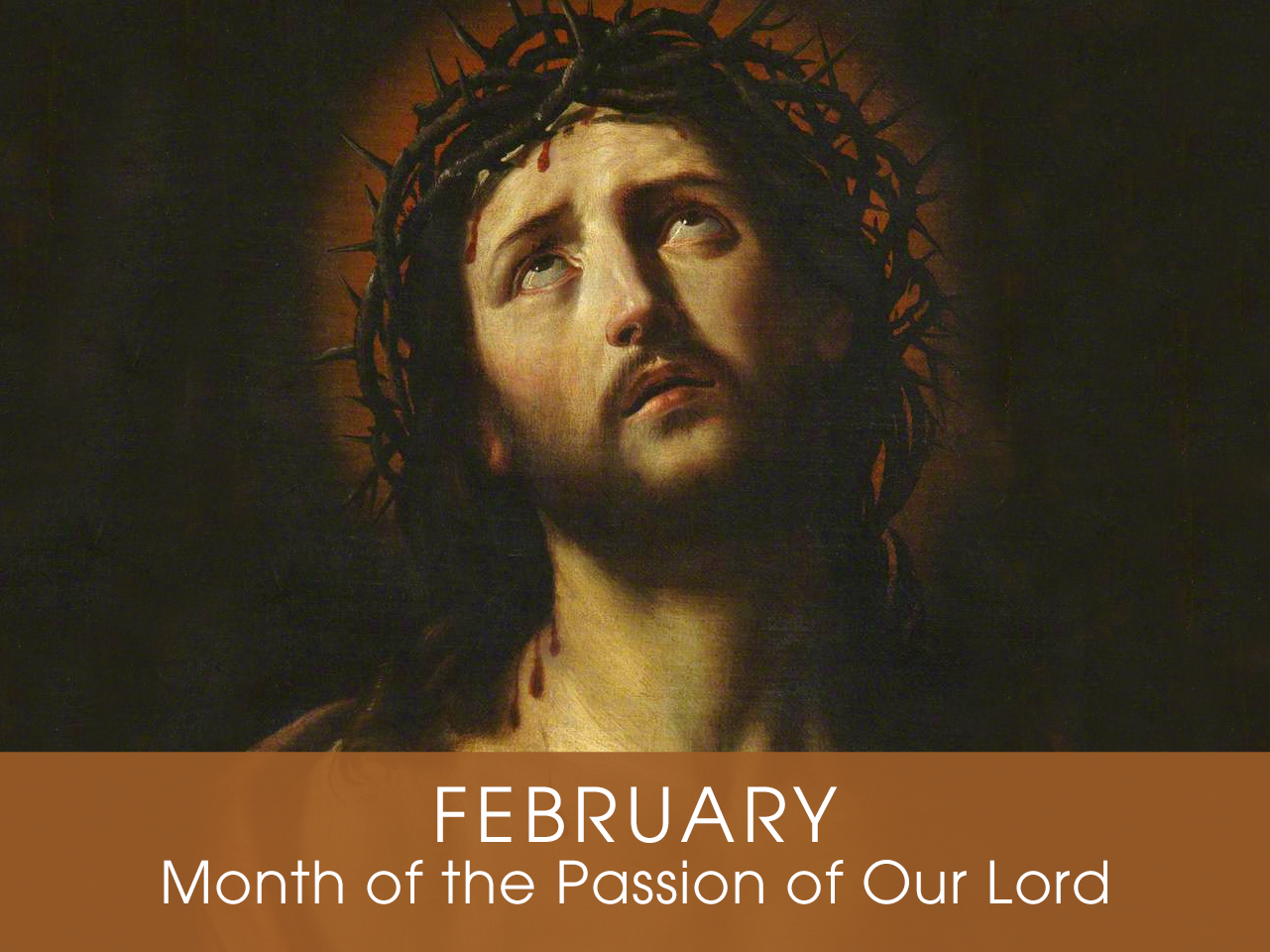 Month of the

Passion
Devotion of the Month
The month of February is traditionally dedicated to the Passion of Our Lord in anticipation of the liturgical season of Lent. In this month, we begin to meditate on the mystery of Jesus' sufferings which culminated in his death on the Cross for the redemption of mankind. Saints who had a special devotion to Christ's passion include St. Francis of Assisi, who was the first known saint to receive the stigmata; St. John of the Cross; St. Bridget of Sweden; and St. Catherine of Siena.
Find a Devotional or Sacramental
Daily Prayers
Prayer for the Dead
In your hands, O Lord, we humbly entrust our brothers and sisters.
In this life you embraced them with your tender love;
deliver them now from every evil and bid them eternal rest.
The old order has passed away: welcome them into paradise,
where there will be no sorrow, no weeping or pain,
but fullness of peace and joy with your Son and the Holy
Spirit forever and ever. Amen.
Prayer of Spiritual Communion
My Jesus, I believe that You are present in the most Blessed Sacrament. I love You above all things and I desire to receive You into my soul. Since I cannot now receive You sacramentally, come at least spiritually into my heart. I embrace You as if You were already there, and unite myself wholly to You. Never permit me to be separated from You. Amen.
Prayer for the Holy Father
Almighty and everlasting God, have mercy upon Thy servant, Pope Francis, our Supreme Pontiff, and direct him, according to Thy loving kindness, in the way of eternal salvation; that, of Thy gift, he may ever desire that which is pleasing unto Thee and may accomplish it with all his might. Through Christ Our Lord. Amen. Our Father. Hail Mary.