"Build an oratory within yourself, and there have Jesus on the altar of your heart. Speak to Him often while you are doing your work. Speak to Him of His holy love, of His holy sufferings and of the sorrows of most holy Mary." St Paul of the Cross
Today's

Meditation

"Consider not only that God your benefactor is present but also that He acts continuously in all His creatures. And for whom is this continual action, this work of God in nature? For you. Thus, He lights you by the light of day; He nourishes you with the productions of the earth; in a word, He serves you by each one of the creatures that you use; so that it is true to say that at every moment the bounty, the wisdom and the power of God are at your service and are exercised in the world for your wants or pleasures. This conduct of God toward man should be the model of your conduct toward God. You see that the presence of God in His creatures is never idle; it acts incessantly, it preserves, it governs. Beware, then, of stopping at a sterile contemplation of God present in yourself. Add action to contemplation; to the sight of the Divine presence add the faithful accomplishment of the Divine will."
—St. Ignatius, p. 182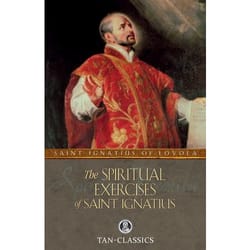 Daily

Verse
"Turn to me and be saved, all the ends of the earth! For I am God, and there is no other. By myself I have sworn, from my mouth has gone forth in righteousness a word that shall not return: 'To me every knee shall bow, every tongue shall swear.'" Isaiah 45:22-23
Bl. Bartholomew of Olmedo
Saint of the Day
Blessed Bartholomew of Olmedo (1485-1524) was a Spanish Mercedarian priest, and the first priest to arrive on Mexican soil in 1516 at the age of 31. He was chaplain for the expedition of Spanish Conquistador Fernando Cortés, who began the Spanish colonization of the Americas and the downfall of the Aztec empire. Bartholomew was well-liked by the native people. He taught them the Christian faith and exhorted them to end their practice of human sacrifice. He also defended them against injustice and restrained Cortés from acting out in violence against them. Bartholomew taught the native Mexicans devotion to the Blessed Virgin Mary under the title of Our Lady of Mercy, which they embraced. Blessed Bartholomew of Olmedo baptized more than 2500 people before he died in Mexico in 1524 at the age of 39. He was buried in Santiago de Tlatelolco. His feast day is February 11.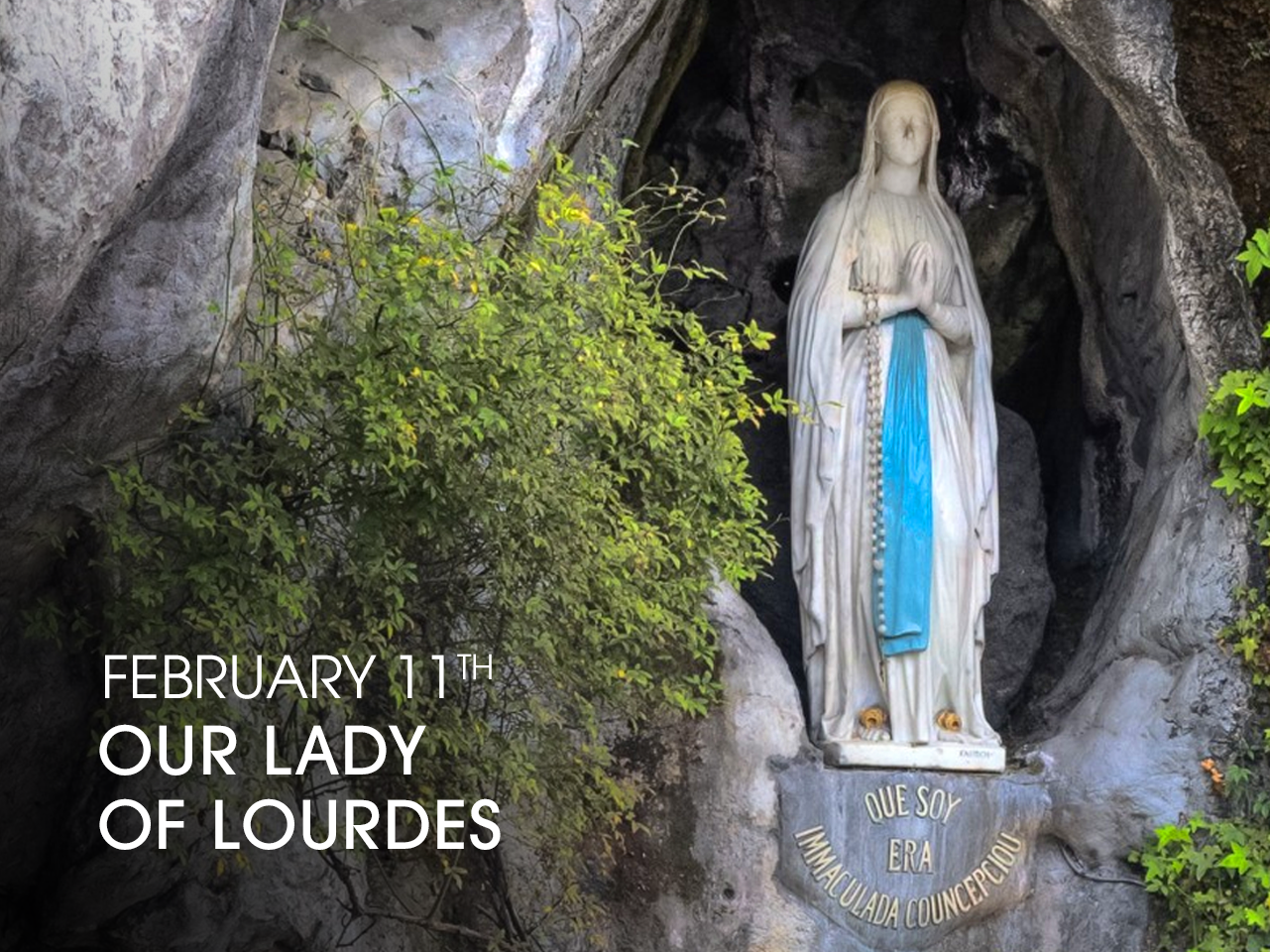 Our Lady of Lourdes
Feast Day
On February 11, 1858, the Blessed Virgin Mary appeared to fourteen-year-old Bernadette Soubiroux in the hollow rock of Massabielle in southern France. That year Bernadette would report a total of 18 apparitions of a woman she described as "lovelier than I have ever seen." The woman in the vision revealed herself as the "Immaculate Conception," in confirmation of this dogma of the Catholic faith which was infallibly defined by the Holy Father just four years previous. Our Lady told Bernadette to drink from an unseen fountain at the grotto, and called for a chapel to be built there. When Bernadette scratched at the ground, a stream of pure spring water surged forth. This stream demonstrated healing properties, and it continues to draw pilgrims to the grotto from around the globe. A basilica was built upon the rock of the Massabielle in response to Our Lady's request, and in 1876 it was consecrated as the "Church of the Rosary." Due to the multitudes of medically documented miraculous healings, the shrine of Our Lady of Lourdes in France is one of the most visited pilgrimage sites in the world.
See More About Today's Feast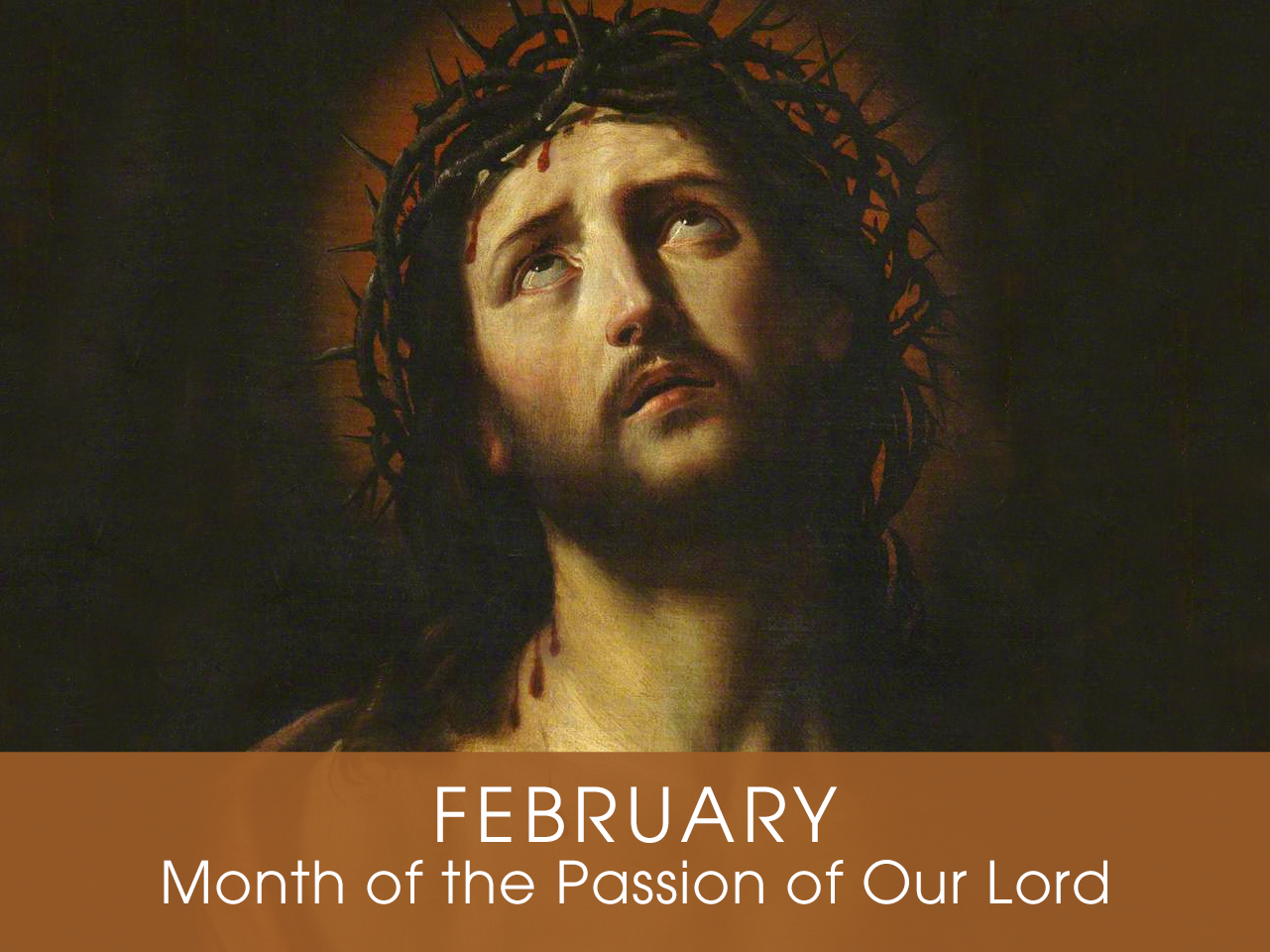 Month of the

Passion
Devotion of the Month
The month of February is traditionally dedicated to the Passion of Our Lord in anticipation of the liturgical season of Lent. In this month, we begin to meditate on the mystery of Jesus' sufferings which culminated in his death on the Cross for the redemption of mankind. Saints who had a special devotion to Christ's passion include St. Francis of Assisi, who was the first known saint to receive the stigmata; St. John of the Cross; St. Bridget of Sweden; and St. Catherine of Siena.
Find a Devotional or Sacramental
Daily Prayers
Prayer for the Dead
In your hands, O Lord, we humbly entrust our brothers and sisters.
In this life you embraced them with your tender love;
deliver them now from every evil and bid them eternal rest.
The old order has passed away: welcome them into paradise,
where there will be no sorrow, no weeping or pain,
but fullness of peace and joy with your Son and the Holy
Spirit forever and ever. Amen.
Prayer of Spiritual Communion
My Jesus, I believe that You are present in the most Blessed Sacrament. I love You above all things and I desire to receive You into my soul. Since I cannot now receive You sacramentally, come at least spiritually into my heart. I embrace You as if You were already there, and unite myself wholly to You. Never permit me to be separated from You. Amen.
Prayer for the Holy Father
Almighty and everlasting God, have mercy upon Thy servant, Pope Francis, our Supreme Pontiff, and direct him, according to Thy loving kindness, in the way of eternal salvation; that, of Thy gift, he may ever desire that which is pleasing unto Thee and may accomplish it with all his might. Through Christ Our Lord. Amen. Our Father. Hail Mary.