"Put aside your hatred and animosity. Take pains to refrain from sharp words. If they escape your lips, do not be ashamed to let your lips produce the remedy, since they have caused the wounds. Pardon one another so that later on you will not remember the injury. The recollection of an injury is itself wrong. It adds to our anger, nurtures our sin and hates what is good. It is a rusty arrow and poison for the soul. It puts all virtue to flight." St. Francis of Paola
Today's

Meditation

"God's delays are mysterious; sorrow is sometimes prolonged for the same reason for which it is sent. God may abstain for the moment from healing, not because Love does not love, but because Love never stops loving, and a greater good is to come from the woe. Heaven's clock is different from ours."
—Fulton J. Sheen, p. 357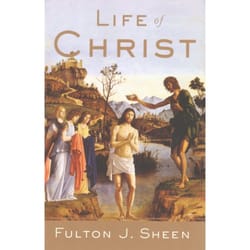 Daily

Verse
"Now this is the message that we have heard from him and proclaim to you: God is light, and in him there is no darkness at all. If we say, 'We have fellowship with him,' while we continue to walk in darkness, we lie and do not act in truth. But if we walk in the light as he is in the light, then we have fellowship with one another, and the blood of his Son Jesus cleanses us from all sin." 1 John 1:5-7
St. Peter Damian
Saint of the Day
St. Peter Damian (1007-1072 A.D.) was born in Ravenna, Italy, the youngest of a large and noble yet poor family. After his birth his mother initially refused to nurse him due to the strain he would put on the family, and he nearly died. He was later orphaned and suffered from extreme poverty. One brother adopted him, but neglected him and treated him like a slave. Another brother, a priest, recognizing that Peter had great intelligence, took him in and provided for his education. Peter excelled in his studies and in religious piety. By the time he was twenty-five he became a professor famous for his work in theology and canon law. Bothered by the distractions of university life, at twenty-eight he left his position to become a Benedictine monk and to lead a quiet life of fervent prayer and self-mortification. He lived during a time of great corruption in the Church, and became heavily involved in the controversies and crises of the day, advocating for reform and greater discipline in religious life. He was an influential figure, a friend and adviser to both popes and emperors, and was made a bishop and cardinal. Due to his academic prowess and prolific theological writings, St. Peter Damian was declared a Doctor of the Church in 1823. His feast day is February 21.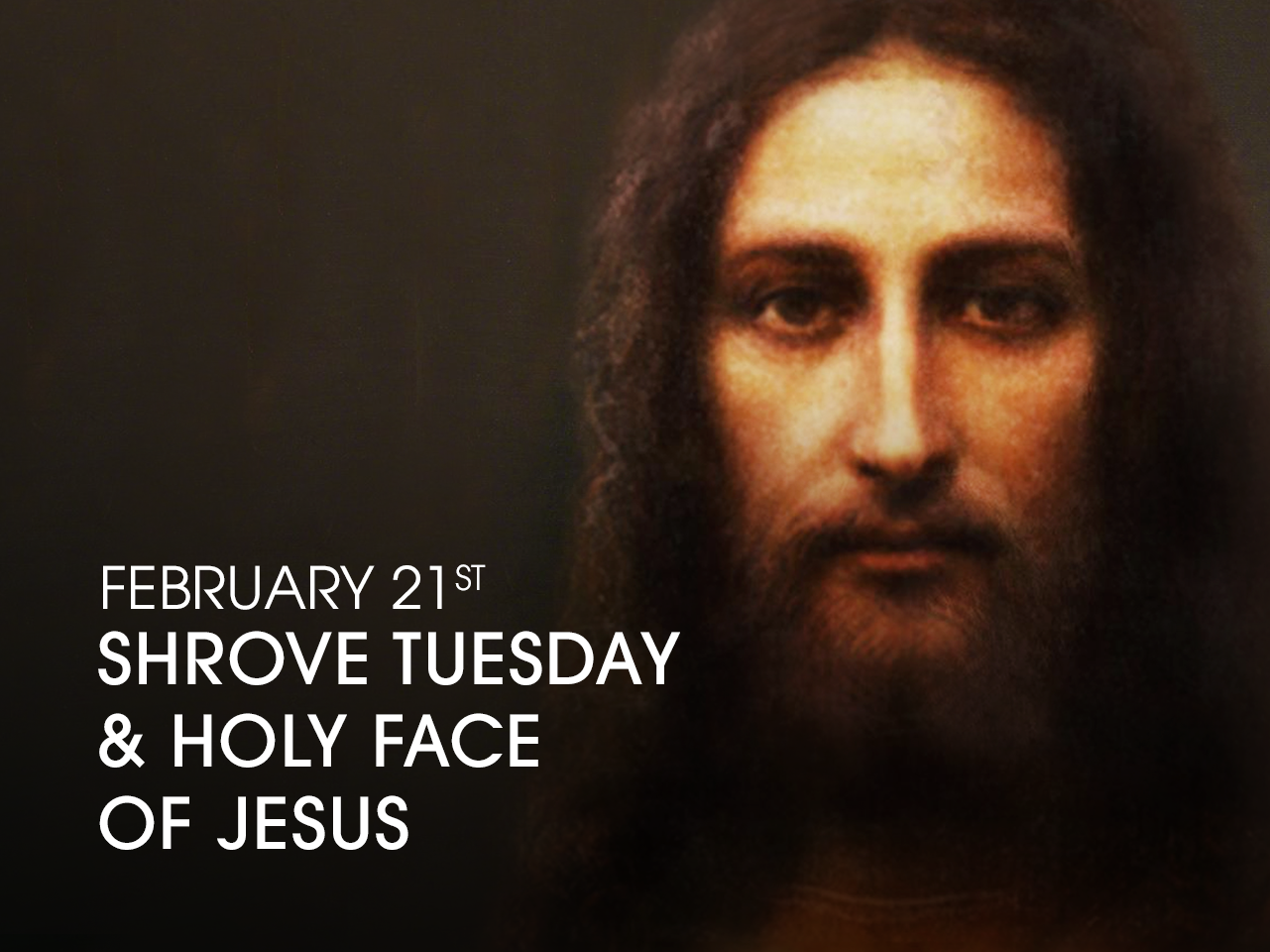 Shrove Tuesday
Feast Day
Veneration of the Holy Face of Jesus has its beginning during Christ's Passion, making it one of the oldest devotions in the Christian tradition. St. Veronica, as a sign of her love and compassion, offered Our Savior a veil to wipe the blood and sweat from his face as he carried his cross on the way to his crucifixion. In reward for her charity and compassion, Jesus left an impression of his Holy Face upon the veil. This meeting of Jesus and St. Veronica is forever memorialized in the Stations of the Cross. According to tradition, St. Veronica later entrusted the veil to St. Clement, a disciple of St. Peter who became the third Bishop of Rome. For the next three centuries the Holy Veil was kept in the Roman catacombs during the early persecutions of the Church. Veronica's Veil was later moved to the Basilica of St. Peter in Rome where it remains today. It is displayed annually from the relic niche above her statue in St. Peter's Basilica on the fifth Sunday of Lent. Shrove Tuesday (the day prior to Ash Wednesday) is the traditional feast day of the Holy Face of Jesus.
See More About Today's Feast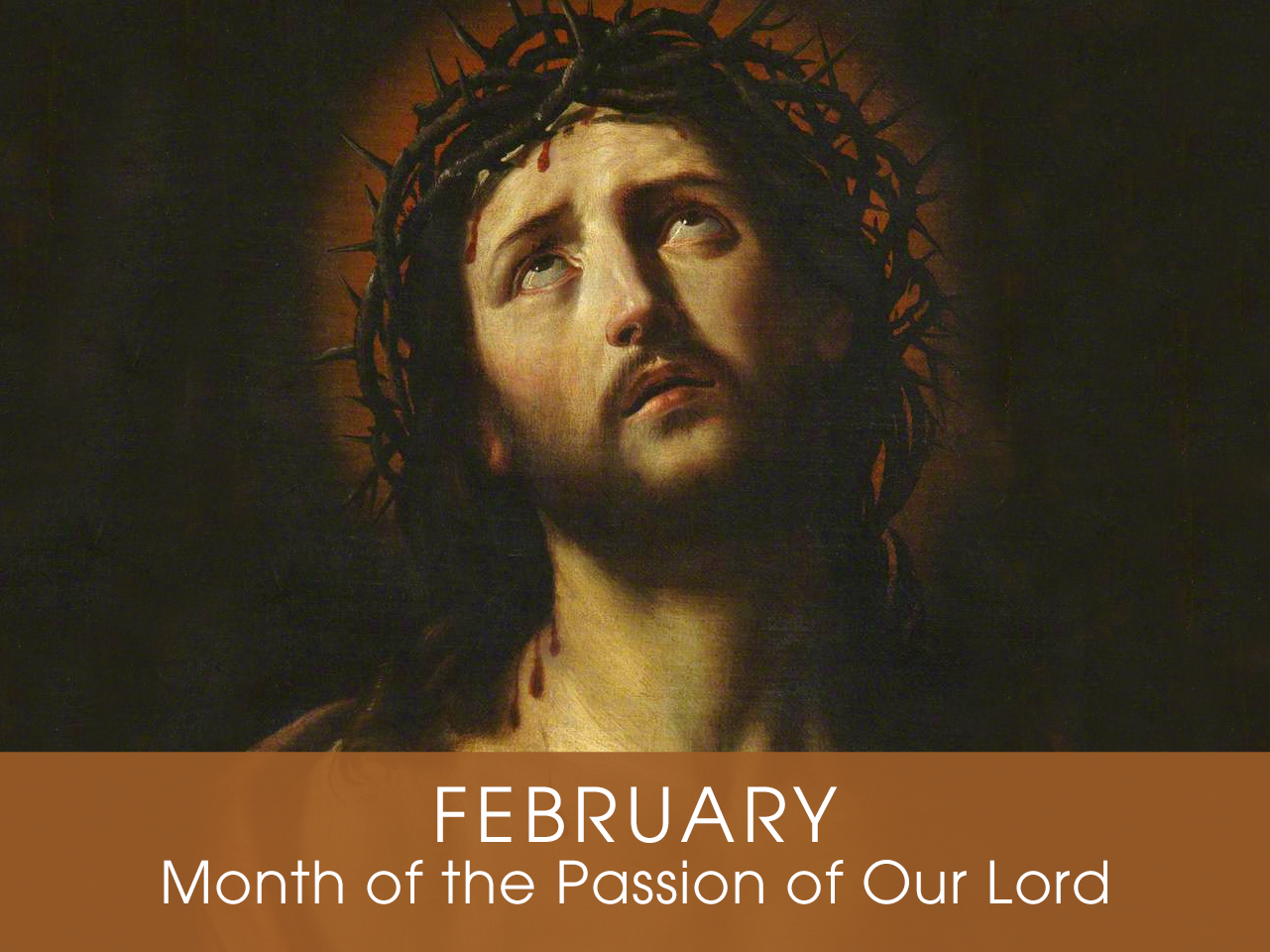 Month of the

Passion
Devotion of the Month
The month of February is traditionally dedicated to the Passion of Our Lord in anticipation of the liturgical season of Lent. In this month, we begin to meditate on the mystery of Jesus' sufferings which culminated in his death on the Cross for the redemption of mankind. Saints who had a special devotion to Christ's passion include St. Francis of Assisi, who was the first known saint to receive the stigmata; St. John of the Cross; St. Bridget of Sweden; and St. Catherine of Siena.
Find a Devotional or Sacramental
Daily Prayers
Prayer for the Dead
In your hands, O Lord, we humbly entrust our brothers and sisters.
In this life you embraced them with your tender love;
deliver them now from every evil and bid them eternal rest.
The old order has passed away: welcome them into paradise,
where there will be no sorrow, no weeping or pain,
but fullness of peace and joy with your Son and the Holy
Spirit forever and ever. Amen.
Prayer of Spiritual Communion
My Jesus, I believe that You are present in the most Blessed Sacrament. I love You above all things and I desire to receive You into my soul. Since I cannot now receive You sacramentally, come at least spiritually into my heart. I embrace You as if You were already there, and unite myself wholly to You. Never permit me to be separated from You. Amen.
Prayer for the Holy Father
Almighty and everlasting God, have mercy upon Thy servant, Pope Francis, our Supreme Pontiff, and direct him, according to Thy loving kindness, in the way of eternal salvation; that, of Thy gift, he may ever desire that which is pleasing unto Thee and may accomplish it with all his might. Through Christ Our Lord. Amen. Our Father. Hail Mary.