"We have close to us as much as Joseph had at Nazareth; we have our Lord in the Blessed Sacrament, but our poor eyes fail to see Him. Let us once become interior souls and we shall immediately see. In no better way can we enter into the Heart of our Lord than through Saint Joseph. Jesus and Mary are eager to pay the debts which they owe him for his devoted care of them, and their greatest pleasure is to fulfill his least desire. Let him, then, lead you by hand into the interior sanctuary of Jesus Eucharistic." St. Peter Julian Eymard
Today's

Meditation

"St. Joseph is the most Marian of all saints…There has never been a greater Marian saint than St. Joseph and there never will be. St. Joseph is the model for total consecration to Mary. Long before Calvary, when Jesus commanded all of his disciples to take Mary into their hearts and homes (see Jn 19:26-27), St. Joseph had already taken Mary into his heart and into his home. She is his heart; she is his home. Everything he did was done for Jesus and Mary. He lived and died for Jesus and Mary."
—Fr. Donald Calloway, MIC, p. 121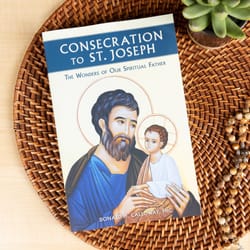 Daily

Verse
"When he rose from prayer and returned to his disciples, he found them sleeping from grief. He said to them, "Why are you sleeping? Get up and pray that you may not undergo the test."" Luke 22:45-46
St. Joseph
Saint of the Day
St. Joseph (1st c.) was a descendant of Israel's King David and a carpenter by trade. Scripture tells us that he was a just and virtuous man who was betrothed to wed the young Blessed Virgin Mary. Upon finding her pregnant with the Son of God, Joseph, after a time of uncertainty, was encouraged by an angel to continue with the marriage plans. Because of his complete faithfulness and obedience to the will of God, St. Joseph was chosen to become the spouse of the Mother of God and the adoptive father of Jesus Christ. As the divinely-appointed earthly guardian and protector of the Holy Family, St. Joseph provided and cared for the material needs of Mary and the Child Jesus. St. Joseph is the patron saint of many causes, especially fathers, families, married couples, children, pregnant women, workers, craftsmen, against doubt, the dying, and a happy and holy death. He is also the guardian and protector of the Universal Church. He has two feast days: St. Joseph the Husband of Mary on March 19th, and St. Joseph the Worker on May 1st.
Find a Devotional for this Saint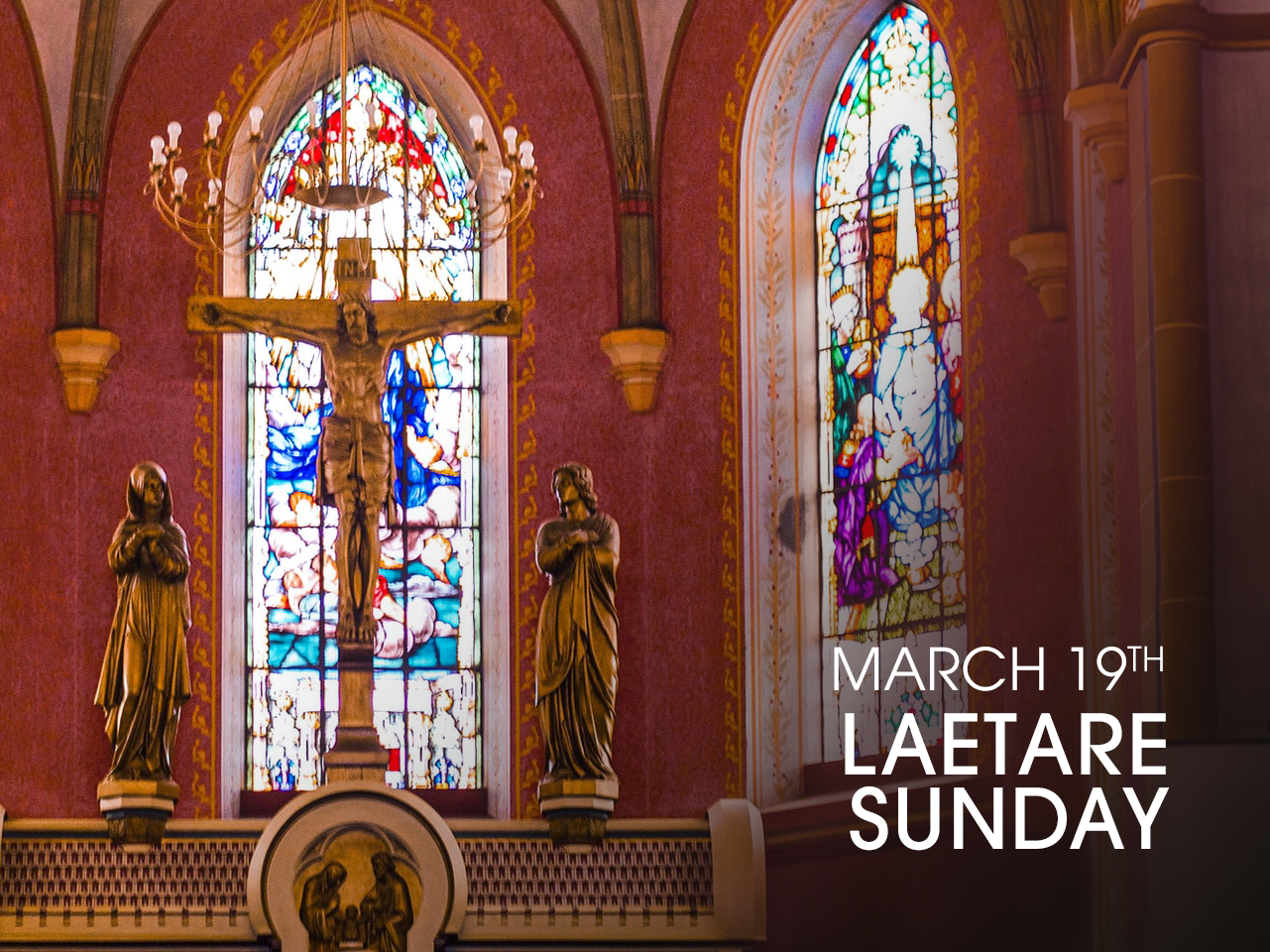 Laetare Sunday
Feast Day
The fourth Sunday of Lent is traditionally known by the name Laetare Sunday. This name is taken from the Introit at Mass, Laetare Jerusalem which means "Rejoice, O Jerusalem." Laetare Sunday marks the halfway point through the Lenten season of fasting, abstinence, and penance, and because of this it is a day of joy in anticipation of the close arrival of Easter. This day corresponds with Gaudete Sunday halfway through the Advent season, where the priests wear rose-colored liturgical vestments and the altar is decorated with flowers, often roses.
See More About Today's Feast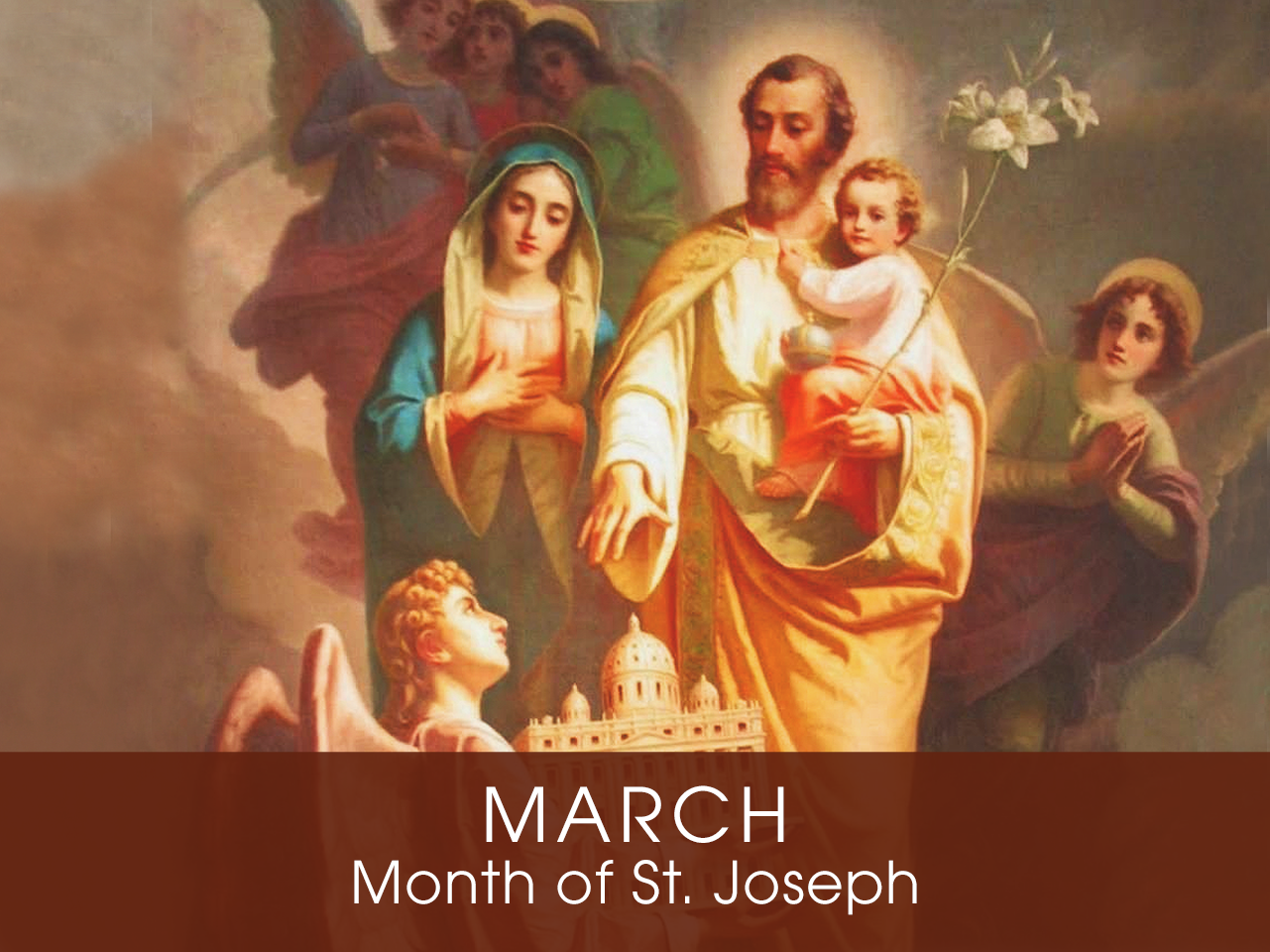 Month of the

St. Joseph
Devotion of the Month
The Church traditionally dedicates the month of March to the special veneration of St. Joseph, whose feast day is March 19th. "He was chosen by the eternal Father as the trustworthy guardian and protector of his greatest treasures, namely, his divine Son and Mary, Joseph's wife," says St. Bernardine of Siena. "He carried out this vocation with complete fidelity until at last God called him, saying 'Good and faithful servant, enter into the joy of your Lord.'" Due to St. Joseph's leadership of the Holy Family, he has been declared the protector and patron of the universal Catholic Church.
Find a Devotional or Sacramental
Daily Prayers
Prayer for the Dead
In your hands, O Lord, we humbly entrust our brothers and sisters.
In this life you embraced them with your tender love;
deliver them now from every evil and bid them eternal rest.
The old order has passed away: welcome them into paradise,
where there will be no sorrow, no weeping or pain,
but fullness of peace and joy with your Son and the Holy
Spirit forever and ever. Amen.
Prayer of Spiritual Communion
My Jesus, I believe that You are present in the most Blessed Sacrament. I love You above all things and I desire to receive You into my soul. Since I cannot now receive You sacramentally, come at least spiritually into my heart. I embrace You as if You were already there, and unite myself wholly to You. Never permit me to be separated from You. Amen.
Prayer for the Holy Father
Almighty and everlasting God, have mercy upon Thy servant, Pope Francis, our Supreme Pontiff, and direct him, according to Thy loving kindness, in the way of eternal salvation; that, of Thy gift, he may ever desire that which is pleasing unto Thee and may accomplish it with all his might. Through Christ Our Lord. Amen. Our Father. Hail Mary.