"The Divine Heart is an ocean full of all good things, wherein poor souls can cast all their needs; it is an ocean full of joy to drown all our sadness, an ocean of humility to drown our folly, an ocean of mercy to those in distress, an ocean of love in which to submerge our poverty." St. Margaret Mary
Today's

Meditation

"I wonder if we understand the negative aspect of faith. I shake sometimes. I'm afraid. You mustn't worry that, because you don't know what the future is, you don't have faith. Faith means that in the midst of darkness and turmoil, you know that God is there and is taking care of you…Faith and presence go together, but it doesn't do anything for my adrenaline glands! My body may react to the fear of the moment, and I could still have faith…to use His Name means to be like Jesus. That means when the Father sees you as a Christian, He sees His Son. Now you can ask in His Name, because He looks at you and He sees His Son in all His compassion, gentleness, love, and peace. He sees all that in you. Now you can ask in His Name. Don't be a name-dropper, because faith and fear sometimes do go together."
—Mother Angelica, p. 83-84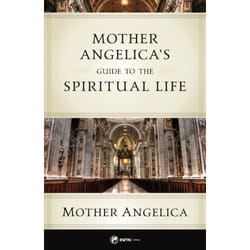 Daily

Verse
"For I, the Lord your God, hold your right hand; it is I who say to you, "Fear not, I will help you."" Isaiah 41:13
St. Cuthbert of Lindisfarne
Saint of the Day
St. Cuthbert of Lindisfarne (634-687 A.D.) was born in present-day Scotland to a lowly family, and worked as a shepherd near the Melrose Abbey monastery. A child playmate prophesied that he would one day become a bishop. And one day, while tending to his sheep, St. Cuthbert saw in a vision the soul of St. Aidan, the Bishop of Lindisfarne, carried to heaven by angels. This mystical experience inspired in him a desire to become a monk. After spending time as a soldier defending his home region of Northumbria against attack, he arrived on horseback, armed with a spear, seeking entrance at the monastery. He was received and became a monk in the Celtic Christian tradition. He grew in holiness and learning, and after serving as prior he withdrew from the community into the lifestyle of a solitary hermit. After several years of a quiet life of prayer and penance, he was persuaded to return to active life as the Bishop of Lindisfarne. A year later he became sick and died. Miracles were reported at his grave; in fact, so numerous were the reported miracles that Cuthbert was called the "Wonder-worker of England." Throughout the Middle Ages the shrine of Cuthbert remained one of the most popular places of pilgrimage in northern England. His feast day is March 20th.
Find a Devotional for this Saint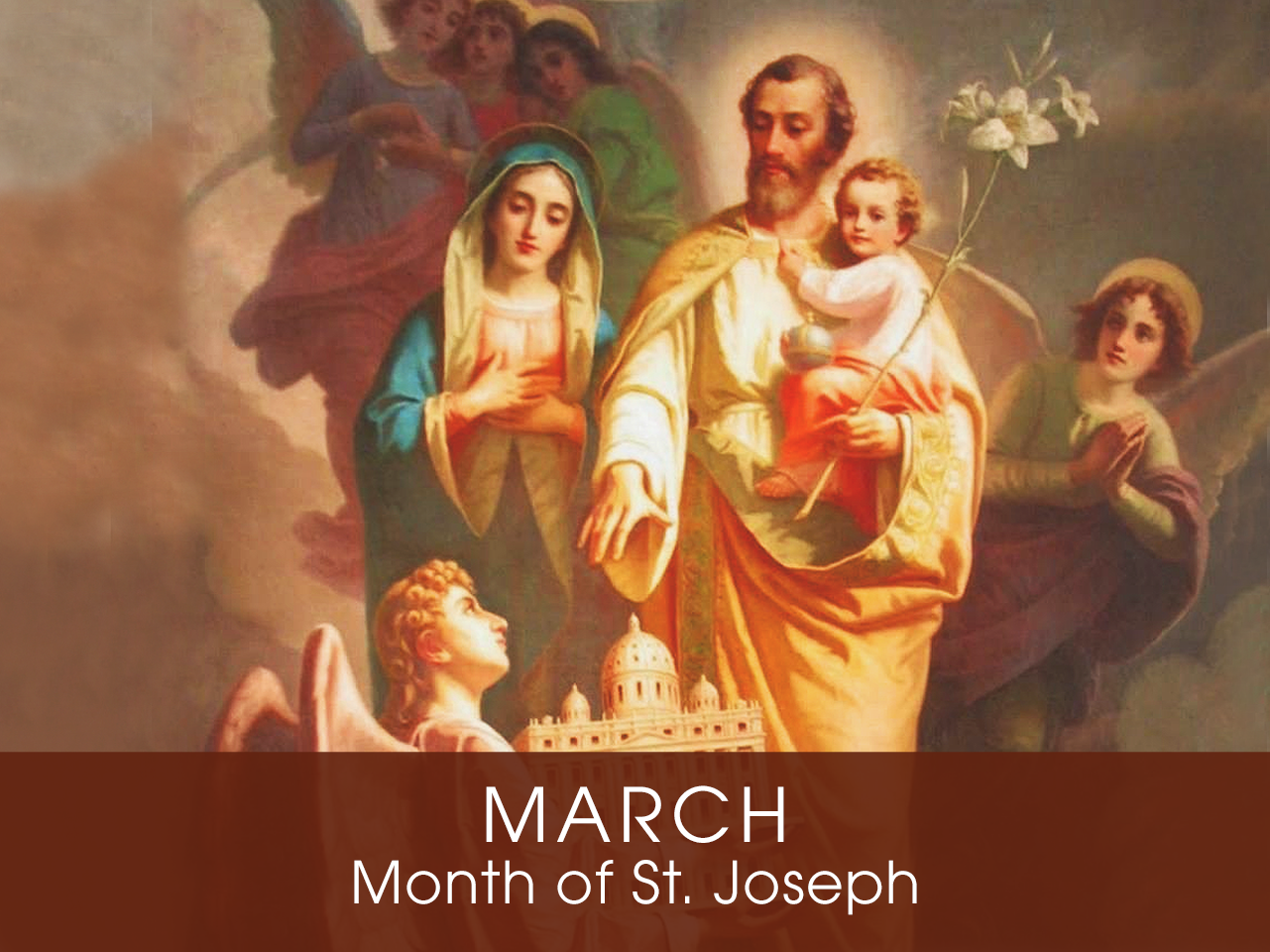 Month of the

St. Joseph
Devotion of the Month
The Church traditionally dedicates the month of March to the special veneration of St. Joseph, whose feast day is March 19th. "He was chosen by the eternal Father as the trustworthy guardian and protector of his greatest treasures, namely, his divine Son and Mary, Joseph's wife," says St. Bernardine of Siena. "He carried out this vocation with complete fidelity until at last God called him, saying 'Good and faithful servant, enter into the joy of your Lord.'" Due to St. Joseph's leadership of the Holy Family, he has been declared the protector and patron of the universal Catholic Church.
Find a Devotional or Sacramental
Daily Prayers
Prayer for the Dead
In your hands, O Lord, we humbly entrust our brothers and sisters.
In this life you embraced them with your tender love;
deliver them now from every evil and bid them eternal rest.
The old order has passed away: welcome them into paradise,
where there will be no sorrow, no weeping or pain,
but fullness of peace and joy with your Son and the Holy
Spirit forever and ever. Amen.
Prayer of Spiritual Communion
My Jesus, I believe that You are present in the most Blessed Sacrament. I love You above all things and I desire to receive You into my soul. Since I cannot now receive You sacramentally, come at least spiritually into my heart. I embrace You as if You were already there, and unite myself wholly to You. Never permit me to be separated from You. Amen.
Prayer for the Holy Father
Almighty and everlasting God, have mercy upon Thy servant, Pope Francis, our Supreme Pontiff, and direct him, according to Thy loving kindness, in the way of eternal salvation; that, of Thy gift, he may ever desire that which is pleasing unto Thee and may accomplish it with all his might. Through Christ Our Lord. Amen. Our Father. Hail Mary.