"We ought to speak, shout out against injustices, with confidence and without fear. We proclaim the principles of the Church, the reign of love, without forgetting that it is also a reign of justice." Blessed Miguel Pro
Today's

Meditation

"With regard to evil thoughts, there may be a twofold delusion. God-fearing souls who have little or no gift of discernment, and are inclined to scruples, think that every wicked thought that enters their mind is a sin. This is a mistake, for it is not the wicked thoughts in themselves that are sins, but the yielding or consenting to them. The wickedness of mortal sin consists in the perverse will that deliberately yields to sin with a complete knowledge of its wickedness with full consent. And therefore St. Augustine teaches that when the consent of the will is absent, there is no sin. However much we may be tormented by temptations, the rebellion of the senses, or the inordinate motions of the inferior part of the soul, as long as there is no consent, there is no sin. For the comfort of such anxious souls, let me suggest a good rule of conduct that is taught by all masters in the spiritual life. If a person who fears God and hates sin doubts whether or not he has consented to an evil thought or not, he is not bound to confess it, because it is morally certain that he has not given consent. For had he actually committed a mortal sin, he would have no doubt about it, as mortal sin is such a monster in the eyes of one who fears God that its entrance into the heart could not take place without its being known. Others, on the contrary, whose conscience is lax and not well-informed, think that evil thoughts and desires, though consented to, are not sins provided they are not followed by sinful actions. This error is worse than the one mentioned above. What we may not do, we may not desire. Therefore an evil thought or desire to which we consent comprises in itself all the wickedness of an evil deed."
—St. Alphonsus Liguori, p. 142-143
Daily

Verse
"May the God of hope fill you with all joy and peace in believing, so that you may abound in hope by the power of the holy Spirit." Romans 15:13
St. Nicholas Owen
Saint of the Day
St. Nicholas Owen (d.1606) was born in England, the son of an Oxford carpenter. He became a carpenter himself, and joined the Jesuits as a lay brother during the era when Catholicism was outlawed in England. After serving jail time for defending the martyred St. Edmund Campion, Nicholas began working for and traveling with the Jesuits, staying in Catholic houses where he made repairs during the day and secretly constructed well-disguised 'priest-holes', or hiding places for hunted priests, during the night. He was so skilled at his craft that his priest holes saved hundreds of lives over his 20 years of work. While on a trip to London with a Jesuit priest they were betrayed by a household servant, captured, and tortured. After Nicholas' release he masterminded the priest's escape from the Tower of London. Years later, after the Gunpowder Plot of 1605, Nicholas was again a wanted man. He hid along with a priest in one of his priest holes, and although 100 men searched for them diligently, they were not discovered. After eight days of hiding without food, Nicholas left the hole disguised as a priest in order to protect the real priest who was still concealed. He was captured and tortured on the rack in the Tower of London. Day after day he refused to give up any information about the underground Catholic Church in England. He died a martyr after his entrails burst open. St. Nicholas Owen is one of the 40 Martyrs of England and Wales. Father John Gerard wrote of him: "I verily think no man can be said to have done more good of all those who laboured in the English vineyard. He was the immediate occasion of saving the lives of many hundreds of persons, both ecclesiastical and secular." His feast day is March 22.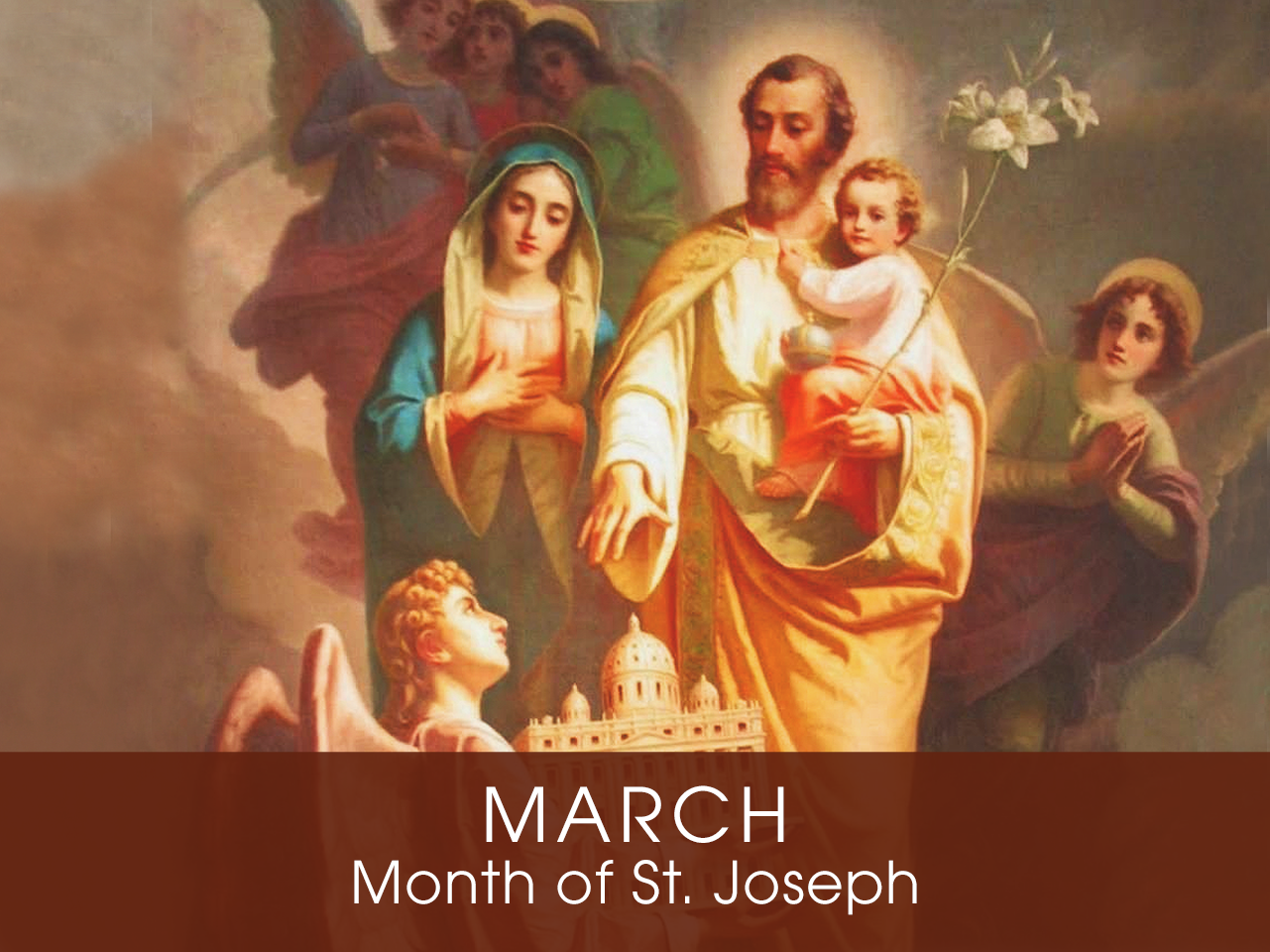 Month of the

St. Joseph
Devotion of the Month
The Church traditionally dedicates the month of March to the special veneration of St. Joseph, whose feast day is March 19th. "He was chosen by the eternal Father as the trustworthy guardian and protector of his greatest treasures, namely, his divine Son and Mary, Joseph's wife," says St. Bernardine of Siena. "He carried out this vocation with complete fidelity until at last God called him, saying 'Good and faithful servant, enter into the joy of your Lord.'" Due to St. Joseph's leadership of the Holy Family, he has been declared the protector and patron of the universal Catholic Church.
Find a Devotional or Sacramental
Daily Prayers
Prayer for the Dead
In your hands, O Lord, we humbly entrust our brothers and sisters.
In this life you embraced them with your tender love;
deliver them now from every evil and bid them eternal rest.
The old order has passed away: welcome them into paradise,
where there will be no sorrow, no weeping or pain,
but fullness of peace and joy with your Son and the Holy
Spirit forever and ever. Amen.
Prayer of Spiritual Communion
My Jesus, I believe that You are present in the most Blessed Sacrament. I love You above all things and I desire to receive You into my soul. Since I cannot now receive You sacramentally, come at least spiritually into my heart. I embrace You as if You were already there, and unite myself wholly to You. Never permit me to be separated from You. Amen.
Prayer for the Holy Father
Almighty and everlasting God, have mercy upon Thy servant, Pope Francis, our Supreme Pontiff, and direct him, according to Thy loving kindness, in the way of eternal salvation; that, of Thy gift, he may ever desire that which is pleasing unto Thee and may accomplish it with all his might. Through Christ Our Lord. Amen. Our Father. Hail Mary.