"If you do not hope, you will not find what is beyond your hopes." St. Clement
Today's

Meditation

"There is good reason to be astonished that men should sin so boldly in the sight of Heaven and earth and show so little fear of the most high God. Yet it is a much greater cause of astonishment that while we multiply our iniquities beyond the sands of the sea and have so great a need for God to be kind and indulgent, we are nevertheless so demanding ourselves. Such indignity and such injustice! We want God to suffer everything from us, and we are not able to suffer anything from anyone. We exaggerate beyond measure the faults committed against us; worms that we are, we take the slightest pressure exerted on us to be an enormous attack. Meanwhile, we count as nothing what we undertake proudly against the sovereign majesty of God and the rights of his empire! Blind and wretched mortals: will we always be so sensitive and delicate? Will we never open our eyes to the truth? Will we never understand that the one who does injury to us is always much more to be pitied than are we who receive the injury? . . . Since those who do evil to us are unhealthy in mind, why do we embitter them by our cruel vengeance? Why do we not rather seek to bring them back to reason by our patience and mildness? Yet we are far removed from these charitable dispositions. Far from making the effort at self-command that would enable us to endure an injury, we think that we are lowering ourselves if we do not take pride in being delicate in points of honor. We even think well of ourselves for our extreme sensitivity. And we carry our resentment beyond all measure . . . All of this must stop . . . We must take care of what we say and bridle our malicious anger and unruly tongues. For there is a God in Heaven who has told us that he will demand a reckoning of our 'careless words' (Matt. 12:36): what recompense shall he exact for those which are harmful and malicious? We ought, therefore, to revere his eyes and his presence. Let us ponder the fact that he will judge us as we have judged our neighbor."
—Bishop Jacques-Benigne Bossuet, p. 49-51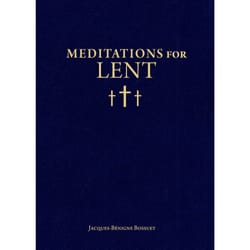 Daily

Verse
"God, the Lord, is my strength; he makes my feet like hinds' feet, he makes me tread upon my high places." Habakkuk 3:19
St. Isidore of Seville
Saint of the Day
St. Isidore of Seville (560 – 636 A.D.) was born in Carthagena, Spain, to noble and pious parents. After the example of their parents, he, as well as his two brothers and sister, all became saints. Isidore received his early education at the cathedral school in Seville where a group of learned men taught classical education, among them was his brother Leander, the Archbishop of Seville. The cathedral school was the first of its kind in the country and Isidore excelled in his studies there. He became a man of great learning, zeal, piety, and apostolic endeavor, assisting his brother in converting the Visigoths from the Arian heresy. He followed his brother in becoming next Archbishop of Seville, leading his diocese for nearly 40 years. Isidore was an important saint for his time. He was one of the most learned men of the 6th century and is considered the last of the early Church Fathers. He was a prolific writer on the sciences and the classics which in effect helped preserve western civilization during the early middle ages following the barbarian invasions. He composed history books, a dictionary with a structure akin to a database, and an encyclopedia which was used for nine centuries. St. Isidore reunited Spain after the barbarian onslaught, making it a center of culture and learning. He required seminaries to be built in every diocese, wrote a rule for religious orders, and founded schools that taught every branch of learning. Spain then became a model for similar renewal in other European countries. For his great learning and written works he was proclaimed a Doctor of the Church by Pope Benedict XIV. St. Isidore of Seville is the patron of computers, schoolchildren, and the internet. His feast day is April 4th.
Find a Devotional for this Saint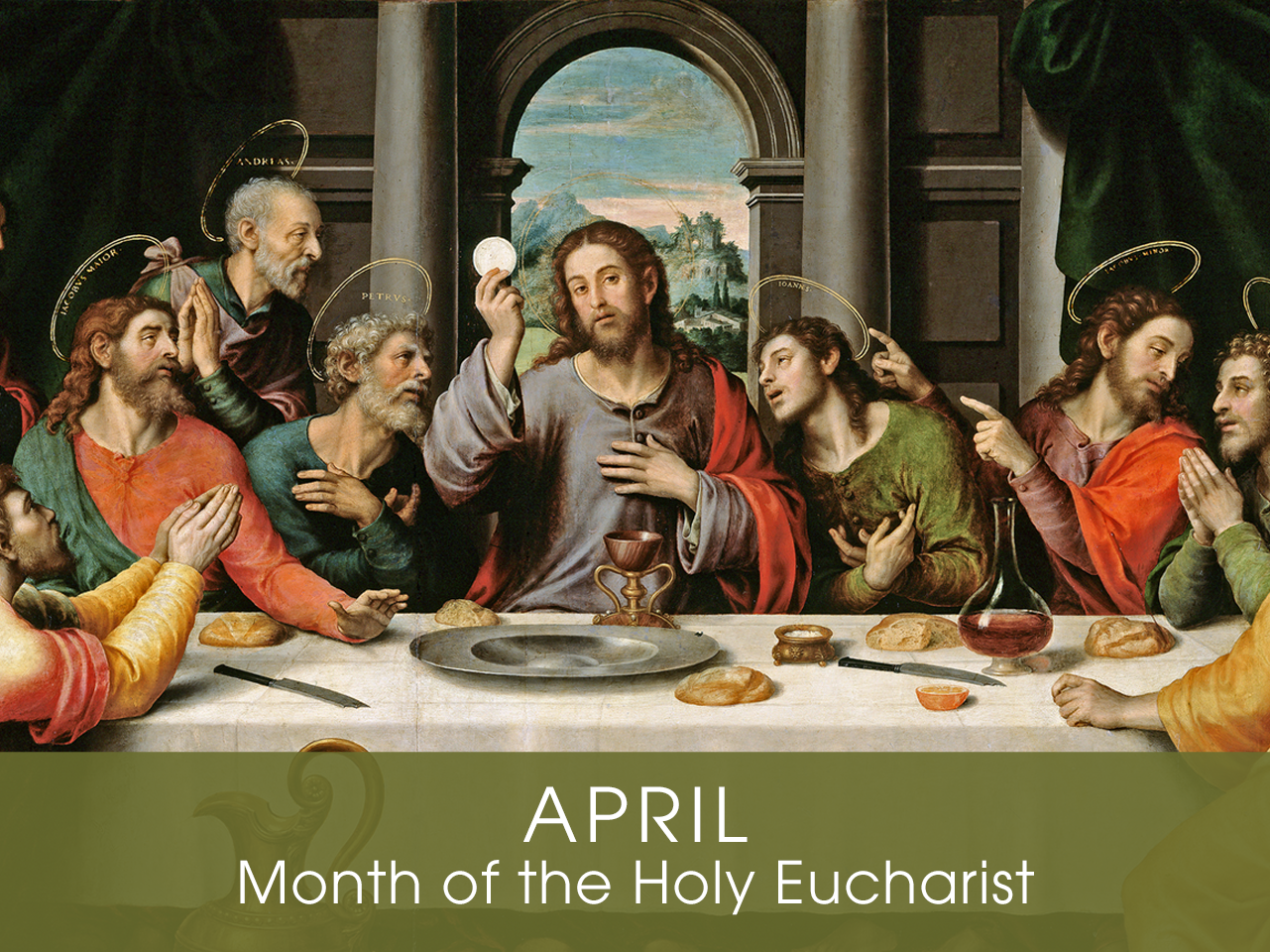 Month of the

Holy Eucharist
Devotion of the Month
The month of April is traditionally dedicated to devotion to Jesus in the sacrament of the Holy Eucharist. The Catholic Church teaches that the Blessed Sacrament is the real and living presence of Christ—His Body, Blood, Soul, and Divinity—received into our souls with every reception of Holy Communion. Our Eucharistic Lord is the source and summit of our Christian life, the ultimate proof of His infinite love for us.
Find a Devotional or Sacramental
Daily Prayers
Prayer for the Dead
In your hands, O Lord, we humbly entrust our brothers and sisters.
In this life you embraced them with your tender love;
deliver them now from every evil and bid them eternal rest.
The old order has passed away: welcome them into paradise,
where there will be no sorrow, no weeping or pain,
but fullness of peace and joy with your Son and the Holy
Spirit forever and ever. Amen.
Prayer of Spiritual Communion
My Jesus, I believe that You are present in the most Blessed Sacrament. I love You above all things and I desire to receive You into my soul. Since I cannot now receive You sacramentally, come at least spiritually into my heart. I embrace You as if You were already there, and unite myself wholly to You. Never permit me to be separated from You. Amen.
Prayer for the Holy Father
Almighty and everlasting God, have mercy upon Thy servant, Pope Francis, our Supreme Pontiff, and direct him, according to Thy loving kindness, in the way of eternal salvation; that, of Thy gift, he may ever desire that which is pleasing unto Thee and may accomplish it with all his might. Through Christ Our Lord. Amen. Our Father. Hail Mary.