"As they were looking on, so we too gaze on his wounds as he hangs. We see his blood as he dies. We see the price offered by the redeemer, touch the scars of his resurrection. He bows his head, as if to kiss you. His heart is made bare open, as it were, in love to you. His arms are extended that he may embrace you. His whole body is displayed for your redemption. Ponder how great these things are. Let all this be rightly weighed in your mind: as he was once fixed to the cross in every part of his body for you, so he may now be fixed in every part of your soul." St. Augustine of Hippo
Today's

Meditation

"Jesus Christ did not think the sovereign beatitude and glory of Heaven too dearly purchased at the price of unspeakable tortures, and by suffering His sacred flesh to be mangled by nails, thorns, and scourges. Great indeed must be the value of that which cost the Son of God so dear! And yet we esteem it so little, as to be even ready to renounce our claim to it, as, in fact, so many of us do, for the sake of some wretched pleasure or despicable interest! Ye blind and deluded children of men, contemplate the Wounds of your Crucified God, and see in what manner the gates of the kingdom of glory have been opened to you! See what it has cost Him to place you in possession of it, and understand, if possible, how infinite a benefit was bestowed upon you by the Son of God when He purchased for you Heaven, which you had lost by sin! … Enter in spirit into these sacred Wounds, and you will comprehend the value and sublimity of that eternal felicity which they have acquired for you, and you will learn to detach your heart from the earth and from creatures, so as to place all your affections and desires upon Heaven."
—Fr. Ignatius of the Side of Christ, p. 226-227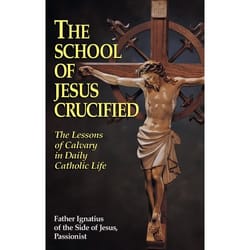 Daily

Verse
"Have among yourselves the same attitude that is also yours in Christ Jesus, Who, though he was in the form of God, did not regard equality with God something to be grasped. Rather, he emptied himself, taking the form of a slave, coming in human likeness; and found human in appearance, he humbled himself, becoming obedient to death, even death on a cross. Because of this, God greatly exalted him and bestowed on him the name that is above every name, that at the name of Jesus every knee should bend, of those in heaven and on earth and under the earth, and every tongue confess that Jesus Christ is Lord, to the glory of God the Father." Philippians 2:5-11
St. John Baptist de la Salle
Saint of the Day
St. John Baptist de la Salle (1651-1719) was born in Rheims, France, to a noble family. He was pious and smart, and his parents took great care over his moral and intellectual training. He entered seminary and was ordained at the age of twenty-seven. In St. John Baptist's era, only the noble and wealthy classes had access to a good education. His work among the poor led him to establish a home and school for rough and illiterate orphaned boys. The institution was successful and soon a second was established. St. John Baptist then dedicated his life to the cause of education, giving his wealth to the poor and resigning his respectable position as canon at Rheims. He recruited and trained men to teach in free schools he founded for the poor, which grew into a brotherhood of young men who were attracted to a life of service in teaching and catechesis. This became the Institute of the Brothers of the Christian Schools, or Christian Brothers. They took vows of poverty, chastity, and obedience, but not Holy Orders. The Christian Brothers expanded, and in many parts of France parish priests sent young men to be trained by St. John Baptist to serve as schoolmasters in their villages. Although he was initially opposed in his innovative work, both inside and outside the Church, St. John Baptist's foundations and methods soon became the standard for education in France and spread internationally. St. John Baptist de la Salle is the patron of schoolteachers. His feast day is April 7th.
Find a Devotional for this Saint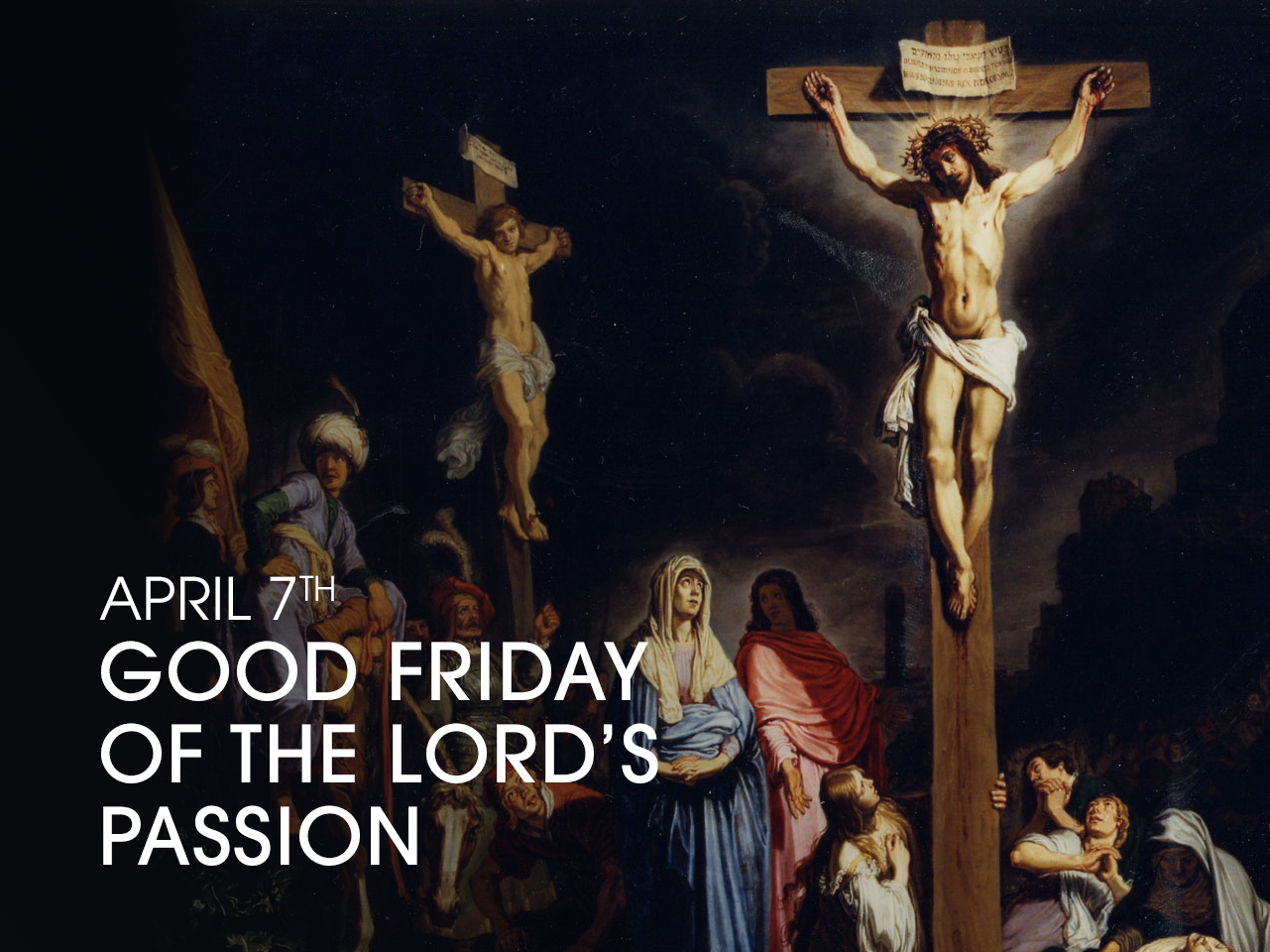 Good Friday
Feast Day
On the Friday of the Lord's Passion (Good Friday) the Church commemorates the death of Jesus Christ on the Cross for the sins of all mankind, at the same time the Passover lamb was being killed and prepared for consumption among the Jewish people. On this day the Church does not celebrate Mass. The main altar remains completely bare, and the Tabernacle is empty. It is at the 3 o'clock hour on Good Friday that Jesus expired on the Cross, His Divine Mercy being poured out on the whole world. At this hour the Christian faithful should observe a solemn and prayerful silence in memory of the hour in which our salvation was won at so great a price.
See More About Today's Feast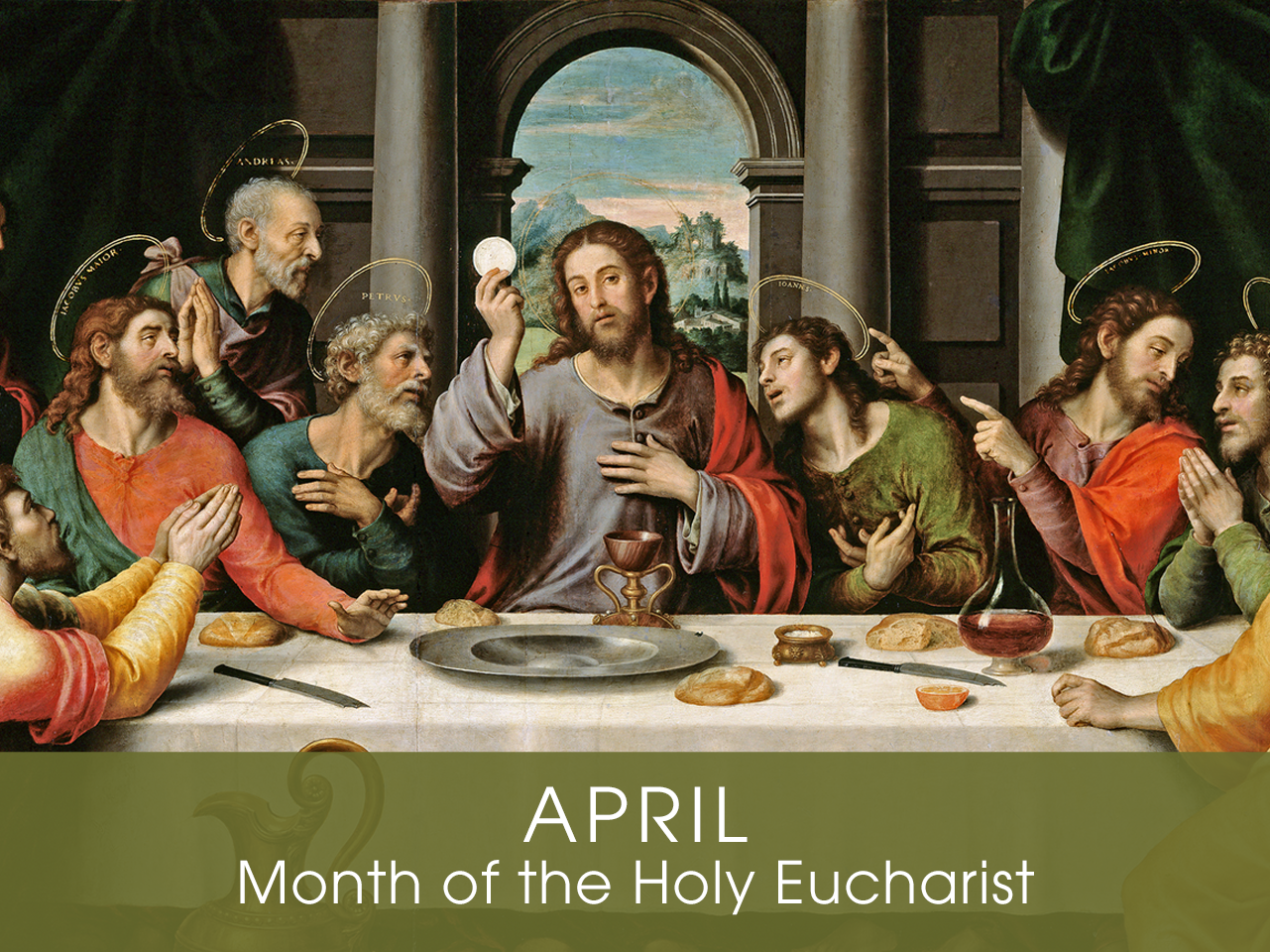 Month of

the Holy Eucharist
Devotion of the Month
The month of April is traditionally dedicated to devotion to Jesus in the sacrament of the Holy Eucharist. The Catholic Church teaches that the Blessed Sacrament is the real and living presence of Christ—His Body, Blood, Soul, and Divinity—received into our souls with every reception of Holy Communion. Our Eucharistic Lord is the source and summit of our Christian life, the ultimate proof of His infinite love for us.
Find a Devotional or Sacramental
Daily Prayers
Prayer for the Dead
In your hands, O Lord, we humbly entrust our brothers and sisters.
In this life you embraced them with your tender love;
deliver them now from every evil and bid them eternal rest.
The old order has passed away: welcome them into paradise,
where there will be no sorrow, no weeping or pain,
but fullness of peace and joy with your Son and the Holy
Spirit forever and ever. Amen.
Prayer of Spiritual Communion
My Jesus, I believe that You are present in the most Blessed Sacrament. I love You above all things and I desire to receive You into my soul. Since I cannot now receive You sacramentally, come at least spiritually into my heart. I embrace You as if You were already there, and unite myself wholly to You. Never permit me to be separated from You. Amen.
Prayer for the Holy Father
Almighty and everlasting God, have mercy upon Thy servant, Pope Francis, our Supreme Pontiff, and direct him, according to Thy loving kindness, in the way of eternal salvation; that, of Thy gift, he may ever desire that which is pleasing unto Thee and may accomplish it with all his might. Through Christ Our Lord. Amen. Our Father. Hail Mary.