"The Eucharist is the Sacrament of Love; It signifies Love, It produces love. The Eucharist is the consummation of the whole spiritual life." St. Thomas Aquinas
Today's

Meditation

"On the third day He rose again from the Dead…'From the Dead'. This would therefore not mean leaving the dead behind, but rather gathering them up and taking them along, as is wonderfully described in sermons of the Church fathers…But when Paul then exclaims triumphantly, "O death, where is thy sting?" and "Death is swallowed up in victory" (1 Cor 15:54f), that means something more: The reality of dying, as the human  being's giving up of self—this reality has lost its sting (the feeling that, in the end, "it was all for nothing") and is drawn up into the process of eternal life…so that everything human—its being saved, its living, its dying—is thenceforth securely integrated into a life that no longer knows any limits."
—Hans Urs Von Balthasar, p.54-55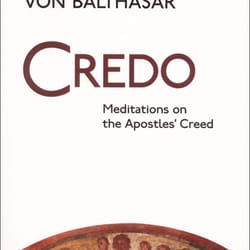 Daily

Verse
"Oh, the depth of the riches and wisdom and knowledge of God! How inscrutable are his judgments and how unsearchable his ways!...For from him and through him and for him are all things. To him be glory forever. Amen." Romans 11:33
Blessed Katarzyna Faron
Saint of the Day
Bl. Katarzyna Celestyna (Catherine Celestine) Faron (1913-1944) was born in Zabrzez, Poland. At the age of five she was orphaned and raised by pious, childless relatives. Desiring the religious life, she entered the Congregation of the Sisters Servants of Mary Immaculate in 1930. She served in the community as a kindergarten teacher and catechist. After the breakout of World War II she became the leader of her religious house, ran an orphanage, and helped the poor. She was eventually arrested by the Gestapo, charged with conspiracy against the Nazis, and sent to the Auschwitz concentration camp on the feast of Epiphany in 1943, where she was assigned to manual labor digging ditches. She praised God in all her suffering and resigned herself to following His will. Due to the poor conditions she developed typhoid fever and tuberculosis. Because she completed the nine First Fridays devotion to the Sacred Heart of Jesus, she trusted that she wouldn't die without Holy Communion, as Our Lord promised. On December 8, 1943, the feast of the Immaculate Conception, she received Holy Communion as viaticum which was secretly brought to the camp by a prisoner priest. While on her deathbed she prayed intensely for various intentions on a rosary made of bread. According to witnesses she offered her sufferings for the conversion of a priest who had fallen away from the Church, who did eventually return to the true Faith. Bl. Katarzyn finally died from her illness on Easter morning. She is one of the 108 beatified Polish Catholic Martyrs killed during World War II by Nazi Germany. Her feast day is April 9th.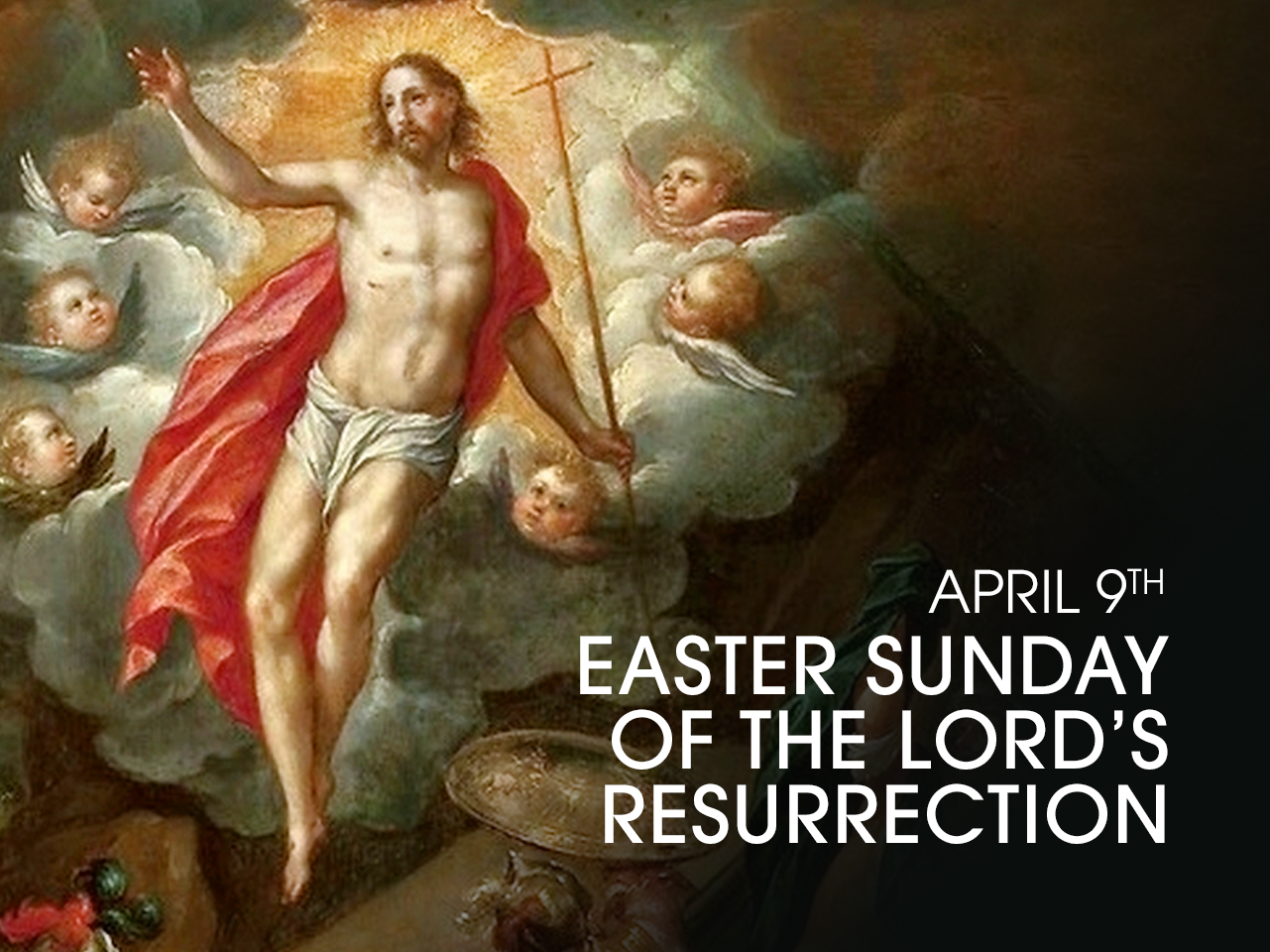 Easter Sunday
Feast Day
On Easter Sunday the Church celebrates the Resurrection of Our Lord and Savior Jesus Christ from the dead, the greatest feast of the liturgical year. For this purpose Jesus Christ, the Son of God, was sent into the world. Through the celebration of this feast Christians also anticipate the resurrection of their own glorified bodies at the Second Coming of Jesus Christ. It is customary for Christians to joyfully proclaim to one another, "He is risen!" with the response, "He is risen, indeed!"
See More About Today's Feast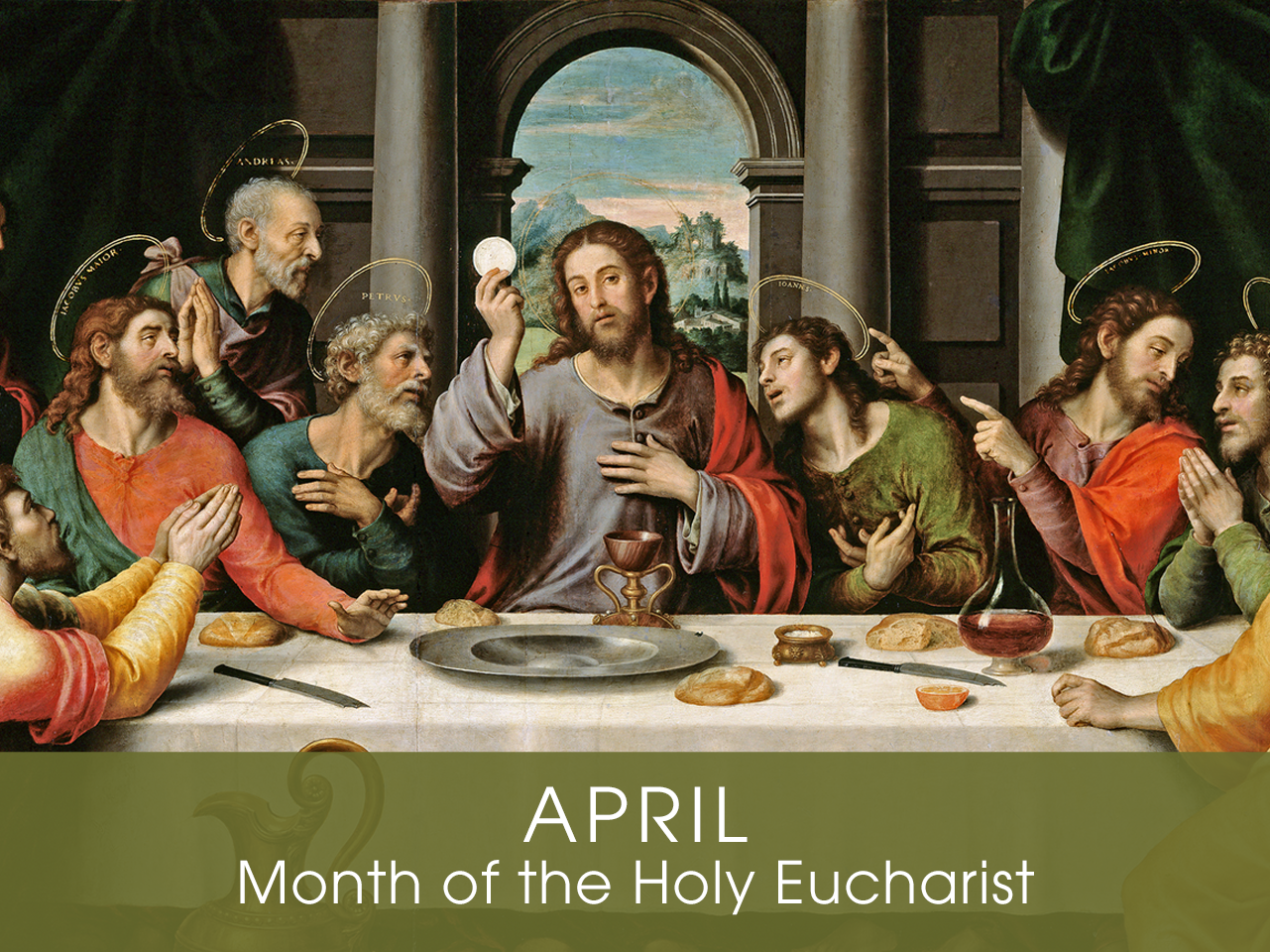 Month of the

Holy Eucharist
Devotion of the Month
The month of April is traditionally dedicated to devotion to Jesus in the sacrament of the Holy Eucharist. The Catholic Church teaches that the Blessed Sacrament is the real and living presence of Christ—His Body, Blood, Soul, and Divinity—received into our souls with every reception of Holy Communion. Our Eucharistic Lord is the source and summit of our Christian life, the ultimate proof of His infinite love for us.
Find a Devotional or Sacramental
Daily Prayers
Prayer for the Dead
In your hands, O Lord, we humbly entrust our brothers and sisters.
In this life you embraced them with your tender love;
deliver them now from every evil and bid them eternal rest.
The old order has passed away: welcome them into paradise,
where there will be no sorrow, no weeping or pain,
but fullness of peace and joy with your Son and the Holy
Spirit forever and ever. Amen.
Prayer of Spiritual Communion
My Jesus, I believe that You are present in the most Blessed Sacrament. I love You above all things and I desire to receive You into my soul. Since I cannot now receive You sacramentally, come at least spiritually into my heart. I embrace You as if You were already there, and unite myself wholly to You. Never permit me to be separated from You. Amen.
Prayer for the Holy Father
Almighty and everlasting God, have mercy upon Thy servant, Pope Francis, our Supreme Pontiff, and direct him, according to Thy loving kindness, in the way of eternal salvation; that, of Thy gift, he may ever desire that which is pleasing unto Thee and may accomplish it with all his might. Through Christ Our Lord. Amen. Our Father. Hail Mary.