"Let each of us accept the truth of the following statement and try to make it our most fundamental principle: Christ's teaching will never let us down, while worldly wisdom always will. Christ Himself said that this sort of wisdom was like a house with nothing but sand as its foundation, while His own was like a building with solid rock as its foundation." St. Vincent de Paul
Today's

Meditation

"If during vocal prayer your heart is drawn to mental prayer, do not restrain it, but let your devotion take that channel, omitting the vocal prayers which you intended to say: that which takes their place is more acceptable to God, and more useful to your own soul."
—St. Francis de Sales, p. 63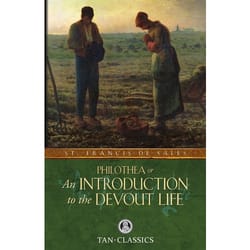 Daily

Verse
"Moreover as for me, far be it from me that I should sin against the Lord by ceasing to pray for you; and I will instruct you in the good and the right way. Only fear the Lord, and serve him faithfully with all your heart; for consider what great things he has done for you." 1 Samuel 12:23-24
St. Lidwina of Schiedam
Saint of the Day
St. Lidwina of Schiedam (1380-1433) was born to a poor family in Holland. She had a devotion to the Blessed Mother and would often pray before the miraculous image of Our Lady of Schiedam. One winter, when she was 15 years old, she fell while ice skating and broke a rib, which she never recovered from. Gangrene spread throughout her body, which became as one big sore, and she was bed-ridden for the rest of her life. No medicine was able to help her. Her gradual physical deterioration was so grotesque that many suspected her of being possessed by the devil. However, when a priest brought her an unconsecrated Host, she was able to discern that it was not the Body and Blood of Christ. She experienced great suffering in this way until she was 53, but God rewarded her with the gift of heightened prayer, mystical visions, and spiritual consolations. Although she was not cured, many miraculous healings were attributed to her intercession. She fasted continuously, eventually surviving on only the Eucharist, and after her death on Easter Sunday the sweet odor of sanctity filled her room. Her grave became a pilgrimage site over which a chapel was erected. St. Lidwina of Schiedam is the patron of the chronically ill and ice skaters. Her feast day is April 14th.
Find a Devotional for this Saint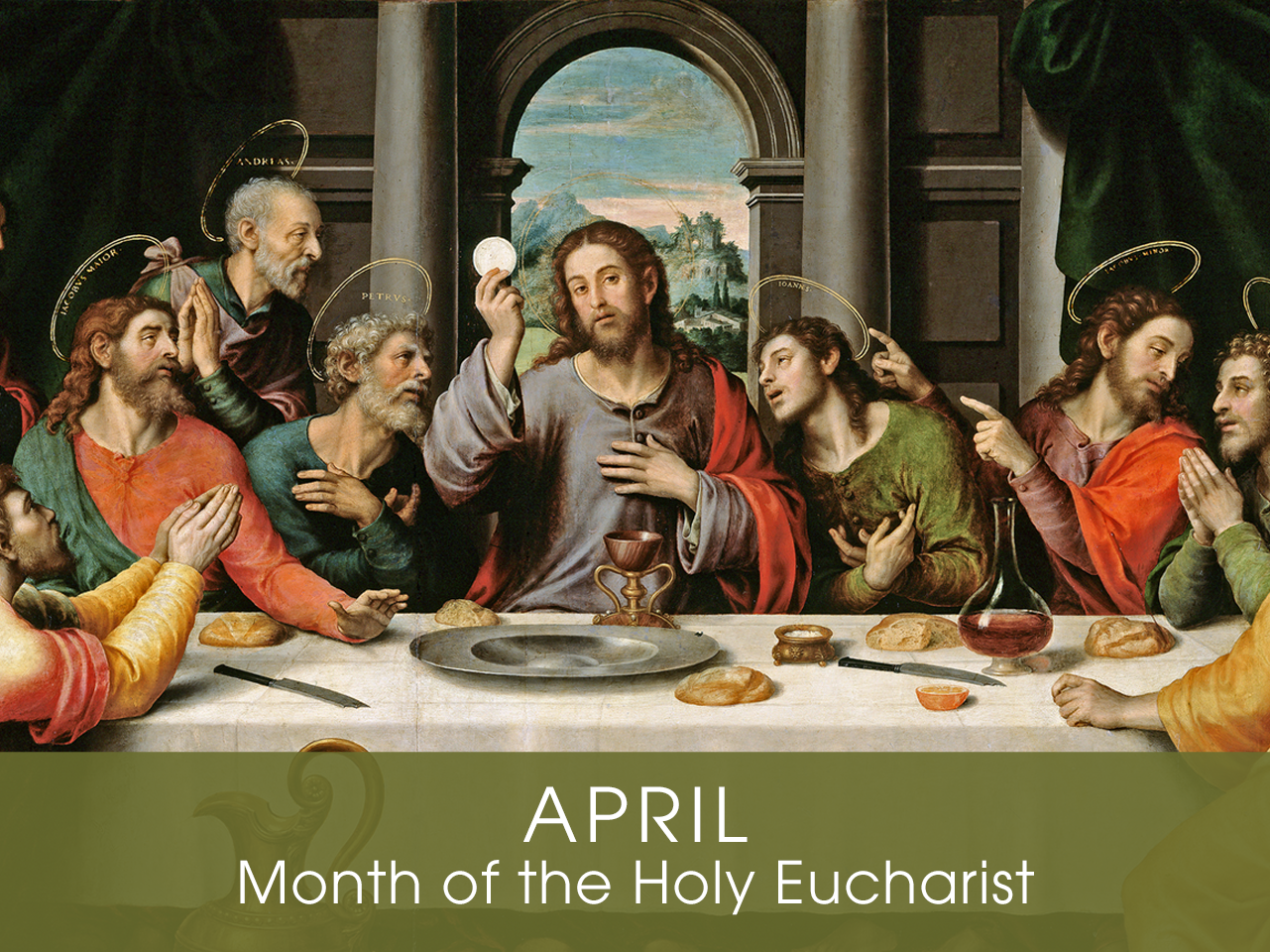 Month of the

Holy Eucharist
Devotion of the Month
The month of April is traditionally dedicated to devotion to Jesus in the sacrament of the Holy Eucharist. The Catholic Church teaches that the Blessed Sacrament is the real and living presence of Christ—His Body, Blood, Soul, and Divinity—received into our souls with every reception of Holy Communion. Our Eucharistic Lord is the source and summit of our Christian life, the ultimate proof of His infinite love for us.
Find a Devotional or Sacramental
Daily Prayers
Prayer for the Dead
In your hands, O Lord, we humbly entrust our brothers and sisters.
In this life you embraced them with your tender love;
deliver them now from every evil and bid them eternal rest.
The old order has passed away: welcome them into paradise,
where there will be no sorrow, no weeping or pain,
but fullness of peace and joy with your Son and the Holy
Spirit forever and ever. Amen.
Prayer of Spiritual Communion
My Jesus, I believe that You are present in the most Blessed Sacrament. I love You above all things and I desire to receive You into my soul. Since I cannot now receive You sacramentally, come at least spiritually into my heart. I embrace You as if You were already there, and unite myself wholly to You. Never permit me to be separated from You. Amen.
Prayer for the Holy Father
Almighty and everlasting God, have mercy upon Thy servant, Pope Francis, our Supreme Pontiff, and direct him, according to Thy loving kindness, in the way of eternal salvation; that, of Thy gift, he may ever desire that which is pleasing unto Thee and may accomplish it with all his might. Through Christ Our Lord. Amen. Our Father. Hail Mary.