"The limitless loving devotion to God, and the gift God makes of Himself to you, are the highest elevation of which the heart is capable; it is the highest degree of prayer." St. Benedicta of the Cross (Edith Stein)
Today's

Meditation

"The fruit of the Spirit is love, joy, peace, patience, kindness, generosity, faithfulness, gentleness, and self-control (Galatians 5:22-23). Even though the Disciples suffered persecution, they were filled with joy. One would have expected them to be depressed or angry or resentful. The very fact that they responded to persecution with joy is a sign that the Spirit was guiding their actions. We can use that same test with our own words and actions."
—Rev. Jude Winkler, O.F.M., p. 11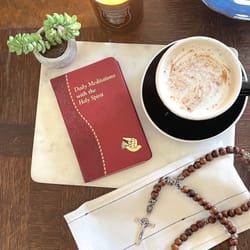 Daily

Verse
"But ask the beasts, and they will teach you; the birds of the air, and they will tell you; or the plants of the earth, and they will teach you; and the fish of the sea will declare to you. Who among all these does not know that the hand of the Lord has done this? In his hand is the life of every living thing and the breath of all mankind." Job 12:7-10
St. George
Saint of the Day
St. George (d. 303 A.D.) was born in Palestine to noble Christian parents. Like his father, he enlisted as a soldier in the Roman army serving under Emperor Diocletian. He was renowned for his bravery and outstanding military prowess, and was a favorite of the Emperor. Many fantastical legends are ascribed to him, however, none are known to be true with any certainty. The most famous legend is St. George and the Dragon, where St. George, after making the Sign of the Cross, saved a king's daughter from being devoured by a man-eating dragon. St. George killed the elusive dragon, and by this feat persuaded many souls to accept baptism. He also admonished the king, in gratitude for his princess being saved by Christ's power, to support the cause of the Church. What is known with certainty is that St. George, after confessing and refusing to renounce his faith in Christ, was martyred in Palestine during the Christian persecution of Diocletian. He became a highly venerated saint in antiquity, and many early churches were dedicated in his honor. St. George is the patron of many causes and countries, including soldiers, knights, chivalry, horsemen, farmers, Canada, England, and Germany, to name a few. His feast day is April 23.
Find a Devotional for this Saint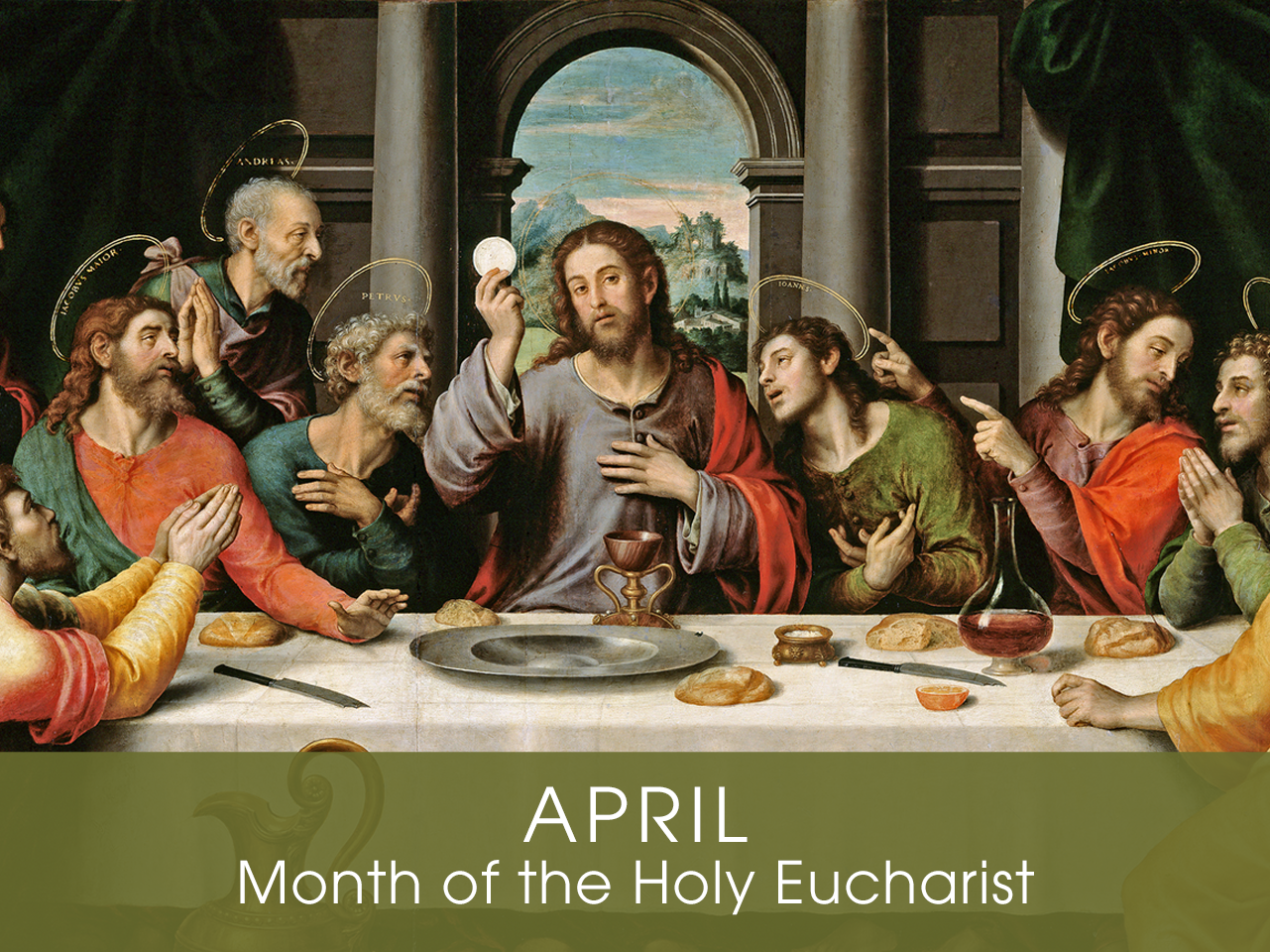 Month of

the Holy Eucharist
Devotion of the Month
The month of April is traditionally dedicated to devotion to Jesus in the sacrament of the Holy Eucharist. The Catholic Church teaches that the Blessed Sacrament is the real and living presence of Christ—His Body, Blood, Soul, and Divinity—received into our souls with every reception of Holy Communion. Our Eucharistic Lord is the source and summit of our Christian life, the ultimate proof of His infinite love for us.
Find a Devotional or Sacramental
Daily Prayers
Prayer for the Dead
In your hands, O Lord, we humbly entrust our brothers and sisters.
In this life you embraced them with your tender love;
deliver them now from every evil and bid them eternal rest.
The old order has passed away: welcome them into paradise,
where there will be no sorrow, no weeping or pain,
but fullness of peace and joy with your Son and the Holy
Spirit forever and ever. Amen.
Prayer of Spiritual Communion
My Jesus, I believe that You are present in the most Blessed Sacrament. I love You above all things and I desire to receive You into my soul. Since I cannot now receive You sacramentally, come at least spiritually into my heart. I embrace You as if You were already there, and unite myself wholly to You. Never permit me to be separated from You. Amen.
Prayer for the Holy Father
Almighty and everlasting God, have mercy upon Thy servant, Pope Francis, our Supreme Pontiff, and direct him, according to Thy loving kindness, in the way of eternal salvation; that, of Thy gift, he may ever desire that which is pleasing unto Thee and may accomplish it with all his might. Through Christ Our Lord. Amen. Our Father. Hail Mary.