"The Eucharist is the bread that gives strength... It is at once the most eloquent proof of His love and the most powerful means of fostering His love in us. He gives Himself every day so that our hearts as burning coals may set afire the hearts of the faithful." St. Damien of Molokai
Today's

Meditation

"Most persons have temptations to anger. There is hardly anyone who does not at times become peevish, irritable, or impatient; and these are the beginning of more serious faults. Now we all know the harm and very serious results of anger. There is no example that makes clearer its ruinous effects than the Crucifixion of Our Lord…We have also seen how anger has brought families into discord and even permanent separation. We have read how nations have been led to war. The surprising fact is that though each and every one has had brought to his attention the fruits of anger—the sufferings, the discord, the unhappiness—sill there is much that could be sought by most persons in regard to meekness and something of meekness that could be sought by everybody."
—Matt Fradd, p.75-76
Daily

Verse
"I urge you therefore, brothers, by the mercies of God, to offer your bodies as a living sacrifice, holy and pleasing to God, your spiritual worship. Do not conform yourselves to this age but be transformed by the renewal of your mind, that you may discern what is the will of God, what is good and pleasing and perfect." Romans 12:1-2
Blessed Caroline Gerhardinger
Saint of the Day
Bl. Caroline Gerhardinger (1797-1879), also known as Mother Maria Theresa of Jesus, was born into a working class family in Bavaria. Her giftedness as an educator was apparent early in her life, and she became a certified teacher at the age of 15. Although she was drawn to a quiet, contemplative life, her desire was to teach young girls to aspire to their full potential. For this she was greatly loved by her students. Responding to the needs of the time, and with the guidance of her bishop, she began a new religious order dedicated to education called the Poor School Sisters of Notre Dame. This was during a period when all religious orders were closed by decree of the Bavarian government. She sent her Sisters in groups of twos and threes into the local villages to teach the poor young girls who would otherwise have no opportunity for education, a novelty in her day which grew into a new form of apostolic religious life. In this way she sought to remedy social ills through education, which she believed was just as necessary for a child as love, food, and shelter. When the Vatican negotiated the reopening of Bavaria's religious communities in 1828, the Sisters moved into a convent. Caroline took the religious name Mary Theresa of Jesus for her devotion to Jesus in the Blessed Sacrament. At the time of her death her order had grown to 2,500 sisters. She was beatified by Pope St. John Paul II in 1985. Her feast day is May 9th.
Find a Devotional for this Saint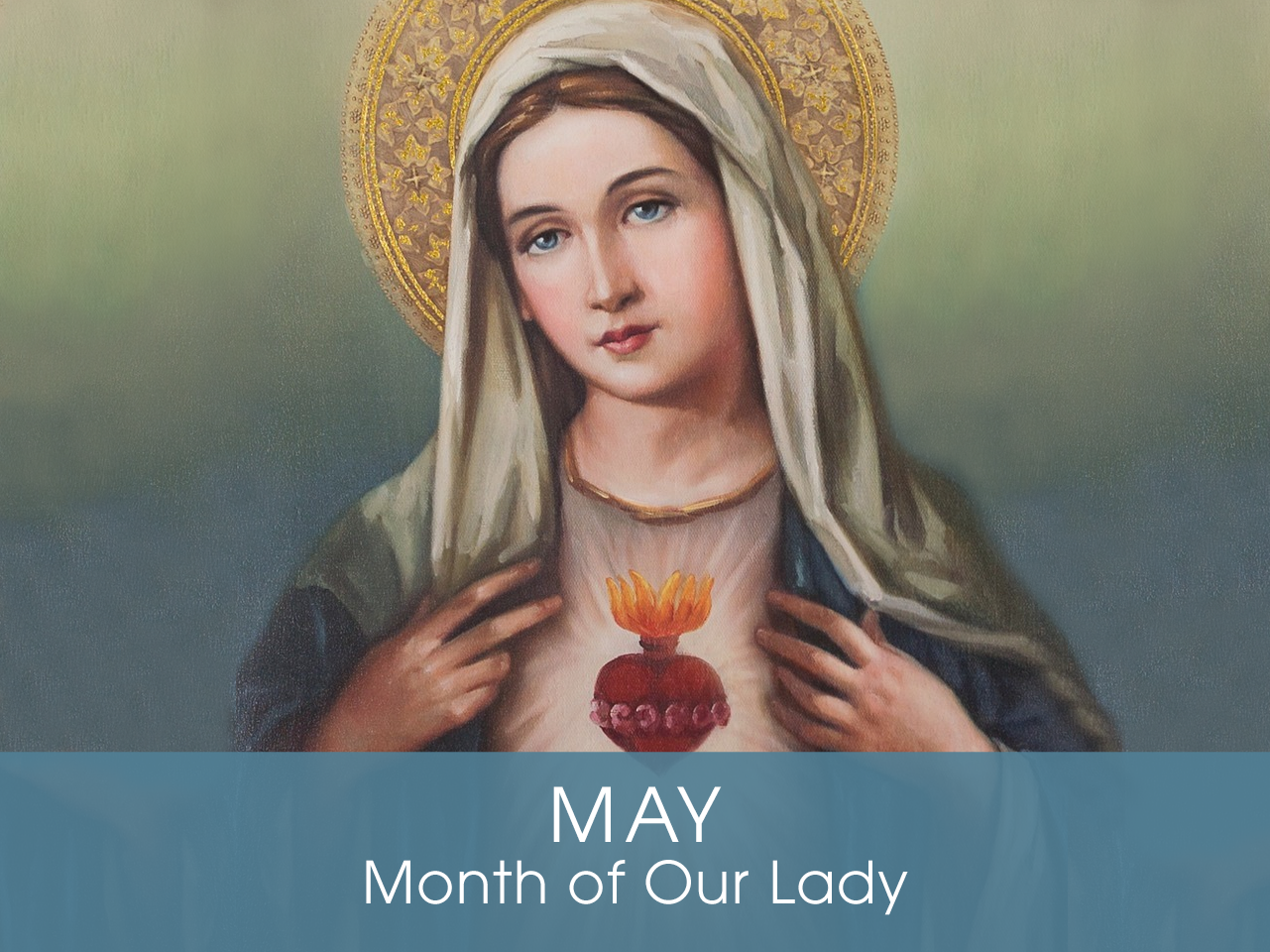 Month of the

Our Lady
Devotion of the Month
In addition to the myriad feast days honoring Our Lady under her many titles and virtues, the entire month of May is especially given to her praise. In the words of Pope Paul VI, May is "a month which the piety of the faithful has long dedicated to Mary, the Mother of God … For this is the month during which Christians, in their churches and their homes, offer the Virgin Mother more fervent and loving acts of homage and veneration; and it is the month in which a greater abundance of God's merciful gifts comes down to us from our Mother's throne."
Find a Devotional or Sacramental
Daily Prayers
Prayer for the Dead
In your hands, O Lord, we humbly entrust our brothers and sisters.
In this life you embraced them with your tender love;
deliver them now from every evil and bid them eternal rest.
The old order has passed away: welcome them into paradise,
where there will be no sorrow, no weeping or pain,
but fullness of peace and joy with your Son and the Holy
Spirit forever and ever. Amen.
Prayer of Spiritual Communion
My Jesus, I believe that You are present in the most Blessed Sacrament. I love You above all things and I desire to receive You into my soul. Since I cannot now receive You sacramentally, come at least spiritually into my heart. I embrace You as if You were already there, and unite myself wholly to You. Never permit me to be separated from You. Amen.
Prayer for the Holy Father
Almighty and everlasting God, have mercy upon Thy servant, Pope Francis, our Supreme Pontiff, and direct him, according to Thy loving kindness, in the way of eternal salvation; that, of Thy gift, he may ever desire that which is pleasing unto Thee and may accomplish it with all his might. Through Christ Our Lord. Amen. Our Father. Hail Mary.