"Go forth and set the world on fire." St. Ignatius of Loyola
Today's

Meditation

"My daughter, faithfully live up to the words which I speak to you. Do not value any external thing too highly, even if it were to seem very precious to you. Let go of yourself, and abide with Me continually. Entrust everything to Me and do nothing on your own, and you will always have great freedom of spirit. No circumstances or events will ever be able to upset you. Set little store on what people say. Let everyone judge you as they like. Do not make excuses for yourself, it will do you no harm. Give away everything at the first sign of a demand, even if they were the most necessary things. Do not ask for anything without consulting Me. Allow them to take away even what is due you – respect, your good name – let your spirit rise above all that. And so, set free from everything, rest close to My Heart, not allowing your peace to be disturbed by anything. My pupil, consider (62) the words which I have spoken to you." —Jesus to St. Faustina, Divine Mercy in My Soul p. 596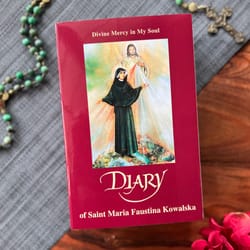 Daily

Verse
"For I am convinced that neither death, nor life, nor angels, nor principalities, nor present things, nor future things, nor powers, nor height, nor depth, nor any other creature will be able to separate us from the love of God in Christ Jesus our Lord." Romans 8:38-39
St. William of Rochester
Saint of the Day
St. William of Rochester (d. 1201), also known as St. William of Perth, was born in Perth, Scotland. He was a wild youth who matured into a devoted man of God. He became a baker, and out of his charity he would always set aside bread to feed the poor. One day, while walking into the church for Mass, he found an abandoned baby boy on the church steps. He adopted the child, raised him, and taught him his trade. Years later St. William made a vow to visit the sacred sites of Our Lord's life on a pilgrimage to the Holy Land, along with his adopted son. The two set out on their journey. While traveling through England his son deceived him, slit his throat, and stole the money he had saved for their pilgrimage. William's abandoned body was discovered and mourned over by a mentally deranged woman. She made a crown of flowers and placed it on the head of William's murdered corpse, then afterwards put the garland on her own head. Upon doing this, she was immediately cured of her mental illness. The local monks learned of this miracle and carried William's body to the Rochester cathedral to give him the proper burial of a saint. His shrine later attracted many pilgrims. St. William of Rochester is the patron of adopted children. His feast day is May 23rd.
Find a Devotional for this Saint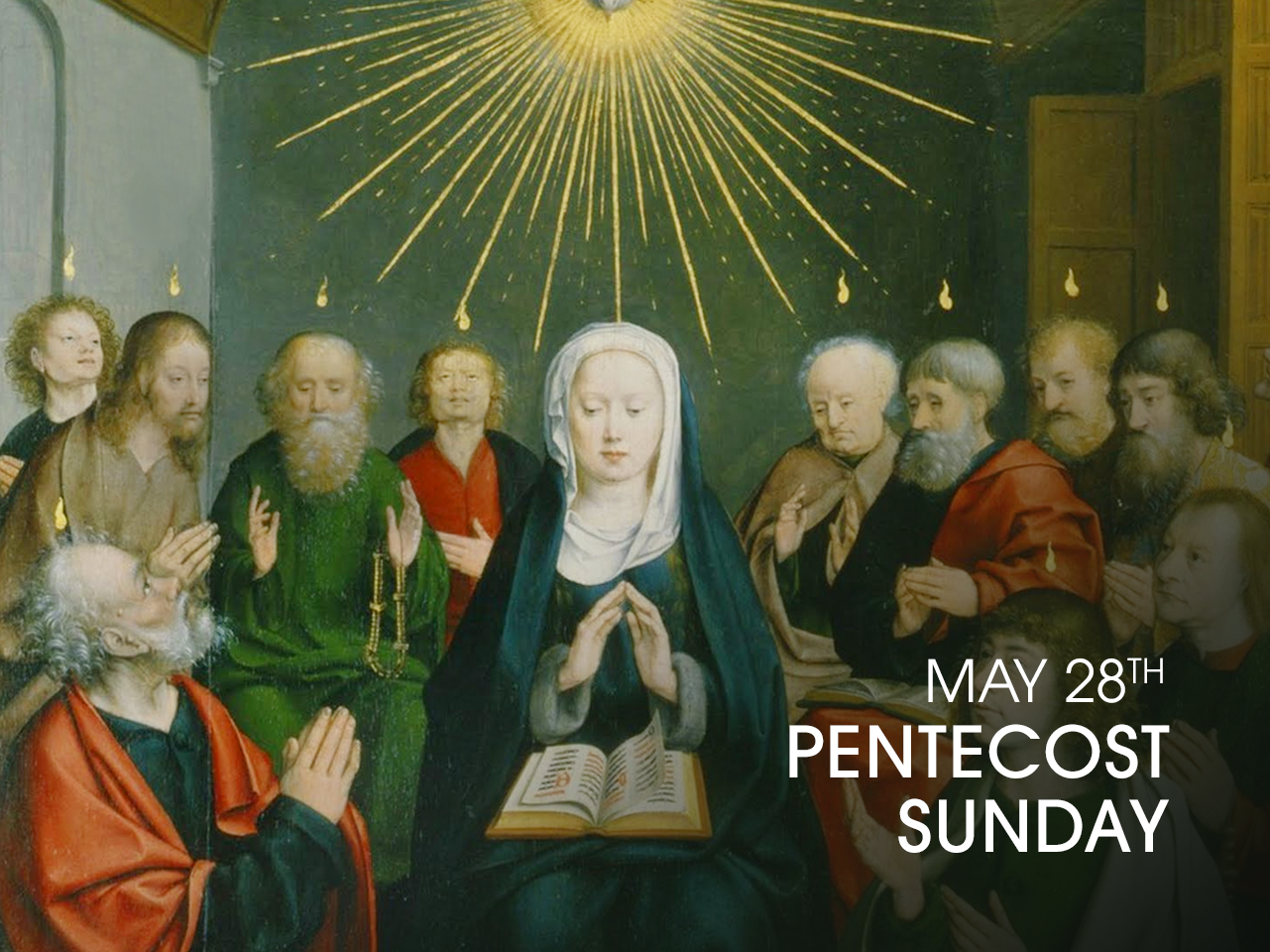 Pentecost Sunday
Feast Day
When Jesus ascended into heaven forty days after His resurrection, He instructed the Apostles to wait in Jerusalem for the sending of the Holy Spirit. Ten days later the eleven Apostles, together with the Blessed Virgin Mary, were praying in the Upper Room on the Lord's Day. The Holy Spirit descended upon them as tongues of fire, as recorded in the second chapter of Acts. Jews from distant lands were gathered in Jerusalem for the feast of the harvest of the first-fruits, which was the closing festival of the Pascal season. The Apostles, filled with the Holy Spirit, began to preach the Gospel of Jesus Christ in the various languages of the people. Scripture records that through this miracle 3,000 souls were baptized and added to the Church that same day. Because of this, Pentecost is considered the birthday of the Catholic Church.
See More About Today's Feast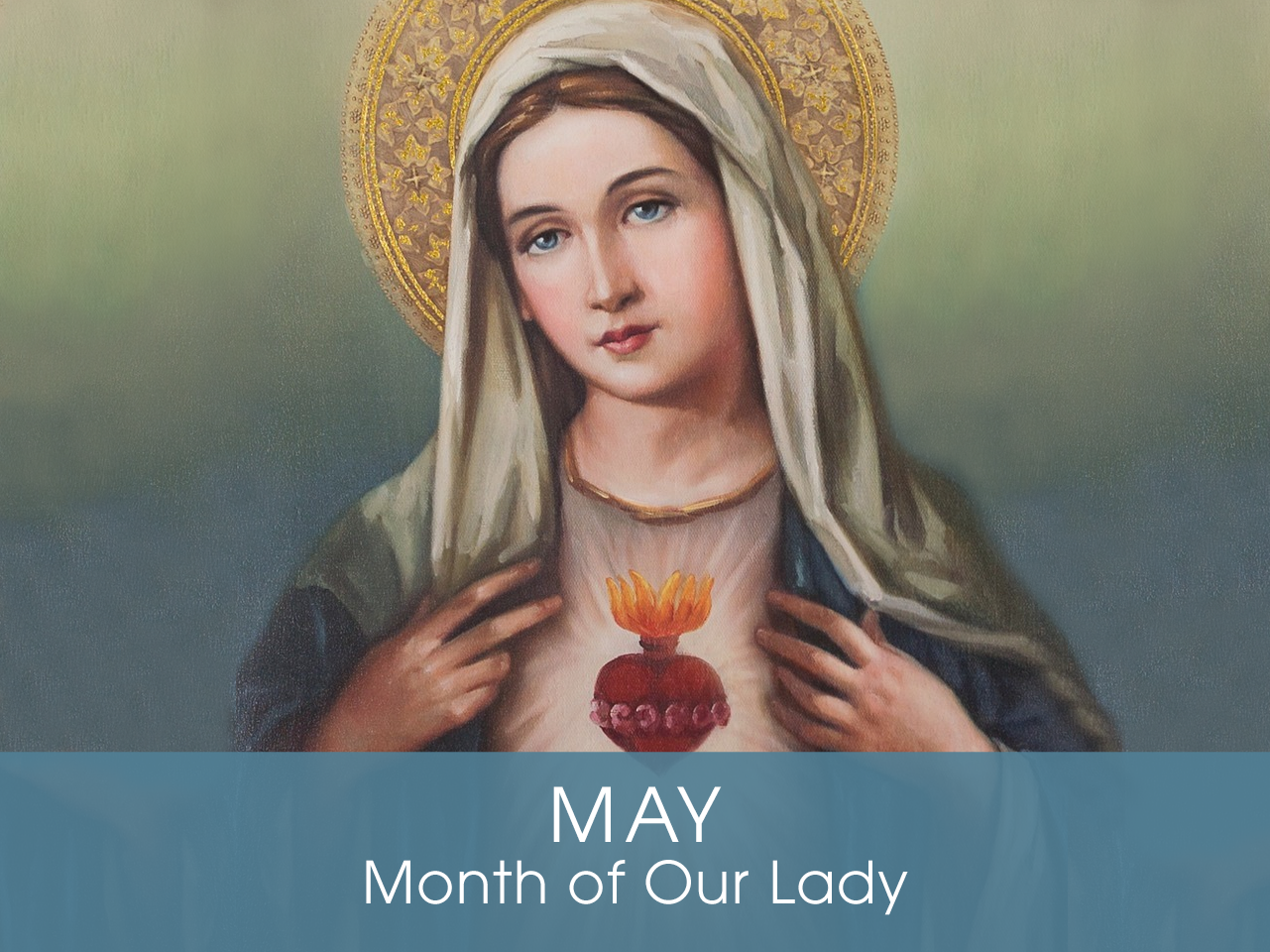 Month of the

Our Lady
Devotion of the Month
In addition to the myriad feast days honoring Our Lady under her many titles and virtues, the entire month of May is especially given to her praise. In the words of Pope Paul VI, May is "a month which the piety of the faithful has long dedicated to Mary, the Mother of God … For this is the month during which Christians, in their churches and their homes, offer the Virgin Mother more fervent and loving acts of homage and veneration; and it is the month in which a greater abundance of God's merciful gifts comes down to us from our Mother's throne."
Find a Devotional or Sacramental
Daily Prayers
Prayer for the Dead
In your hands, O Lord, we humbly entrust our brothers and sisters.
In this life you embraced them with your tender love;
deliver them now from every evil and bid them eternal rest.
The old order has passed away: welcome them into paradise,
where there will be no sorrow, no weeping or pain,
but fullness of peace and joy with your Son and the Holy
Spirit forever and ever. Amen.
Prayer of Spiritual Communion
My Jesus, I believe that You are present in the most Blessed Sacrament. I love You above all things and I desire to receive You into my soul. Since I cannot now receive You sacramentally, come at least spiritually into my heart. I embrace You as if You were already there, and unite myself wholly to You. Never permit me to be separated from You. Amen.
Prayer for the Holy Father
Almighty and everlasting God, have mercy upon Thy servant, Pope Francis, our Supreme Pontiff, and direct him, according to Thy loving kindness, in the way of eternal salvation; that, of Thy gift, he may ever desire that which is pleasing unto Thee and may accomplish it with all his might. Through Christ Our Lord. Amen. Our Father. Hail Mary.