"Where there is no love, put love and you will find love." St. John of the Cross
Today's

Meditation

"Dearly beloved Mother, grant, if it is possible, that I may have no other spirit but yours to know Jesus and his divine will; that I may have no other soul but yours to praise and glorify the Lord; that I may have no other heart but yours to love God with a love as pure and passionate as yours. I do not ask you for visions, revelations, feelings of devotion, or spiritual pleasures. It is your privilege to see God clearly; it's your privilege to enjoy heavenly bliss; it's your privilege to triumph gloriously in heaven at the right hand of your Son and to hold absolute sway over angels, men, and demons; it is your privilege to dispose of all the gifts of God, just as you wish . . . The only grace I beg you to obtain for me is that every day and every moment of my life I may say: Amen, so be it, to all that you did while on earth; amen, so be it, to all that you are now doing in heaven; amen, so be it, to all that you are doing in my soul, so that you alone may fully glorify Jesus in me for time and eternity."
—St. Louis de Montfort, p.160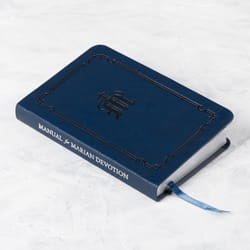 Daily

Verse
"For by grace you have been saved through faith, and this is not from you; it is the gift of God; it is not from works, so no one may boast. For we are his handiwork, created in Christ Jesus for the good works that God has prepared in advance, that we should live in them." Ephesians 2:8-10
St. Petronille
Saint of the Day
St. Petronille (1st c.), also known as Petronilla, was a virgin martyr of the early Church in Rome. According to tradition she was connected to St. Peter the Apostle; she may have been either his natural daughter, servant, convert (spiritual daughter), or co-laborer in the faith. It is also a tradition that St. Petronilla was cured of palsy by St. Peter. She is remembered for being beautiful, for refusing marriage to a pagan king due to her vow of chastity, and for suffering martyrdom for her unwavering faith. In the 8th century the chapel containing her relics became the burial place of French kings. This is due to the fact that she was the supposed daughter of St. Peter, and the French kings were considered the "adopted sons" of St. Peter; therefore, St. Petronille was invoked as an intercessor for all treaties between the Holy See and the French crown. Her relics were later moved to St. Peter's Basilica in Rome, and on her feast day Mass at St. Peter's is offered for France and attended by French residents living in Rome. St. Petronille is the patronness of the dauphins of France, mountain travelers, and against fever. Her feast day is May 31st.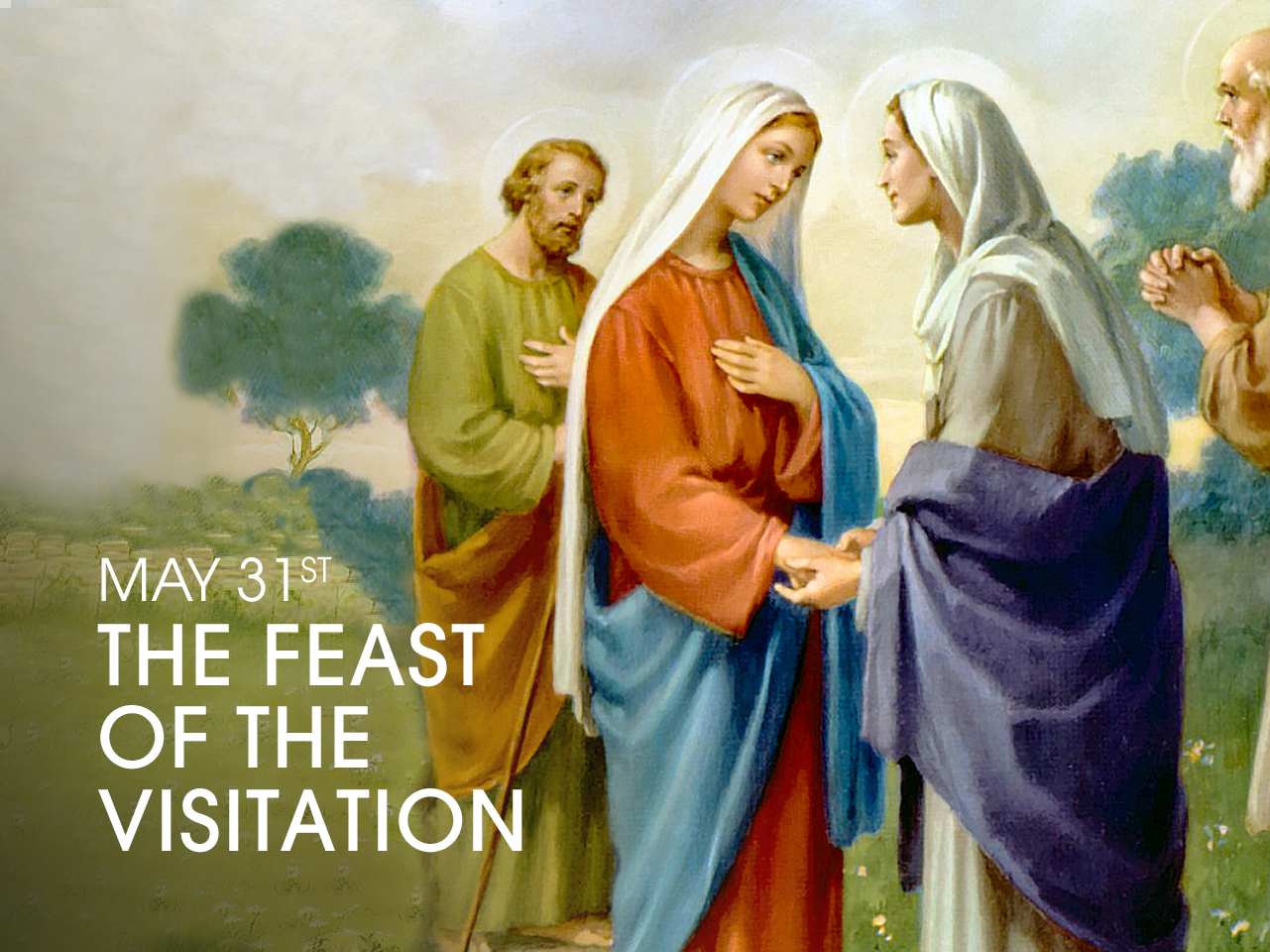 Feast of the Visitation
Feast Day
The Feast of the Visitation celebrates the providential meeting of Mary and Elizabeth, when two of the Church's greatest prayers were first spoken. After being told by the Archangel Gabriel that she would give birth to the Son of God, the Blessed Virgin Mary went to visit her cousin, Elizabeth, who was then pregnant with John the Baptist. In the presence of Jesus in the womb of the Blessed Virgin, Elizabeth exclaimed through the Holy Spirit, "Blessed art thou among women, and blessed is the fruit of thy womb!" Mary, overflowing with joy, responded with her Magnificat.
See More About Today's Feast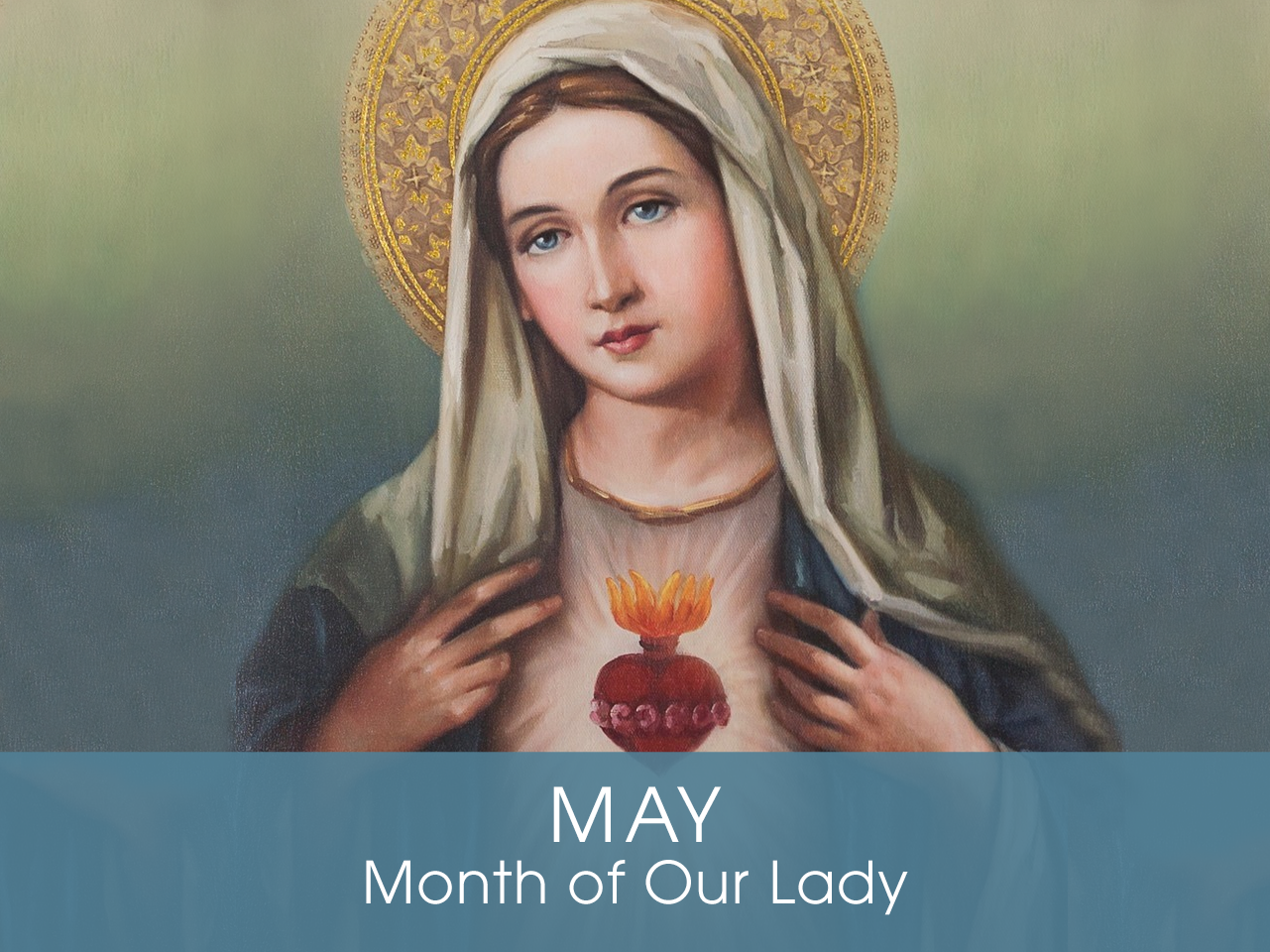 Month of the

Our Lady
Devotion of the Month
In addition to the myriad feast days honoring Our Lady under her many titles and virtues, the entire month of May is especially given to her praise. In the words of Pope Paul VI, May is "a month which the piety of the faithful has long dedicated to Mary, the Mother of God … For this is the month during which Christians, in their churches and their homes, offer the Virgin Mother more fervent and loving acts of homage and veneration; and it is the month in which a greater abundance of God's merciful gifts comes down to us from our Mother's throne."
Find a Devotional or Sacramental
Daily Prayers
Prayer for the Dead
In your hands, O Lord, we humbly entrust our brothers and sisters.
In this life you embraced them with your tender love;
deliver them now from every evil and bid them eternal rest.
The old order has passed away: welcome them into paradise,
where there will be no sorrow, no weeping or pain,
but fullness of peace and joy with your Son and the Holy
Spirit forever and ever. Amen.
Prayer of Spiritual Communion
My Jesus, I believe that You are present in the most Blessed Sacrament. I love You above all things and I desire to receive You into my soul. Since I cannot now receive You sacramentally, come at least spiritually into my heart. I embrace You as if You were already there, and unite myself wholly to You. Never permit me to be separated from You. Amen.
Prayer for the Holy Father
Almighty and everlasting God, have mercy upon Thy servant, Pope Francis, our Supreme Pontiff, and direct him, according to Thy loving kindness, in the way of eternal salvation; that, of Thy gift, he may ever desire that which is pleasing unto Thee and may accomplish it with all his might. Through Christ Our Lord. Amen. Our Father. Hail Mary.