"In the first place it should be known that if a person is seeking God, his beloved is seeking him much more." St. John of the Cross
Today's

Meditation

"Suppress Interior Noise – God created your soul silent and keeps it inviolate at baptism. He filled it with Himself, nothing other than Himself. It is later, little by little that the world bursts in. Noise invades, covering the soft voice of God. Since then, the racket amplifies itself. Return to your baptismal silence, my brother! Noise has three generators: memories, curiosity, and worries. Paralyze their action."
— An Anonymous Carthusian Monk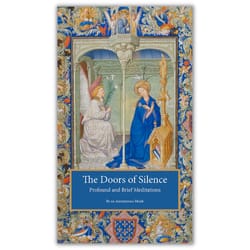 Daily

Verse
"I tell you, my friends, do not be afraid of those who kill the body but after that can do no more. I shall show you whom to fear. Be afraid of the one who after killing has the power to cast into Gehenna; yes, I tell you, be afraid of that one." Luke 12:4-5
St. Emily de Vialar
Saint of the Day
St. Emily de Vialar (1797–1856) was born in Gaillac, France to an aristocratic family in the years following the French Revolution. Because the Catholic faith was under severe persecution, she was baptized in secret by her parents and her religious instruction was given at home. She was a devout child who displayed an aptitude for prayer, and she shunned the luxuries of her state in life. After the death of her mother, her father arranged to find her a suitable husband when she reached 15 years of age. Emily, who desired to lead the religious life in service to the poor, resisted her father's attempts and endured his anger at her refusal. She desired also to repair the harm caused by the Revolution by catechizing the local children. Emily remained a virgin and privately consecrated herself to God while living in her father's home. When she was 21 she met a priest who helped her set up an out-patient service for the sick in her own home, which heightened her tense relationship with her father. When her grandfather died, Emily inherited a large fortune which allowed her independence in the service of God. She bought a large home in her town and began a religious order in service to the sick and poor, and to the education of children, which quickly flourished. In 40 years her order, called the Sisters of St. Joseph of the Apparition, established 40 houses throughout Europe, Africa, and Asia. St. Emily de Vialar's feast day is June 17th.
Find a Devotional for this Saint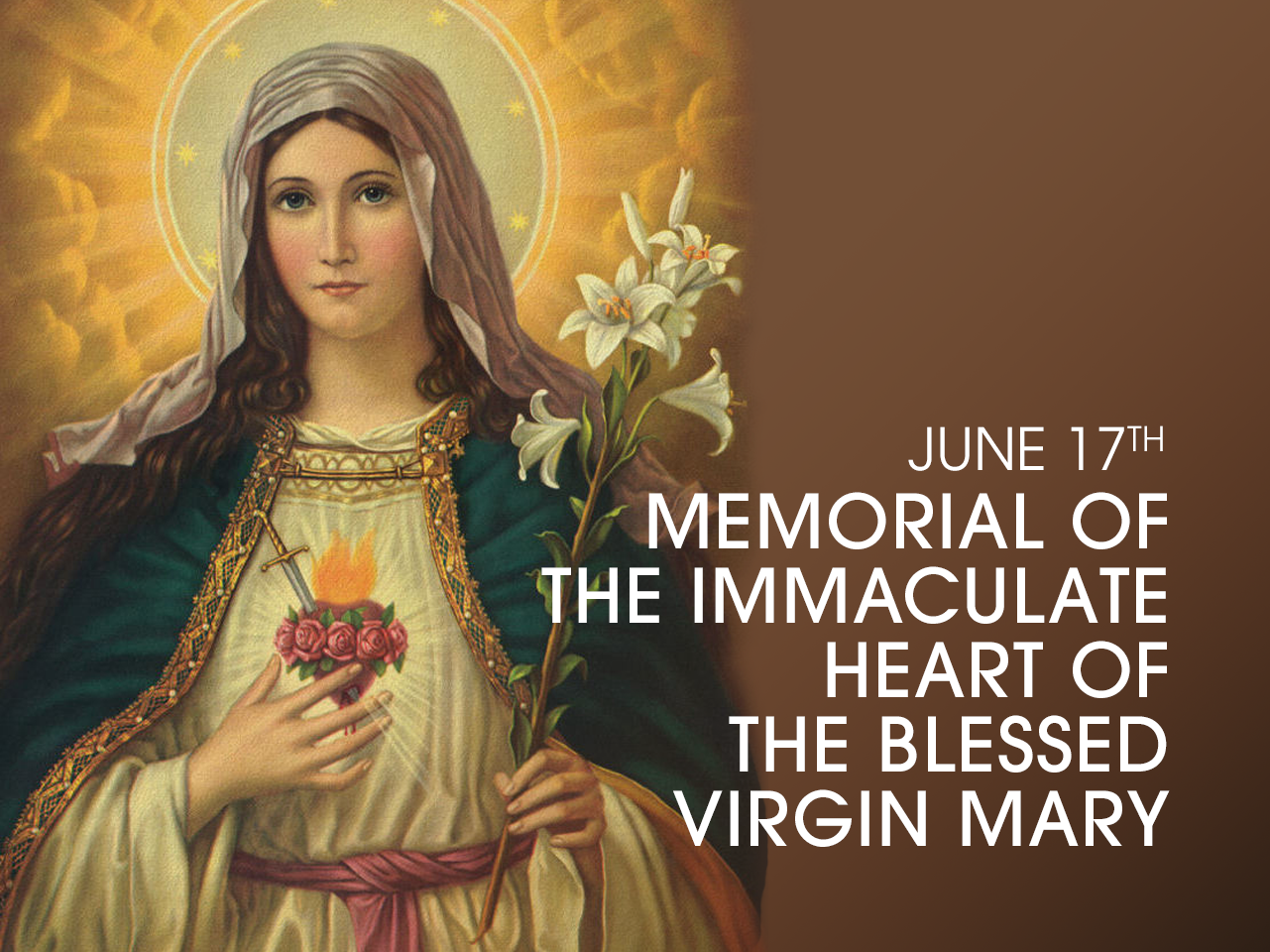 Immaculate Heart of Mary
Feast Day
The feast of the Immaculate Heart of Mary takes place on the day following the Solemnity of the Most Sacred Heart of Jesus. This devotion honors Mary's perfect purity of heart in virtue of her Immaculate Conception, and the perfect union of her heart—on fire with love for God and her spiritual children—with the heart of her Son, Jesus. In two passages in the Gospel of Luke we have reference to Mary treasuring and pondering in her heart the sacred events of Jesus' life, which became the foundation of the pious devotion to the Heart of Mary in the Church. In 1944, after consecrating the world to the Immaculate Heart of Mary, Pope Pius XII extended this feast to the universal Church.
See More About Today's Feast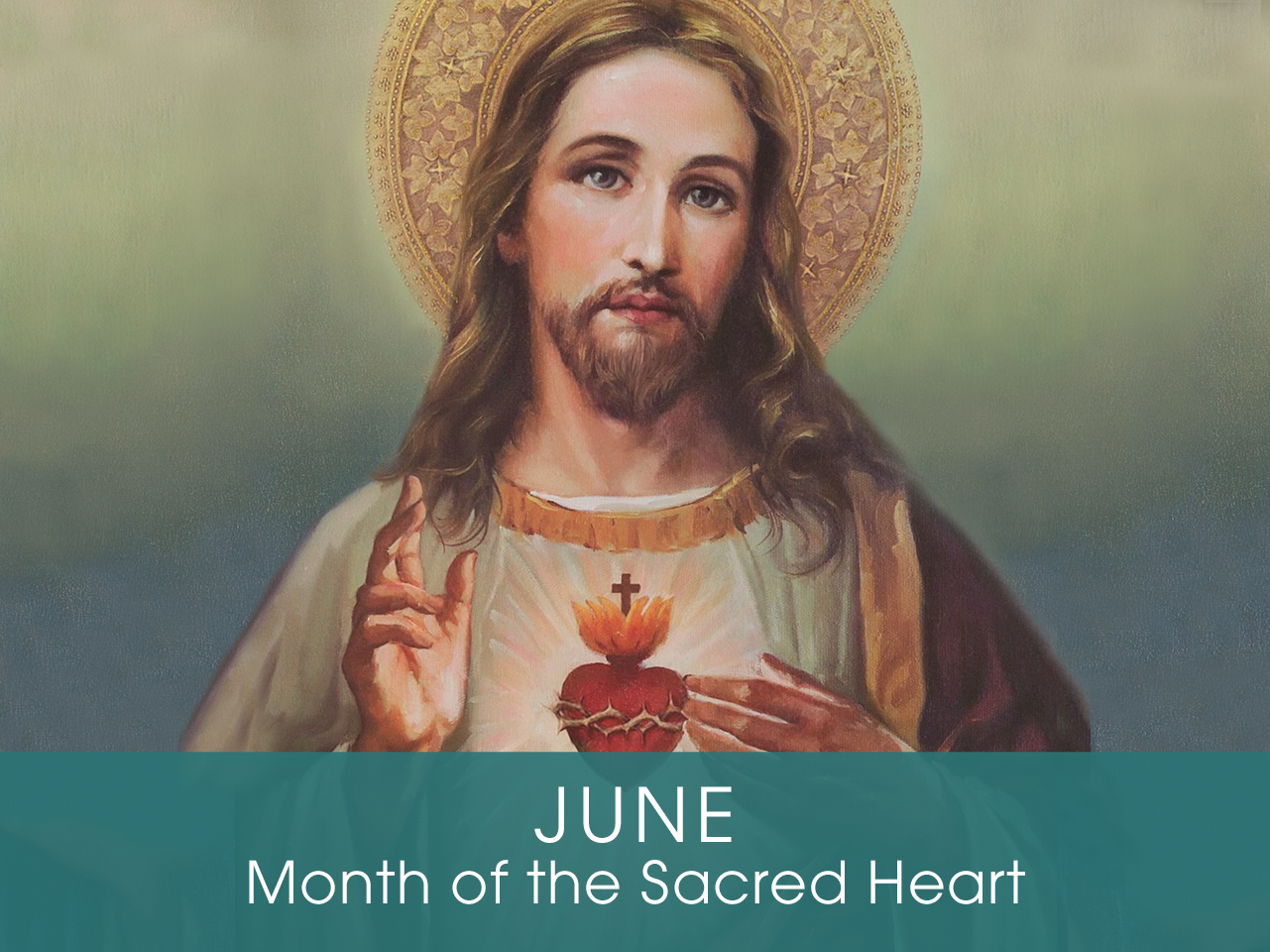 Month of the

Sacred Heart of Jesus
Devotion of the Month
Devotion to the Sacred Heart of Jesus is one of the most popular Catholic devotions. Although it was beloved in previous centuries, Jesus appeared to St. Margaret Mary Alacoque in 1673, showing her a vision of the now-famous image of His Sacred Heart, surrounded by flames. He said to her: "My Heart is so full of love for men that It can no longer contain the flames of Its burning love. I must discover to men the treasures of My Heart and save them from perdition." She was given the special mission to spread devotion to His Sacred Heart throughout the Church. Jesus gave St. Margaret Mary many promises associated with this devotion, and requested that a feast day in honor of His Sacred Heart be instituted on the Friday after the Octave of Corpus Christi. In 1856, the Feast of the Sacred Heart was spread to the Universal Church, and in 1899 Pope Leo XIII solemnly consecrated all mankind to the Sacred Heart of Jesus, calling it "the great act" of his pontificate.
Find a Devotional or Sacramental
Daily Prayers
Prayer for the Dead
In your hands, O Lord, we humbly entrust our brothers and sisters.
In this life you embraced them with your tender love;
deliver them now from every evil and bid them eternal rest.
The old order has passed away: welcome them into paradise,
where there will be no sorrow, no weeping or pain,
but fullness of peace and joy with your Son and the Holy
Spirit forever and ever. Amen.
Prayer of Spiritual Communion
My Jesus, I believe that You are present in the most Blessed Sacrament. I love You above all things and I desire to receive You into my soul. Since I cannot now receive You sacramentally, come at least spiritually into my heart. I embrace You as if You were already there, and unite myself wholly to You. Never permit me to be separated from You. Amen.
Prayer for the Holy Father
Almighty and everlasting God, have mercy upon Thy servant, Pope Francis, our Supreme Pontiff, and direct him, according to Thy loving kindness, in the way of eternal salvation; that, of Thy gift, he may ever desire that which is pleasing unto Thee and may accomplish it with all his might. Through Christ Our Lord. Amen. Our Father. Hail Mary.