"It is better to be a child of God than king of the whole world!" St. Aloysius Gonzaga
Today's

Meditation

"Our own guardian angel [is] for each of us like a trustworthy captain commissioned to defend a stronghold against its enemies. Our guardian angel remains alert and watchful lest any foes should capture and occupy the fort of our soul. These angels are the faithful guards whom the Lord has located on the walls of Jerusalem to keep watch over His flock throughout the night lest the ferocious wolf of hell, who prowls around like a roaring lion seeking for someone to devour, should seize upon our poor souls!"
–St. Aloysius Gonzaga, p.65
Daily

Verse
"For by grace you have been saved through faith, and this is not from you; it is the gift of God; it is not from works, so no one may boast. For we are his handiwork, created in Christ Jesus for the good works that God has prepared in advance, that we should live in them." Ephesians 2:8-10
St. Aloysius Gonzaga
Saint of the Day
St. Aloysius Gonzaga (1568–1591) was born to a noble Italian family, the eldest of seven children, and was destined for the military. However, by the time he was nine years of age he chose the religious life and made a personal vow of chastity. As a safeguard against sexual temptation he always kept his eyes downcast in the presence of women. Although many tried to dissuade him from his chosen vocation, he was eventually allowed to renounce his inheritance and enter the seminary in order to become a Jesuit priest. While he was studying in Rome, there was an outbreak of the plague. Aloysius volunteered to care for the sick, despite the delicateness of his own health. As a result, he contracted the disease and died at the age of twenty-three, before completing his priestly studies. St. Aloysius was connected with two great figures of the Counter-Reformation: he received his First Holy Communion at the age of twelve from St. Charles Borromeo, and his Last Rites from St. Robert Bellarmine, both of whom served as his spiritual advisers. On the night of his death, St. Mary Magdalene de Pazzi had a vision of him being received into great glory. St. Aloysius Gonzaga is the patron saint of youth and bodily purity. His feast day is June 21st.
Find a Devotional for this Saint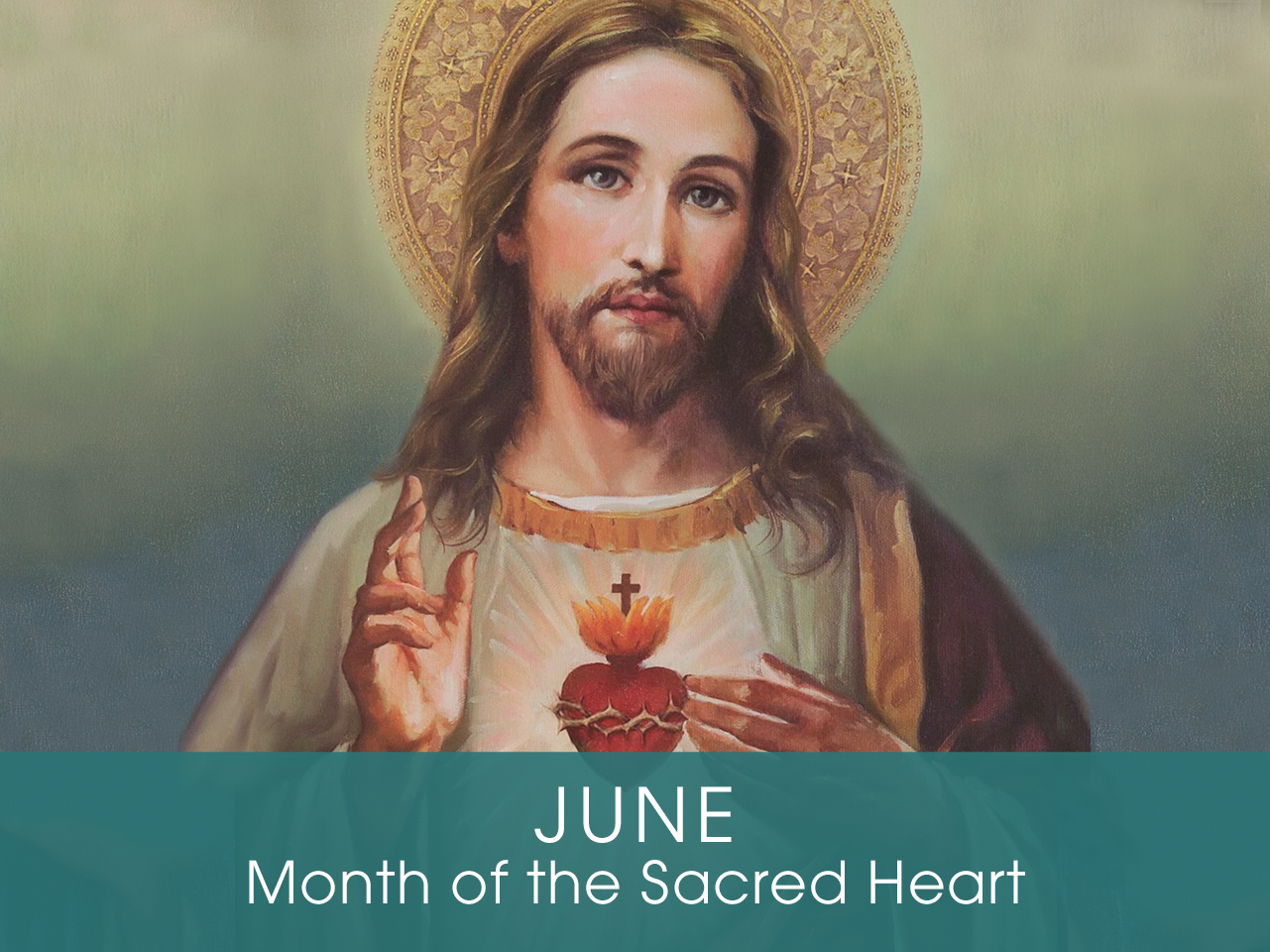 Month of

the Sacred Heart of Jesus
Devotion of the Month
Devotion to the Sacred Heart of Jesus is one of the most popular Catholic devotions. Although it was beloved in previous centuries, Jesus appeared to St. Margaret Mary Alacoque in 1673, showing her a vision of the now-famous image of His Sacred Heart, surrounded by flames. He said to her: "My Heart is so full of love for men that It can no longer contain the flames of Its burning love. I must discover to men the treasures of My Heart and save them from perdition." She was given the special mission to spread devotion to His Sacred Heart throughout the Church. Jesus gave St. Margaret Mary many promises associated with this devotion, and requested that a feast day in honor of His Sacred Heart be instituted on the Friday after the Octave of Corpus Christi. In 1856, the Feast of the Sacred Heart was spread to the Universal Church, and in 1899 Pope Leo XIII solemnly consecrated all mankind to the Sacred Heart of Jesus, calling it "the great act" of his pontificate.
Find a Devotional or Sacramental
Daily Prayers
Prayer for the Dead
In your hands, O Lord, we humbly entrust our brothers and sisters.
In this life you embraced them with your tender love;
deliver them now from every evil and bid them eternal rest.
The old order has passed away: welcome them into paradise,
where there will be no sorrow, no weeping or pain,
but fullness of peace and joy with your Son and the Holy
Spirit forever and ever. Amen.
Prayer of Spiritual Communion
My Jesus, I believe that You are present in the most Blessed Sacrament. I love You above all things and I desire to receive You into my soul. Since I cannot now receive You sacramentally, come at least spiritually into my heart. I embrace You as if You were already there, and unite myself wholly to You. Never permit me to be separated from You. Amen.
Prayer for the Holy Father
Almighty and everlasting God, have mercy upon Thy servant, Pope Francis, our Supreme Pontiff, and direct him, according to Thy loving kindness, in the way of eternal salvation; that, of Thy gift, he may ever desire that which is pleasing unto Thee and may accomplish it with all his might. Through Christ Our Lord. Amen. Our Father. Hail Mary.