"All the way to heaven is heaven, because Jesus said, 'I am the way.'" St. Catherine of Siena
Today's

Meditation

"Whenever we receive Communion, we enter into communion with the Holy Trinity. Did anybody ever tell you that? With each reception of Holy Communion, we experience, already here on earth, the same divine activity that we will one day experience in all its fullness in heaven—the divine activity of love eternally taking place within the Trinity…God wants to live his triune life in us. We are called to be dwelling places for the Holy Trinity and to enter into a personal relationship with each of the persons in God."
—Vinney Flynn, p. 27-28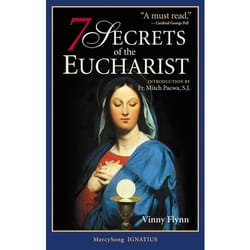 Daily

Verse
"I tell you, everyone who acknowledges me before others the Son of Man will acknowledge before the angels of God. But whoever denies me before others will be denied before the angels of God." Luke 12:8-9
St. Thomas the Apostle
Saint of the Day
St. Thomas the Apostle (1st c.) was one of the twelve disciples who accompanied Jesus during His earthly ministry. He is remembered for his disbelief in the news of Christ's Resurrection until he physically saw and touched Jesus' wounds—thus earning him the name "Doubting Thomas." After Pentecost he traveled and preached throughout Persia and southeast Asia. Early traditions ascribe his main work and martyrdom to India, so that he is also called the "Apostle of India." He converted many to Christ, worked miracles, and established the Church in the East. One tradition holds that on his way to India he met and baptized the Three Wise Men of the Nativity who first venerated Jesus at Bethlehem. St. Thomas is also remembered for being a skilled carpenter, and according to Indian tradition he built the first churches in India with his own hands. St. Thomas the Apostle is the patron of India, Indonesia, Malaysia, Pakistan, Sri Lanka, Singapore, architects, builders, masons, surveyors, theologians, against blindness, and of people in doubt. His feast day is July 3rd.
Find a Devotional for this Saint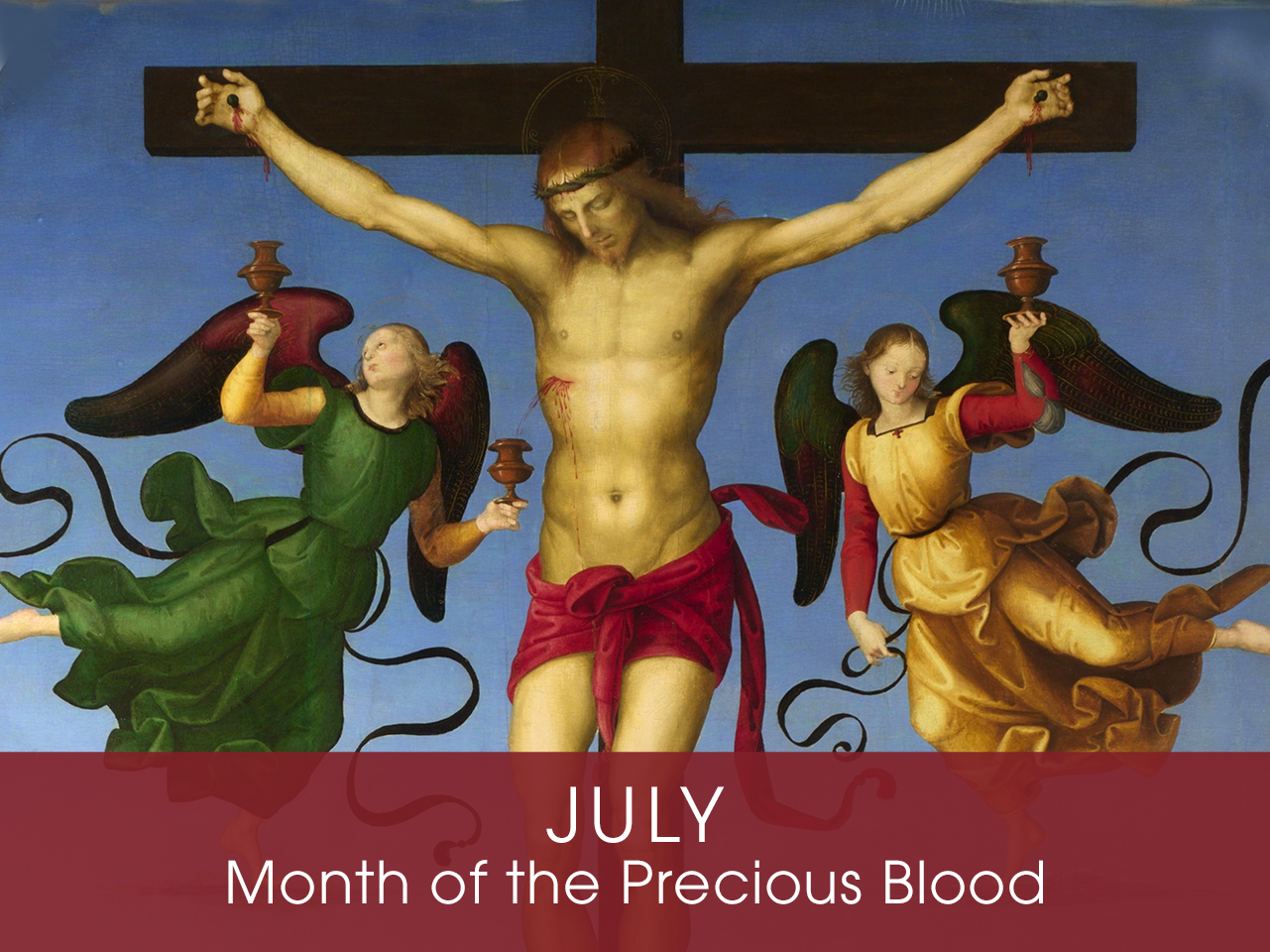 Month of the

Precious Blood
Devotion of the Month
The month of July traditionally honors the Most Precious Blood of Jesus. It is the blood of Christ, the Lamb of God, which cleanses us from sin—therefore the Church developed a devotion to Jesus' physical blood and its mystical power, just as it did for His Sacred Heart from which His blood poured out on the Cross. The Precious Blood of Jesus courses through the Church spiritually, giving eternal life to the Body of Christ through the sacraments. Many saints had a devotion to the Precious Blood of Jesus, especially St. Catherine of Siena. Devotion to the Precious Blood spread widely through the preaching of Saint Gaspar del Bufalo, who was a 19th-century priest and the founder of the Missionaries of the Precious Blood. This devotion was later approved and recommended by the Holy See. The feast day of the Most Precious Blood of Jesus is July 1st.
Find a Devotional or Sacramental
Daily Prayers
Prayer for the Dead
In your hands, O Lord, we humbly entrust our brothers and sisters.
In this life you embraced them with your tender love;
deliver them now from every evil and bid them eternal rest.
The old order has passed away: welcome them into paradise,
where there will be no sorrow, no weeping or pain,
but fullness of peace and joy with your Son and the Holy
Spirit forever and ever. Amen.
Prayer of Spiritual Communion
My Jesus, I believe that You are present in the most Blessed Sacrament. I love You above all things and I desire to receive You into my soul. Since I cannot now receive You sacramentally, come at least spiritually into my heart. I embrace You as if You were already there, and unite myself wholly to You. Never permit me to be separated from You. Amen.
Prayer for the Holy Father
Almighty and everlasting God, have mercy upon Thy servant, Pope Francis, our Supreme Pontiff, and direct him, according to Thy loving kindness, in the way of eternal salvation; that, of Thy gift, he may ever desire that which is pleasing unto Thee and may accomplish it with all his might. Through Christ Our Lord. Amen. Our Father. Hail Mary.