"Let us never forget that if we wish to die like the saints we must live like them." St. Eugene de Mazenod
Today's

Meditation

"He that sacrifices to God his property by alms-deeds, his honor by bearing insults, or his body by mortifications, by fasts and penitential rigours, offers to Him a part of himself and of what belongs to him; but he that sacrifices to God his will, by obedience, gives to Him all that he has, and can say: Lord, having given you my will, I have nothing more to give you."
—St. Alphonsus Liguori, p. 191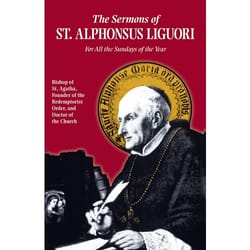 Daily

Verse
"Ever since the creation of the world, his invisible attributes of eternal power and divinity have been able to be understood and perceived in what he has made." Romans 1:20a
St. Zoe of Rome
Saint of the Day
St. Zoe of Rome (d. 286 A.D.) was a noblewoman married to a Roman court official during the reign of the infamous Emperor Diocletian. For six years she suffered from a condition that left her unable to speak; when she met St. Sebastian she fell at his feet so that he would heal her. St. Sebastian made the Sign of the Cross over her, and from that moment her speech miraculously returned. As she was being healed she had a vision of an angel standing next to St. Sebastian holding a book in which was written everything that St. Sebastian preached. Her first words were ones of thanks and praise to God, and many witnesses of the miracle were brought to faith in Christ. Zoe and her husband then received baptism at the hands of St. Polycarp, along with many others who had come to believe in Christ through St. Sebastian's miracles. Of this new group of Christians, St. Zoe was the first to be martyred for her faith. She was greatly devoted to St. Peter the Apostle, and was arrested while praying at his tomb. She was martyred by being hung from a tree by her hair, with a fire lit under her feet. After her death her body was thrown into the Tiber River. She then appeared in a vision to St. Sebastian, who was in prison awaiting his execution, to tell him of her martyrdom and subsequent glory. St. Zoe of Rome's feast day is July 5th.
Find a Devotional for this Saint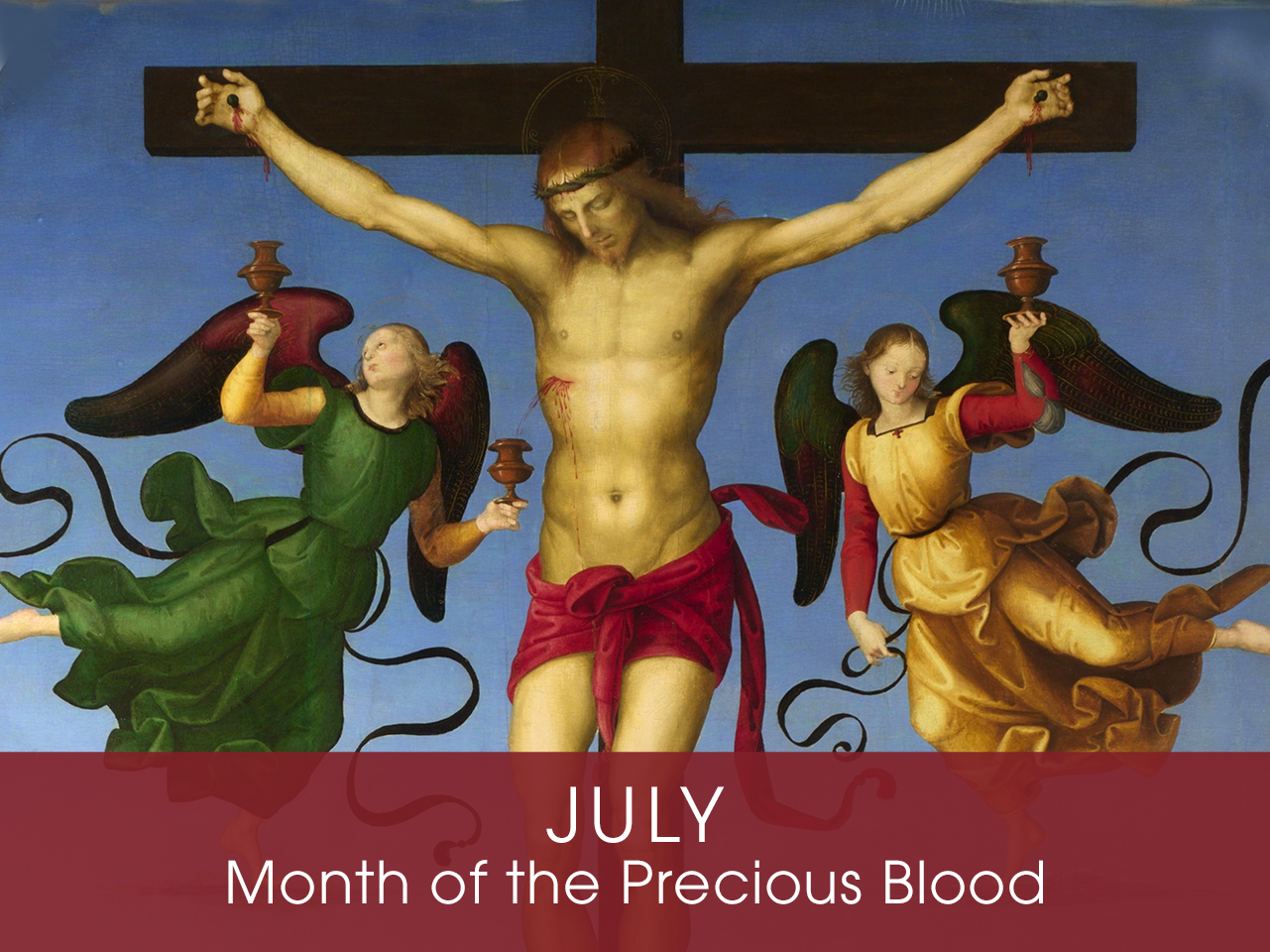 Month of the

Precious Blood
Devotion of the Month
The month of July traditionally honors the Most Precious Blood of Jesus. It is the blood of Christ, the Lamb of God, which cleanses us from sin—therefore the Church developed a devotion to Jesus' physical blood and its mystical power, just as it did for His Sacred Heart from which His blood poured out on the Cross. The Precious Blood of Jesus courses through the Church spiritually, giving eternal life to the Body of Christ through the sacraments. Many saints had a devotion to the Precious Blood of Jesus, especially St. Catherine of Siena. Devotion to the Precious Blood spread widely through the preaching of Saint Gaspar del Bufalo, who was a 19th-century priest and the founder of the Missionaries of the Precious Blood. This devotion was later approved and recommended by the Holy See. The feast day of the Most Precious Blood of Jesus is July 1st.
Find a Devotional or Sacramental
Daily Prayers
Prayer for the Dead
In your hands, O Lord, we humbly entrust our brothers and sisters.
In this life you embraced them with your tender love;
deliver them now from every evil and bid them eternal rest.
The old order has passed away: welcome them into paradise,
where there will be no sorrow, no weeping or pain,
but fullness of peace and joy with your Son and the Holy
Spirit forever and ever. Amen.
Prayer of Spiritual Communion
My Jesus, I believe that You are present in the most Blessed Sacrament. I love You above all things and I desire to receive You into my soul. Since I cannot now receive You sacramentally, come at least spiritually into my heart. I embrace You as if You were already there, and unite myself wholly to You. Never permit me to be separated from You. Amen.
Prayer for the Holy Father
Almighty and everlasting God, have mercy upon Thy servant, Pope Francis, our Supreme Pontiff, and direct him, according to Thy loving kindness, in the way of eternal salvation; that, of Thy gift, he may ever desire that which is pleasing unto Thee and may accomplish it with all his might. Through Christ Our Lord. Amen. Our Father. Hail Mary.