"God does not fit in an occupied heart." St. John of the Cross
Today's

Meditation

"I do not wish the soul to consider her sins, either in general or in particular, without also remembering the Blood and the broadness of My mercy, for fear that otherwise she should be brought to confusion. And together with confusion would come the devil, who has caused it, under color of contrition and displeasure of sin, and so she would arrive at eternal damnation, not only on account of her confusion, but also through the despair which would come to her, because she did not seize the arm of My mercy. This is one of the subtle devices with which the Devil deludes My servants, and, in order to escape from his deceit, and to be pleasing to Me, you must enlarge your hearts and affections in My boundless mercy, with true humility. You know that the pride of the Devil cannot resist the humble mind, nor can any confusion of spirit be greater than the broadness of My good mercy, if the soul will only truly hope therein."
—St. Catherine Of Siena, p. 94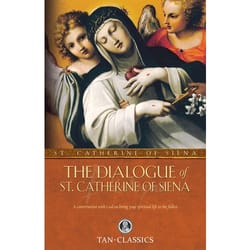 Daily

Verse
"Then Jesus said to his disciples, "Whoever wishes to come after me must deny himself, take up his cross, and follow me. For whoever wishes to save his life will lose it, but whoever loses his life for my sake will find it." Matthew 16:24-25
St. Amelia
Saint of the Day
St. Amelia (741-772 A.D.) was born into a noble and pious Christian family in the land of the Ardennes, bordering what is today Belgium and Luxembourg. She was a devout child of strong character who committed her virginity to Christ from a young age. However, because she was such a beautiful and virtuous woman, she was pursued for several years by the young Charlemagne. In one account, Charlemagne broke her arm in a physical struggle to hold her hand, and afterwards her arm was miraculously healed. His romantic interest was rebuffed, and Amelia was eventually able to realize her desire to enter the convent. She spent the rest of her life in the Benedictine abbey of Münster-Bilzen in Belgium, and helped to build a church dedicated to the Virgin Mary in the Belgian town of Temsche. St. Amelia is said to have performed many miracles, the most famous being the one in which she crossed the Schelde River miraculously while standing on the back of a giant sturgeon fish. St. Amelia is the patroness of farmers, fishermen, and those suffering from arm and shoulder pain. Her feast day is celebrated on July 10th.
Find a Devotional for this Saint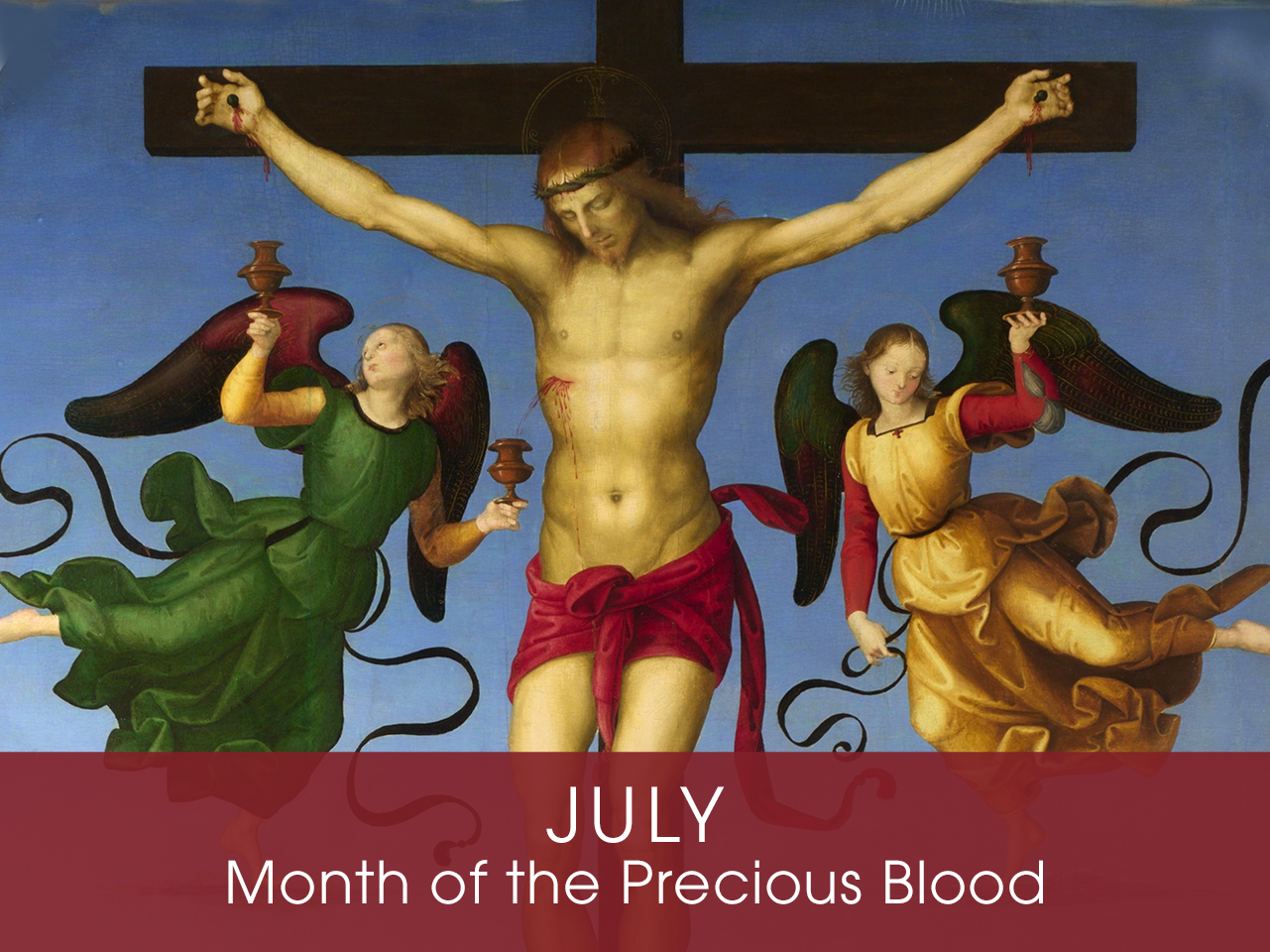 Month of the

Precious Blood
Devotion of the Month
The month of July traditionally honors the Most Precious Blood of Jesus. It is the blood of Christ, the Lamb of God, which cleanses us from sin—therefore the Church developed a devotion to Jesus' physical blood and its mystical power, just as it did for His Sacred Heart from which His blood poured out on the Cross. The Precious Blood of Jesus courses through the Church spiritually, giving eternal life to the Body of Christ through the sacraments. Many saints had a devotion to the Precious Blood of Jesus, especially St. Catherine of Siena. Devotion to the Precious Blood spread widely through the preaching of Saint Gaspar del Bufalo, who was a 19th-century priest and the founder of the Missionaries of the Precious Blood. This devotion was later approved and recommended by the Holy See. The feast day of the Most Precious Blood of Jesus is July 1st.
Find a Devotional or Sacramental
Daily Prayers
Prayer for the Dead
In your hands, O Lord, we humbly entrust our brothers and sisters.
In this life you embraced them with your tender love;
deliver them now from every evil and bid them eternal rest.
The old order has passed away: welcome them into paradise,
where there will be no sorrow, no weeping or pain,
but fullness of peace and joy with your Son and the Holy
Spirit forever and ever. Amen.
Prayer of Spiritual Communion
My Jesus, I believe that You are present in the most Blessed Sacrament. I love You above all things and I desire to receive You into my soul. Since I cannot now receive You sacramentally, come at least spiritually into my heart. I embrace You as if You were already there, and unite myself wholly to You. Never permit me to be separated from You. Amen.
Prayer for the Holy Father
Almighty and everlasting God, have mercy upon Thy servant, Pope Francis, our Supreme Pontiff, and direct him, according to Thy loving kindness, in the way of eternal salvation; that, of Thy gift, he may ever desire that which is pleasing unto Thee and may accomplish it with all his might. Through Christ Our Lord. Amen. Our Father. Hail Mary.