"You change your life by changing your heart." St. Benedict of Nursia
Today's

Meditation

"If we do not die to ourselves, and if our holiest devotions do not incline us to this necessary and useful death, we shall bring forth no fruit worth anything, and our devotions will become useless. All our good works will be stained by self-love and our own will . . . We must choose therefore, among all the devotions to the Blessed Virgin, the one which draws us most toward this death to ourselves, inasmuch as it will be the best and the most sanctifying. For we must not think that all that shines is gold, that all that tastes sweet is honey, or that all that is easy to do and is done by the greatest number is the most sanctifying."
—St. Louis De Montfort, p.40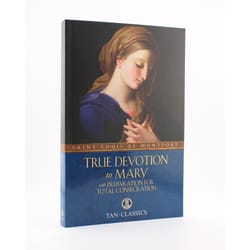 Daily

Verse
"For ever, O Lord, thy word is firmly fixed in the heavens. Thy faithfulness endures to all generations; thou hast established the earth, and it stands fast. By thy appointment they stand this day; for all things are thy servants." Psalm 119:89-91
St. Benedict of Nursia
Saint of the Day
St. Benedict of Nursia (480-547 A.D.) and his twin sister, St. Scholastica, were born to a Roman nobleman and his wife in Nursia, Italy. He spent his childhood with his parents in Rome. As a young man he found in himself a strong desire to escape the trifling things of the world and serve God. He left his family and wealth and settled in the mountainous region of Subiaco. After three years living in solitude as a cave-dwelling hermit, he was asked to lead a monastery in the place of an abbot who had died. Benedict did as they asked, but his way of life was too extreme for the monks and they tried to poison him. He thwarted their evil designs by blessing the poisoned cup, rendering it ineffective. Benedict returned to his cave, where news of his sanctity and miracles began to spread. Soon a community of men surrounded him wanting to adopt his way of life. To house them Benedict established twelve monasteries, including the world-famous Monte Cassino, and gave them a rule of life to live by, known as the Rule of St. Benedict. His Rule—still observed by Benedictines today—helped form the civilization and culture of Europe. Because of the organization, structure, and discipline he brought to the monastic life, he is known as the Founder of Western Monasticism. He is the patron saint of monks, students, farmers, all of Europe, and more. He is also especially known for his intercession against poison, temptations, and witchcraft. His feast day is July 11th in the Latin rite, while the Benedictines celebrate his feast on March 21st.
Find a Devotional for this Saint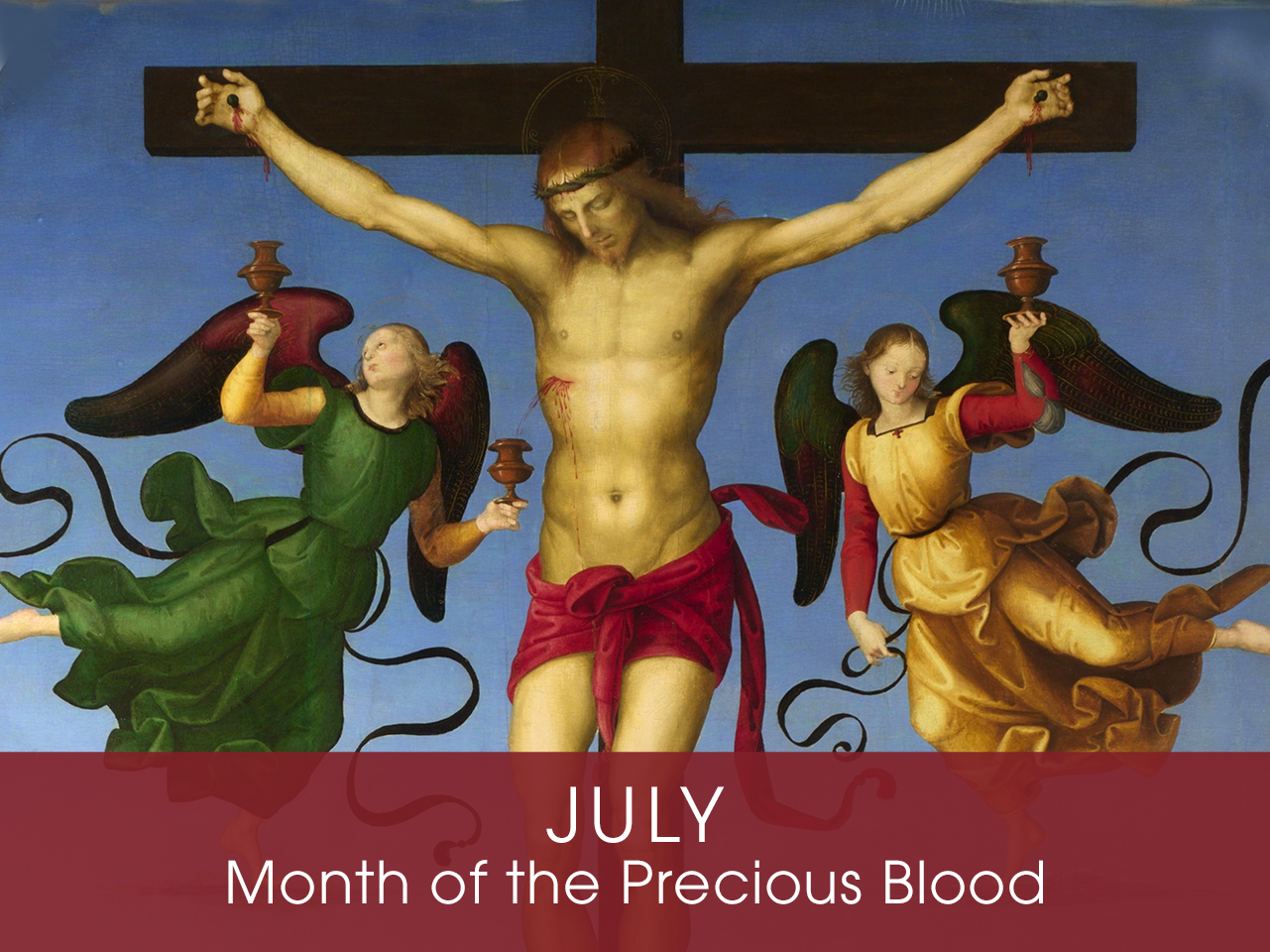 Month of the

Precious Blood
Devotion of the Month
The month of July traditionally honors the Most Precious Blood of Jesus. It is the blood of Christ, the Lamb of God, which cleanses us from sin—therefore the Church developed a devotion to Jesus' physical blood and its mystical power, just as it did for His Sacred Heart from which His blood poured out on the Cross. The Precious Blood of Jesus courses through the Church spiritually, giving eternal life to the Body of Christ through the sacraments. Many saints had a devotion to the Precious Blood of Jesus, especially St. Catherine of Siena. Devotion to the Precious Blood spread widely through the preaching of Saint Gaspar del Bufalo, who was a 19th-century priest and the founder of the Missionaries of the Precious Blood. This devotion was later approved and recommended by the Holy See. The feast day of the Most Precious Blood of Jesus is July 1st.
Find a Devotional or Sacramental
Daily Prayers
Prayer for the Dead
In your hands, O Lord, we humbly entrust our brothers and sisters.
In this life you embraced them with your tender love;
deliver them now from every evil and bid them eternal rest.
The old order has passed away: welcome them into paradise,
where there will be no sorrow, no weeping or pain,
but fullness of peace and joy with your Son and the Holy
Spirit forever and ever. Amen.
Prayer of Spiritual Communion
My Jesus, I believe that You are present in the most Blessed Sacrament. I love You above all things and I desire to receive You into my soul. Since I cannot now receive You sacramentally, come at least spiritually into my heart. I embrace You as if You were already there, and unite myself wholly to You. Never permit me to be separated from You. Amen.
Prayer for the Holy Father
Almighty and everlasting God, have mercy upon Thy servant, Pope Francis, our Supreme Pontiff, and direct him, according to Thy loving kindness, in the way of eternal salvation; that, of Thy gift, he may ever desire that which is pleasing unto Thee and may accomplish it with all his might. Through Christ Our Lord. Amen. Our Father. Hail Mary.