"Everybody today seems to be in such a terrible rush, anxious for greater developments and greater riches and so on, so that children have very little time for their parents. Parents have very little time for each other, and in the home begins the disruption of peace in the world." St. Mother Teresa of Calcutta
Today's

Meditation

"There is, actually, only one person in all humanity of whom God has one picture and in whom there is a perfect conformity between what he wanted her to be and what she is, and that is his own mother. Most of us are a minus sign, in the sense that we do not fulfill the high hopes the heavenly Father has for us. But Mary is the equal sign. The ideal that God had of her, that she is, and in the flesh. The model and the copy are perfect; she is all that was foreseen, planned, and dreamed. The melody of her life is played just as it was written."
—Archbishop Fulton Sheen, p. 15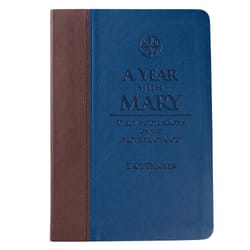 Daily

Verse
"Blessed is the man who perseveres in temptation, for when he has been proved he will receive the crown of life that he promised to those who love him." James 1:12
St. Alexius of Rome
Saint of the Day
St. Alexius (d. 417 A.D.) was a native of Rome, the son of a distinguished Roman senator. His parents arranged a marriage for him, but he had a divine calling to a higher vocation. On the night of his wedding, with permission from his fiance, he secretly fled to Edessa in Syria to live in poverty and obscurity as a holy ascetic. He disguised himself as a beggar, unrecognized by all, even accepting alms from his own servants who were sent to look for him. St. Alexius lived in this way for seventeen years. A vision of the Blessed Virgin Mary in the church near his dwelling identified him as a "Man of God." When the fame of his sanctity spread in Edessa, he moved back to Rome so that he could continue his hidden life. He lived as a beggar under the very stairs of his father's palace, his true identity completely unknown to anyone. He lived in this way for another seventeen years. He was befriended by other Christians, shared his alms with the poor, and taught catechism to children. It was only after his death that his identity was revealed through a document that he secretly carried on his person. He was then venerated as a saint, and his father's palace was converted into a church in his honor. St. Alexius' feast day is July 17.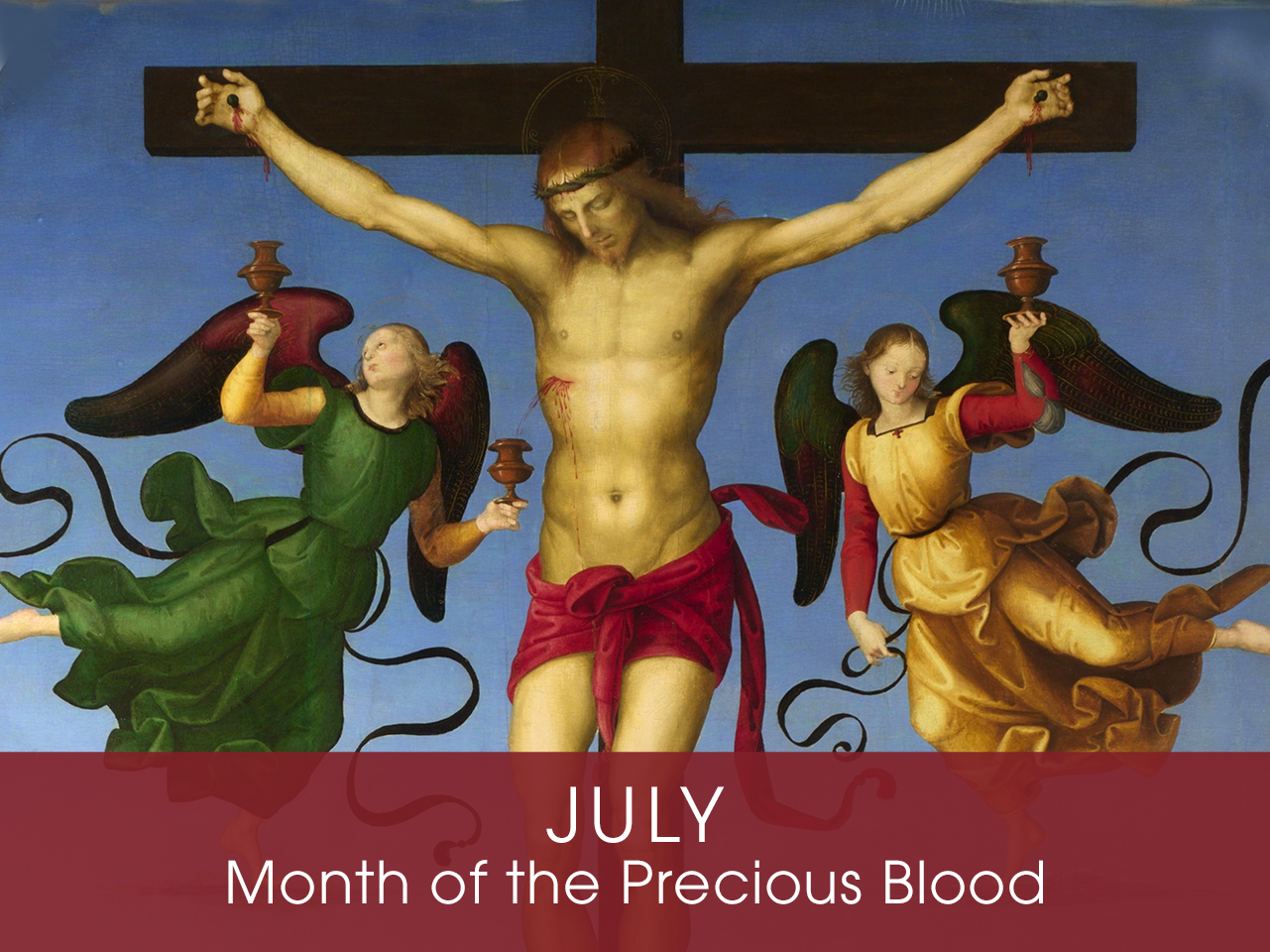 Month of the

Precious Blood
Devotion of the Month
The month of July traditionally honors the Most Precious Blood of Jesus. It is the blood of Christ, the Lamb of God, which cleanses us from sin—therefore the Church developed a devotion to Jesus' physical blood and its mystical power, just as it did for His Sacred Heart from which His blood poured out on the Cross. The Precious Blood of Jesus courses through the Church spiritually, giving eternal life to the Body of Christ through the sacraments. Many saints had a devotion to the Precious Blood of Jesus, especially St. Catherine of Siena. Devotion to the Precious Blood spread widely through the preaching of Saint Gaspar del Bufalo, who was a 19th-century priest and the founder of the Missionaries of the Precious Blood. This devotion was later approved and recommended by the Holy See. The feast day of the Most Precious Blood of Jesus is July 1st.
Find a Devotional or Sacramental
Daily Prayers
Prayer for the Dead
In your hands, O Lord, we humbly entrust our brothers and sisters.
In this life you embraced them with your tender love;
deliver them now from every evil and bid them eternal rest.
The old order has passed away: welcome them into paradise,
where there will be no sorrow, no weeping or pain,
but fullness of peace and joy with your Son and the Holy
Spirit forever and ever. Amen.
Prayer of Spiritual Communion
My Jesus, I believe that You are present in the most Blessed Sacrament. I love You above all things and I desire to receive You into my soul. Since I cannot now receive You sacramentally, come at least spiritually into my heart. I embrace You as if You were already there, and unite myself wholly to You. Never permit me to be separated from You. Amen.
Prayer for the Holy Father
Almighty and everlasting God, have mercy upon Thy servant, Pope Francis, our Supreme Pontiff, and direct him, according to Thy loving kindness, in the way of eternal salvation; that, of Thy gift, he may ever desire that which is pleasing unto Thee and may accomplish it with all his might. Through Christ Our Lord. Amen. Our Father. Hail Mary.