"The Creator of the universe awaits the prayer of one poor little person to save a multitude of others, redeemed like her at the price of His Blood." St. Therese of Lisieux
Today's

Meditation

"Although our Divine Redeemer was the Lord and Master of all the riches of Heaven and earth, He willed nevertheless to become poor in this world that through His example we might become rich. He wished to induce us to love poverty as He did, for poverty, by detaching us from earthly riches, enables us to share in the treasures of Heaven. … [It is] the teaching of our Blessed Lord that the poor in spirit shall have a great and certain reward. Their reward is certain, for when our Savior enumerated the Beatitudes in the Gospel, He referred in most instances to the future … but to the poor in spirit, He promises happiness even in this life: 'Blessed are the poor in spirit for theirs is the kingdom of heaven.' (Matt. 5:3). While here on earth, they receive special graces. The reward of the poor in spirit is, secondly, very great. 'The less we have here,' says St. Teresa, 'the greater will be our joy in Heaven, where our dwelling shall correspond to the love with which we imitated the life of poverty of our Divine Master here on earth'. The truly poor in spirit enjoy a heavenly peace even here in this world. … [He] who is poor from choice despises the possessions of this earth and is at the same time the master of all."
—St. Alphonsus Liguori, p. 122
Daily

Verse
"Be strong and of good courage, do not fear or be in dread of them: for it is the Lord your God who goes with you; he will not fail you or forsake you." Deuteronomy 31:6
St. Camillus
Saint of the Day
St. Camillus de Lellis (1550–1614) was a wild, undisciplined youth who became a battle-hardened soldier with a violent temper and a gambling addiction. His bad behavior, combined with a persistent war wound in his leg, left him in poverty. He found work doing odd jobs at a Capuchin friary. Gradually the good influence of the friars inspired him to a better life, and he experienced a true conversion. He sought to join the Franciscans, but was prevented due to his leg wound. He then moved to Rome and worked for a hospital that cared for patients with incurable illnesses. He later became its director as he continued a life of penance and virtue. Seeing that his patients often received poor attention from hospital staff, he devoted his life to providing excellent care for the sick, in whom he saw the face of Christ. He established a religious order of men committed to helping patients who were the most ill, even at the risk of their own well-being, known as the Order of St. Camillus, or the Camillians. For this task he studied for the priesthood and was ordained at the late age of 34. His order gave medical care to anyone in need of treatment. In addition to serving in hospitals, they also served on the battlefield. The Camillians developed into a worldwide relief effort of like-minded medical workers who seek to follow Christ through ministering to the sick. The large red cross on his habit became an international symbol of charitable medical aid. St. Camillus is the patron of the sick, hospitals, nurses, and physicians. His feast day is July 18th.
Find a Devotional for this Saint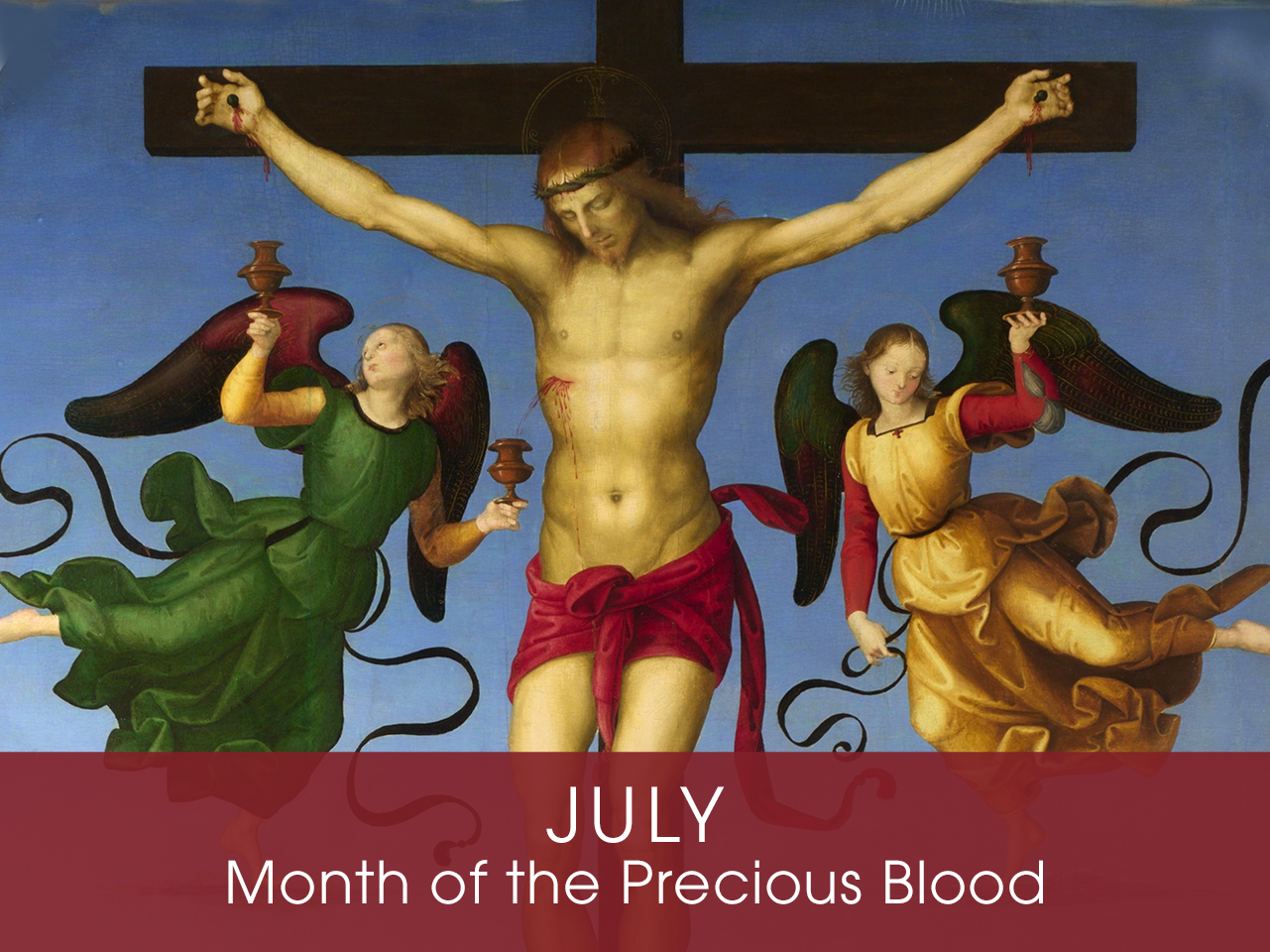 Month of the

Precious Blood
Devotion of the Month
The month of July traditionally honors the Most Precious Blood of Jesus. It is the blood of Christ, the Lamb of God, which cleanses us from sin—therefore the Church developed a devotion to Jesus' physical blood and its mystical power, just as it did for His Sacred Heart from which His blood poured out on the Cross. The Precious Blood of Jesus courses through the Church spiritually, giving eternal life to the Body of Christ through the sacraments. Many saints had a devotion to the Precious Blood of Jesus, especially St. Catherine of Siena. Devotion to the Precious Blood spread widely through the preaching of Saint Gaspar del Bufalo, who was a 19th-century priest and the founder of the Missionaries of the Precious Blood. This devotion was later approved and recommended by the Holy See. The feast day of the Most Precious Blood of Jesus is July 1st.
Find a Devotional or Sacramental
Daily Prayers
Prayer for the Dead
In your hands, O Lord, we humbly entrust our brothers and sisters.
In this life you embraced them with your tender love;
deliver them now from every evil and bid them eternal rest.
The old order has passed away: welcome them into paradise,
where there will be no sorrow, no weeping or pain,
but fullness of peace and joy with your Son and the Holy
Spirit forever and ever. Amen.
Prayer of Spiritual Communion
My Jesus, I believe that You are present in the most Blessed Sacrament. I love You above all things and I desire to receive You into my soul. Since I cannot now receive You sacramentally, come at least spiritually into my heart. I embrace You as if You were already there, and unite myself wholly to You. Never permit me to be separated from You. Amen.
Prayer for the Holy Father
Almighty and everlasting God, have mercy upon Thy servant, Pope Francis, our Supreme Pontiff, and direct him, according to Thy loving kindness, in the way of eternal salvation; that, of Thy gift, he may ever desire that which is pleasing unto Thee and may accomplish it with all his might. Through Christ Our Lord. Amen. Our Father. Hail Mary.