"The glory of God is man fully alive, and the life of man is the vision of God." St. Irenaeus
Today's

Meditation

"When we come into church from the outside our ears are filled with the racket of the city, the words of those who have accompanied us, the laboring and quarreling of our own thoughts, the disquiet of our hearts' wishes and worries, hurts and joys. How are we possibly to hear what God is saying? That we listen at all is something; not everyone does. It is even better when we pay attention and make a real effort to understand what is being said. But all this is not yet the attentive stillness in which God's word can take root. This must be established before the service begins, if possible in the silence on the way to church, still better in a brief period of composure the evening before."
—Msgr. Romano Guardini, p. 17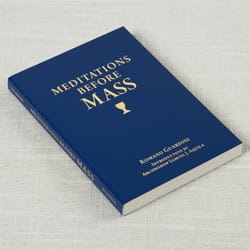 Daily

Verse
"I give you a new commandment: love one another. As I have loved you, so you also should love one another. This is how all will know that you are my disciples, if you have love for one another." John 13:34-35
St. Macrina the Younger
Saint of the Day
St. Macrina the Younger (d. 380 A.D.) was born in Cappadocia to a family of saints. Her mother was St. Emelia, and her father was St. Basil the Elder. Her grandmother was St. Macrina the Elder, after whom she was named. Her holy parents had ten children. Macrina was one of the oldest, and received an excellent religious education from her holy mother. Her parents betrothed her to a pious youth, but he died before the marriage took place. Macrina then consecrated her virginity to God and lived a life of great asceticism. She remained living with her parents, helping to raise her younger siblings, directing the household servants, and supporting the family with her domestic skills. Among her siblings were St. Basil the Great and St. Gregory of Nyssa (who both became Cappadocian Fathers and Doctors of the Church) St. Peter of Sebaste, and St. Theosevia. When their father died, Macrina became the main support for the family. It was Macrina who profoundly influenced the spiritual discipline of her younger brothers. When all her siblings were grown, Macrina convinced her mother to give up their family belongings, set their servants free, and convert their home into a monastery. Many of their servants joined them in this spiritual pursuit; they all lived together as a family, sharing all things in common. When her mother died, Macrina led the religious community. The biography of St. Macrina's life was written by her brother, St. Gregory. Her feast day is July 19th.
Find a Devotional for this Saint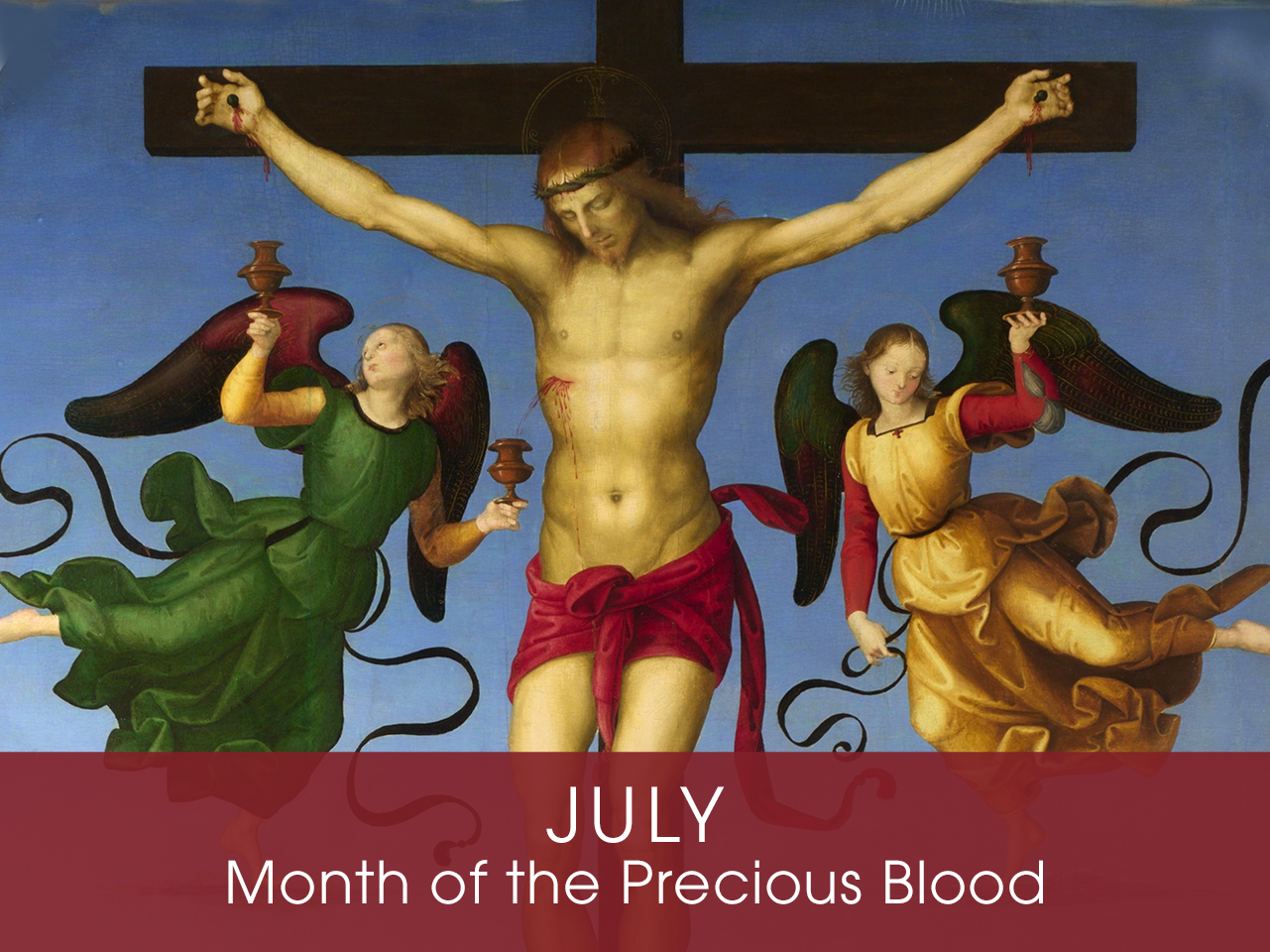 Month of the

Precious Blood
Devotion of the Month
The month of July traditionally honors the Most Precious Blood of Jesus. It is the blood of Christ, the Lamb of God, which cleanses us from sin—therefore the Church developed a devotion to Jesus' physical blood and its mystical power, just as it did for His Sacred Heart from which His blood poured out on the Cross. The Precious Blood of Jesus courses through the Church spiritually, giving eternal life to the Body of Christ through the sacraments. Many saints had a devotion to the Precious Blood of Jesus, especially St. Catherine of Siena. Devotion to the Precious Blood spread widely through the preaching of Saint Gaspar del Bufalo, who was a 19th-century priest and the founder of the Missionaries of the Precious Blood. This devotion was later approved and recommended by the Holy See. The feast day of the Most Precious Blood of Jesus is July 1st.
Find a Devotional or Sacramental
Daily Prayers
Prayer for the Dead
In your hands, O Lord, we humbly entrust our brothers and sisters.
In this life you embraced them with your tender love;
deliver them now from every evil and bid them eternal rest.
The old order has passed away: welcome them into paradise,
where there will be no sorrow, no weeping or pain,
but fullness of peace and joy with your Son and the Holy
Spirit forever and ever. Amen.
Prayer of Spiritual Communion
My Jesus, I believe that You are present in the most Blessed Sacrament. I love You above all things and I desire to receive You into my soul. Since I cannot now receive You sacramentally, come at least spiritually into my heart. I embrace You as if You were already there, and unite myself wholly to You. Never permit me to be separated from You. Amen.
Prayer for the Holy Father
Almighty and everlasting God, have mercy upon Thy servant, Pope Francis, our Supreme Pontiff, and direct him, according to Thy loving kindness, in the way of eternal salvation; that, of Thy gift, he may ever desire that which is pleasing unto Thee and may accomplish it with all his might. Through Christ Our Lord. Amen. Our Father. Hail Mary.