"You must not abandon the ship in a storm because you cannot control the winds . . . What you cannot turn to good, you must at least make as little bad as you can." St. Thomas More
Today's

Meditation

"Do you know what it is to be truly spiritual? It is for men to make themselves the slaves of God—branded with His mark, which is the Cross. … Unless you make up your minds to this, never expect to make much progress, for as I said humility is the foundation of the whole building and unless you are truly humble, Our Lord, for your own sake, will never permit you to rear it very high lest it should fall to the ground. Therefore, sisters, take care to lay a firm foundation by seeking to be the least of all and the slave of others, watching how you can please and help them, for it will benefit you more than them. Built on such strong rocks, your castle can never go to ruin. I insist again: your foundation must not consist of prayer and contemplation alone: unless you acquire the virtues and praise them, you will always be dwarfs; and please God no worse may befall you than making no progress, for you know that to stop is to go back—if you love, you will never be content to come to a standstill."
—St. Teresa of Avila, p. 209-210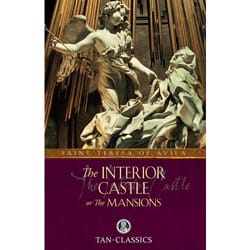 Daily

Verse
"For the grace of God has appeared, saving all and training us to reject godless ways and worldly desires and to live temperately, justly, and devoutly in this age, as we await the blessed hope, the appearance of the glory of the great God and of our savior Jesus Christ, who gave himself for us to deliver us from all lawlessness and to cleanse for himself a people as his own, eager to do what is good." Titus 2:11-14
St. Margaret of Antioch
Saint of the Day
St. Margaret (289-304 A.D.) was born in Antioch, the daughter of a pagan priest. Her mother died when she was an infant, and she was raised by a Christian nurse who baptized her and gave her a Christian education. St. Margaret grew into a pious and virtuous young woman under her nurse's care, to the delight of her father. When she came of age, Margaret returned to live with her father. She quickly angered him, however, when she refused to take part in offering sacrifices to idols. Furious at her steadfast refusals, he drove her out of his home. Margaret then returned to live with her nurse as a household servant. One day a Roman prefect noticed Margaret's beauty and desired to have her for himself. Margaret declined, citing that she had consecrated her virginity to Jesus Christ, a reply for which she was severely persecuted. She was brought to trial for her Christian faith, scourged, tortured, and thrown into prison by her suitor. In her moment of weakness, the devil appeared to her in the form of a dragon to intimidate her and break her faith. Margaret trusted in God and made the Sign of the Cross, and the dragon fled defeated. At this triumph over her enemy, Margaret's cell was filled with light and her wounds were miraculously healed. Enraged to find her healed, her suitor had new tortures applied to her body, which did her no harm and caused many witnesses to convert to the Christian faith. She was finally killed by beheading. St. Margaret of Antioch was one of the saints who appeared to St. Joan of Arc. She is the patron saint against sterility, of the dying, and of pregnancy, labor, and childbirth. Her feast day is July 20th.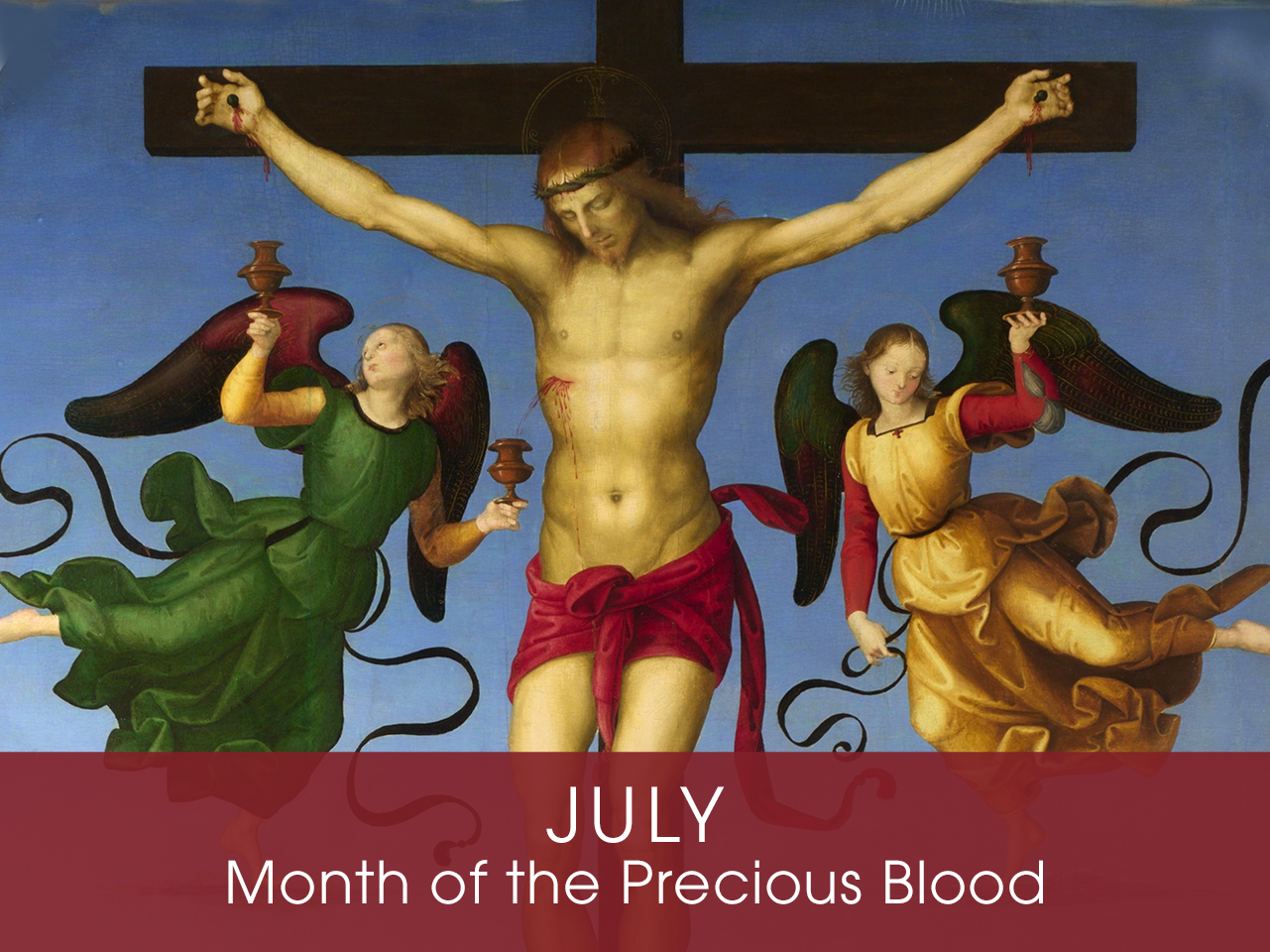 Month of the

Precious Blood
Devotion of the Month
The month of July traditionally honors the Most Precious Blood of Jesus. It is the blood of Christ, the Lamb of God, which cleanses us from sin—therefore the Church developed a devotion to Jesus' physical blood and its mystical power, just as it did for His Sacred Heart from which His blood poured out on the Cross. The Precious Blood of Jesus courses through the Church spiritually, giving eternal life to the Body of Christ through the sacraments. Many saints had a devotion to the Precious Blood of Jesus, especially St. Catherine of Siena. Devotion to the Precious Blood spread widely through the preaching of Saint Gaspar del Bufalo, who was a 19th-century priest and the founder of the Missionaries of the Precious Blood. This devotion was later approved and recommended by the Holy See. The feast day of the Most Precious Blood of Jesus is July 1st.
Find a Devotional or Sacramental
Daily Prayers
Prayer for the Dead
In your hands, O Lord, we humbly entrust our brothers and sisters.
In this life you embraced them with your tender love;
deliver them now from every evil and bid them eternal rest.
The old order has passed away: welcome them into paradise,
where there will be no sorrow, no weeping or pain,
but fullness of peace and joy with your Son and the Holy
Spirit forever and ever. Amen.
Prayer of Spiritual Communion
My Jesus, I believe that You are present in the most Blessed Sacrament. I love You above all things and I desire to receive You into my soul. Since I cannot now receive You sacramentally, come at least spiritually into my heart. I embrace You as if You were already there, and unite myself wholly to You. Never permit me to be separated from You. Amen.
Prayer for the Holy Father
Almighty and everlasting God, have mercy upon Thy servant, Pope Francis, our Supreme Pontiff, and direct him, according to Thy loving kindness, in the way of eternal salvation; that, of Thy gift, he may ever desire that which is pleasing unto Thee and may accomplish it with all his might. Through Christ Our Lord. Amen. Our Father. Hail Mary.