"Pray as though everything depended on God. Work as though everything depended on you." St. Augustine
Today's

Meditation

"Some beginners, too, make light of their faults, and at other times indulge in immoderate grief when they commit them. They thought themselves already saints, and so they become angry and impatient with themselves, which is another great imperfection. They also importune God to deliver them from their faults and imperfections, but it is only for the comfort of living in peace, unmolested by them, and not for God; they do not consider that, were He to deliver them, they would become, perhaps, prouder than ever." — St. John of the Cross, p. 9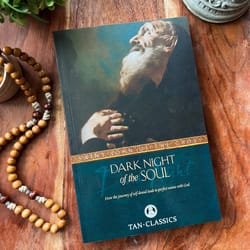 Daily

Verse
"O Lord, be gracious to us; we wait for thee. Be our arm every morning, our salvation in the time of trouble." Isaiah 33:2
St. Christopher
Saint of the Day
St. Christopher (3rd c.) is a highly popular saint, though little is known about him with certainty. According to one account, a pagan queen prayed to the Blessed Virgin Mary for a child, whom she named Offerus and dedicated to the pagan gods. The child grew into a man of exceptional size and strength, and he endeavored to serve only the strongest and most courageous of masters. First he served a heathen king, but soon realized that the king feared the Devil. He then served the Devil, until he saw that the Devil feared the Sign of the Cross. He then decided to serve Christ, reasoning that Christ must be the strongest master of all. Offerus found a Christian hermit who instructed him in the faith, baptized him, and gave him a new name, Christopher, or "Christ-bearer." From then on Christopher determined to serve Christ by using his great physical strength to assist travelers crossing a treacherous river. One day he helped a small child across the river; as Christopher carried the child he felt his burden becoming strangely heavy, as if the weight of the whole world was upon his shoulders. When he spoke of this, the child replied that Christopher carried not only the whole world, but also Him who made it. The child then revealed himself as Jesus Christ and announced that Christopher's humble service was pleasing to Him, and worked a miracle by turning Christopher's staff into a tree. Due to this miracle many converted to Christianity, which caused Christopher to be imprisoned, tortured, and beheaded for refusing to worship the pagan gods. St. Christopher is the patron saint of travelers. His feast day is July 25th. ALSO St. James the Greater (died 44 AD) is the brother of St. John the Apostle, and was one of Jesus's original 12 Apostles. The title "Greater" was added to distinguish him from St. James the Lesser, and is believed not to concern status or holiness, but physical height. Besides being the son of Zebedee, what is known of St. James's life comes after he and his brother were called to leave their father and their nets and follow after Jesus. James was one of the three apostles invited to witness the miraculous Transfiguration of Christ on Mount Tabor. As well, his righteous anger at seeing a Samaritan town reject Jesus inspired him to ask Jesus to call down fire on the town, which Jesus gently rebuked. Following Christ's Resurrection and Ascension, James preached the Gospel across the Roman empire before traveling to Spain, where he spread the Gospel for many years. The famous "Camino de Santiago" pilgrimage path in Spain is named in his honor (Santiago is Spanish for James). At the end of his life, James returned to Jerusalem, where he was the first apostle to be martyred. His feast day is July 25th. Discover more about St. James the Greater.
Find a Devotional for this Saint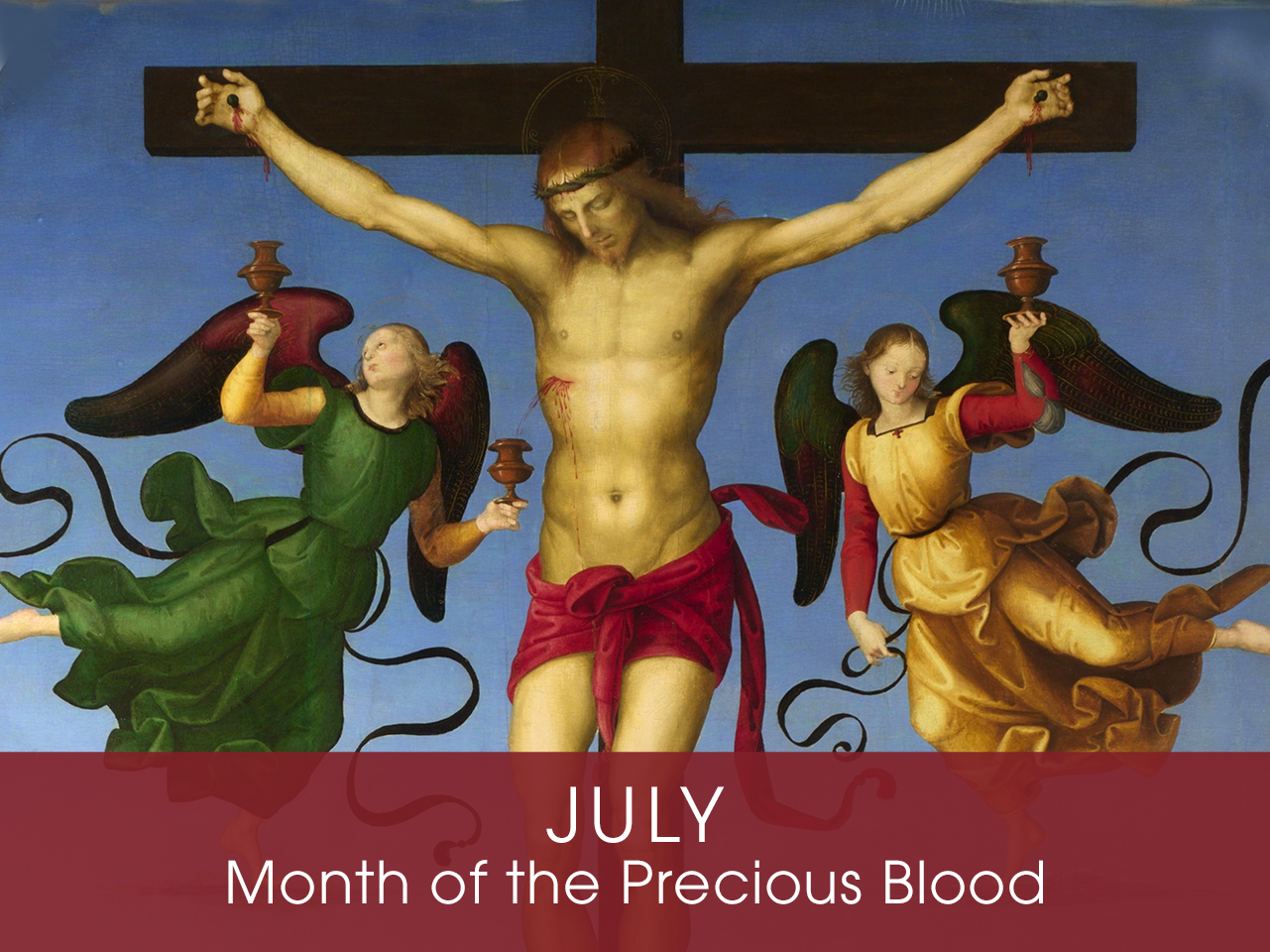 Month of the

Precious Blood
Devotion of the Month
The month of July traditionally honors the Most Precious Blood of Jesus. It is the blood of Christ, the Lamb of God, which cleanses us from sin—therefore the Church developed a devotion to Jesus' physical blood and its mystical power, just as it did for His Sacred Heart from which His blood poured out on the Cross. The Precious Blood of Jesus courses through the Church spiritually, giving eternal life to the Body of Christ through the sacraments. Many saints had a devotion to the Precious Blood of Jesus, especially St. Catherine of Siena. Devotion to the Precious Blood spread widely through the preaching of Saint Gaspar del Bufalo, who was a 19th-century priest and the founder of the Missionaries of the Precious Blood. This devotion was later approved and recommended by the Holy See. The feast day of the Most Precious Blood of Jesus is July 1st.
Find a Devotional or Sacramental
Daily Prayers
Prayer for the Dead
In your hands, O Lord, we humbly entrust our brothers and sisters.
In this life you embraced them with your tender love;
deliver them now from every evil and bid them eternal rest.
The old order has passed away: welcome them into paradise,
where there will be no sorrow, no weeping or pain,
but fullness of peace and joy with your Son and the Holy
Spirit forever and ever. Amen.
Prayer of Spiritual Communion
My Jesus, I believe that You are present in the most Blessed Sacrament. I love You above all things and I desire to receive You into my soul. Since I cannot now receive You sacramentally, come at least spiritually into my heart. I embrace You as if You were already there, and unite myself wholly to You. Never permit me to be separated from You. Amen.
Prayer for the Holy Father
Almighty and everlasting God, have mercy upon Thy servant, Pope Francis, our Supreme Pontiff, and direct him, according to Thy loving kindness, in the way of eternal salvation; that, of Thy gift, he may ever desire that which is pleasing unto Thee and may accomplish it with all his might. Through Christ Our Lord. Amen. Our Father. Hail Mary.