"You are rewarded not according to your work or your time but according to the measure of your love." St. Catherine of Siena
Today's

Meditation

"We are the holy Church. But I do not say 'we' as though to indicate only we who are here, you who have just been listening to me. I mean all of us who are here and by the grace of God faithful Christians in this church, that is, in this city; all those in this region, in this province, across the sea, all those in the whole world. Such is the Catholic Church, our true mother, the true spouse of so great a husband."
—St. Augustine, p. 87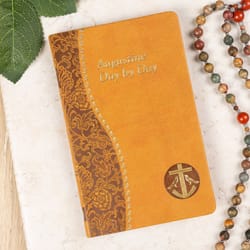 Daily

Verse
"Because he cleaves to me in love, I will deliver him; I will protect him, because he knows my name. When he calls to me, I will answer him; I will be with him in trouble, I will rescue him and honor him." Psalm 91:14-15
St. Anne & St. Joachim
Saint of the Day
St. Anne and St. Joachim (1st c. B.C.) are the parents of the Blessed Virgin Mary and the maternal grandparents of Jesus. Their names have been preserved in Church tradition since the second century, although little is known of their lives. It is believed that St. Joachim and St. Anne, although wealthy, lived a devout and simple life of voluntary poverty, chastity, and generosity to the poor. According to legend, after long years of suffering from infertility and praying for a child, Joachim and Anne were each separately visited by an angel in their old age, who announced that they would give birth to a very special child. Their moment of joy at this happy news is depicted with their embrace and kiss at the Golden Gate in Jerusalem. It was from their holy and chaste marriage that the Immaculate Conception was brought into the world. According to tradition, when the Child Mary was three years old, they dedicated her to God and presented her to live in the Jerusalem temple until the time of her betrothal to St. Joseph. St. Anne is the patroness of unmarried women, wives, expectant mothers, pregnancy, women in labor, grandmothers, childless couples, and against poverty and sterility. Women praying to meet their future spouse often turn to St. Anne. St. Joachim is the patron of fathers and grandfathers. Their feast day is July 26th.
See more about St. Anne.
See more about St. Joachim.
Find a Devotional for this Saint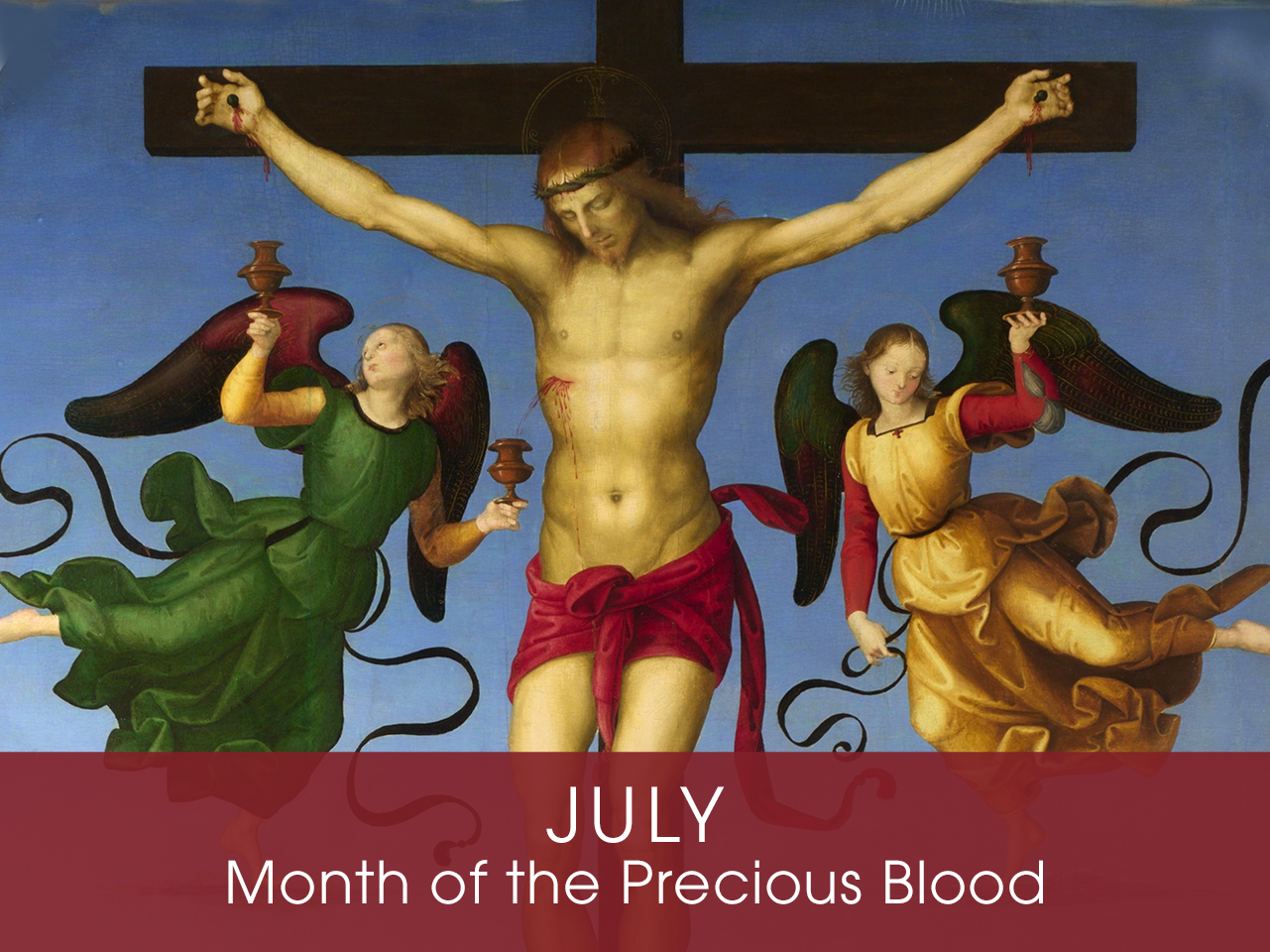 Month of

the Precious Blood
Devotion of the Month
The month of July traditionally honors the Most Precious Blood of Jesus. It is the blood of Christ, the Lamb of God, which cleanses us from sin—therefore the Church developed a devotion to Jesus' physical blood and its mystical power, just as it did for His Sacred Heart from which His blood poured out on the Cross. The Precious Blood of Jesus courses through the Church spiritually, giving eternal life to the Body of Christ through the sacraments. Many saints had a devotion to the Precious Blood of Jesus, especially St. Catherine of Siena. Devotion to the Precious Blood spread widely through the preaching of Saint Gaspar del Bufalo, who was a 19th-century priest and the founder of the Missionaries of the Precious Blood. This devotion was later approved and recommended by the Holy See. The feast day of the Most Precious Blood of Jesus is July 1st.
Find a Devotional or Sacramental
Daily Prayers
Prayer for the Dead
In your hands, O Lord, we humbly entrust our brothers and sisters.
In this life you embraced them with your tender love;
deliver them now from every evil and bid them eternal rest.
The old order has passed away: welcome them into paradise,
where there will be no sorrow, no weeping or pain,
but fullness of peace and joy with your Son and the Holy
Spirit forever and ever. Amen.
Prayer of Spiritual Communion
My Jesus, I believe that You are present in the most Blessed Sacrament. I love You above all things and I desire to receive You into my soul. Since I cannot now receive You sacramentally, come at least spiritually into my heart. I embrace You as if You were already there, and unite myself wholly to You. Never permit me to be separated from You. Amen.
Prayer for the Holy Father
Almighty and everlasting God, have mercy upon Thy servant, Pope Francis, our Supreme Pontiff, and direct him, according to Thy loving kindness, in the way of eternal salvation; that, of Thy gift, he may ever desire that which is pleasing unto Thee and may accomplish it with all his might. Through Christ Our Lord. Amen. Our Father. Hail Mary.