"The deeds you do may be the only sermon some people will hear today." St. Francis of Assisi
Today's

Meditation

"Avoid worrying, then, about anything else for your children except whatever may contribute to bringing them up virtuously. For the rest, having entrusted them to God, try to see what His will for them is, to help them along the path in life He has chosen for them. Never be afraid of relying too much on Him, but rather seek always to increase your trust more and more, for this is the most pleasing homage you can pay Him and it will be the measure of the graces you will receive. Little or much will be given you according as you have expected little or much."
—St. Claude De La Columbiere, p.46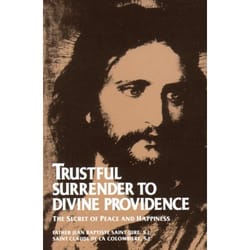 Daily

Verse
"For I have learned, in whatever situation I find myself, to be self-sufficient. I know indeed how to live in humble circumstances; I know also how to live with abundance. In every circumstance and in all things I have learned the secret of being well fed and of going hungry, of living in abundance and of being in need. I have the strength for everything through him who empowers me." Philippians 4:11b-13
Sts. Martha, Mary and Lazarus
Saint of the Day
St. Martha (1st c.) was a pious Jewish woman from Bethany near Jerusalem. She was a close friend of Jesus during his earthly ministry, as was her brother, St. Lazarus, and her sister, St. Mary of Bethany (St. Mary Magdalene – separate feast day on July 22nd). The Gospels tell us that "Jesus loved Martha, and her sister Mary and Lazarus." Martha would serve the Lord faithfully when he was a guest in her home, once busying herself so much with her work that she neglected to spend time enjoying his presence, for which she earned a gentle rebuke from Our Lord. Martha had great faith in Christ, especially evidenced in her belief that he could raise her brother Lazarus from the dead. In the Gospels we read that St. Martha testified that Jesus was the Son of God even before his Passion and Resurrection. According to tradition, after the Ascension of Jesus into heaven, St. Martha gathered a group of women together to live, pray, and do penance in common, one of the early Christian houses of consecrated women. St. Martha is the patron of servers, maids, butlers, servants, single laywomen, homemakers, housewives, and cooks. Together, these siblings share a feast day on July 29th. See more about St. Martha. See more about St. Mary. See more about St. Lazarus.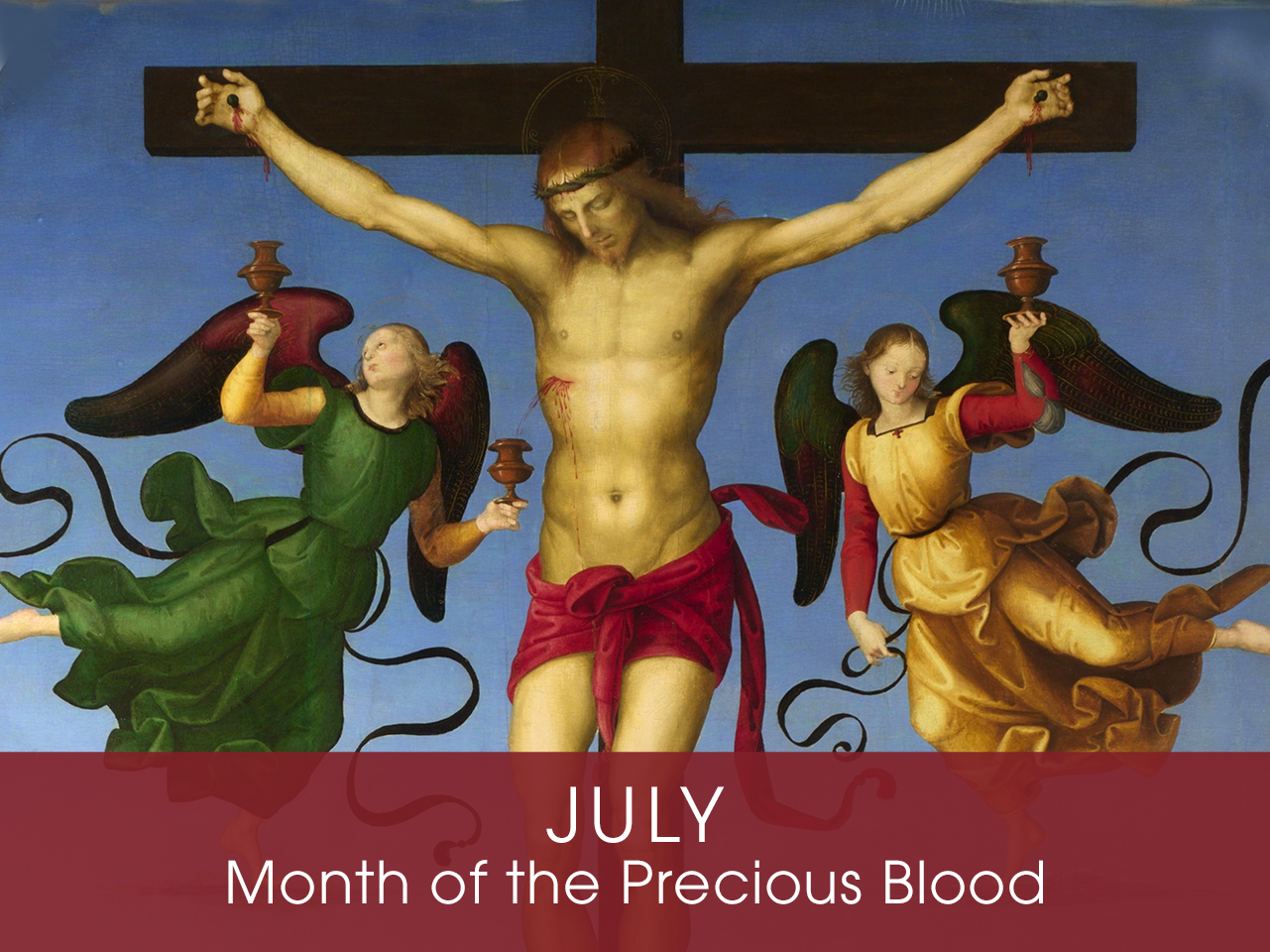 Month of the

Precious Blood
Devotion of the Month
The month of July traditionally honors the Most Precious Blood of Jesus. It is the blood of Christ, the Lamb of God, which cleanses us from sin—therefore the Church developed a devotion to Jesus' physical blood and its mystical power, just as it did for His Sacred Heart from which His blood poured out on the Cross. The Precious Blood of Jesus courses through the Church spiritually, giving eternal life to the Body of Christ through the sacraments. Many saints had a devotion to the Precious Blood of Jesus, especially St. Catherine of Siena. Devotion to the Precious Blood spread widely through the preaching of Saint Gaspar del Bufalo, who was a 19th-century priest and the founder of the Missionaries of the Precious Blood. This devotion was later approved and recommended by the Holy See. The feast day of the Most Precious Blood of Jesus is July 1st.
Find a Devotional or Sacramental
Daily Prayers
Prayer for the Dead
In your hands, O Lord, we humbly entrust our brothers and sisters.
In this life you embraced them with your tender love;
deliver them now from every evil and bid them eternal rest.
The old order has passed away: welcome them into paradise,
where there will be no sorrow, no weeping or pain,
but fullness of peace and joy with your Son and the Holy
Spirit forever and ever. Amen.
Prayer of Spiritual Communion
My Jesus, I believe that You are present in the most Blessed Sacrament. I love You above all things and I desire to receive You into my soul. Since I cannot now receive You sacramentally, come at least spiritually into my heart. I embrace You as if You were already there, and unite myself wholly to You. Never permit me to be separated from You. Amen.
Prayer for the Holy Father
Almighty and everlasting God, have mercy upon Thy servant, Pope Francis, our Supreme Pontiff, and direct him, according to Thy loving kindness, in the way of eternal salvation; that, of Thy gift, he may ever desire that which is pleasing unto Thee and may accomplish it with all his might. Through Christ Our Lord. Amen. Our Father. Hail Mary.