Jesus, help me to simplify my life by learning what you want me to be, and becoming that person.

St. Therese of Lisieux
Today's

Meditation

"Just as a family needs to eat its meals together in order to get along and be nourished, so also do we need the Eucharist in order to be nourished with Christ's Body and Blood and to attain eternal life (John 6:53-54). The Mass is also a celebration with the extended family of the Church. Some celebrations of the Mass are extra special, such as the important feasts of Christmas and Easter…These very important communal celebrations are analogous to those large family celebrations and reunions that bring many relatives together for a special occasion. Just as family reunions are never as intimate as small family dinners, neither are the large sacramental celebrations as intimate as the daily parish Mass. Yet these different kinds of Eucharistic celebrations complement one another, just as an intimate candlelight dinner complements the wedding feast."
– Fr. Mitch Pacwa, SJ, p.94-95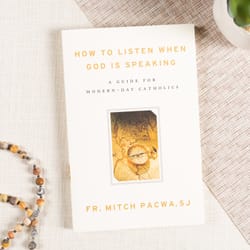 Daily

Verse
"For who is God, but the Lord? And who is a rock, except our God? — the God who girded me with strength, and made my way safe. He made my feet like hinds' feet, and set me secure on the heights. He trains my hands for war, so that my arms can bend a bow of bronze. Thou hast given me the shield of thy salvation, and thy right hand supported me, and thy help made me great." Psalm 18:31-35
St. Ignatius of Loyola
Saint of the Day
St. Ignatius of Loyola (1491-1556) was born at the castle of Loyola in Basque country, Spain, the youngest of thirteen children. In keeping with the young aristocrats of his day, Ignatius sought after military prowess, vainglory, and fame, and became a knight at the age of seventeen. He was known as a fancy dresser, an expert dancer, a womanizer, sensitive to insult, and involved in criminal behavior. During a period of convalescence after being wounded in battle, he read a collection of saint biographies and a Life of Christ. These books profoundly affected him, and he experienced a conversion of heart. He desired to pattern his life after the great saints, and ceremoniously hung up his military garments before an image of the Virgin Mary. After experiencing a vision of the Blessed Mother with the Infant Jesus, he lived for a time as an ascetic in a cave. It was during this time that he formulated his famous Spiritual Exercises, the spiritual centerpiece of the religious order he would later establish. He then went on pilgrimage to the Holy Land, and studied theology for many years. During his studies he gathered a group of six like-minded men and founded the Society of Jesus, today known as the Jesuits. They went as missionaries all over the world to spread the Gospel, especially focusing on education. Today the Jesuits have over 30,000 members and 500 universities. St. Ignatius of Loyola's feast day is July 31st.
Find a Devotional for this Saint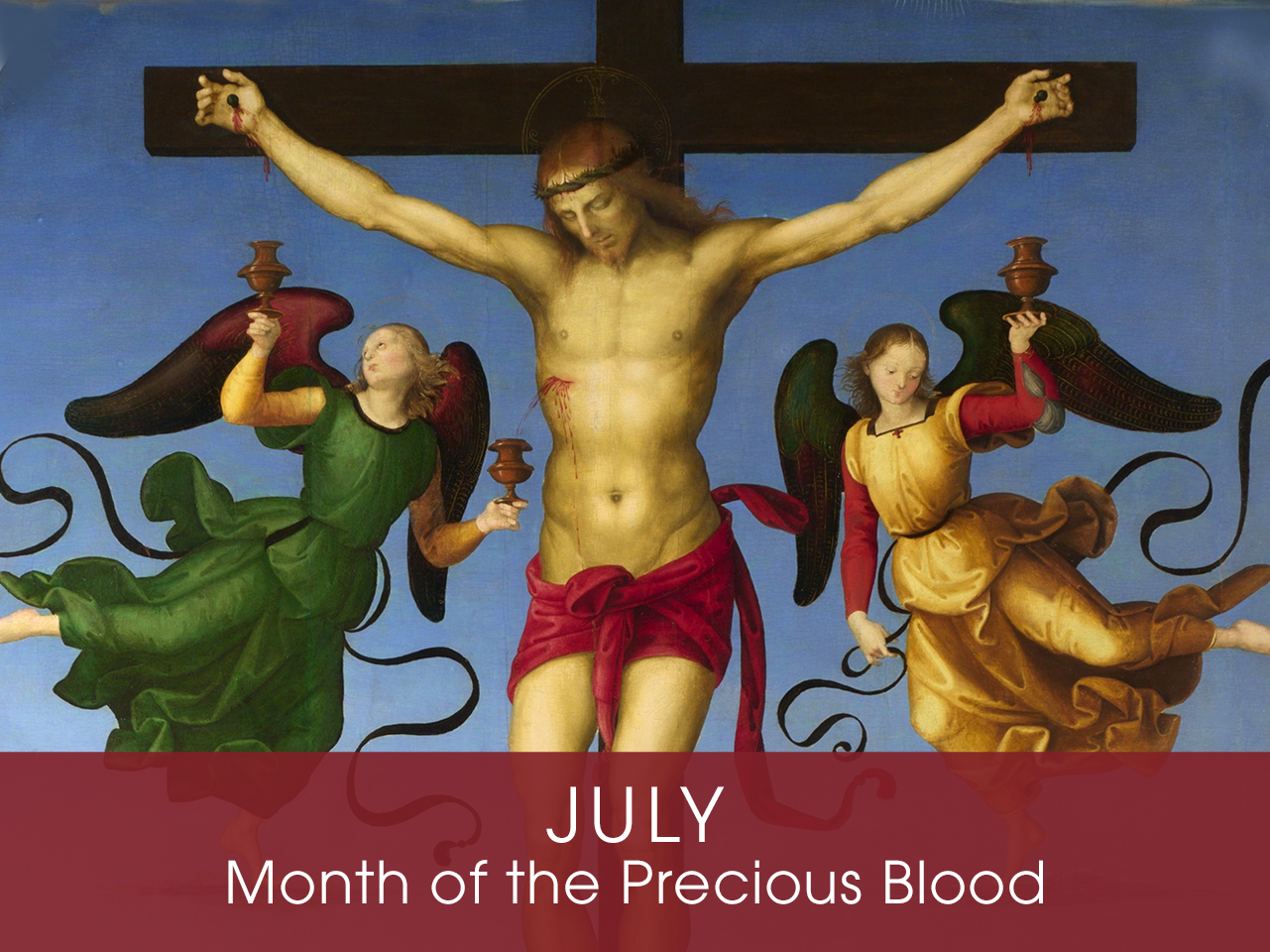 Month of the

Precious Blood
Devotion of the Month
The month of July traditionally honors the Most Precious Blood of Jesus. It is the blood of Christ, the Lamb of God, which cleanses us from sin—therefore the Church developed a devotion to Jesus' physical blood and its mystical power, just as it did for His Sacred Heart from which His blood poured out on the Cross. The Precious Blood of Jesus courses through the Church spiritually, giving eternal life to the Body of Christ through the sacraments. Many saints had a devotion to the Precious Blood of Jesus, especially St. Catherine of Siena. Devotion to the Precious Blood spread widely through the preaching of Saint Gaspar del Bufalo, who was a 19th-century priest and the founder of the Missionaries of the Precious Blood. This devotion was later approved and recommended by the Holy See. The feast day of the Most Precious Blood of Jesus is July 1st.
Find a Devotional or Sacramental
Daily Prayers
Prayer for the Dead
In your hands, O Lord, we humbly entrust our brothers and sisters.
In this life you embraced them with your tender love;
deliver them now from every evil and bid them eternal rest.
The old order has passed away: welcome them into paradise,
where there will be no sorrow, no weeping or pain,
but fullness of peace and joy with your Son and the Holy
Spirit forever and ever. Amen.
Prayer of Spiritual Communion
My Jesus, I believe that You are present in the most Blessed Sacrament. I love You above all things and I desire to receive You into my soul. Since I cannot now receive You sacramentally, come at least spiritually into my heart. I embrace You as if You were already there, and unite myself wholly to You. Never permit me to be separated from You. Amen.
Prayer for the Holy Father
Almighty and everlasting God, have mercy upon Thy servant, Pope Francis, our Supreme Pontiff, and direct him, according to Thy loving kindness, in the way of eternal salvation; that, of Thy gift, he may ever desire that which is pleasing unto Thee and may accomplish it with all his might. Through Christ Our Lord. Amen. Our Father. Hail Mary.