"Many people [in authority] oppose us, persecute us, and would like even to destroy us, but we must be patient. As long as their commands are not against our conscience, let us obey them, but when the case is otherwise, let us uphold the rights of God and of the Church, for those are superior to all earthly authority." St. John Bosco
Today's

Meditation

"With creation, God does not abandon his creatures to themselves. He not only gives them being and existence, but also, and at every moment, upholds and sustains them in being, enables them to act and brings them to their final end. Recognizing this utter dependence with respect to the Creator is a source of wisdom and freedom, of joy and confidence: 'For you love all things that exist, and detest none of the things that you have made; for you would not have made anything if you had hated it. How would anything have endured, if you had not willed it? Or how would anything not called forth by you have been preserved? You spare all things for they are yours, O Lord, you who love the living' (Wisdom 11:24-26)."
—The Catechism of the Catholic Church, 301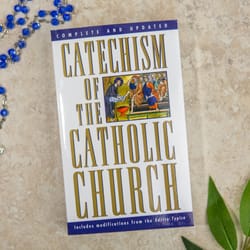 Daily

Verse
"Be strong and of good courage, do not fear or be in dread of them: for it is the Lord your God who goes with you; he will not fail you or forsake you." Deuteronomy 31:6
Blessed Jane of Aza
Saint of the Day
Blessed Jane of Aza (12th c.), also known as Joanna or Juana of Aza, belonged to the Spanish nobility. At a young age she married a nobleman and together they had five children. She was a pious woman known for her life of prayer and generosity to the poor. When her two eldest sons were given to the priesthood, she went to the nearby church of St. Dominic Silos, a miracle worker and a patron saint of pregnant women, to pray earnestly for another son who would carry on the succession of the family. In a dream the saint appeared to her and said that she would bear a son who would be a shining light to the Church. She also dreamed of a dog that leaped from her womb carrying a torch in its mouth, lighting all the world on fire. She gave birth to a son in answer to her prayers, and in gratitude named him Dominic. She brought her son to the altar of St. Dominic Silos and there offered him to God. At the child's baptism his godmother saw a star shining from his forehead. All of these signs were taken to mean that the child would be great. Jane brought her son up with the utmost care, and as the child grew he evidenced uncommon sanctity and virtue. When Dominic turned age seven Jane generously gave him to be educated as a priest, leaving her family without a male heir. St. Dominic went on to found the famous Order of Preachers, or Dominicans, who became known as the "Hounds of the Lord", a great preaching order against heresy and in defense of the Catholic faith. Her feast day is August 2nd.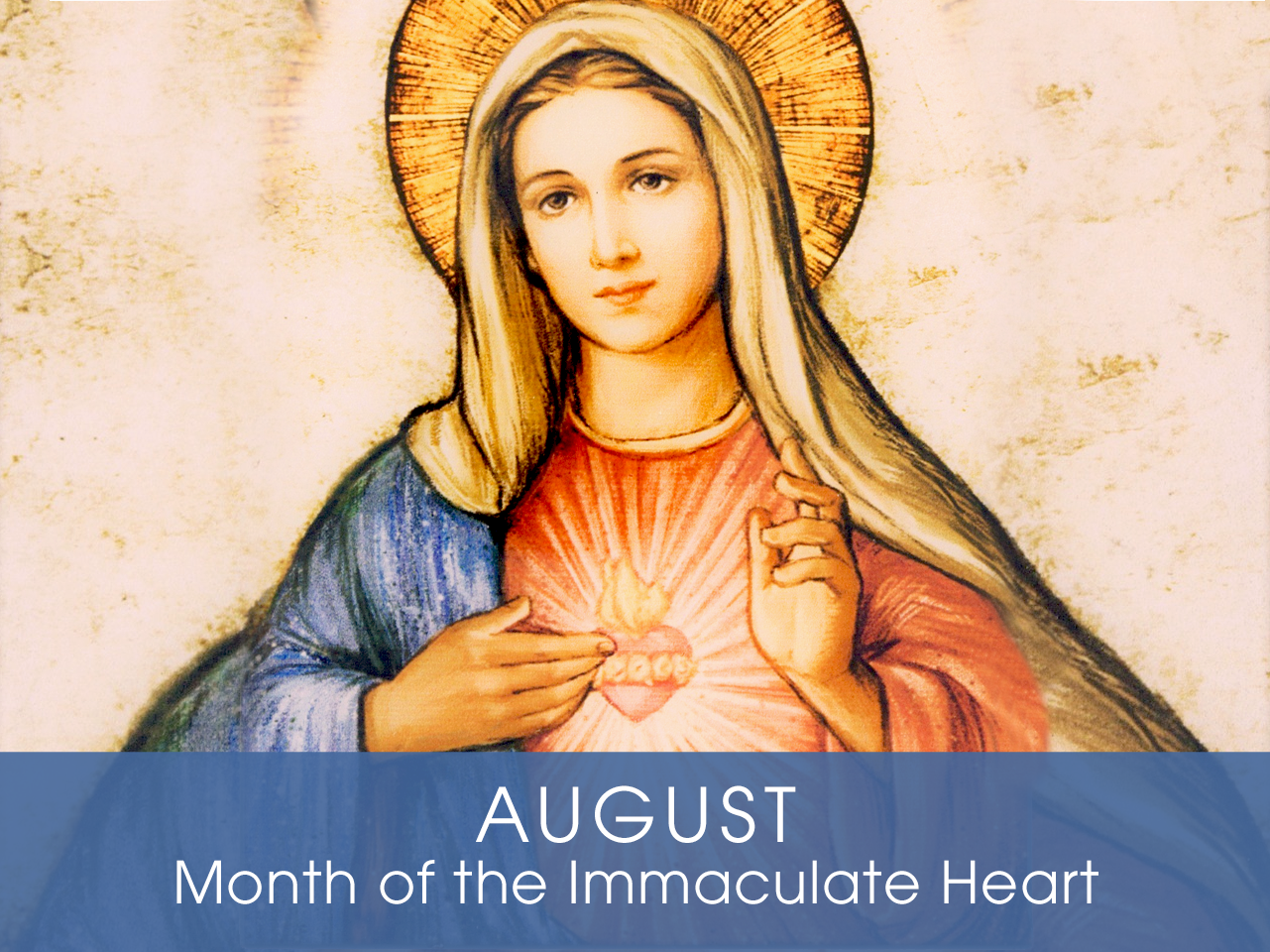 Month of

the Immaculate Heart of Mary
Devotion of the Month
The Church dedicates the month of August to the Immaculate Heart of Mary. It is a dogma of the Catholic faith that Mary is the Immaculate Conception; that is, in preparation for the Incarnation of the Second Person of the Holy Trinity in her womb, she was conceived without the corruption of sin through the foreseen and infinite merits of her Son, Jesus Christ. Over the centuries, as saints and theologians reflected on how Mary pondered and treasured the sacred events from the life of Christ in her holy heart, as attested in Scripture, her pure heart was recognized as something to be imitated. Devotion to Our Lady's purity of heart began to flower—so much so that in the 17th century, St. John Eudes promoted it alongside the Sacred Heart of Jesus. The devotion rose to a new level after the apparitions of Our Lady of Fatima, when Mary revealed an image of her Immaculate Heart to Lucia, Jacinta, and Francisco.
Find a Devotional or Sacramental
Daily Prayers
Prayer for the Dead
In your hands, O Lord, we humbly entrust our brothers and sisters.
In this life you embraced them with your tender love;
deliver them now from every evil and bid them eternal rest.
The old order has passed away: welcome them into paradise,
where there will be no sorrow, no weeping or pain,
but fullness of peace and joy with your Son and the Holy
Spirit forever and ever. Amen.
Prayer of Spiritual Communion
My Jesus, I believe that You are present in the most Blessed Sacrament. I love You above all things and I desire to receive You into my soul. Since I cannot now receive You sacramentally, come at least spiritually into my heart. I embrace You as if You were already there, and unite myself wholly to You. Never permit me to be separated from You. Amen.
Prayer for the Holy Father
Almighty and everlasting God, have mercy upon Thy servant, Pope Francis, our Supreme Pontiff, and direct him, according to Thy loving kindness, in the way of eternal salvation; that, of Thy gift, he may ever desire that which is pleasing unto Thee and may accomplish it with all his might. Through Christ Our Lord. Amen. Our Father. Hail Mary.