"In this life no one can fulfill his longing, nor can any creature satisfy man's desire. Only God satisfies, he infinitely exceeds all other pleasures. That is why man can rest in nothing but God." St. Thomas Aquinas
Today's

Meditation

"In the spiritual life, I can promise myself nothing without the special help of God . . . From one moment to another, I may fall into mortal sin: consequently, even though I may have labored many years in acquiring virtues, I may in one instant lose all the good I have done, lose all my merit for eternity, and lose even that blessed eternity itself. How can a king rule with arrogance when he is besieged by his enemies and from day to day runs the risk of losing his kingdom and ceasing to be a king? And has not a saint abundant reasons, from the thought of his own weakness, to live always in a state of great humility, when he knows that from one hour to another he may lose the grace of God and the kingdom of Heaven, which he has merited by years of laboriously acquired virtues? 'Unless the Lord build the house, they labor in vain that build it' (Ps. 126:1). However spiritual and holy a man may be, he cannot regard himself as absolutely secure. The Angels themselves, enriched with sanctity, were not safe in Paradise. Man, endowed with innocence, was not safe in his earthly paradise. What safety, therefore, can there be for us with our corrupt nature, amid so many perils and so many enemies who within and without are ever seeking insidiously to undermine our own eternal salvation? In order to be eternally damned, it is enough that I should follow the dictates of nature; but to be saved, it is necessary that divine grace should prevent (go before) and accompany me, should follow and help me, watch over me and never abandon me. Oh, how right therefore was St. Paul in exhorting us to 'work out our salvation'—which is for all eternity—'with fear and trembling' (Phil. 2:12)."
—Fr. Cajetan da Bergamo, p. 21-22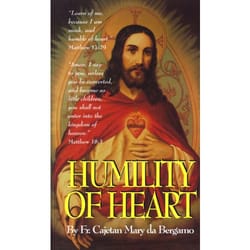 Daily

Verse
"Stop judging, that you may not be judged. For as you judge, so will you be judged, and the measure with which you measure will be measured out to you." Matthew 7:1-2
St. Oswald of Northumbria
Saint of the Day
St. Oswald (605-642 A.D.) was the second of seven sons born to the pagan king of Northumbria in northern England. After his father was killed in battle, the kingdom was split. His uncle claimed the throne, while Oswald fled with his mother and brothers to Scotland for safety. There his family was converted to Christianity by the renowned monks of Iona. Oswald was educated by the holy monks and grew into a brave and pious warrior. After the death of his uncle and elder brother, Oswald moved to reclaim his father's throne and liberate it from enemy rule. On the eve of a decisive battle, he received a vision of St. Columba who promised him success. Before battle, Oswald erected a cross and knelt before it in prayer, along with his army. Following his victory, St. Oswald reunited Northumbria and was made king. His influence as a monarch was so great that he was considered the Emperor of almost all of Britain, uniting the the Britons, Picts, Scots, and the English. He requested a bishop to be sent to his kingdom to aid in the conversion of his people to Christianity; he also invited St. Aidan and a group of Irish monks from Iona to found a monastery for the kingdom at Lindisfarne. This ushered in Northumbria's "golden age" as the most important centre of learning and arts in the British Isles. Oswald ruled as a saintly and powerful Christian king, in justice, humility, and generosity to the poor and strangers, as noted by the prestigious historian, the Venerable Bede. St. Oswald was killed in battle, and afterwards the place of his death was noted for many miracles. His feast day is August 5th.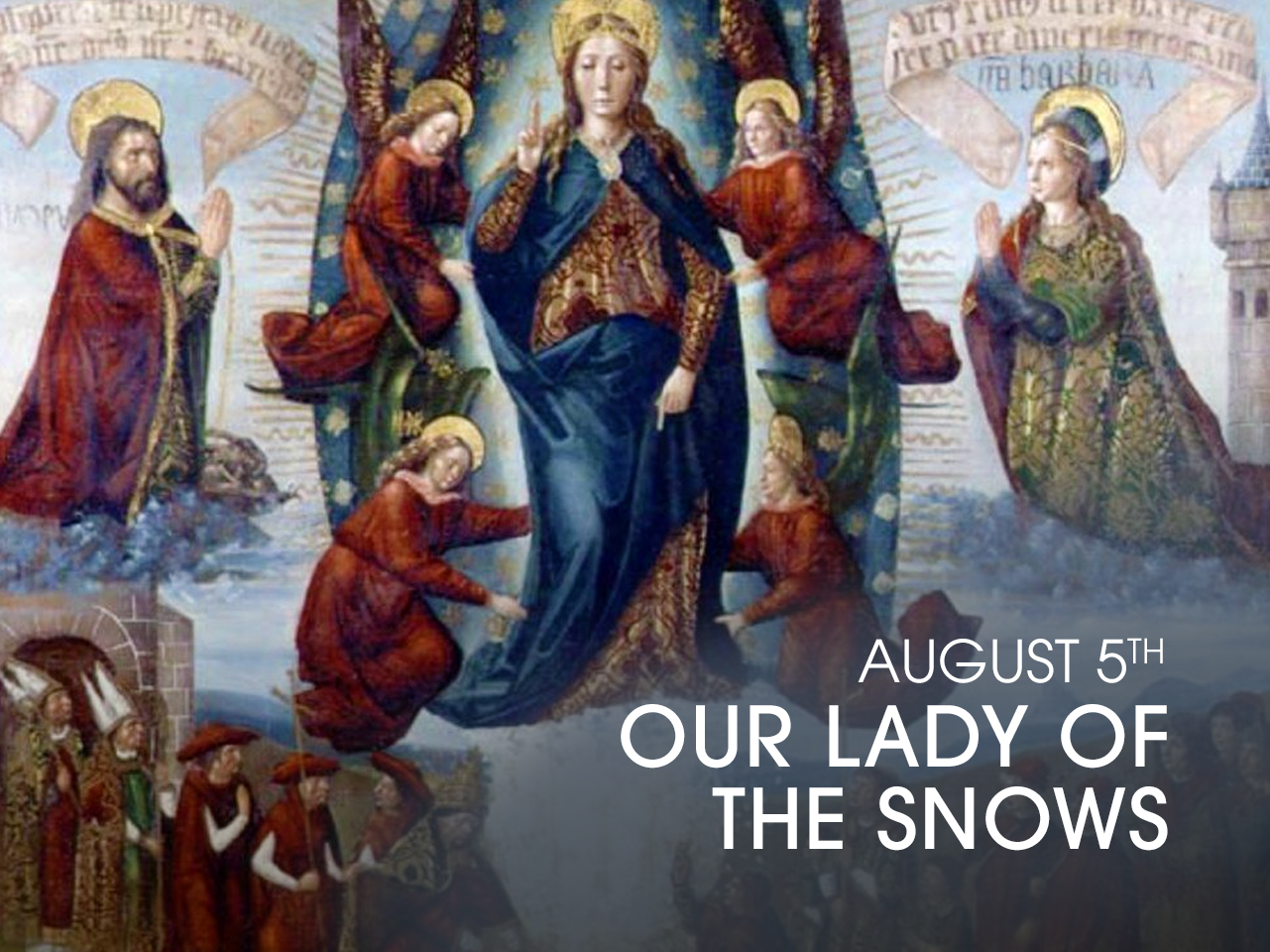 Our Lady of the Snows
Feast Day
Our Lady of the Snows is one of the oldest devotions to the Blessed Virgin Mary. It commemorates a miraculous event that happened during the reign of Pope Liberius. A wealthy, childless Roman couple prayed to know how their fortune should be used for God. Our Lady answered them in a dream and asked that a church be built in her honor. She also appeared in a dream to the Holy Father with the same request. On August 5, 352 A.D., a hot summer day, snow fell on Esquiline Hill. All of Rome proclaimed it a miracle, and a basilica was built on the spot according to the outline of the pattern of snow. The church, the Basilica di Santa Maria Maggiore (Saint Mary Major), is the largest church in the world, and one of the first, dedicated to Our Lady. August 5th celebrates its rebuilding and dedication in 434 A.D.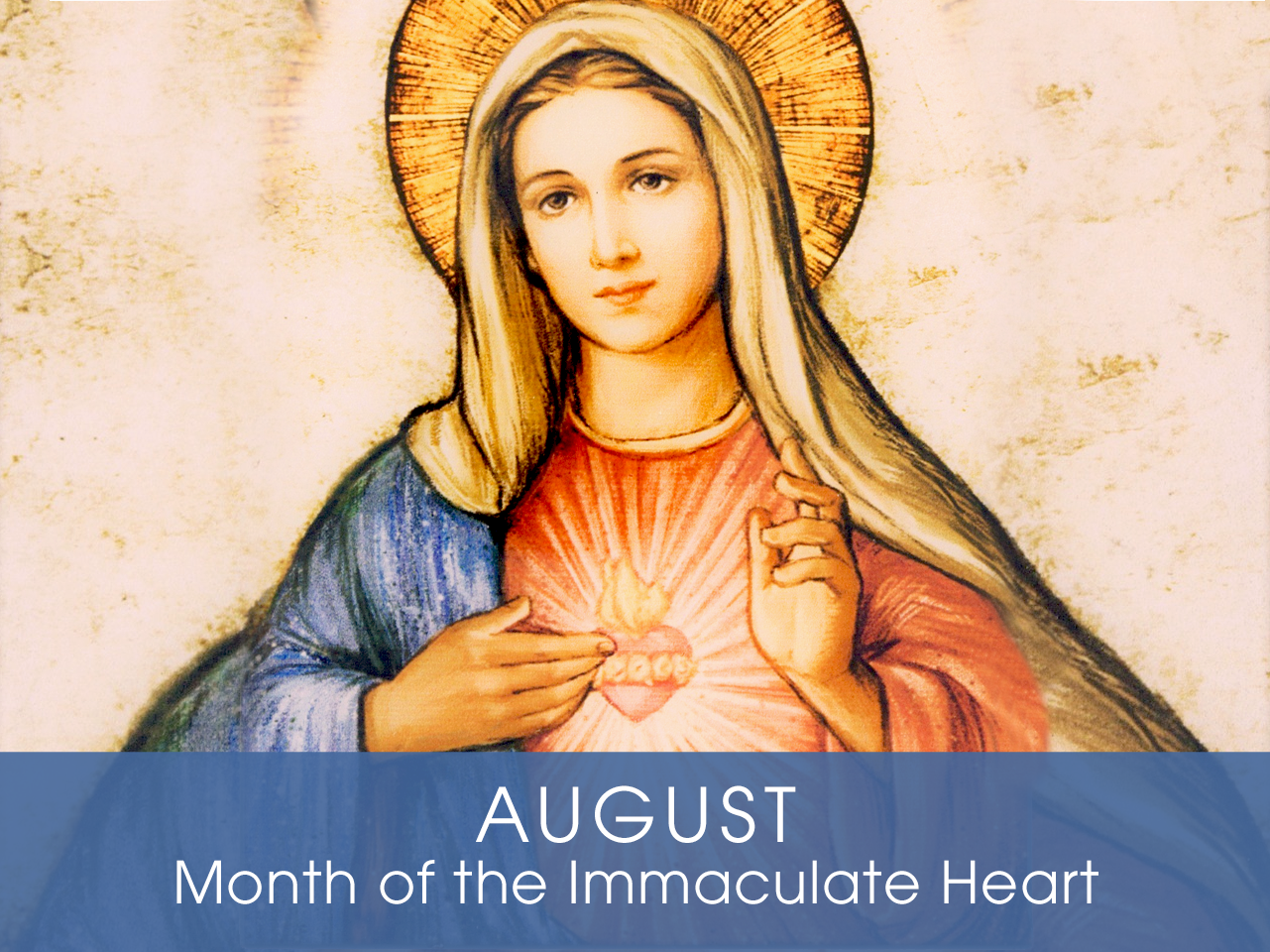 Month of the

Immaculate Heart of Mary
Devotion of the Month
The Church dedicates the month of August to the Immaculate Heart of Mary. It is a dogma of the Catholic faith that Mary is the Immaculate Conception; that is, in preparation for the Incarnation of the Second Person of the Holy Trinity in her womb, she was conceived without the corruption of sin through the foreseen and infinite merits of her Son, Jesus Christ. Over the centuries, as saints and theologians reflected on how Mary pondered and treasured the sacred events from the life of Christ in her holy heart, as attested in Scripture, her pure heart was recognized as something to be imitated. Devotion to Our Lady's purity of heart began to flower—so much so that in the 17th century, St. John Eudes promoted it alongside the Sacred Heart of Jesus. The devotion rose to a new level after the apparitions of Our Lady of Fatima, when Mary revealed an image of her Immaculate Heart to Lucia, Jacinta, and Francisco.
Find a Devotional or Sacramental
Daily Prayers
Prayer for the Dead
In your hands, O Lord, we humbly entrust our brothers and sisters.
In this life you embraced them with your tender love;
deliver them now from every evil and bid them eternal rest.
The old order has passed away: welcome them into paradise,
where there will be no sorrow, no weeping or pain,
but fullness of peace and joy with your Son and the Holy
Spirit forever and ever. Amen.
Prayer of Spiritual Communion
My Jesus, I believe that You are present in the most Blessed Sacrament. I love You above all things and I desire to receive You into my soul. Since I cannot now receive You sacramentally, come at least spiritually into my heart. I embrace You as if You were already there, and unite myself wholly to You. Never permit me to be separated from You. Amen.
Prayer for the Holy Father
Almighty and everlasting God, have mercy upon Thy servant, Pope Francis, our Supreme Pontiff, and direct him, according to Thy loving kindness, in the way of eternal salvation; that, of Thy gift, he may ever desire that which is pleasing unto Thee and may accomplish it with all his might. Through Christ Our Lord. Amen. Our Father. Hail Mary.