"The important thing is not to think much but to love much; and so do that which best stirs you to love." St. Teresa of Avila - Teresa of Jesus
Today's

Meditation

"The human soul, by its very nature, is endowed with the faculty of knowing God and the capacity for loving Him. The intelligence of the soul, transporting itself above all that is created and finite, has power to raise itself even to the contemplation of that Being who alone is uncreated and infinite, who is the source of all good and all perfection; it is able to form of Him an idea that is clear and accurate and indelible. The will of the soul is made to love this sovereign Good, which the understanding presents to it. The desires of the soul, which no created object can ever satisfy and which reach far beyond the limits of this life, tend necessarily toward a Good that is supreme, eternal, and infinite, and which alone can content the soul and make it happy."
—Fr. Jean Nicholas Grou, p. 3-4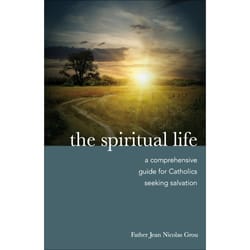 Daily

Verse
"So turn from youthful desires and pursue righteousness, faith, love, and peace, along with those who call on the Lord with purity of heart." 2 Timothy 2:22
St. Dominic de Guzman
Saint of the Day
St. Dominic (1170–1221) was born in Spain to a family of noble lineage. His mother, Blessed Jane of Aza, prayed at the church of St. Dominic Silos to conceive a male child, her first two sons being given to the priesthood. In answer to her prayer, she dreamed that a dog leaped from her womb carrying a torch in its mouth which set the world ablaze. At his baptism, his godmother beheld a star shining from his forehead. As a child Dominic showed signs of great sanctity and intelligence, and he was also given to the Church for the priesthood. When famine struck Dominic sold his rare and expensive theology books to feed the poor. As a priest he traveled with his bishop into southern France and discovered that it had been overrun with a heretical movement which led many away from the Church. This inflamed his desire to devote his life to apostolic preaching for the salvation of souls, at the time an office reserved to bishops. With the Pope's approval he founded the Order of Preachers, or the Dominicans, committed to defend the truth of the Catholic faith. St. Dominic's Order was novel in that it combined the active and contemplative religious life with the labor of scholarly study and itinerate preaching. St. Dominic was innovative in meeting the needs of his time to defend the Church against her enemies. To aid his mission, Our Lady appeared to him and gave him a new devotion—the Holy Rosary. St. Dominic is the patron saint of scientists and astronomers. His feast day is August 8th.
Find a Devotional for this Saint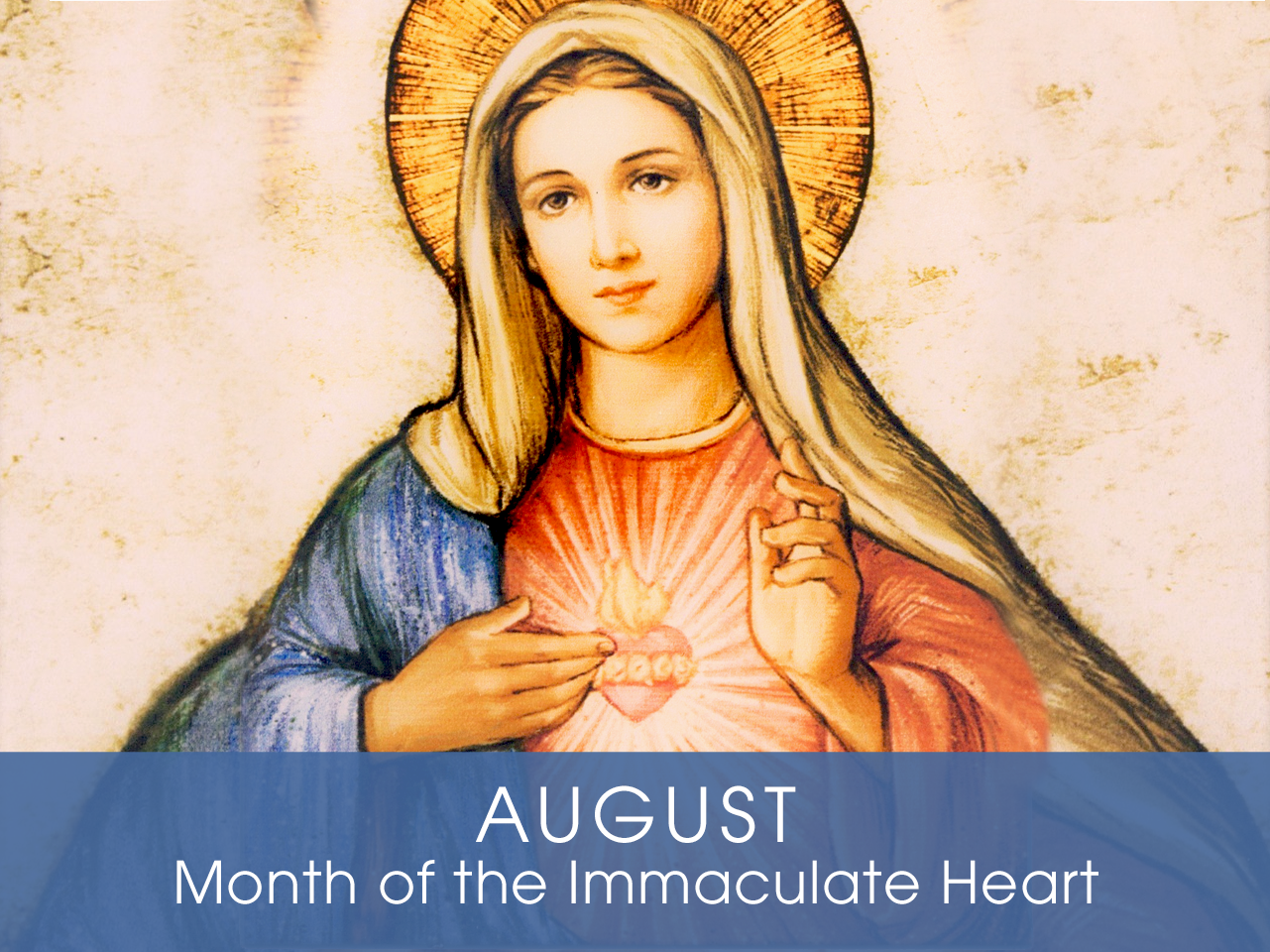 Month of the

Immaculate Heart of Mary
Devotion of the Month
The Church dedicates the month of August to the Immaculate Heart of Mary. It is a dogma of the Catholic faith that Mary is the Immaculate Conception; that is, in preparation for the Incarnation of the Second Person of the Holy Trinity in her womb, she was conceived without the corruption of sin through the foreseen and infinite merits of her Son, Jesus Christ. Over the centuries, as saints and theologians reflected on how Mary pondered and treasured the sacred events from the life of Christ in her holy heart, as attested in Scripture, her pure heart was recognized as something to be imitated. Devotion to Our Lady's purity of heart began to flower—so much so that in the 17th century, St. John Eudes promoted it alongside the Sacred Heart of Jesus. The devotion rose to a new level after the apparitions of Our Lady of Fatima, when Mary revealed an image of her Immaculate Heart to Lucia, Jacinta, and Francisco.
Find a Devotional or Sacramental
Daily Prayers
Prayer for the Dead
In your hands, O Lord, we humbly entrust our brothers and sisters.
In this life you embraced them with your tender love;
deliver them now from every evil and bid them eternal rest.
The old order has passed away: welcome them into paradise,
where there will be no sorrow, no weeping or pain,
but fullness of peace and joy with your Son and the Holy
Spirit forever and ever. Amen.
Prayer of Spiritual Communion
My Jesus, I believe that You are present in the most Blessed Sacrament. I love You above all things and I desire to receive You into my soul. Since I cannot now receive You sacramentally, come at least spiritually into my heart. I embrace You as if You were already there, and unite myself wholly to You. Never permit me to be separated from You. Amen.
Prayer for the Holy Father
Almighty and everlasting God, have mercy upon Thy servant, Pope Francis, our Supreme Pontiff, and direct him, according to Thy loving kindness, in the way of eternal salvation; that, of Thy gift, he may ever desire that which is pleasing unto Thee and may accomplish it with all his might. Through Christ Our Lord. Amen. Our Father. Hail Mary.