"Love Mary! She is loveable, faithful, constant. She will never let herself be outdone in love, but will ever remain supreme. If you are in danger, she will hasten to free you. If you are troubled, she will console you. If you are sick, she will bring you relief. If you are in need, she will help you. She does not look to see what kind of person you have been. She simply comes to a heart that wants to love her." St. Gabriel Possenti
Today's

Meditation

"Let us say boldly with St. Bernard that we have need of a mediator with the Mediator Himself, and that it is the divine Mary who is the most capable of filling that charitable office. It was through her that Jesus Christ came to us, and it is through her that we must go to Him. If we fear to go directly to Jesus Christ, our God, whether because of His infinite greatness or because of our vileness or because of our sins, let us boldly implore the aid and intercession of Mary, our Mother. She is good, she is tender, she has nothing in her austere and forbidding, nothing too sublime and too brilliant. In seeing her, we see our pure nature."
—St. Louis de Montfort, p. 42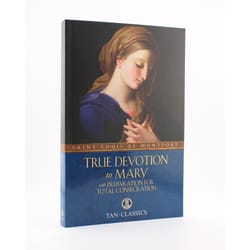 Daily

Verse
"Therefore, since we have been justified by faith, we have peace with God through our Lord Jesus Christ, through whom we have gained access [by faith] to this grace in which we stand, and we boast in hope of the glory of God. Not only that, but we even boast of our afflictions, knowing that affliction produces endurance, and endurance, proven character, and proven character, hope, and hope does not disappoint, because the love of God has been poured out into our hearts through the holy Spirit that has been given to us." Romans 5:1-5
St. Tarcisius
Saint of the Day
St. Tarcisius (3rd c.) was a boy who lived during the persecution of Roman Emperor Valerian. When the Christians would secretly celebrate daily Mass in the catacombs, a deacon would be sent to carry the Holy Eucharist to the Christians waiting in prison to be executed. At one point there was no deacon to send, and so St. Tarcisius, a twelve-year-old acolyte, was sent to carry the "Holy Mysteries" to the prisoners. One day, on his way, he was stopped by pagan boys his own age with whom he would sometimes play games. They asked him to play, but Tarcisius declined because of the holy mission on which he had been sent. The crowd of boys became curious about what he was carrying, and soon discovered that he was a Christian. In their profane desire to see the holy secret he so carefully guarded, they descended on him as a mob and beat him. Tarcisius was courageous and refused to surrender the Blessed Sacrament. A fellow Christian came to his rescue and carried his bloodied body back to the catacombs. Tarcisius died from his injuries along the way. He was buried in the cemetery of St. Callistus, and his relics are kept in the church of San Silvestro. Legend has it that the consecrated Host disappeared during the attack. St. Tarcisius is the patron of altar boys and first communicants. His feast day is August 15th.
Find a Devotional for this Saint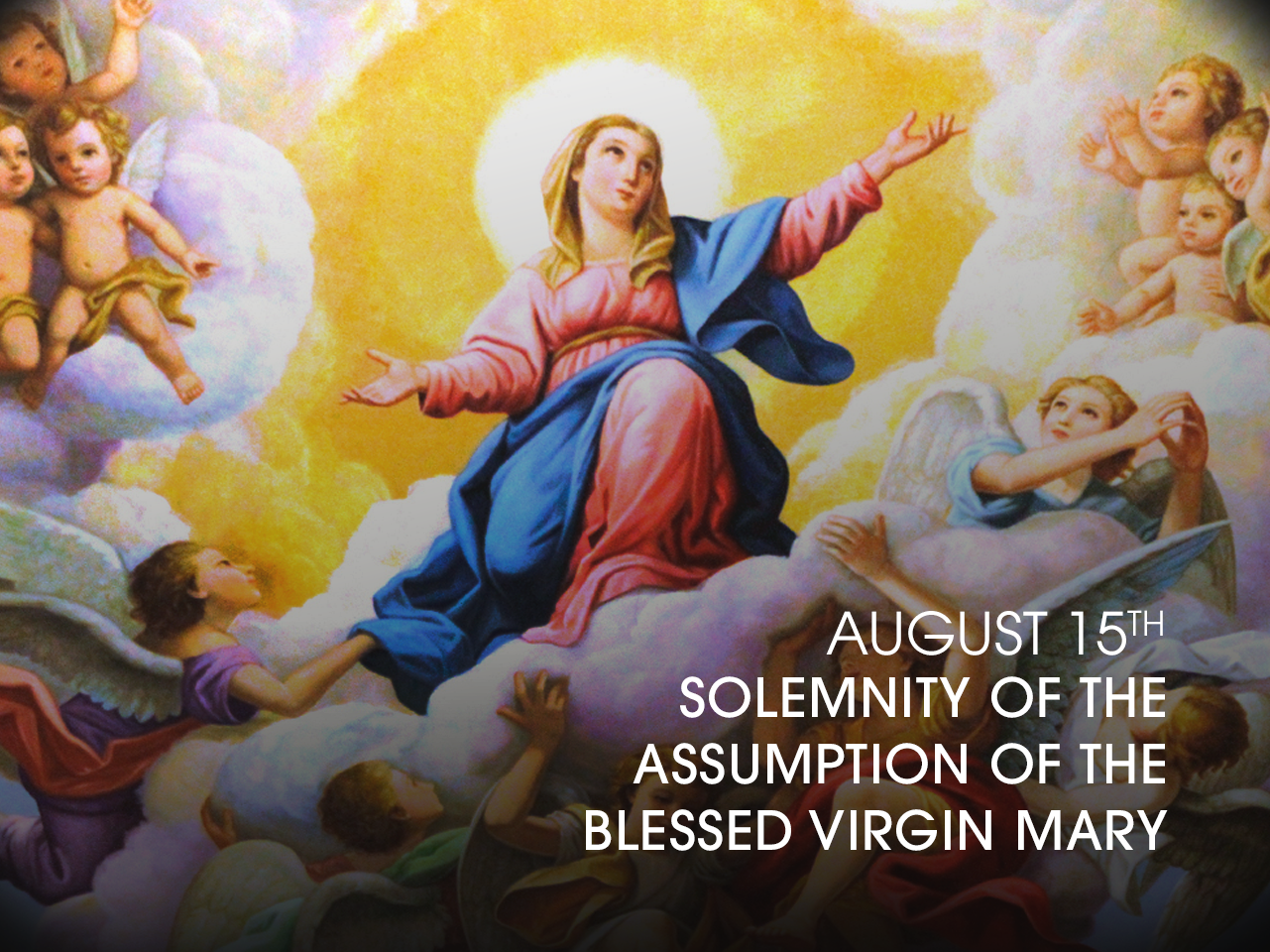 Solemnity of the Assumption
Feast Day
August 15th is the Solemnity of the Assumption of the Blessed Virgin Mary, and a Holy Day of Obligation. It is an ancient feast of the Church, celebrated universally by at least the 6th century. According to tradition, all of the Apostles were present when Our Lady came to the end of her earthly life and peacefully went to be with Christ in Heaven, an event also known as the "Dormition of Mary." The tomb where her body was laid was found empty, her body being taken up into heaven a short time after she passed into eternal life. The Church's historic belief that the Virgin Mary is presently in heaven reigning as the Queen of Heaven and Earth, in body and soul, next to her Divine Son, was pronounced as infallible dogma in 1950 by Pope Pius XII. The bodily Assumption of Jesus' mother into heaven is a foretaste of our own bodily resurrection at the end of time.
See More About Today's Feast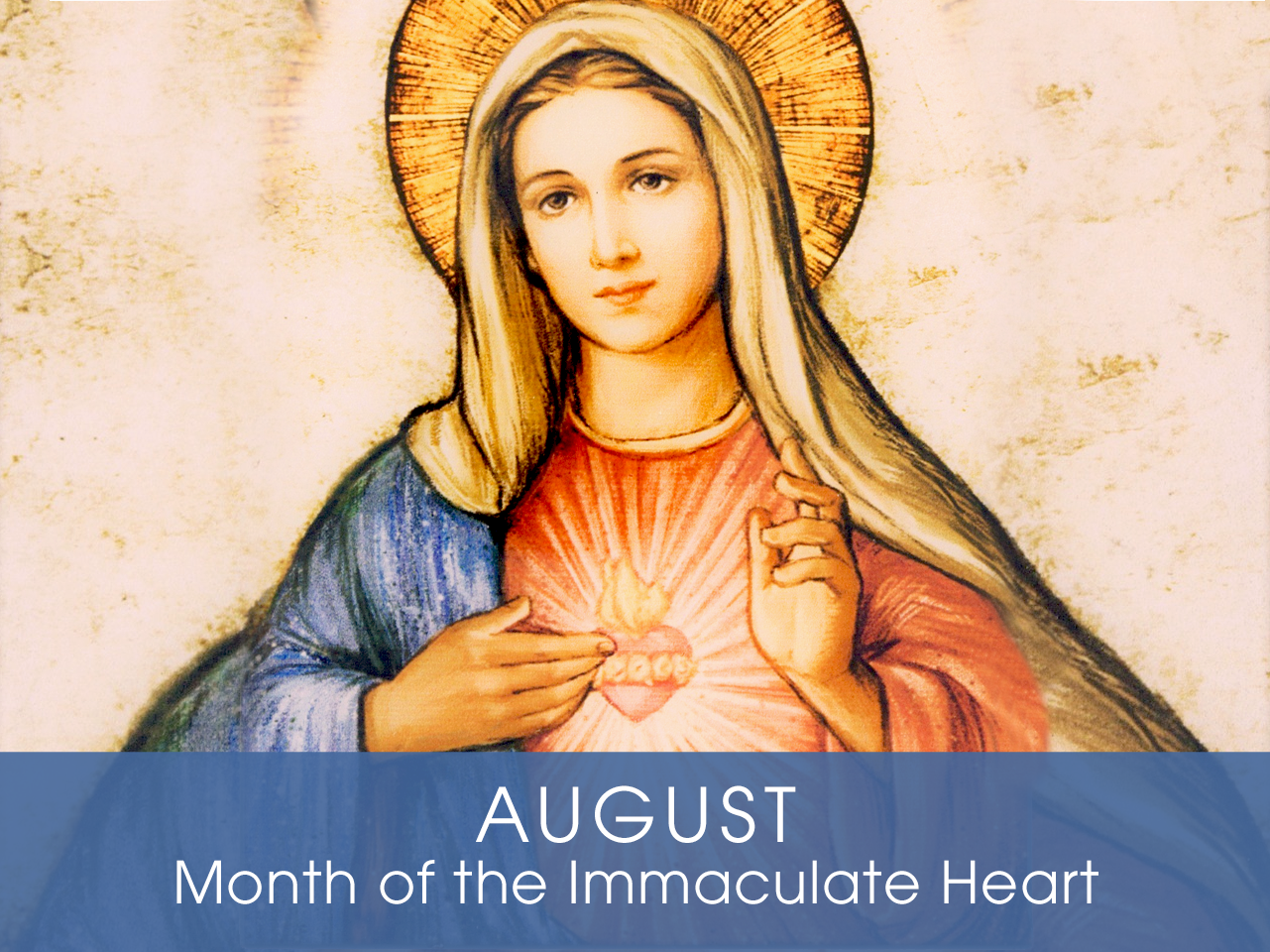 Month of

the Immaculate Heart of Mary
Devotion of the Month
The Church dedicates the month of August to the Immaculate Heart of Mary. It is a dogma of the Catholic faith that Mary is the Immaculate Conception; that is, in preparation for the Incarnation of the Second Person of the Holy Trinity in her womb, she was conceived without the corruption of sin through the foreseen and infinite merits of her Son, Jesus Christ. Over the centuries, as saints and theologians reflected on how Mary pondered and treasured the sacred events from the life of Christ in her holy heart, as attested in Scripture, her pure heart was recognized as something to be imitated. Devotion to Our Lady's purity of heart began to flower—so much so that in the 17th century, St. John Eudes promoted it alongside the Sacred Heart of Jesus. The devotion rose to a new level after the apparitions of Our Lady of Fatima, when Mary revealed an image of her Immaculate Heart to Lucia, Jacinta, and Francisco.
Find a Devotional or Sacramental
Daily Prayers
Prayer for the Dead
In your hands, O Lord, we humbly entrust our brothers and sisters.
In this life you embraced them with your tender love;
deliver them now from every evil and bid them eternal rest.
The old order has passed away: welcome them into paradise,
where there will be no sorrow, no weeping or pain,
but fullness of peace and joy with your Son and the Holy
Spirit forever and ever. Amen.
Prayer of Spiritual Communion
My Jesus, I believe that You are present in the most Blessed Sacrament. I love You above all things and I desire to receive You into my soul. Since I cannot now receive You sacramentally, come at least spiritually into my heart. I embrace You as if You were already there, and unite myself wholly to You. Never permit me to be separated from You. Amen.
Prayer for the Holy Father
Almighty and everlasting God, have mercy upon Thy servant, Pope Francis, our Supreme Pontiff, and direct him, according to Thy loving kindness, in the way of eternal salvation; that, of Thy gift, he may ever desire that which is pleasing unto Thee and may accomplish it with all his might. Through Christ Our Lord. Amen. Our Father. Hail Mary.