"Just as in one man there is one soul and one body, yet many members; even so the Catholic Church is one body, having many members. The soul that quickens this body is the Holy Spirit; and therefore in the Creed after confessing our belief in the Holy Spirit, we are bid to believe in the Holy Catholic Church." St. Augustine
Today's

Meditation

"There are two loves, the love of God and the love of the world. If the love of the world takes possession of you, there is no way for the love of God to enter into you. Let the love of the world take the second place, and let the love of God dwell in you. Let the better love take over."
—St. Augustine, p. 34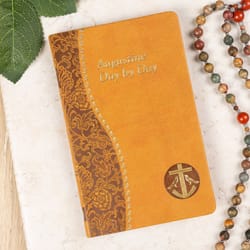 Daily

Verse
"For I myself shall give you a wisdom in speaking that all your adversaries will be powerless to resist or refute. You will even be handed over by parents, brothers, relatives, and friends, and they will put some of you to death. You will be hated by all because of my name, but not a hair on your head will be destroyed. By your perseverance you will secure your lives." Luke 21:15-19
St. Helen
Saint of the Day
St. Helen, also known as St. Helena (d. 327 A.D.), was a woman of humble means from Asia Minor. She married the future Roman Emperor Constantius Chlorus, and their son Constantine was born c. 272. Constantius divorced Helen in c. 293 to marry Emperor Maximian's daughter for the sake of political gain. When her son Constantine became the Roman Emperor, St. Helen was given the imperial title "Augusta" and was treated like royalty. After Constantine legalized Christianity across the Roman Empire, St. Helen, a Christian convert, went to the Holy Land in search of the actual cross on which Christ was crucified, despite being in her 80s. She questioned local Christians and Jews and learned that the cross was buried under the Temple of Venus. Helen had the temple demolished and excavated. There she discovered the Holy Sepulcher, three crosses, the board with Pilate's inscription, and the nails which pierced Jesus' Sacred Body. In order to determine which cross was the Lord's, the Bishop of Jerusalem touched them to a corpse, causing the man to come back to life. A second miraculous healing of a sick woman confirmed the discovery of the True Cross. Christians flocked to Jerusalem to venerate the Holy Cross. St. Helen then visited all the holy places of Jesus' life and built many churches over their locations, including Bethlehem, the Mount of Olives, and the Garden of Gethsemane. St. Helen is the patron of divorced people, empresses, difficult marriages, converts, and archeologists. Her feast day is August 18th.
Find a Devotional for this Saint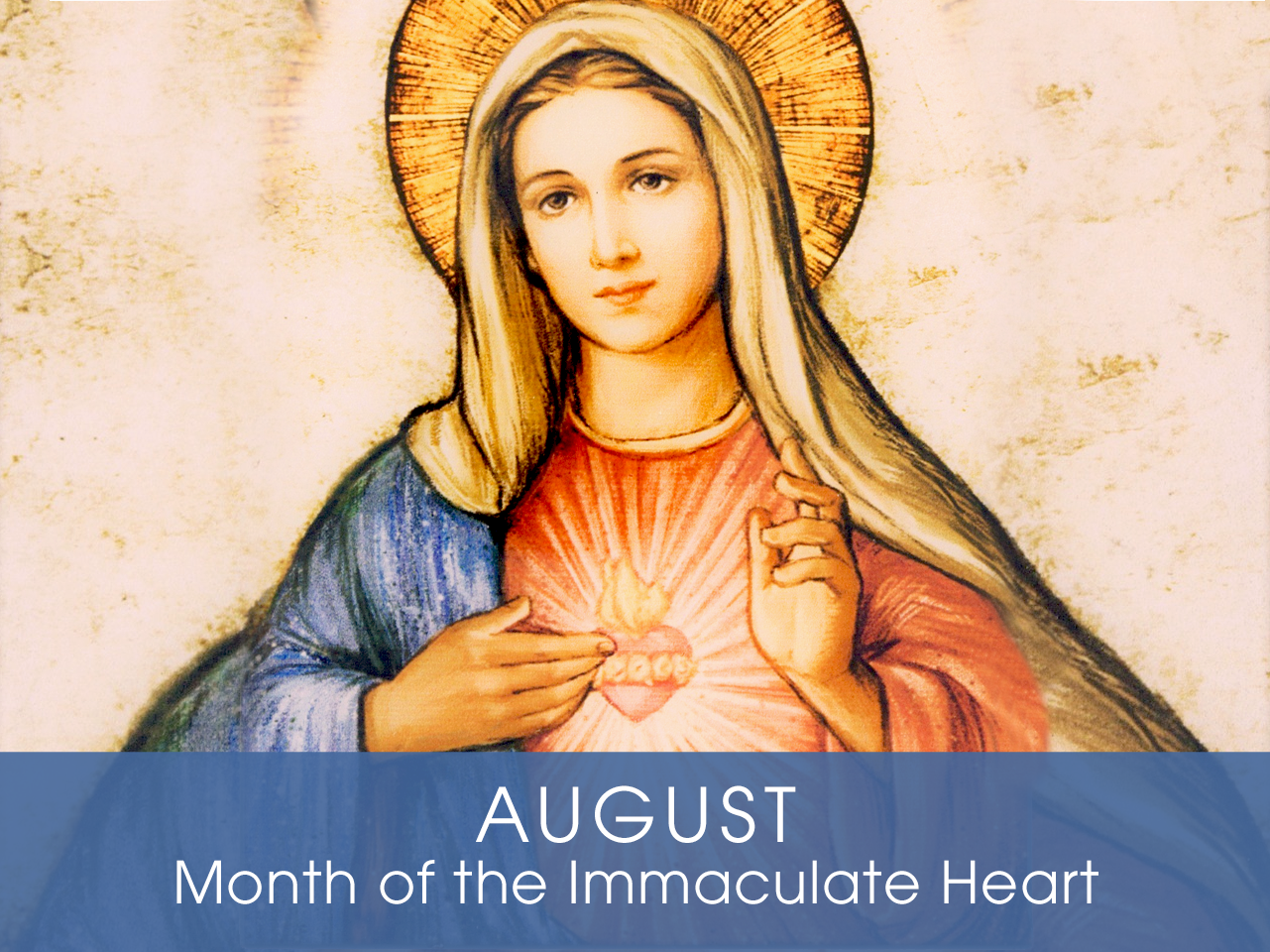 Month of the

Immaculate Heart of Mary
Devotion of the Month
The Church dedicates the month of August to the Immaculate Heart of Mary. It is a dogma of the Catholic faith that Mary is the Immaculate Conception; that is, in preparation for the Incarnation of the Second Person of the Holy Trinity in her womb, she was conceived without the corruption of sin through the foreseen and infinite merits of her Son, Jesus Christ. Over the centuries, as saints and theologians reflected on how Mary pondered and treasured the sacred events from the life of Christ in her holy heart, as attested in Scripture, her pure heart was recognized as something to be imitated. Devotion to Our Lady's purity of heart began to flower—so much so that in the 17th century, St. John Eudes promoted it alongside the Sacred Heart of Jesus. The devotion rose to a new level after the apparitions of Our Lady of Fatima, when Mary revealed an image of her Immaculate Heart to Lucia, Jacinta, and Francisco.
Find a Devotional or Sacramental
Daily Prayers
Prayer for the Dead
In your hands, O Lord, we humbly entrust our brothers and sisters.
In this life you embraced them with your tender love;
deliver them now from every evil and bid them eternal rest.
The old order has passed away: welcome them into paradise,
where there will be no sorrow, no weeping or pain,
but fullness of peace and joy with your Son and the Holy
Spirit forever and ever. Amen.
Prayer of Spiritual Communion
My Jesus, I believe that You are present in the most Blessed Sacrament. I love You above all things and I desire to receive You into my soul. Since I cannot now receive You sacramentally, come at least spiritually into my heart. I embrace You as if You were already there, and unite myself wholly to You. Never permit me to be separated from You. Amen.
Prayer for the Holy Father
Almighty and everlasting God, have mercy upon Thy servant, Pope Francis, our Supreme Pontiff, and direct him, according to Thy loving kindness, in the way of eternal salvation; that, of Thy gift, he may ever desire that which is pleasing unto Thee and may accomplish it with all his might. Through Christ Our Lord. Amen. Our Father. Hail Mary.