"Only he will receive, will find, and will enter who perseveres in asking, seeking and knocking." St. Louis de Montfort
Today's

Meditation

"Moreover, beseech daily the eternal Father, His divine Son, and the Blessed Virgin, that you may be particularly under the protection of St. Joseph, the worthy spouse of the most chaste of virgins. Then addressing yourself to this loving protector, ask with great humility to be received into his care. For innumerable are the instances of assistance afforded to those who have called upon St. Joseph in their spiritual or temporal necessities. Particularly has he aided them when they stood in need of light from heaven, and direction in their prayers. And if God shows so much regard for the other saints who have loved and served Him here below, how much consideration and deference will He not show for the person He so honored as to pay him filial homage and obedience?"
—Dom Lorenzo Scupoli, p. 154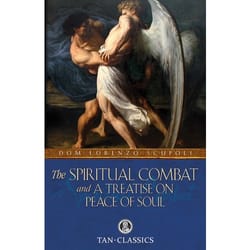 Daily

Verse
"If the world hates you, realize that it hated me first. If you belonged to the world, the world would love its own; but because you do not belong to the world, and I have chosen you out of the world, the world hates you." John 15:18-19
St. John Eudes
Saint of the Day
St. John Eudes (1601–1680) was born in Normandy, France, to a farming family. His devout parents consecrated him to the Blessed Virgin Mary when he was a child. At the age of fourteen he took a vow of chastity, and studied under the Jesuits where he earned the reputation of being a brilliant student. After his ordination to the priesthood he ministered to his countrymen who were suffering from an outbreak of the plague. He later became a missionary priest, traveling throughout France and preaching strong sermons to large crowds in churches, open fields, and in the courts of the royalty and nobility. The force of his sermons was bolstered by his great sanctity; he was considered to be a prodigy and the greatest preacher of his age. He was instrumental in spreading devotion to the Sacred Heart of Jesus and the Immaculate Heart of Mary throughout France during a time when religious fervor had grown cold. He was responsible for influencing the Church to establish these two devotions with liturgical feasts, himself composing their Mass and Office. St. John Eudes founded several organizations including the Congregation of Our Lady of Charity of the Refuge, which provided a new life for repentant prostitutes, and the Society of Jesus and Mary (the Eudist Fathers) which specialized in improving the training of seminarians by promoting greater virtue and dedication to the preaching of parish missions. His feast day is August 19th.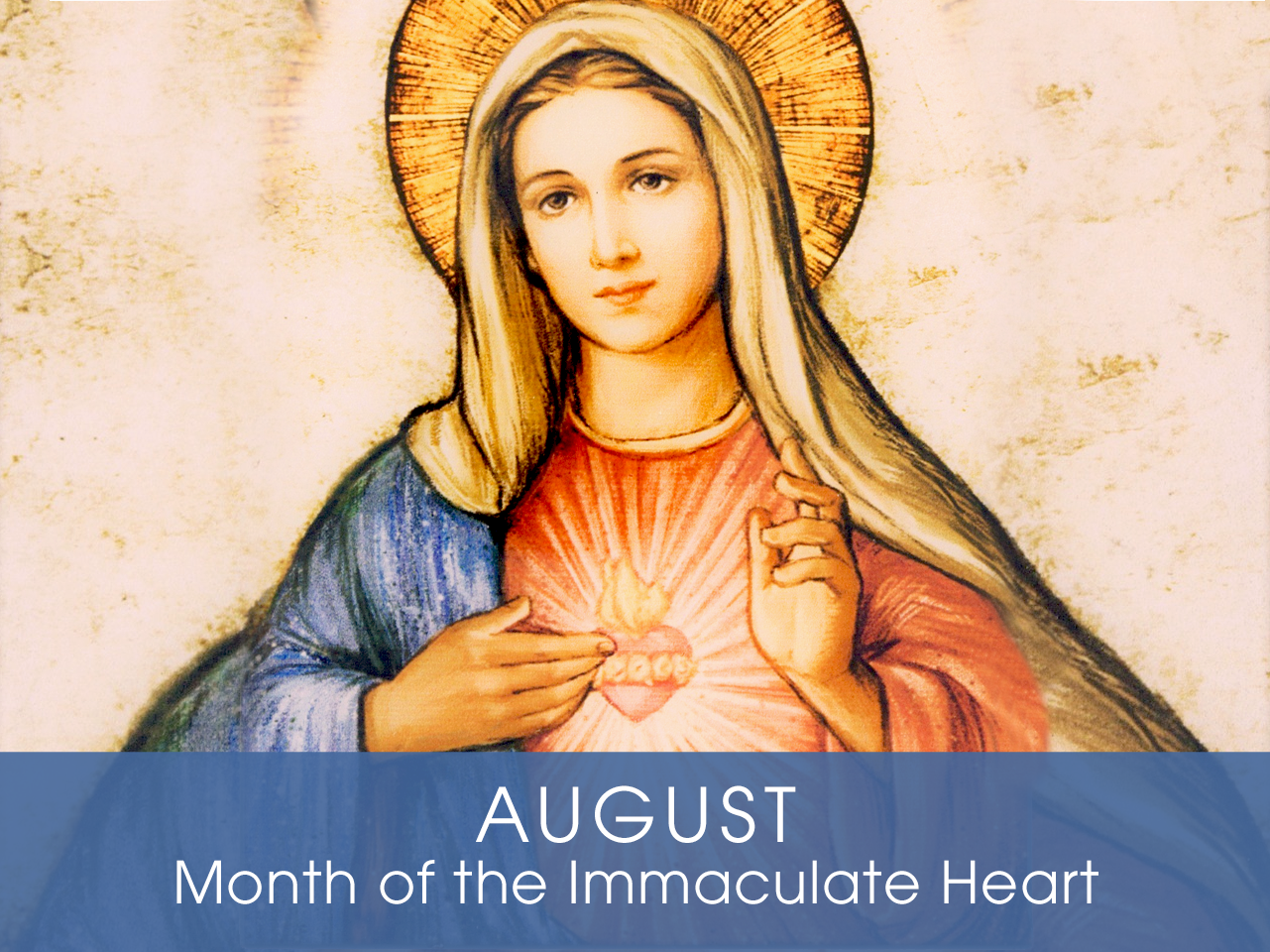 Month of the

Immaculate Heart of Mary
Devotion of the Month
The Church dedicates the month of August to the Immaculate Heart of Mary. It is a dogma of the Catholic faith that Mary is the Immaculate Conception; that is, in preparation for the Incarnation of the Second Person of the Holy Trinity in her womb, she was conceived without the corruption of sin through the foreseen and infinite merits of her Son, Jesus Christ. Over the centuries, as saints and theologians reflected on how Mary pondered and treasured the sacred events from the life of Christ in her holy heart, as attested in Scripture, her pure heart was recognized as something to be imitated. Devotion to Our Lady's purity of heart began to flower—so much so that in the 17th century, St. John Eudes promoted it alongside the Sacred Heart of Jesus. The devotion rose to a new level after the apparitions of Our Lady of Fatima, when Mary revealed an image of her Immaculate Heart to Lucia, Jacinta, and Francisco.
Find a Devotional or Sacramental
Daily Prayers
Prayer for the Dead
In your hands, O Lord, we humbly entrust our brothers and sisters.
In this life you embraced them with your tender love;
deliver them now from every evil and bid them eternal rest.
The old order has passed away: welcome them into paradise,
where there will be no sorrow, no weeping or pain,
but fullness of peace and joy with your Son and the Holy
Spirit forever and ever. Amen.
Prayer of Spiritual Communion
My Jesus, I believe that You are present in the most Blessed Sacrament. I love You above all things and I desire to receive You into my soul. Since I cannot now receive You sacramentally, come at least spiritually into my heart. I embrace You as if You were already there, and unite myself wholly to You. Never permit me to be separated from You. Amen.
Prayer for the Holy Father
Almighty and everlasting God, have mercy upon Thy servant, Pope Francis, our Supreme Pontiff, and direct him, according to Thy loving kindness, in the way of eternal salvation; that, of Thy gift, he may ever desire that which is pleasing unto Thee and may accomplish it with all his might. Through Christ Our Lord. Amen. Our Father. Hail Mary.