"We can't have full knowledge all at once. We must start by believing; then afterwards we may be led on to master the evidence for ourselves." St. Thomas Aquinas
Today's

Meditation

"Beauty is Life-Giving – Beauty nourishes our souls the way food nourishes our bodies. Search for the beauty that is all around you, and try to see God's face in every person you meet. 'Joy is beholding the beauty of God in all creation' (Blessed Julian of Norwich). Dear Lord, help me to see You in everyone I meet."
—Father John Catoir, p.165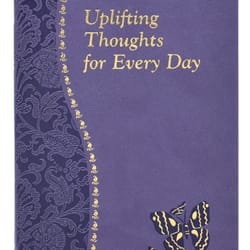 Daily

Verse
"Indeed, the word of God is living and effective, sharper than any two-edged sword, penetrating even between soul and spirit, joints and marrow, and able to discern reflections and thoughts of the heart. No creature is concealed from him, but everything is naked and exposed to the eyes of him to whom we must render an account." Hebrews 4:12-13
St. Bernard of Clairvaux
Saint of the Day
St. Bernard of Clairvaux (1090-1153) was one of seven children born to a noble family in Burgundy, France. All seven children, six sons and one daughter, were offered to the service of God by their devout mother. Before St. Bernard was born, a holy man foretold of his great sanctity. As a child Bernard was given an excellent education. He excelled at his studies, and also possessed a personal charm that attracted many people to him. He prayed about his vocation, and at the age of twenty-two left his worldly wealth to become a Cistercian monk. Four of his brothers joined him at the monastery in Citeaux, along with many others belonging to the Burgundian nobility. He later founded and became abbot of the Abbey of Clairvaux, which rapidly grew to over 700 monks and 160 daughter-houses. Bernard, with his natural charisma, was also a skilled arbiter and counselor who proved to be instrumental in the support of the true pope of Rome against the schism of a rival anti-pope. Bernard's reputation for holiness and piety was widely known. He traveled throughout Europe as a preacher and became one of the most famous and influential men of his century. He was a man of reform, and was effective in opposing the appointment of unworthy men to episcopal offices, while others reformed themselves at his censure. St. Bernard composed many theological works and wrote tenderly on devotion to the Blessed Virgin Mary. He is a Doctor of the Church, and the patron of beekeepers and candlemakers. His feast day is August 20th.
Find a Devotional for this Saint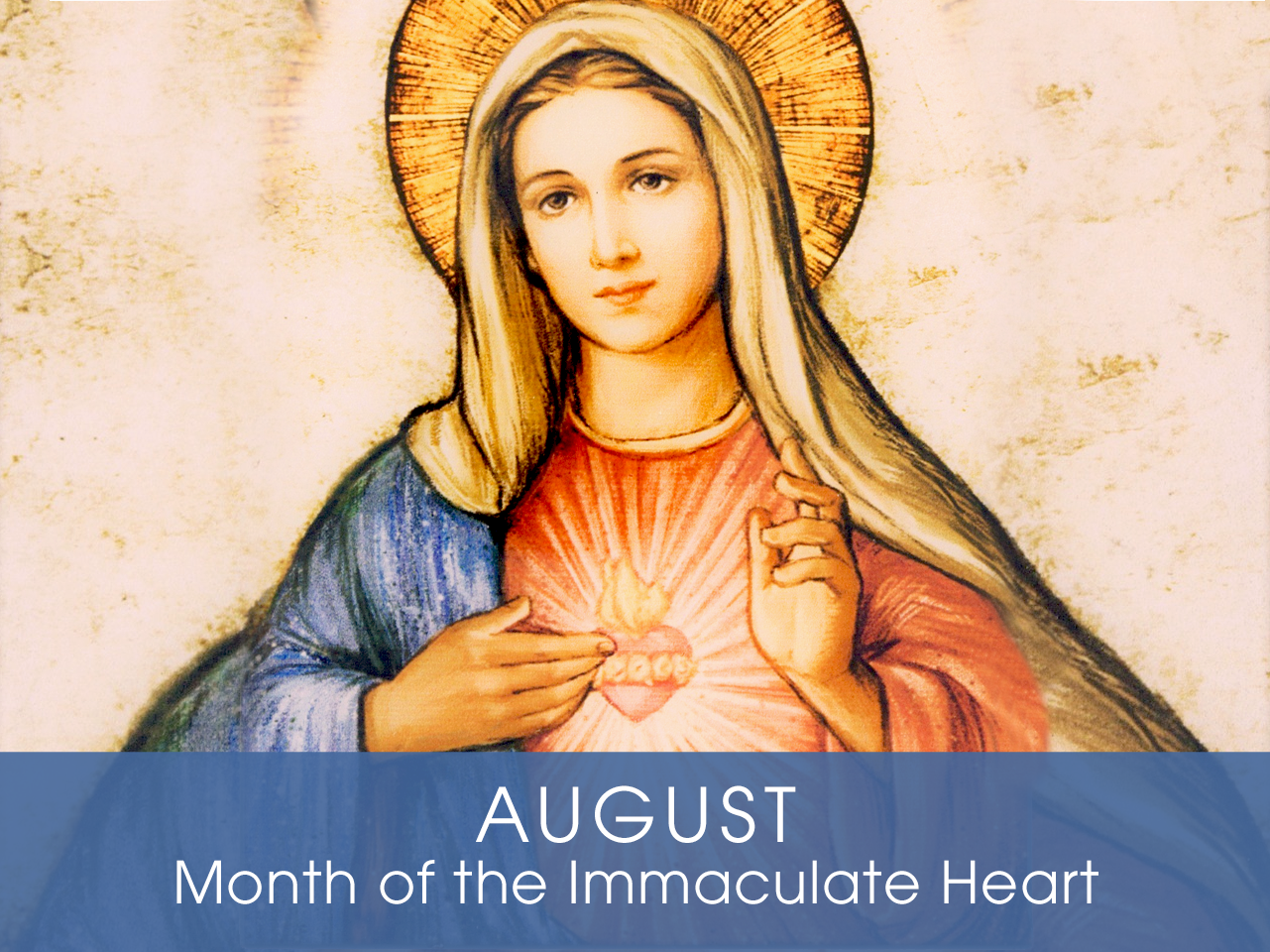 Month of the

Immaculate Heart of Mary
Devotion of the Month
The Church dedicates the month of August to the Immaculate Heart of Mary. It is a dogma of the Catholic faith that Mary is the Immaculate Conception; that is, in preparation for the Incarnation of the Second Person of the Holy Trinity in her womb, she was conceived without the corruption of sin through the foreseen and infinite merits of her Son, Jesus Christ. Over the centuries, as saints and theologians reflected on how Mary pondered and treasured the sacred events from the life of Christ in her holy heart, as attested in Scripture, her pure heart was recognized as something to be imitated. Devotion to Our Lady's purity of heart began to flower—so much so that in the 17th century, St. John Eudes promoted it alongside the Sacred Heart of Jesus. The devotion rose to a new level after the apparitions of Our Lady of Fatima, when Mary revealed an image of her Immaculate Heart to Lucia, Jacinta, and Francisco.
Find a Devotional or Sacramental
Daily Prayers
Prayer for the Dead
In your hands, O Lord, we humbly entrust our brothers and sisters.
In this life you embraced them with your tender love;
deliver them now from every evil and bid them eternal rest.
The old order has passed away: welcome them into paradise,
where there will be no sorrow, no weeping or pain,
but fullness of peace and joy with your Son and the Holy
Spirit forever and ever. Amen.
Prayer of Spiritual Communion
My Jesus, I believe that You are present in the most Blessed Sacrament. I love You above all things and I desire to receive You into my soul. Since I cannot now receive You sacramentally, come at least spiritually into my heart. I embrace You as if You were already there, and unite myself wholly to You. Never permit me to be separated from You. Amen.
Prayer for the Holy Father
Almighty and everlasting God, have mercy upon Thy servant, Pope Francis, our Supreme Pontiff, and direct him, according to Thy loving kindness, in the way of eternal salvation; that, of Thy gift, he may ever desire that which is pleasing unto Thee and may accomplish it with all his might. Through Christ Our Lord. Amen. Our Father. Hail Mary.