"O Holy Spirit, descend plentifully into my heart. Enlighten the dark corners of this neglected dwelling and scatter there Thy cheerful beams." St. Augustine
Today's

Meditation

"Jesus has many lovers of His heavenly kingdom, but few cross-bearers. Many desire His consolation, but few His tribulation. Many will sit down with Him at table, but few will share His fast. All desire to rejoice with Him, but few will suffer for Him. Many will follow Him to the breaking of the bread, but few will drink the bitter cup of His Passion. Many revere His miracles, but few follow the shame of His cross. Many love Jesus when all goes well with them, and praise Him when He does them a favor; but if Jesus conceals Himself and leaves them for a little while, they fall to complaining or become depressed. They who love Jesus purely for Himself and not for their own sake bless Him in all trouble and anguish as well as in time of consolation. Even if He never sent them consolation, they would still praise Him and give thanks. Oh how powerful is the pure love of Jesus, when not mixed with self-interest or self-love!"
—Thomas à Kempis, p. 88-89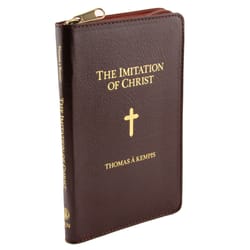 Daily

Verse
"And now, children, remain in him, so that when he appears we may have confidence and not be put to shame by him at his coming." 1 John 2:28
St. Genesius of Rome
Saint of the Day
St. Genesius of Rome (d. 303 AD) was a renowned actor and playwright, the leader of a popular acting troupe during the reign of Emperor Diocletian. When the Emperor was killing Christians, Genesius wrote plays to mock them and expose their secret rites to ridicule. To research for a play mocking baptism, he went to a priest pretending to desire the sacraments and was fully instructed as a catechumen. Genesius prepared his play and instructed the other actors in their parts. On performance day the Emperor was present. Genesius played the lead character seeking baptism, and the rite was performed in such a ludicrous manner that all present laughed. As the water was poured over Genesius' head by an actor playing the priest's part, Genesius saw a vision of the heavens opened and the hand of God touching him. He also saw an angel who showed him that his many sins had been washed away through the valid baptism he had just received. At that moment Genesius' heart was changed by the Holy Spirit and he believed in the truth of Christianity. At the conclusion of the play Genesius boldly declared his new faith, recounting how he had been a scoffer until that moment. He implored the audience, including the Emperor, to follow Christ. The crowd thought this was part of the performance, but once they understood it was real, Genesius was seized. The Emperor, furious, subjected him to cruel tortures daily to make him renounce his faith in Christ. Genesius staunchly refused and was beheaded. The Christians collected his body and buried him with the other martyrs. St. Genesius is the patron saint of comedians, dancers, actors, musicians, printers, and torture victims. His feast day is August 25th.
Find a Devotional for this Saint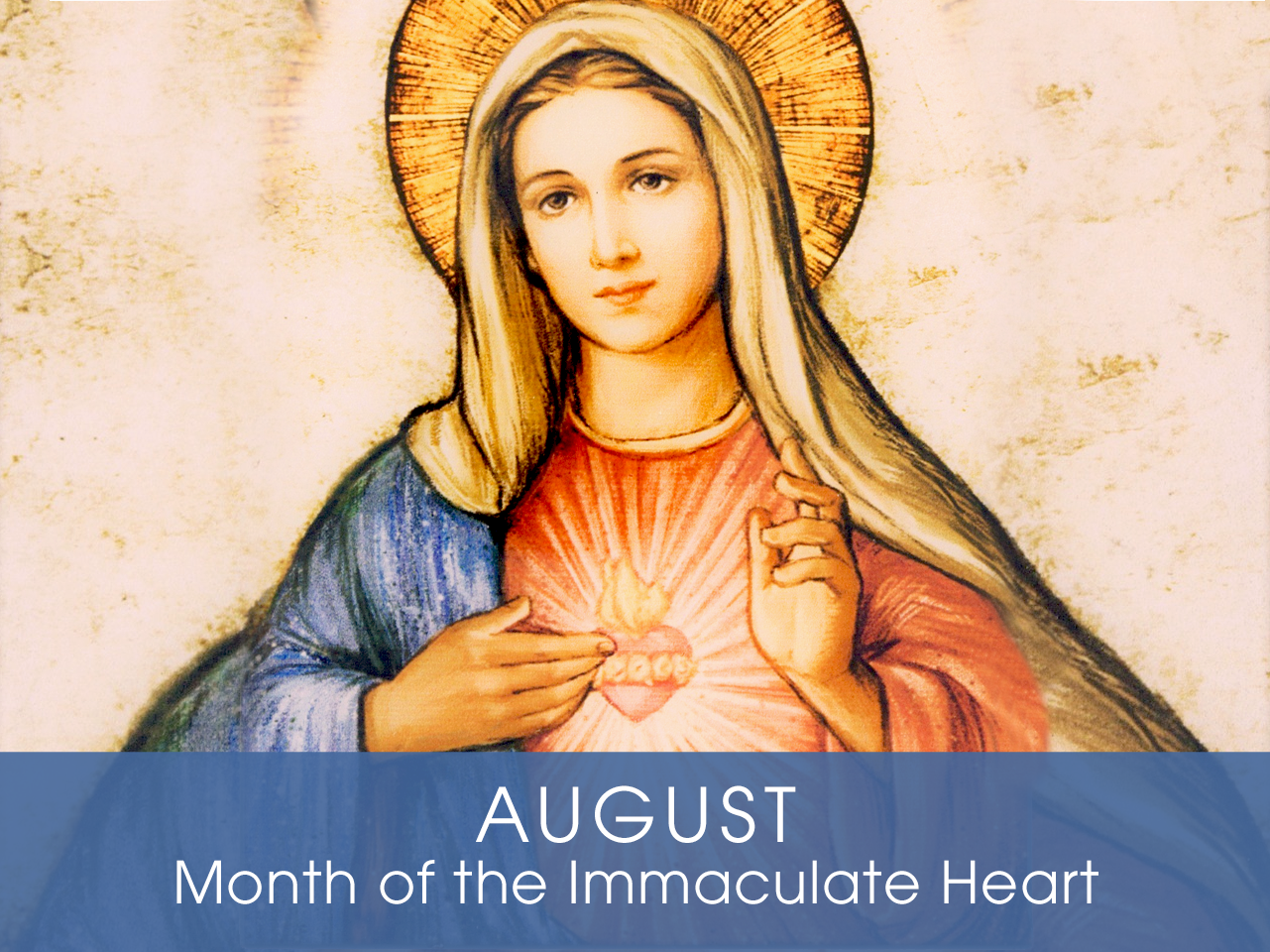 Month of the

Immaculate Heart of Mary
Devotion of the Month
The Church dedicates the month of August to the Immaculate Heart of Mary. It is a dogma of the Catholic faith that Mary is the Immaculate Conception; that is, in preparation for the Incarnation of the Second Person of the Holy Trinity in her womb, she was conceived without the corruption of sin through the foreseen and infinite merits of her Son, Jesus Christ. Over the centuries, as saints and theologians reflected on how Mary pondered and treasured the sacred events from the life of Christ in her holy heart, as attested in Scripture, her pure heart was recognized as something to be imitated. Devotion to Our Lady's purity of heart began to flower—so much so that in the 17th century, St. John Eudes promoted it alongside the Sacred Heart of Jesus. The devotion rose to a new level after the apparitions of Our Lady of Fatima, when Mary revealed an image of her Immaculate Heart to Lucia, Jacinta, and Francisco.
Find a Devotional or Sacramental
Daily Prayers
Prayer for the Dead
In your hands, O Lord, we humbly entrust our brothers and sisters.
In this life you embraced them with your tender love;
deliver them now from every evil and bid them eternal rest.
The old order has passed away: welcome them into paradise,
where there will be no sorrow, no weeping or pain,
but fullness of peace and joy with your Son and the Holy
Spirit forever and ever. Amen.
Prayer of Spiritual Communion
My Jesus, I believe that You are present in the most Blessed Sacrament. I love You above all things and I desire to receive You into my soul. Since I cannot now receive You sacramentally, come at least spiritually into my heart. I embrace You as if You were already there, and unite myself wholly to You. Never permit me to be separated from You. Amen.
Prayer for the Holy Father
Almighty and everlasting God, have mercy upon Thy servant, Pope Francis, our Supreme Pontiff, and direct him, according to Thy loving kindness, in the way of eternal salvation; that, of Thy gift, he may ever desire that which is pleasing unto Thee and may accomplish it with all his might. Through Christ Our Lord. Amen. Our Father. Hail Mary.